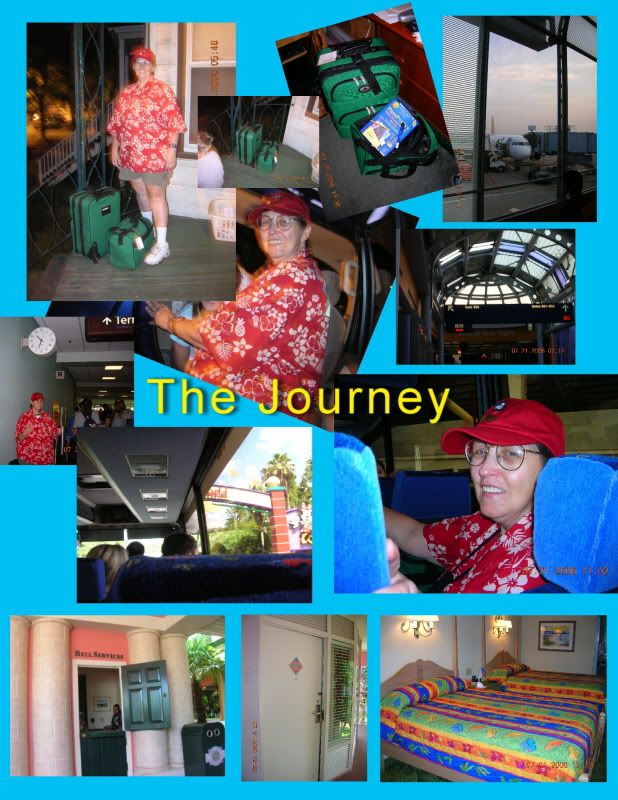 Right before I went on my trip to WDW, MiceChat was running a bit slow, and giving me a small amount of trouble posting. Now that I am back, I notice that things seem to be better.
I have decided to do a series of photo collages for my trip report. I hope they are clear, to the viewer.
This first one is of my journey. I left at 5 a.m. on July the 29th. I flew out of Chicago's O'Hare Airport. The flight went off without a hitch. Perfect in every way. My grandson took that picture of me with my luggage. I especially missed him, when I was on vacation.
We used Magical Express, so that picture of me in the blue seat, is on the Magical Express Bus.
My room was ready, when I arrived at the Carribean Beach Resort. 5549 was the number in section Aruba. I had a corner, 2nd floor room, quite close to the bus stop, and only about a 5 minute walk to the food court.
The Bell Services People took me, and my luggage to the room. The room was very nice, and roomy. First time that I spent the night in a hotel room by myself.
Hope you enjoy this in the first of many collages. It is good to be back.