Ok. I have posted pcitures and reports from my Disneyland trips in 1979, 1986, and 1992. Now it is time for my first WDW trip in 1999. It had been 7 years since I had set foot in a DIsney park and I was looking forward to it. My mother and I travelled to Orlando in September of 1999. It was a present for graduating from college. It was also the last time I went to a Disney park before I got online. Had I been online I am certain I would not have been as surprised by things as I was. This trip was the one that set me off on a Themepark and rollercoaster fandom that I have had ever since. I consider it to be the first trip of my Silver Age of themepark visits. Anyways Let's get to the trip report.
My mother and I arrived in Orlando on SUnday and checked into Dixie Landings. By the time we got there it was around 5 pm, so we just looked around the resort and had dinner in the food court. I really liked the feel of Dixie Landings and seeing all the little lizards running around. It was also my first experience with real humidity. We occasionally get a muggy day here in Washington, but no where near what I experienced there.
On MOnday we got up early to be at Animal Kingdom when they opened at 8. We were there a good half hour early and were about 5 people back in line. We spent the time chatting with a couple from Ohio and their little girl. We ran into them a couple more times on the trip, though I don't remember the specifics. Anyways, the park opened at 8 with a little ceremony with a couple floats and costumed characters. We headed for Kilamanjaro Safaris first. So here are some pictures.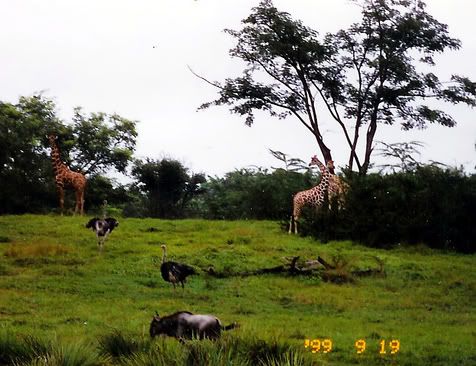 Giraffes, Ostriches, and Wildebeest's Oh my!
A black Rhinocerous after wallowing in the mud.
After the safari we visited the trails for Asia and Africa.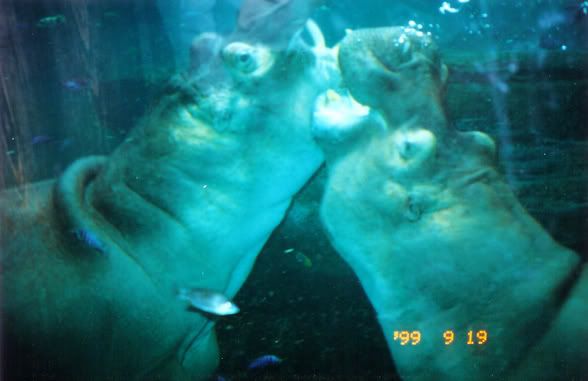 Hippos!
Bengal Tiger.
We also caught the Bird Show and rode Kali River Rapids. Having never been on a River Rapids style ride my mother and I sat next to 2 large women and of course when we went down the drop our end of the boat got soaked. Two days later our jean shorts were still wet.
We had a rather bland lunch at Pizzafari and explored the Oasis area. For those not in the know that is the area around the base of the Tree of Life. Speaking of which...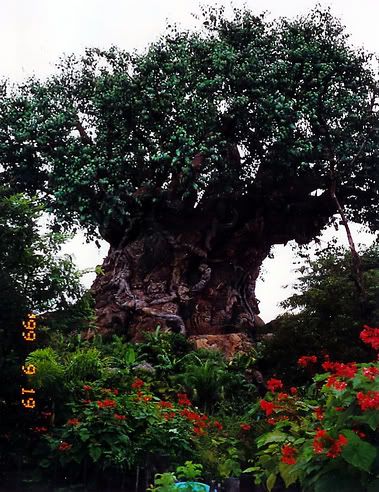 It is quite a work of art isn't it? And to imagine it all started as an oil rig.
My favorite part of the Oasis is the parrots. I am a big parrot fan and seeing all the different Macaw species they have was great.
A pair of Scarlett Macaws.
We checked out Dinoland USA and rode Dinosaur back when it was still called Countdown to Extinction. I found it odd that the Iguadon in the ride looked so much like the one in the upcoming movie "DInosaur". Ah corporate synergy. I wasn't too impressed with CTX and am still not. Indiana Jones is so much better (though I would not ride IJA until 2003). Unfortunately the Dinosaur Bone exhibit was closed so we did not get to see that, but we did get so see them working on the T-rex fossils of Sue, which at the time was the most complete T-Rex skeleton they had found. I loved the fact that in the window sill was the mighty Dinobot Grimlock. I loved the Transformers
ANyways, we headed over to the Camp Minnie Mickey area and saw the Dragon's cave. I was terribly disappointed that the Beastly Kingdom did not get built. I kind of figures sicne I could find no info about that section that it did not exist, but I didn't have solid proof till I got there. I hope that one day they go back to the theme of "Animals that are, Animals that were, and Animals that have never been". Little did I know what I was going to see in a few days (yes that is foreshadowing). Camp Minnie Mickey is cute and all, but at that point I could have cared less about characters. However, my mother wanted a couple shots of her with characters and Pluto had no wait so I present my Mother with Pluto.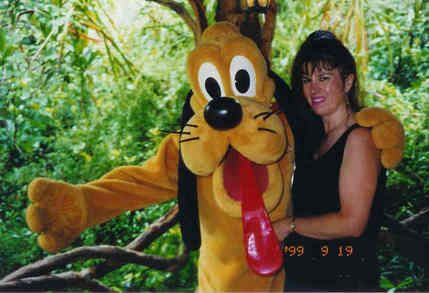 I should be noted that we did go out to Rafiki's Planet Watch as well. I loved the train, but was not that interested in the discovery center.
Well we stopped by the Rainforest Cafe on the way out. We had never seen one before and thought it was neat. While we were there we discovered there was in in the SOuthcenter Mall near Seattle, WA (so within deriving distance of Bremerton). An employee there said she had opened that location. What a small world.
Anyways it was about 3 pm at the time and we left to go to Disney MGM Studios. But more on that, the Hurricane, my favorite park on the trip and the rest coming soon. I hope you enjoy reading my report.