OK - So the Common Ground Alliance is holding their annual trade show in Orlando thie year - about a mile from WDW. Makes attending seminars about protecting subsurface utilites all the better.
So I did get some time to zip over to WDW.
First - Since I booked late, all the rooms in the Caribe Royal Resort where the trade show was, were booked, so I ended up in the Residence Inn Orlando - 11450 Marbella Palms Ct. - it's about 15 from there to PO-R resort.
I got our corporate rate of $99 a night here. All I can say is if I can get anywhere near that rate on my own, I may have to re-think staying on property. Two bedrooms (one two twin, one a queen), two bathrooms, living room, dining area, and full kitchen. Pool. hot tub, game room, DVD rentals, DVD player in room, and you even get to watch the top 7 must sees in your room. And, get this, a free HOT breakfast buffet - yes, hot - eggs, waffles, french toast, bacon, sausage, oatmeal, grits, etc. and it runs until 10:30 in the AM. - very comfy beds too.
I got down there fairly early and got to Epcot in time for a late lunch at Le Chefs de France. After the talk of Monte Cristo's here and me mentioning the croque monsuer, I felt obliged to sample it
Not quite what I was expecting. The ones I have had are more fried and less toasted, also a lot more cheese most of the time. However that is not to say it was not good. It was a lot lighter than the ones I have had and quite tasty. The salad was also good, with just some simple balsamic on it. My waiter made a strange comment. He asked me if I was on the Dining Plan - I said yes just out of reaction, and then said, "no wait, not on the plan you think", and I showed he my DDE card. Then he says "Oh, what, you though that if I thought you were on the Dining Plan then I would not give you good service?". I said no, but does that happen? and he said he would not do it, but some servers would, and some guests also think it happens - interesting comment. The "chefs wine" was good. Nothing to write home about, but plesant. Overall an enjoyable meal.
Because I was still technicaly "at work" I then had to take an hour conference call, so I found a fairly quiet spot over behind Innoventions where I could take the call. Sitting in the spot for an hour, I noticed this tree seems to be on deaths door.
Conference call over, and since I was right there, I did the Living with the land and the behind the seeds tour - and ate some cucumbers.
Make
Make your own hydroponics tank at home. Also where they store the cucumber samples (in a fridge, not in the tank)
Now thats what I call a shrimp. Mmmmmm
I then wandered over to the world showcase (again) and stopped in Mexico to see how the ride was comming along. The wall was still up, and nobody I talked to knew anything about a soft opening.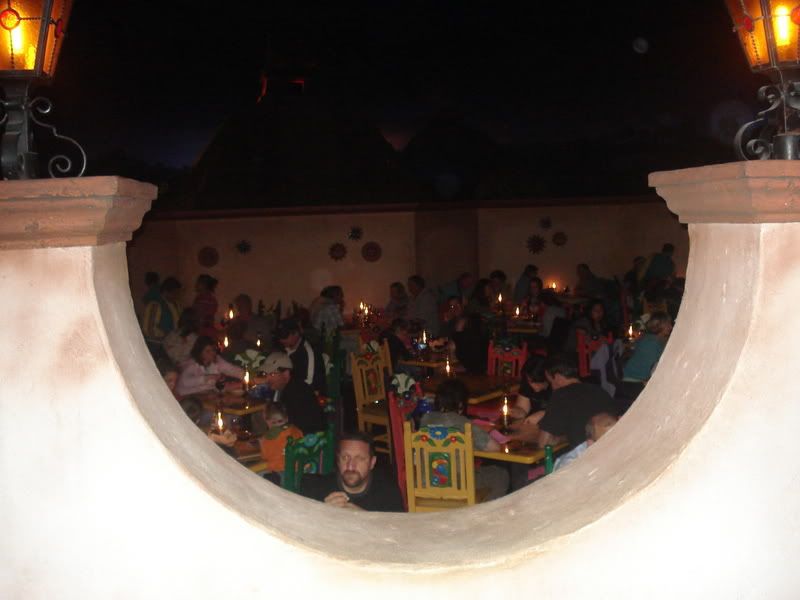 When I left I noticed that Donald and Panchito were out in their Three Caballeros glory - however there was no sign of Jose.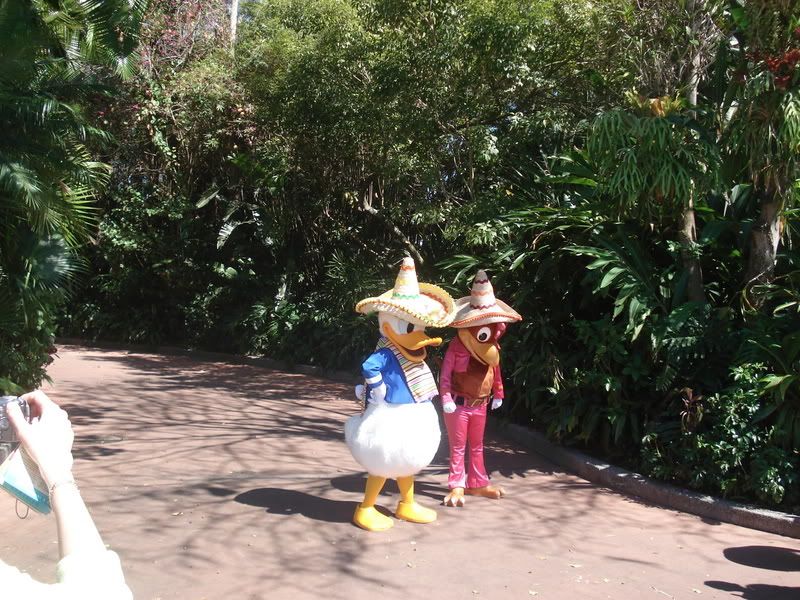 I wandered around for a bit and then had an al fresco dinner (since I did not have reservations) at Alfredos. Since it was closing I felt obliged (once again) to try the "signature" items.
The Cobb Salad
Not bad. A tad bit over dressed for my tastes, I don't like my salads swimming in dressing, but still not bad. The "thin crouton" was good.
I had the alfredo - which I did not take a picture of - It was a dish of pasta alfredo - no spectacular plating. The pasta itself was very good. Home made noodles, very nice, and cooked correctly. The sauce - not my cup of tea. They make it with butter and cheese - no cream. It is sooooo cheesy and rich, that it is too rich. It's not balanced. I could not eat it all - which for me is a big deal. The waitress was very nice. We talked for a great bit about the sauce, and how its made, and how hard it would be to make it at home and the possiblity of adding something (maybe lemon, or better yet capers) to cut some of the richness. After that it was tirimisu and coffee - again no pictures. Run of the mill dessert. Tasty, good, but not spectacular. I will be sorry this place is closing (but not because of the alfredo)
After that it was Illuminations (and yes the globe was out) and then back to the hotel in order to be at the seminars at 7:30.
Tomorrow - Magic Kingdom (after a day of damage prevention)
-dave