Howdy again and Happy Earth Day! It is also the 9th anniversary of the opening of Disney's Animal Kingdom.
At the request of a fellow MC'er I went to Disney's Animal Kingdom to take a few pictures of the Tree of Life. Unfortunately lighting conditions were miserable. I mean really miserable. So, I am posting a few of the better pics, but I need to go back on a cloudy day.
These are clickable thumbnails.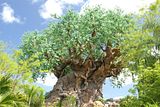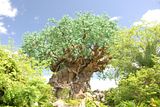 There are actually tons of birds flying around in this area. I did not bring a zoom lens, so I don't really have any good shots of the birds. I am posting this because I was trying to use a long exposure to make the waterfall look like it does. This is as good as I could get without a tripod.
Gorillas rock!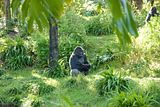 This is Florida? Good job Imagineers!
Someone needs to call the Orkin man, stat.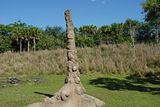 A baby giraffe. Let's all say awwwwww.
Awwwww. Okay, that's enough.
Next year's luggage.
How do you stop a rhino from charging?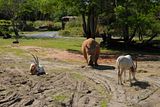 Steal it's identity and go on a shopping spree.
Pretty purple prickly plant.
Fight alliteracy! No, not aliteracy, alliteracy.
Timon! And Timon. And another Timon. And so on.
What are YOU looking at?
It looks like I was not the only one who did not shave this morning.
If they can do it, why can't we?
Another pastel whatchamacalit.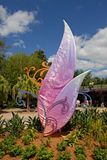 Well, I am at home now doing laundry. My plan is to go to the Magic Kingdom tonight and take some more shots of Wishes. I will post those on Monday or Tuesday.