Hey gang! I spent last week at the ever fabulous WDW resort, took a ton of pictures, and am in the process of organizing them all for my TR. Since I have so many pictures, I am going to post them by each individual day.
Saturday, May 12th
I went to WDW with my parents. We try to go every year, depending on when my breaks from school are scheduled. The vacation started off fairly well. We woke up at 4am, arrived at the airport at 6 and were ready to catch our 8am flight with time to spare. Then we ran into our first blunder.......
We had no plane. It had been taken to another city the previous night, but would arrive shortly. They were only behind 30 mins. I could handle that. The plane arrived and everyone boarded, only to be told by the pilot a few minutes later that there was a problem with the fuel line. Everyone had to get back off the plane and back into the terminal. There was no word from the airline of our flight's status and a huge mob had formed around the airline desk. Their 10:00 flight to Atlanta never showed, and eventually we were told that our flight was canceled. But not to fret - they had a flight the same evening that would put us in Orlando at midnight! Were they kidding?
Thankfully we found another flight out of a different city for later that day, so we reclaimed our bags and dragged our tired bodies to our second airport of the day. We wouldn't get to Orlando until 9pm now, but at least we wouldn't waste the hotel room. On the flight down, my Mom's ears started acting up. That would be the beginning of a long week for her.
Still aggravated by the flight ordeal, we rolled into the Wilderness Lodge around 10:30pm on the 12th. Because we arrived so late, I believe we were assigned the worst room in the hotel - one by the elevator and the ice machine. 2am ice runs must be very popular in Fl. I simply could not believe all of the people who got ice in the early morning.
I had heard about the hotel renovations, but had not seen them myself. The hallways are so much brighter now.
Can you spot the hidden Mickeys?
The new room furniture is not my favorite, especially the headboard. I loved the old mission look from before, and I would never, ever buy this furniture off of ebay.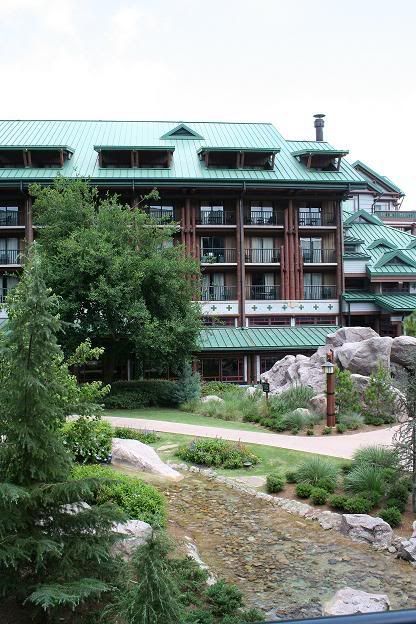 Guys, please leave the totem poles in the lobby.
Despite the earlier mishaps, I was finally in WDW! Tomorrow was a new day, with new adventures awaiting. My destination: the Magic Kingdom.