Okay, so maybe not so much anticipated, but here it is and it's a little long, so sorry about that -
We left Salt Lake City on a Monday morning. We had a pretty turbulent flight - they suspended beverage service and never turned off the fasten seatbelt sign. But, we made it into Orlando safely and got a rental mini-van.
I've never been to Florida, except to fly out of Ft. Lauderdale on a cruise - so I wasn't ready for the heat and humidity - oh my gosh, just kill me.
We stayed at the Marriott on International Drive - and got a free upgrade to a suite. So nice. The hotel was great.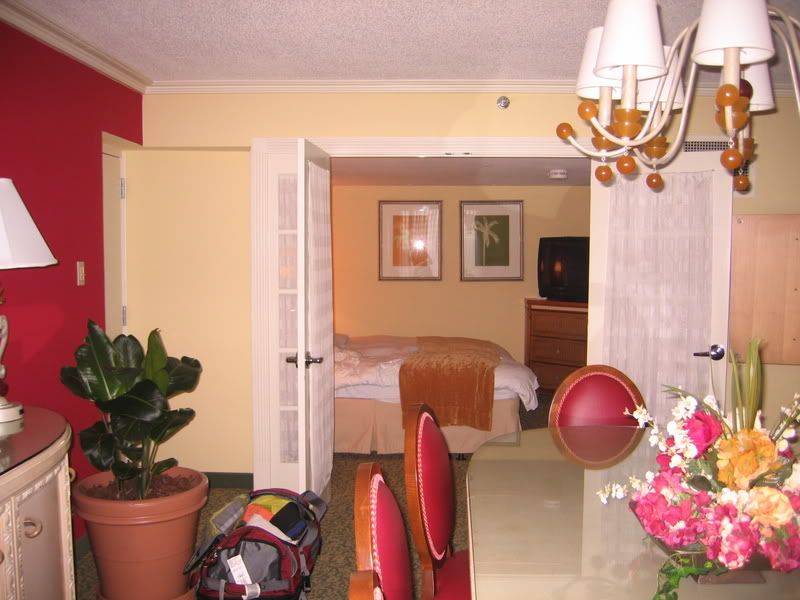 We ordered a pizza and got to bed early.
Now, I've been a long time Disneyland visitor - and was informed to not to compare the parks - so, I kept an open mind -
DAY 1 - Animal Kingdom.
Having never been to WDW, I really didn't know what to expect. People on MiceChat had told me about things, but you really have to experience it. The parking was weird. I was just amazed at the sheer size of Walt Disney World. We went into the main parking area and took a bus to the Animal Kingdom.
Absolutely loved this park. The trees, the theming - everything.
We immediately went and got fast passes for Expedition Everest.
We then went to find another ride and passed Kali River Rapids. Not a good choice for 1st thing in the morning. I should have paid more attention to the people getting off the ride, but a 5 minute wait was the only thing I saw. We were soaked. I couldn't believe the amount of water we got dumped on us. It was fun anyway.
From there we went to see the new Nemo Musical - such a great show. The creativity with the actors and the puppets, the music - just loved it. (And it was air conditioned - so we got dry).
We went back to Expedition Everest - again, loved it!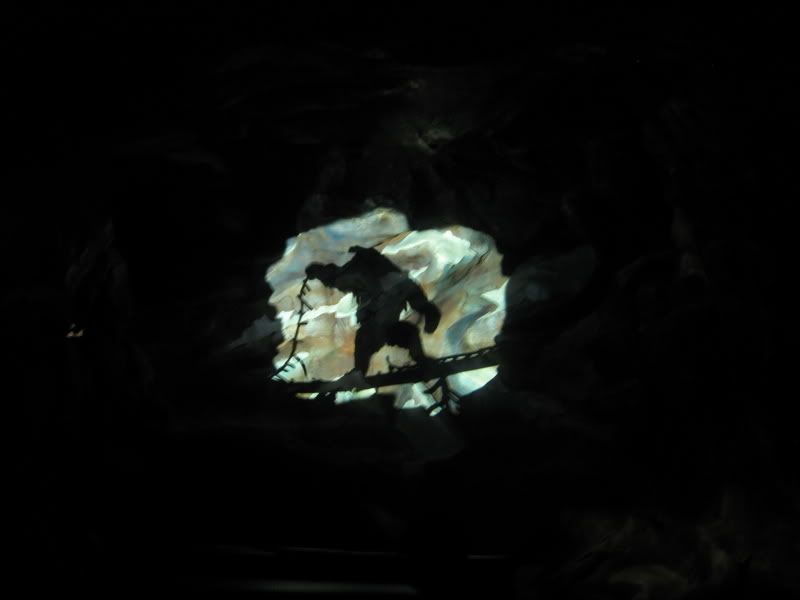 We hit all the highlights of the park - my only complaint was Primeval Whirl - I saw that it was a little like Mulholland Madness (which I hate), but thought maybe it was a little different - yep, it was worse!
We ate at the Rainforest Caf and of course, got a VOLCANO!!!!!
We then caught the parade and did the Harambe Safari - I was sad to leave the park, but it was closing early.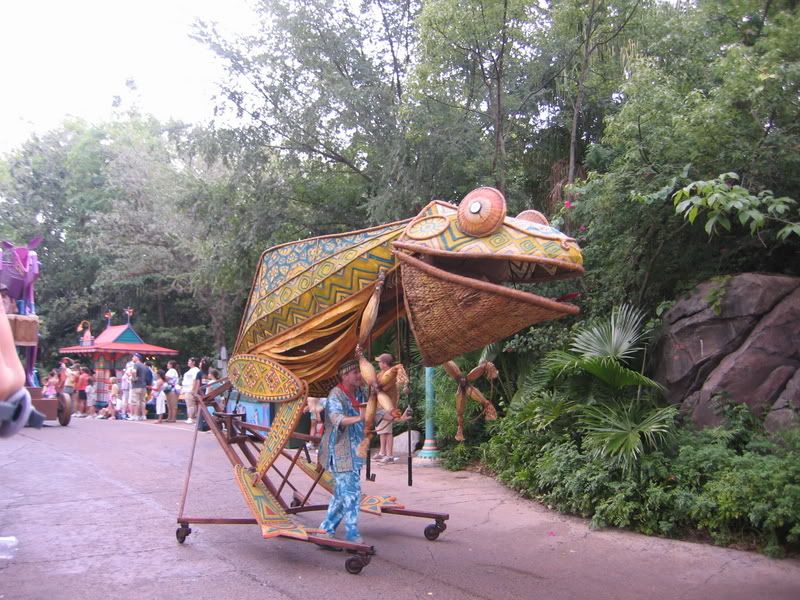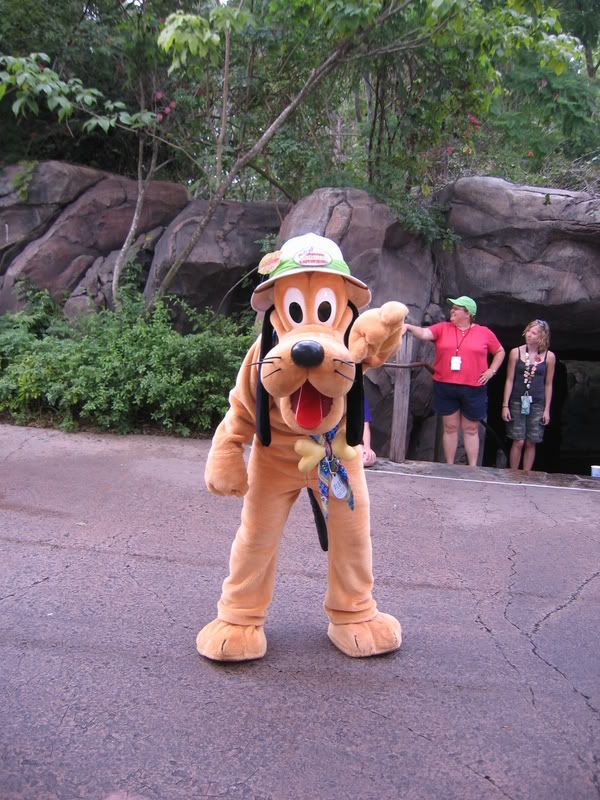 We finished up at EPCOT for the evening. And dark clouds started looming.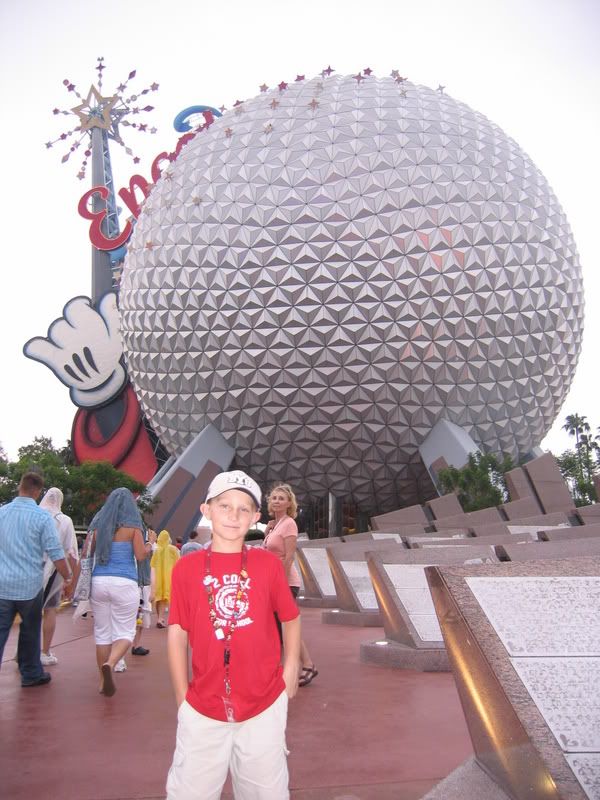 We rode Spaceship Earth and then put on the ponchos to head around World Showcase.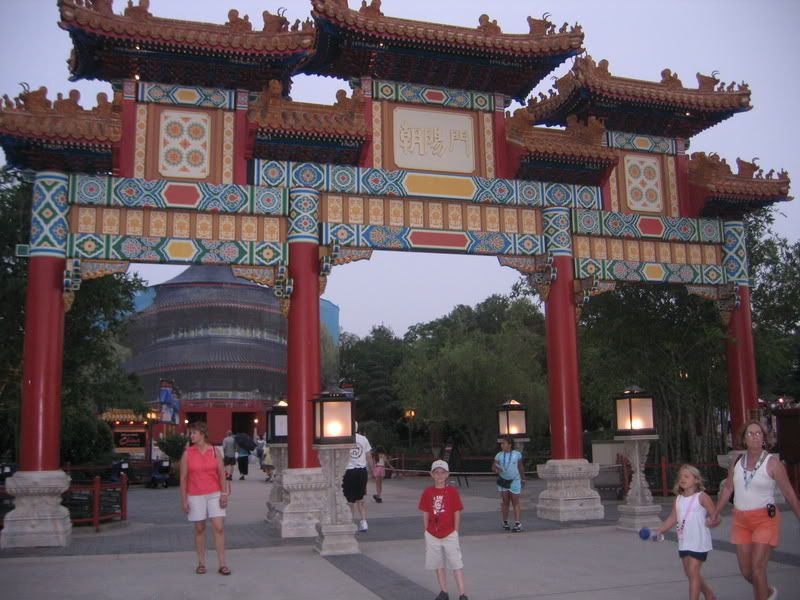 Frankly, it was easier getting wet - the ponchos just made you hot and sticky. We rode the Mexico ride and then went to find a dry spot to have a snack. We ended up in England and an umbrella table - just right to watch Illuminations. The bottom dropped out of the sky, but Illuminations went on and we quite enjoyed it. (We were planning on coming back to EPCOT the next day, so we weren't too worried that we only saw a little).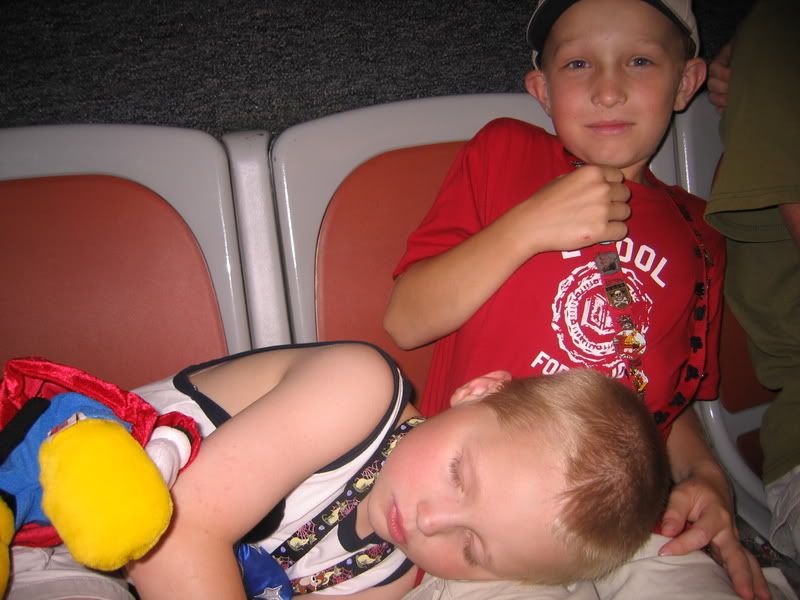 We stopped by Chick-fil-a on the way home - yum!
DAY 2 -
MGM Studios - I could not have been more disappointed. There were a million people, and not much space - it was 95+ degrees and so humid.
We went straight to Tower of Terror and got a fast pass (return in 40 minutes). We then went to look around to see what else there was - we saw the sign for The Great Movie Ride (30 minutes from this point - and no line in sight), so we followed the lines into the theater room - and then proceeded to wait over 45 minutes. Oh well, it was air conditioned. Fun ride though.
Gwenyth Paltrow's dress from Shakespeare in Love
Back to Tower of Terror - loved it! I liked the variety of moving through the halls. Way cool.
Then, we went and got fast passes for Rockin' Rollercoaster - there was a 7 hour return time. Great. Then, we found out that these were about the only rides - we went to go catch a stunt show, but you had to wait an hour before to get a seat, and frankly, it was way too hot.
So, off to the ferry to EPCOT.
We got on Mission Space fairly quickly due to a mix up of the color cards - long story. One of the best rides ever - it was such a great sensation.
We then headed over to Nemo - again, cute and fun. We had to drag my 6 year old out of the aquarium - my 8 year old had a blast looking for hidden mickeys in the tanks.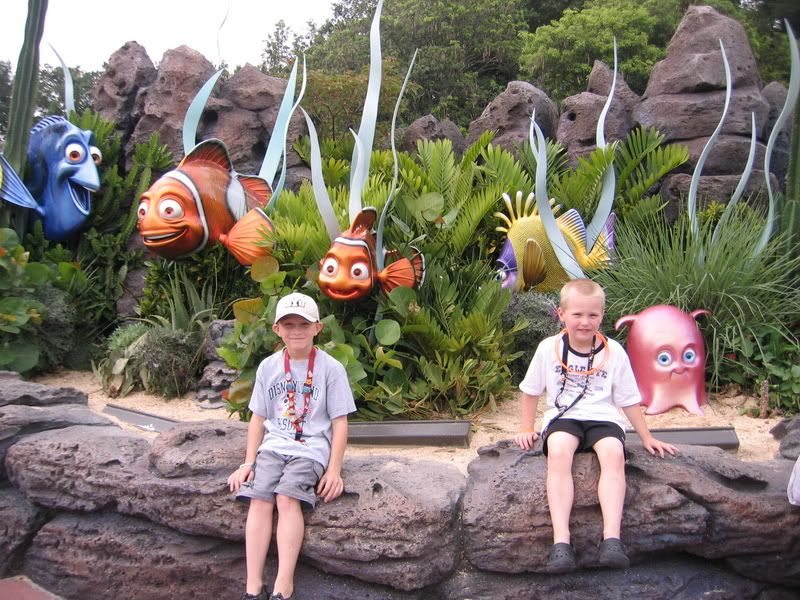 Ironically, we went next door to the Land and had sushi! It was yummy. We bagged Soarin', because there was a 2 hour wait and we'd done it plenty in California. We didn't get on Test Track - again 5-6 hour return on Fastpass.
Back to MGM for Rockin' Rollercoaster - being a huge Aerosmith fan, it was a must do - and so worth it. One of the best coasters and soundtracks that I've been on - LOVED IT!
We then called it a day
DAY 3 - We took a little break and had a friend (who's husband is captain of a Disney cruise line) take us to the cast member store. A little disappointed, it was no different than an character warehouse, but she got an additional discount, so I liked that.
For Sale
It can be yours for only
Then onto the Marketplace in Downtown Disney for another trip to the Rainforest Caf (my kids love the place) and a little pin trading!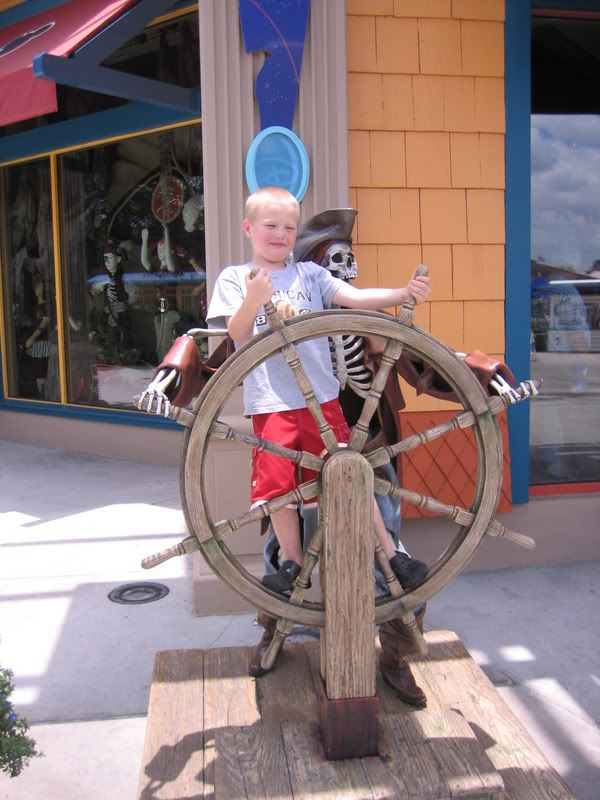 Then we parted ways and went to Typhoon Lagoon.
This is what Disneyland is missing. We had more fun at the water park - it was a great break from the "ride parks" and it helped cool us all down.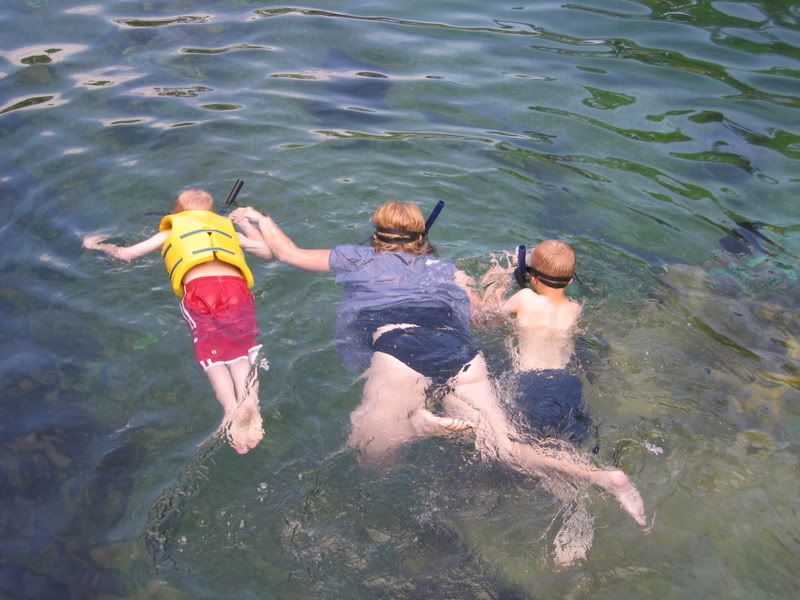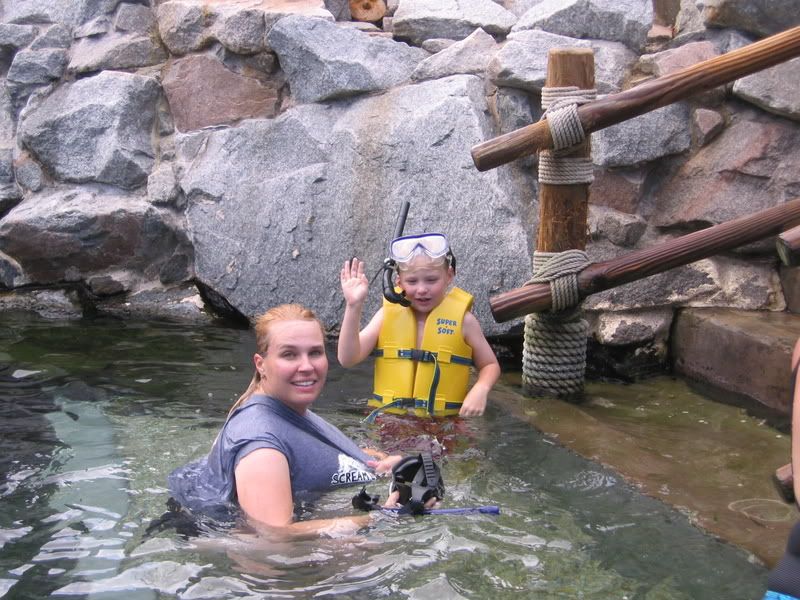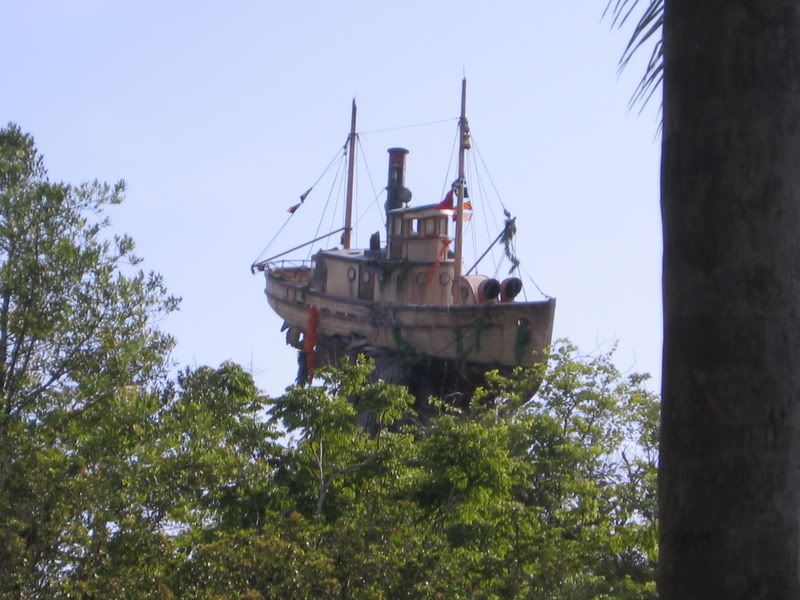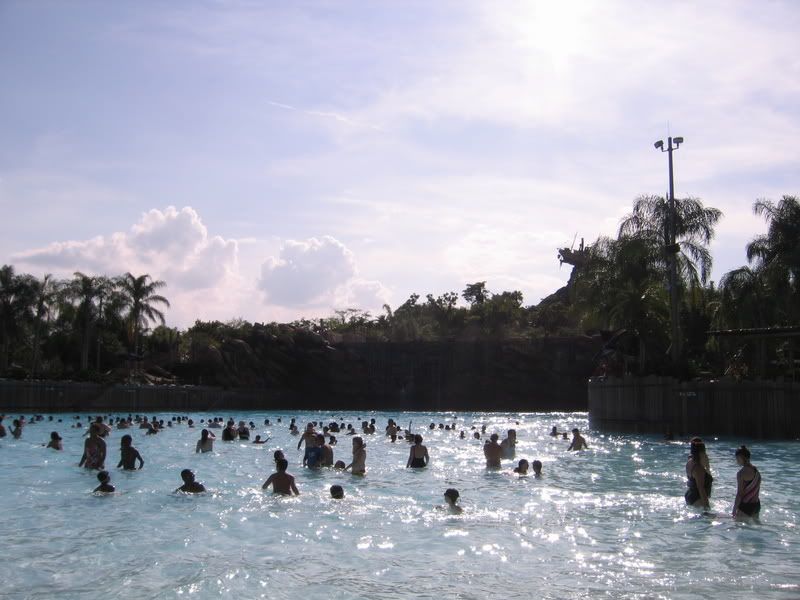 We did almost witness a tragedy, while trying to find a place to park, a kid ran out between some parked cars and the black towncar in front of us hit him. He bounced off the hood and landed on the pavement. He got up and was crying, but appeared to be nothing more than bruised. Needless to say, it scared my kids pretty bad, and now they're a lot more careful in parking lots.
DAY 4 - The Magic Kingdom
Now, I was really trying hard not to compare things, but I couldn't help it.
We got to ride in the front of the monorail on the way in - not a bad way to start the day!
I loved Main Street, nice, charming - and they still have VMK and we turned in all of our quests!
First ride, the jungle cruise - I could ride that all day!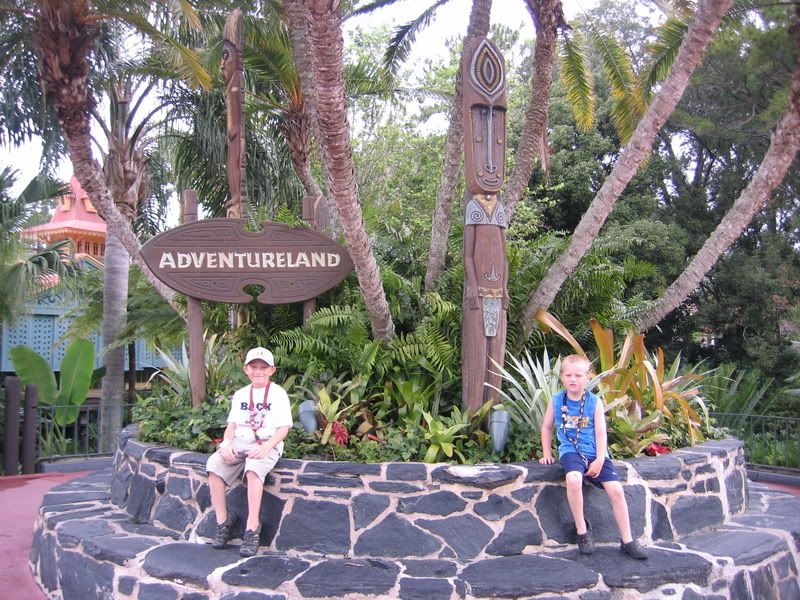 So much better than Disneyland. Next stop, Pirates of the Caribbean, loved the queue, hated the ride - way too short (but I was expecting it).
Splash Mountain. Well, awesome ride, except for the turn that surrounds the "splash zone" we got so wet! I didn't expect it and barely got my camera out of the way of the water.
Big Thunder
I was really disappointed in Fantasyland - the look reminded me of a cheap renaissance festival. Yuck. Mickey's Philharmagic was great and I enjoyed the differences in Peter Pan and Snow White.
But, I was so distracted by how ugly it was that it took a little bit away from the fun.
We took the back way to Tomorrowland and got fast passes for Space Mountain - again 5-6 hour return.
We rode Buzz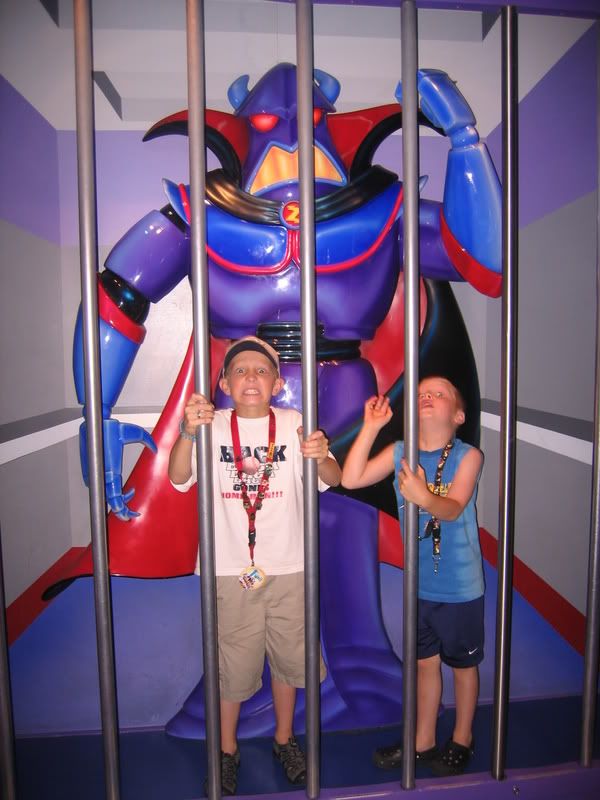 and went to the laugh floor - loved it.
Then, all the life was sucked out of me as we went to Stitch's Great Escape - what a horrible ride. Even my kids hated it. I had heard it was bad, but I just had no idea....
I cheered up quickly after as we went on the TTA and into Carousel of Progress (is the narrator the same voice as the narrator from A Christmas Story??)
We did lunch at Tony's and really enjoyed it. Then back to Adventureland for a little bit of Tiki Birds - how fun was that! I'm glad there is still an original in Disneyland, but the new show was great. The dole stand was awful - the dole whips were great, but what's up with the pineapple spears?? They still had the rind on them and they were hard to eat.
We then saw the Country Bears - I never realized how much I missed them. And the Swiss Family Robinson Treehouse - how nice to go back to that.
The haunted mansion was closed, so we didn't get to experience that.
We went to ToonTown Fair to ride the barnstormer - a minute wait in line for every second of the ride. Not worth it - about 30 second ride, 30 minute wait.
Space Mountain. How awful is it - let me count the ways.....Uncomfortable seats, no music, rough ride, cheesy old theming. I was really upset - but, not so much if I had waited for 2 hours like some folks were doing - in desperate need of a rehab.
We saw Spectromagic - which I really enjoyed, but the first few spectro guys scared the bejeebers out of me.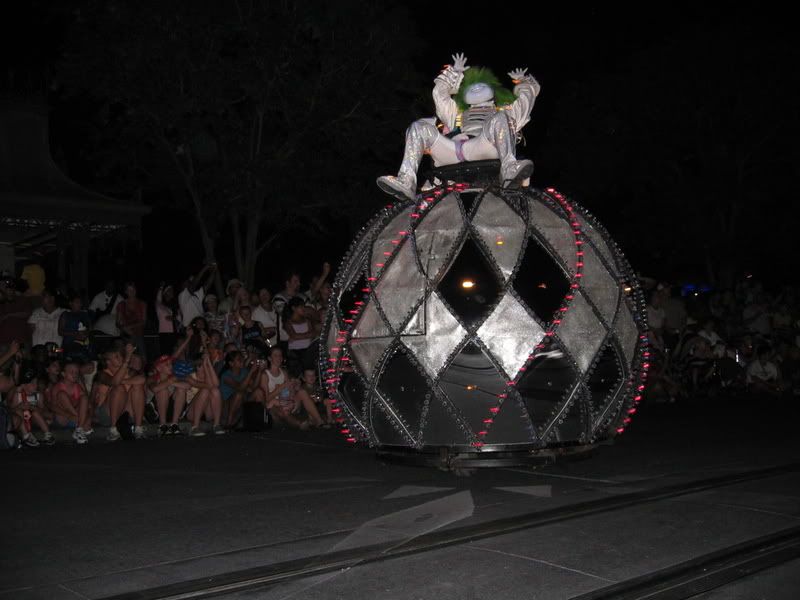 Loved the big Chernabog float.
The fireworks were amazing. We sat right in front of the castle and just had so much fun. It gave the day a good ending and nice goodbye to the Disney parks.
DAY 5 - Sea World.
I love SeaWorld - I was majoring in marine biology before I got married, had kids, etc. The shows were fun (thank heavens for big overhangs giving us shade).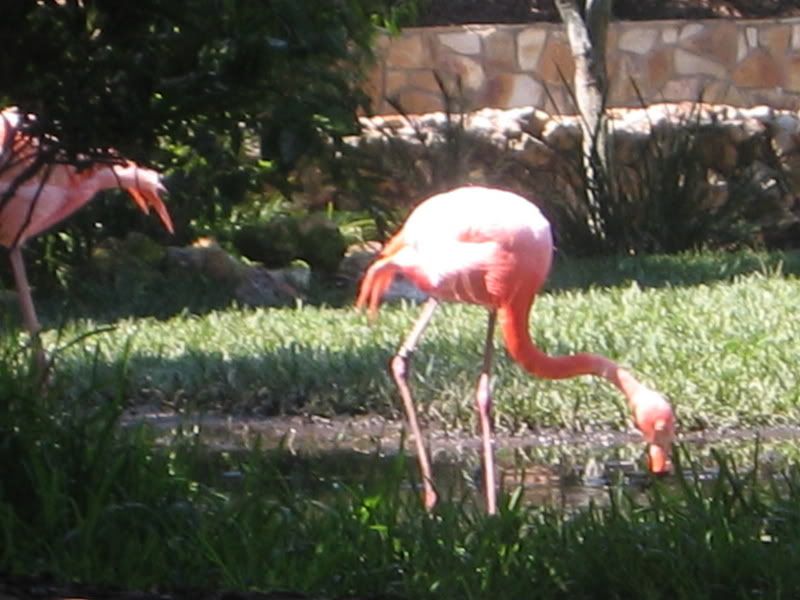 We fed dolphins and sting rays, the kids played at Shamu's Happy Harbor for hours.
Only drawback, we spent more here on keeping cool than all three days in Disneyworld. Drinks, food, everything was really expensive.
I got to ride the Kraken - how much fun is that ride!
And for our last act of the day, my kids convinced me to ride Journey to Atlantis (there had been an hour wait all day - now it was only 3 minutes). I had to ride in front, because my six year old had to ride with an adult, not his brother). I got soaked on the first drop. Then was informed there were 3 more drops - each time, I got drenched. But, the final corkscrew was quite a surprise!
Feeding the Nascar addiction
DAY 6 - I know, this trip just keeps going and going and going.
Disney Quest. We had another extra on our passes and since our plane didn't leave until 5 p.m., we thought this would be fun. It was. Interactive 3-D rides and video games - we had so much fun - except the Aladdin ride, it actually made all 4 of us nauseous. We had a great lunch at the Cheesecake Factory and got some yummy desserts too.
The trip home was smooth, but no movie - it wasn't working for some reason. The Orlando Crown Room is so great (I love traveling with my mom).
All in all - a great trip - I will definitely return, just not in the summer! We really had so much fun!
We got home safe and sound, with only 1 day's rest we turned around to go to Lake Powell in Utah - that's up next.