Hmm, seems like only a month ago I was at the world! (well I was!)
Went for a shorter weekend Sept 23 - 25, stayed at my favorite Maingate East Howard Johnson's. Takes me no time at all to get to the parks.
Sunday Sept 23
Left early morning around 7am. Beautiful morning, drove watching the sun come up
Arrived at the entrance to the MK at around 10:30am. I've never made it up to the parks around halloween time! Love the decorations!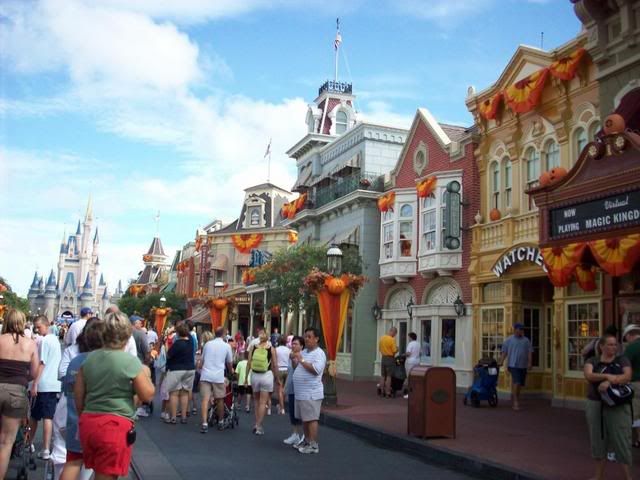 Ok, first things first. First stop! Mansion!
After mansion (which is AWESOME!) I went over to Frontierland.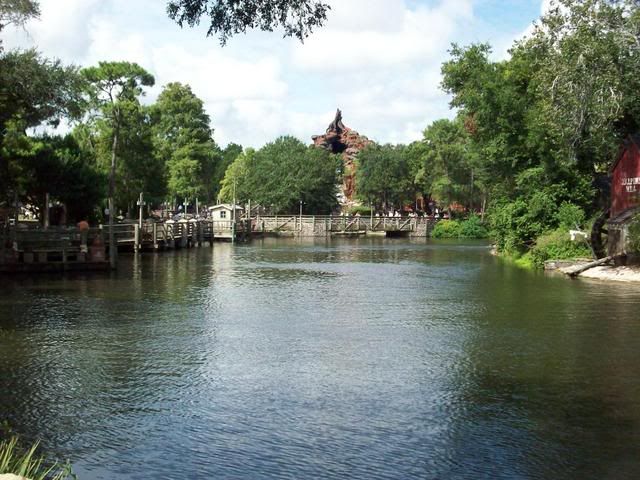 Summer and Evil...the 'Ad-lib' boardwalk
Wasn't
this
barrel...
But this one!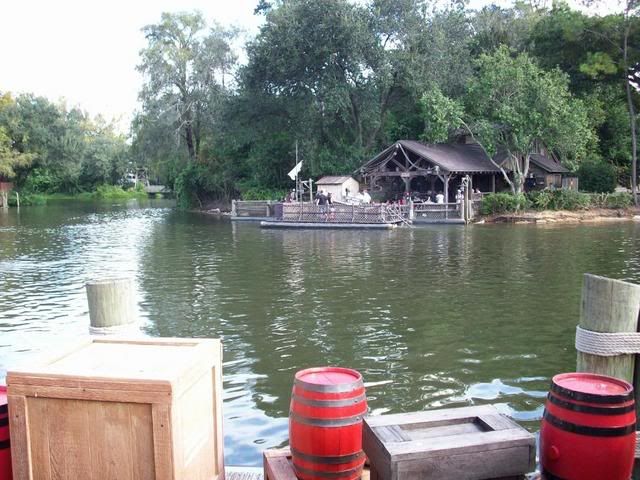 Just for Pengy! Frontierland panoramic!

Look it's time for Woody's Roundup!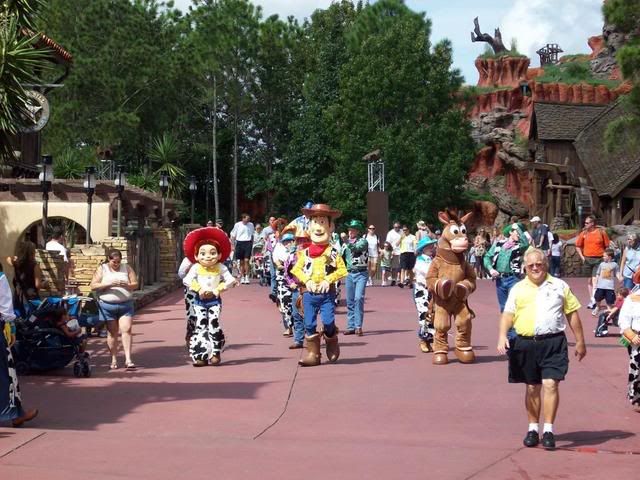 Made my way over to Adventureland...
I make my way thru Adventureland, and who do i see??
This isn't my favorite "Mack" but he was ok. You'll see the other "Mack" later.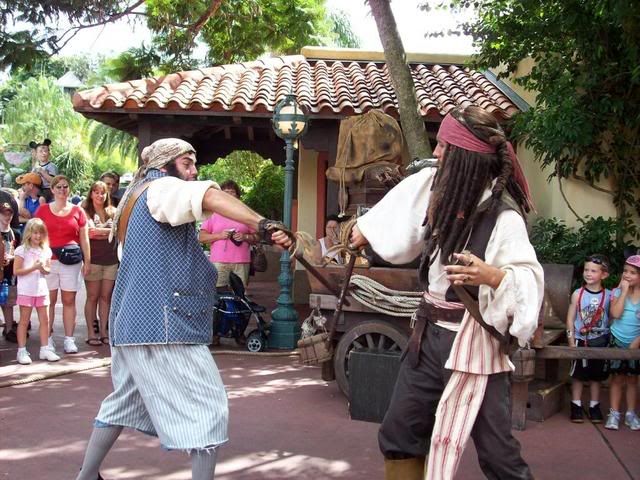 lol love this pic...expression is priceless. This was right at the end, when "Mack" is talking about the bounty on Jack's head.
After the show ended, wandered through Adventureland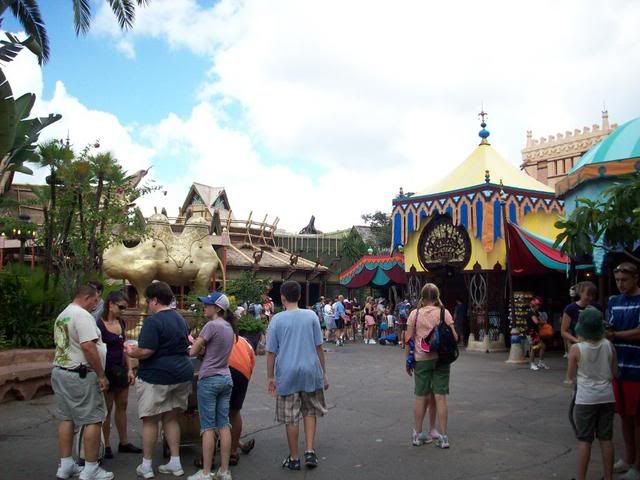 I then got a phone call from agoofymouse that he and TrueBlueFairy (along with her kids) were on their way in to the park so we agreed to meet at VMK Central of all places
Once they arrived, we got lunch at Pinocchio's Village Haus, then we set out on the important business at hand! Turning in those final quests, and making our last in-park characters!
After we finished, we decided a pineapple float and some root beer floats were calling us. Here's my float (couldn't wait to get pic before i started on it hehe)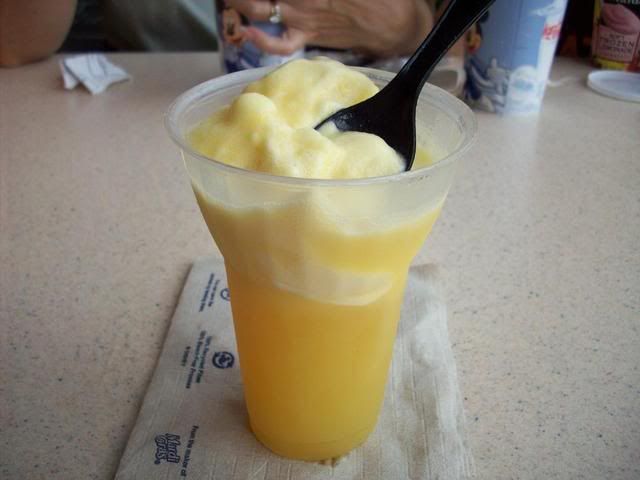 Afterwards we noticed the line to see Cap'n Jack wasn't too long, so we dropped in for a visit
(not the best captain jack, but he was ok)
Afterwards, we visited our favorite pirates in the Pirates of the Caribbean, did a little shopping, and then finally had to part ways
I made my way over to tomorrowland, and did some things there...
First, some Laugh Floor (yes I like it, ok??) heh, and I got on the first 'screen'. my caption was ' Subscribes to Monster Wear Weekly ' lol I was on the phone at the time so didn't see it until I noticed a bright light shining in my face...hehe. I ended up being seated next to 'That Guy'! lol.
Rained while I was in there
Outside, making my way towards Buzz and Space Mountain...had to pass the Carousel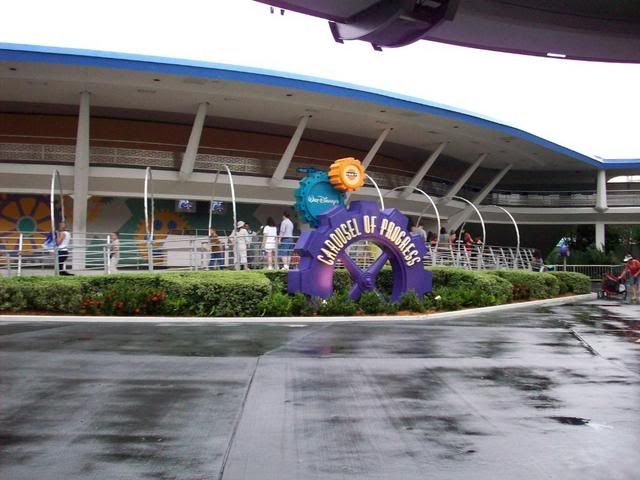 Oh skyway, how I miss thee...
Went on Space
look ma! 10 min wait! (wasn't even that) Went on two times in a row!
Went on Buzz, here's my first try's score...
Next, went back through Adventureland and did Splash and Thunder
Afterwards, I wandered around some more, and got another panoramic.

Was starting to get dark by now...almost time for Wishes!
Wishes!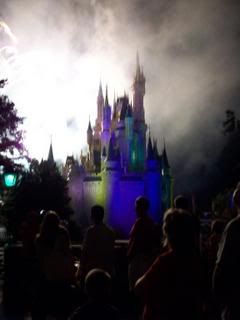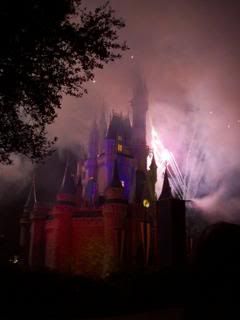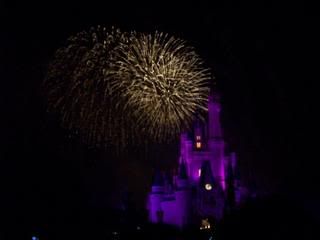 Oh, Wishes...
Wishes
Day 2 coming up