Ok people here goes with part 2 of the report, I hope to have part 3 up by next week. Hope you are enjoying and that the delays aren't too annoying.
Day Four: Monday September 17th: Typhoon Lagoon
We had gone to Blizzard Beach before and since Typhoon Lagoon was almost always closed during our normal December visits we figured this was our chance. We got there shortly after opening and settled down in a nice set of chairs and then moved out to enjoy the park.
In preparing to go to the park I knew the sun would be an issue, so I made sure to use plenty of sunscreen. I also brought along a shirt to wear, figuring that even on a somewhat cloudy day I would need to be careful.
Unfortunately, I forgot about this when we settled ourselves down and took the shirt off. I should make it clear that I have a body better suited to wearing a shirt, but for some reason I allowed myself to walk around without it.
In our moving around the park I have to say I was not as impressed as with Blizzard Beach. It seemed the park was harder to navigate and that there were way too many stairs to climb up and down.
Deciding that we might as well give everything a shot we did most of the major slides, some of which gave us some pretty nasty bumps and bruises (or it sure felt that way). I would think Disney would be a little more careful about those kind of things but I guess that things must work out ok.
One odd rule they have is you are not allowed to wear water shoes on any of the tall slides. They make you hold them in your hands as you go down. This led to a bit of an accident at the bottom of one slide when poor Judi lost her balance and started to go under.
I will give Disney credit, the lifeguard was in the pool in a matter of seconds to help her out, and gladly everything was fine. But kudos to them for having such an efficient system in place.
I was going down for the third time and was very glad he came and rescued me.
One of the most relaxing parts of the day was floating around in the area they call Castaway Creek. You just sit in an inner tube and float along, taking a short nap if you want.
My favorite part of the park too.
The wave pool on the other hand was a bit rough on the skin. I do understand that they probably cannot use sand on the bottom due to filtering issues, but I would think they could have something other than hard cement. When you get knocked over by a wave it does hurt your hands when you land.
This was not fun.
We caught lunch at the snack bar, enjoying a nice view of the park as we ate.
After a long day at the park we headed back to the hotel to rest up for dinner at the Animal Kingdom Lodge. I had been looking forward to this dinner not only because I had heard how good the food was but also because I could meet up with my friend Brian.
We got to the hotel early and were able to do some looking around. The AKL is a pretty amazing place, and if I ever manage to win the lottery I might just stay there for a night or two.
It was however great to spend some time with Brian and to walk around the hotel and have fun relaxing. I also was able to confirm from him that the rest of us were not weather wimps, that the heat and the storms (especially the Friday one) had been bad.
10 PM
, and asked if they could sleep in his bed and he would sleep on the floor. NO NO NO
Ok perhaps this tells you what kind of guy he is better than anything I could have said.
Day Five: Tuesday September 18th: Animal Kingdom and Epcot
Today we had more of a show day. We had done most of the rides at Animal Kingdom and planned to wrap up Dinosaur on Saturday when we had breakfast. So today we mostly focused on seeing the shows and walk thru attractions at the parks.
We first headed over to do another ride on Kilimanjaro Safari while the weather was cool and comfortable for the animals. I do suggest that anyone who visits AK try to do the ride early in the morning especially if it is a hotter time of day.
After the Safari ride we made our way through Pangani Forest Trail to get a look at hippos, gorillas, birds and lots of plant life and other treats. This is often an attraction people skip as it has a fairly quiet entrance, so I suggest you look for it. We also walked around Africa and Asia for a while.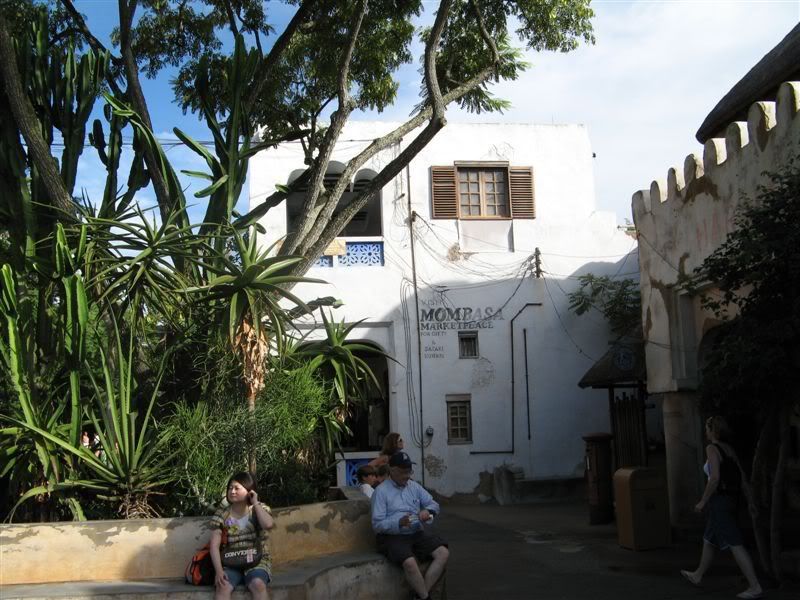 Our next stop was the Lion King show, which is absolutely one of the best shows that Disney puts on. The combination of singing, dancing, acrobats, fire eaters and everything else is just too good for words.
My favorite show.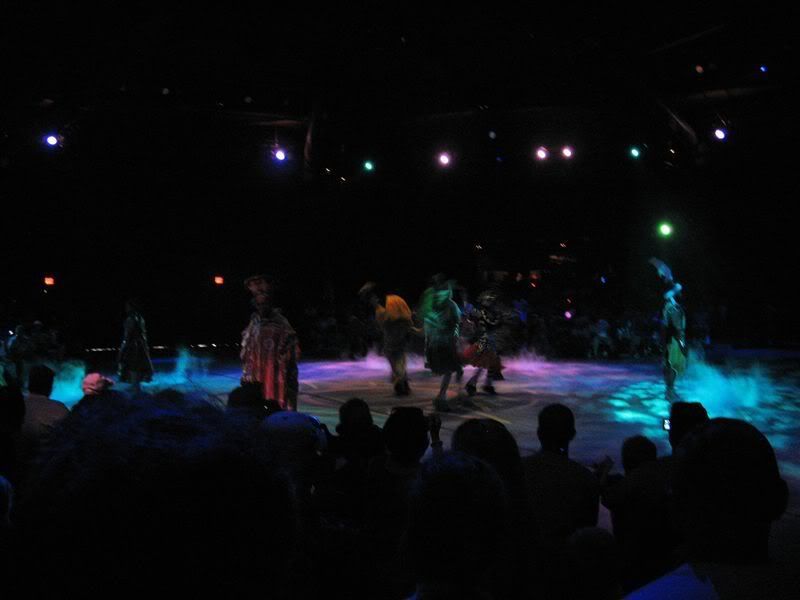 Lunch was at Flame Tree BBQ, which has some of the best seating in any of the parks. You get an nice view of water and trees and in the background the Tree of Life and Expedition Everest.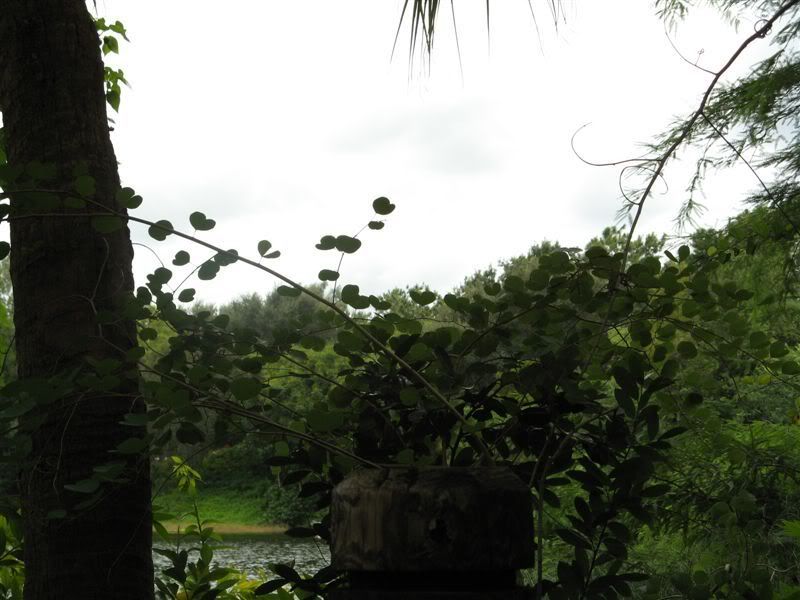 We then moved over to see the Jungle Trek, with tigers, bats and birds. We also took the train to Conservation Station.
Unfortunately at this point Judi started to feel pretty bad. At the time I thought it was due to the food poisoning.
It was really because of the stress I was having with my roommate.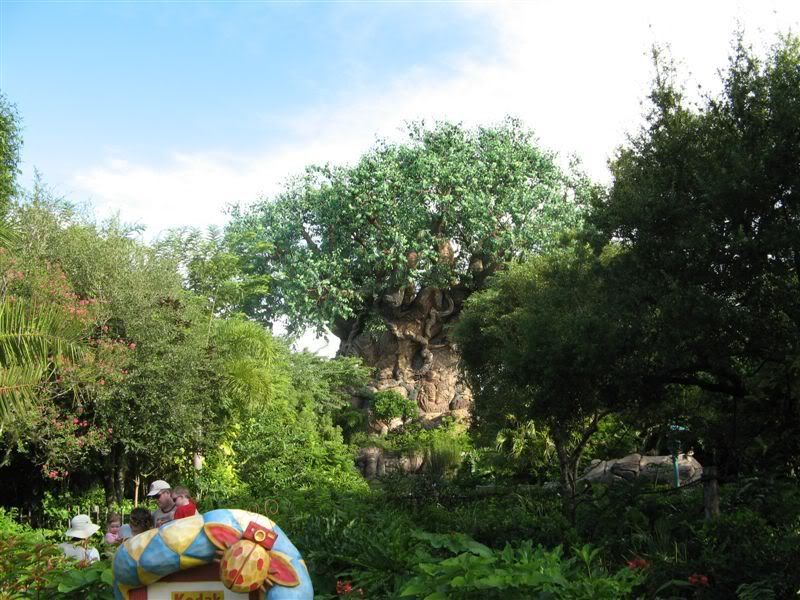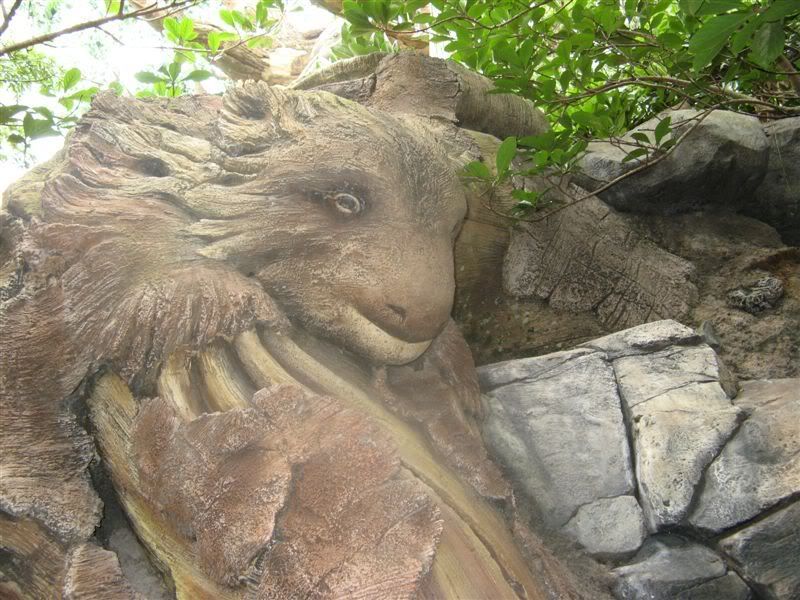 I do think Voices of Liberty are another of the often overlooked things to see at Epcot. I could sit there for hours listening to them perform and from the reaction of the crowd, so could they.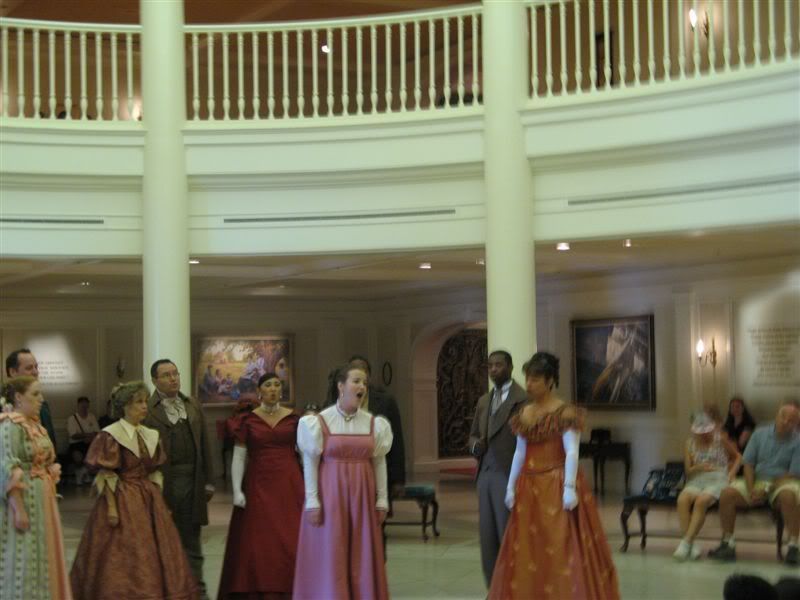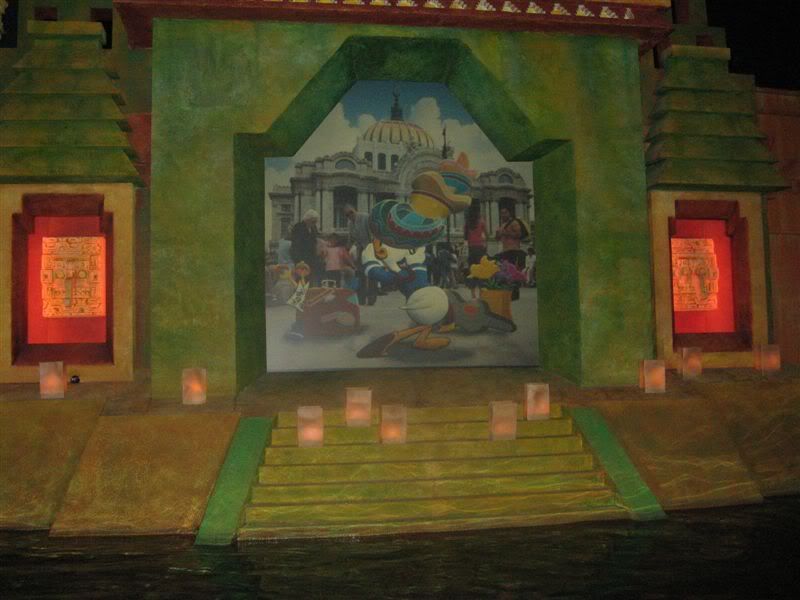 By now it was time to head to dinner, so we moved towards the boat dock at International Gateway. We had planned on dinner at Teppanyaki but they had not finished renovations yet so we were moved to Spoodles.
I had never been to Spoodles before but I think it was a real nice place. I had the 4 cheese flatbread and the Lemon-Garlic Shrimp Pasta. For dessert I went with the Brulee. All of the food was good and the open kitchen is a ball to watch.
We had to pick up our tickets at Customer Service by Spaceship Earth, which is on the other side of the park from where we were and there were no buses for us to take. So it was a long walk through the park.
However our seating (well standing) was perfect. We had a direct view from Showcase Plaza in Future world, looking right across to American Adventure. This is really where the show should be viewed from to fully understand it.
Again, I think Illuminations is one of the best shows they put on at WDW and the music and effects always make me feel good.
With the show over, we headed back out of the park and to the hotel where we were pleased to see Judi feeling a bit better. However there was a problem for us to deal with regarding our rooms.
While most of the deluxe hotels have some sort of business center, only two Disney properties have major convention facilities. One is at the Contemporary and the other is at Coronado Springs. As it turns out, there was a huge IRS convention coming in to the hotel and it was open to the local public.
This meant that when we arrived back at the hotel there was literally no parking of any kind anywhere near our room. Needless to say this did not please us and we had a rather stern conversation with the hotel manager about the problem.
I am sure there is a wanted poster of me in the back room.
I was a bit surprised at how they dealt with the issue at first. Judi is after all a travel agent and had long been a fan of CS resort. But the fact that they tried to tell us that they had never had any parking problems before did not endear them to us. We understand that problems happen but it is worse when they try to lie about it.
However they did manage to find new rooms for us over in the Cabanas area so we decided that we would move the next morning.
Day Six: Wednesday September 19th: MGM Studios
Today we had dinner reservations at MGM so we decided it would make sense to take a late morning and then head in to MGM for the rest of the day. It was not too hot today (although I think in time you start to adjust to it) so we figured to skip our normal afternoon break.
In addition we needed to move rooms. We had packed things up the previous night so we called bell services and told them to take our bags to the new rooms. We then went over to the registration desk where they were reasonably efficient in swapping us. The new rooms also had a nice view.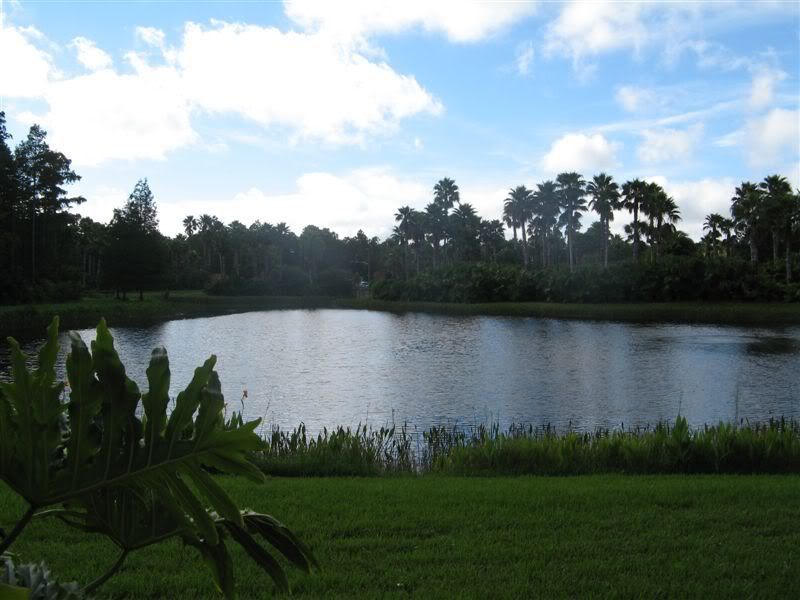 But this is a very well done performance and the venue is pretty impressive. Over 150,000 square feet and it has a complete movie set (designed after a village in Italy). They do a series of special stunts and also show you some of the behind the scenes stuff.
The next thing we did was the Studio tour, if for no other reason than to see what they eliminated to build Lights Action Motor Stunt Show. As best as we could tell (it has been 6 or 7 yrs since our last ride) they mostly eliminated the stage sets that included the Golden Girls house and other ABC sets.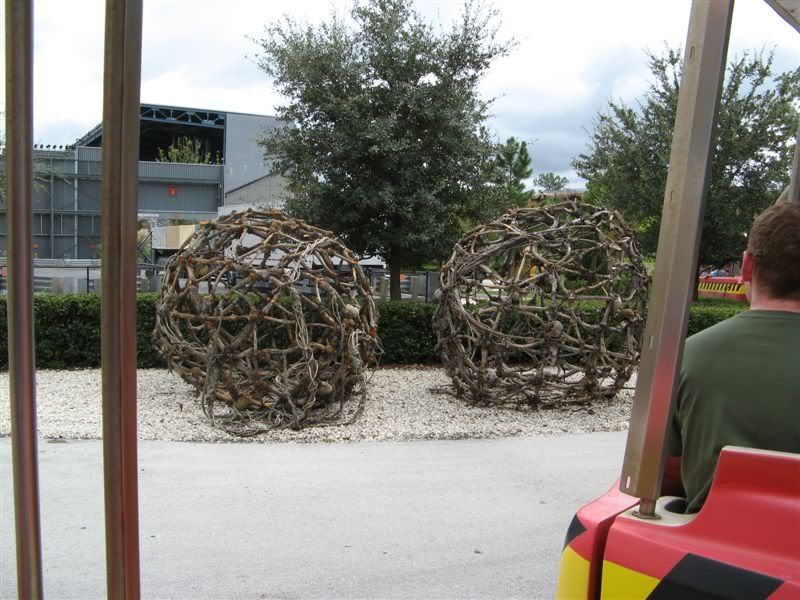 After finishing the Studio Tour we were ready for lunch so we made our way over to see if we could do Prime Time Cafe early. But as we sort of expected things were really backed up so we decided to go to the ABC commissary for lunch.
After lunch we decided to split up for a bit. I went first to tour through One Mans Dream, which is a really cool attraction with lots of detailed displays taking you through the life of not only Walt Disney but also the Disney company.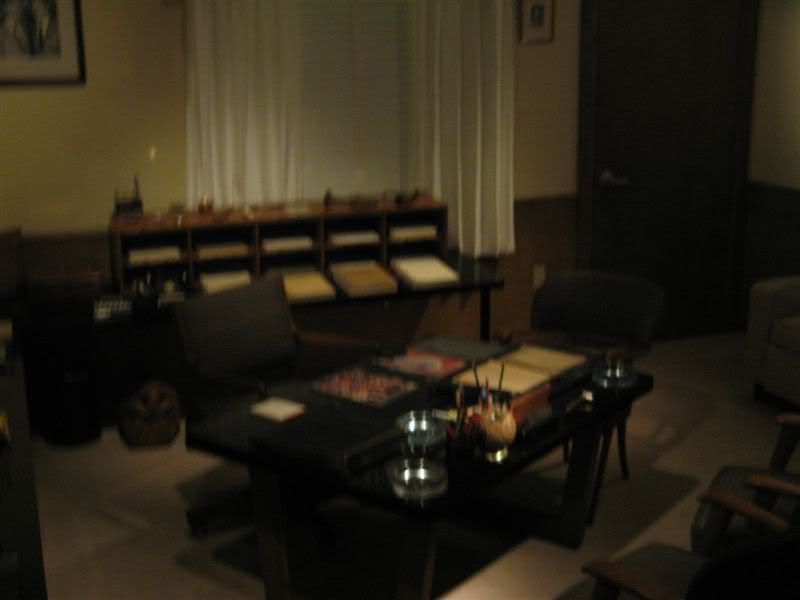 It is just such a sweet and tender look at the man behind the mouse.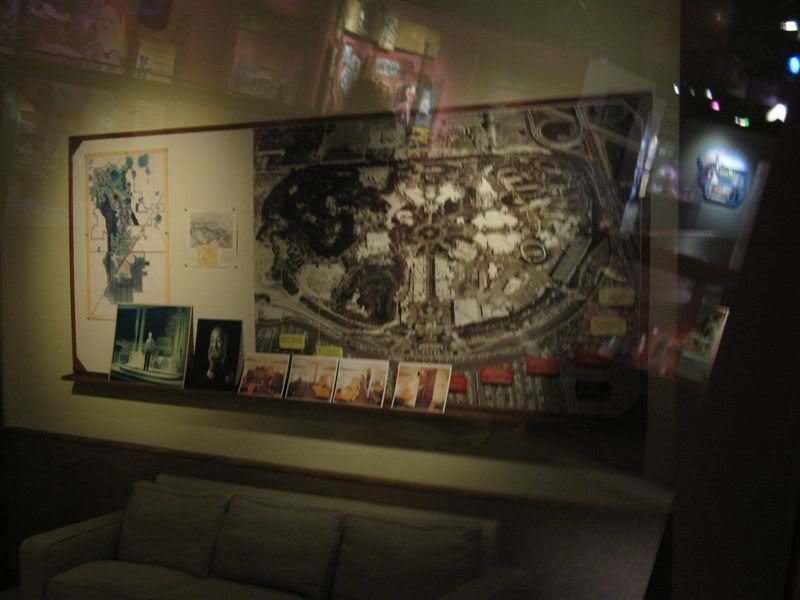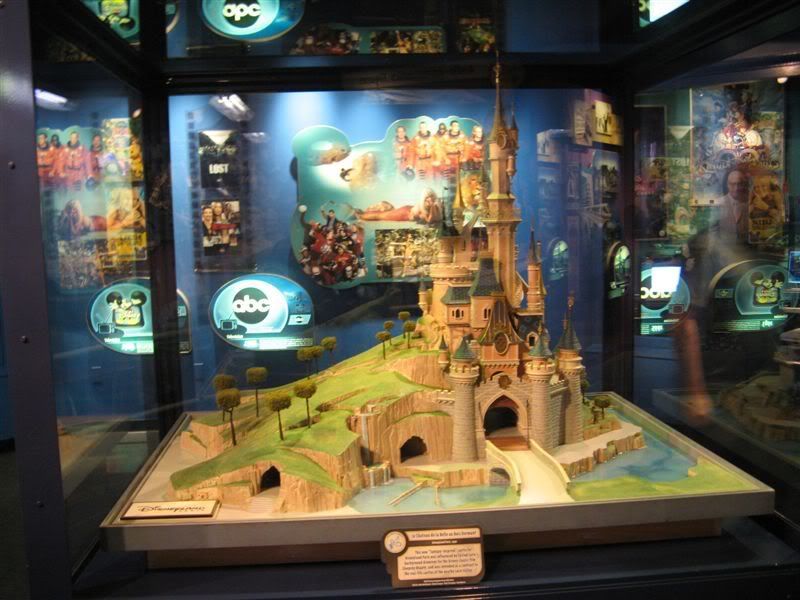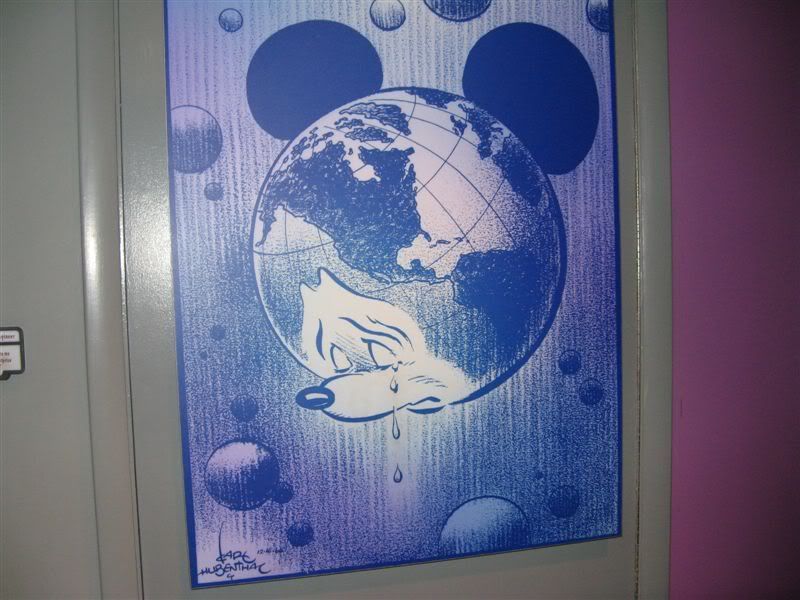 I also went through the Narnia display next door but was pretty disappointed. The entry was cool (you go through the wardrobe) but otherwise it was short and not really that great.
I also made time for the Disney animation tour. While most of the attractions are pretty much the same as the one in DCA they do it a little differently. You go straight in to the animation section and watch the Mulan bit, then you have the option of trying different areas.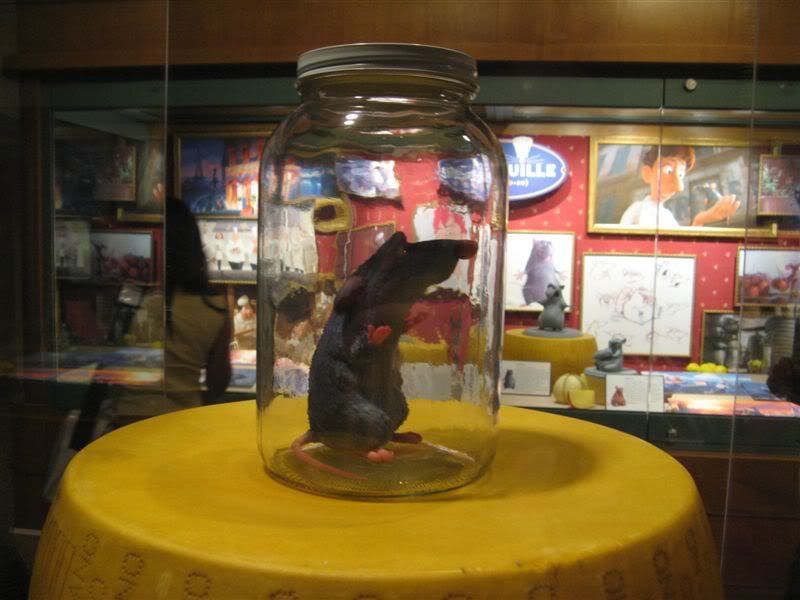 I kind of miss the old studio where they actually had animators working, but I guess that is one of the changes that I have to accept.
I also decided to do the Great Movie Ride. Although I had already done the ride earlier in the trip it is just a lot of fun. You ride through and get to look at many of the great films of the past.
After finishing this area I headed down to the Beauty and the Beast show and also the Indiana Jones Stunt Show.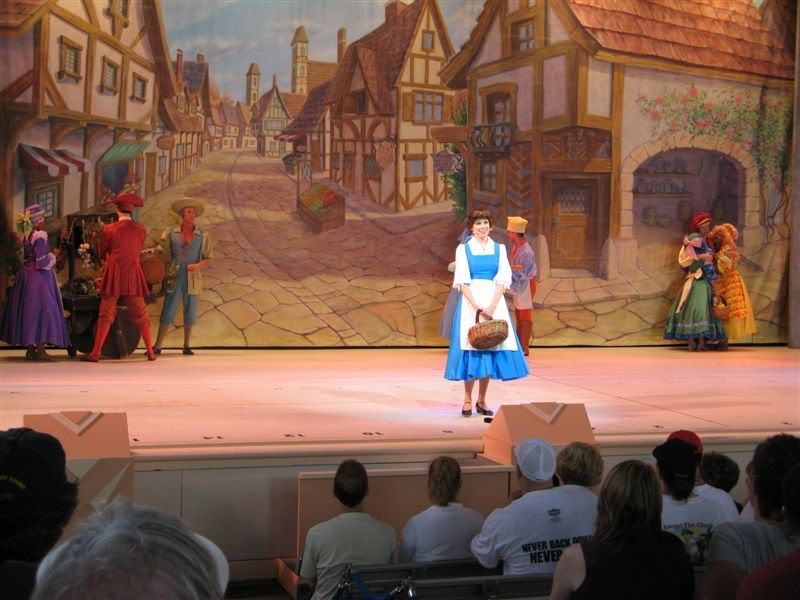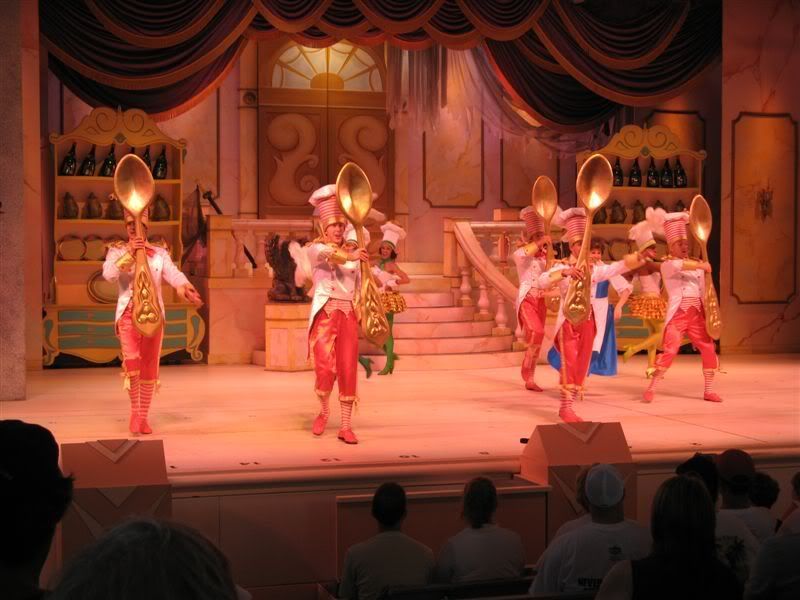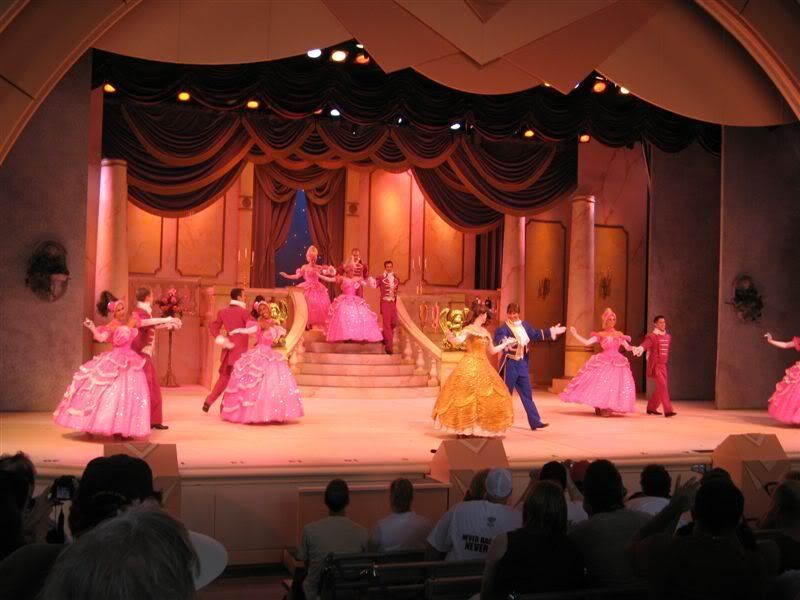 Indy Stunt Show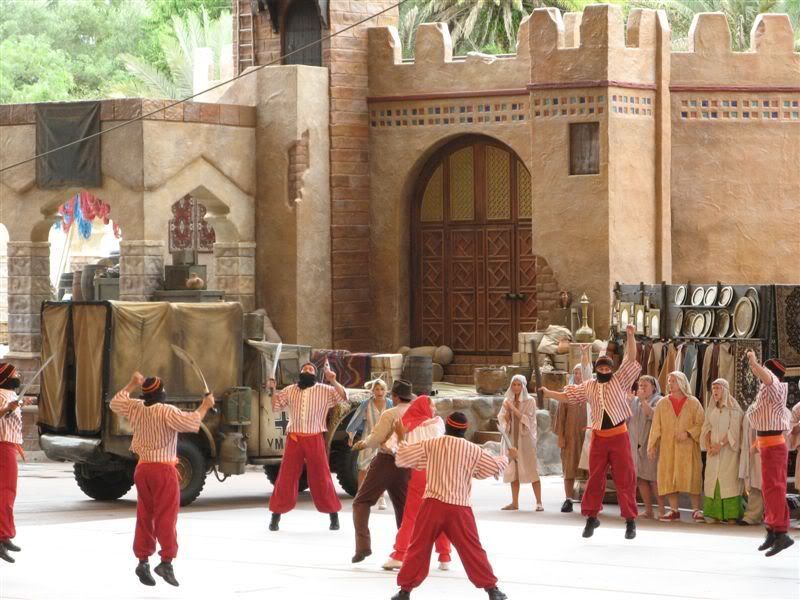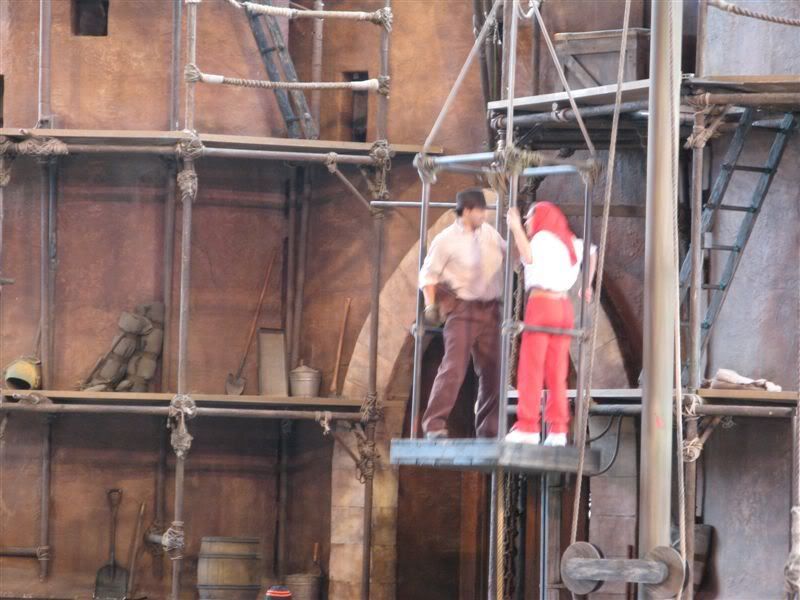 I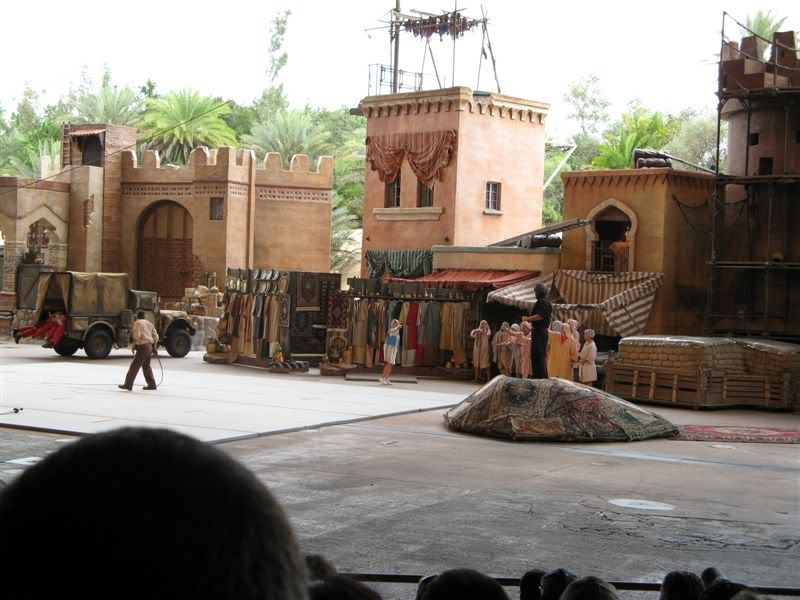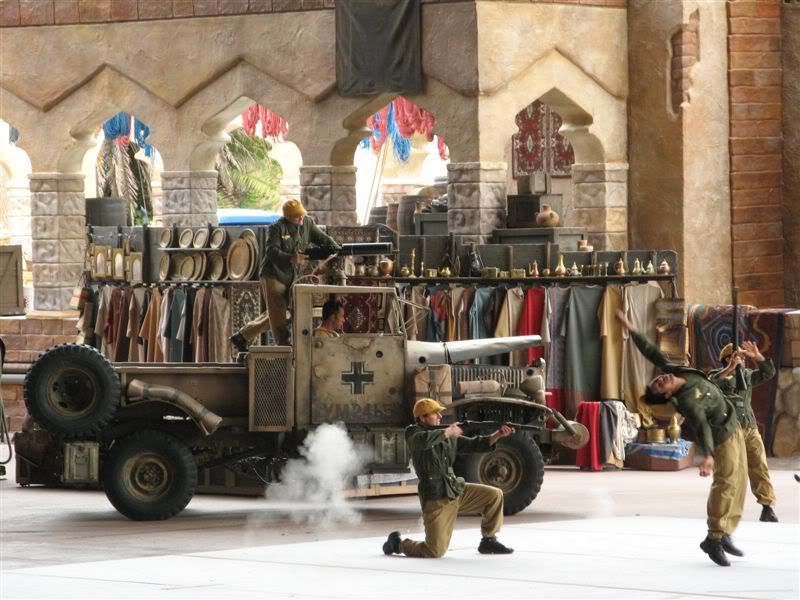 I wish they still had shows like this in California, but then again they keep getting rid of venues where they could do them so I suppose that is going to be hard. Both performances were spot on and I enjoyed them very much.
By now it was close to dinner but I had just enough time to do the Drew Carey Sounds Dangerous show. For those who have not seen it, this is somewhat similar to the old Lincoln show where they use headsets to give you a show in both the light and the dark with some visual and physical effects.
By now it was dinnertime so I walked across to meet up with Judi and we got our seating for dinner at Prime Time Cafe. This is another place I had not tried before but had been wanting to.
The food is also good. I enjoyed a shrimp cocktail, a nice salmon dish and a great chocolate malted for dessert. Our server was an absolute gem, he was happy and peppy and really played the room. Some people at the other tables got teased and played with while the whole room enjoyed.
We of course were not immune from the fun. You do NOT want to put your elbows on the table or you are gonna get a noogie. When you order your meal be sure to do so in a polite manner or else your Uncle will chastise you for not being polite enough.
Judi had a bit of fun with Uncle but perhaps I should let her tell the tale.
After a long dinner we were heading out, and were among the last to leave the park. Dinner was at about 7:45 and it was past 9 by the time we finished. With the park closing at 8 and Fantasmic at 8:30, the place was pretty much empty.
This ends part 2, with the final part of the trip report to come as soon as possible.