I guess they are running out of ideas for Dream rewards.
We were at MGM walking down the Streets of America (?) when we spotted a couple of custodial-looking cast members organizing a basket of fruit they had spilled on the ground. It was a game-who can pick up the fruit the fastest. I helped my daughter and we had fun, but I had to laugh when she received a certificate at the end.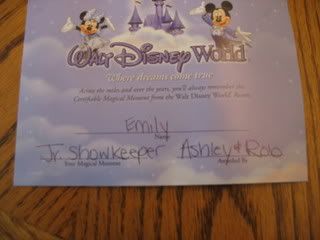 The certificate says: Across the miles and over the years, you'll always remember this Certifiable Magical Moment from the Walt Disney World Resort.
Picking up trash.
)