I just got back, and all in all we had a great time at WDW for my daughter's 3rd birthday! Here are some random thoughts that I thought you might all find of possible interest... in other words, when I thought these things, I made a mental note to post them here once I got back!
1. Haunted Mansion re-do: INCREDIBLE. I know it has been said before, but so much more vivid, audible, wonderful. What else can I really say that has not been said before? My only complaint is that you move a bit fast through the new attic scene to catch what is going on with the bride... unless I had had the backstory I would have been lost. And the average tourist doesn't have the backstory, so they may be confused. You don't see the bride long enough for the average person to understand, IMO. BUt other than that minor squabble, just incredible.
2. SE sans wand- again, amazing. A sight to be seen. Speaking of old-style EPCOT, I did wear my "I'm Celebrating EPCOT Center's 25th Anniversary... since Disney's not" shirt. I got a reaction from one old-time cast member, and we talked about old epcot for a while- that was nice- but no other reaction. Here's a pic of me in the shirt- front and back- not too good of a picture but it is the best one I could find in the photos we took! You can't really read the back in the second pic, but it is the only pic of the back I have and it gives you an idea of the layout. (the back said 'since disney's not')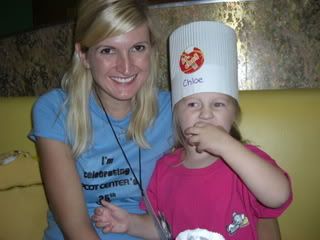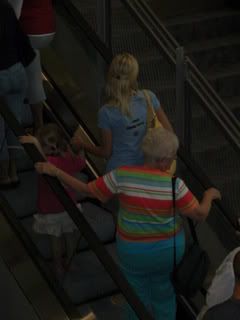 Also, speaking of old-time EPCOT, did anyone notice the error in the 25th anniversary display? I will post the error in a second post below. I did not see it discussed here before I left. Other than the error, I loved the exhibit!!!
3. No more slow times! I guess disney marketing has succeeded, because there are really no more slow times. October was our traditional visiting time, because it was so slow- but last week was as busy as the summertime! I don't know what was up, but it was crazy. That was a disappointment, but we dealt with it.
4. That rolls into my next observation, priority seating craziness. it was very difficult to get a same day reservation, as we all know it is, but the average joe does not... and I witnessed countless average joes finding out the hard way. One newlywed couple was on line at EPCOT guest relations behind me, and could not get in anywhere. It was sad. However, outside of EPCOT walk-ins can be found if you eat at off times... we were able to walk in to the Sci Fi for an early lunch, although we were not in a car.
5. Speaking of PSs, thank you for your advice about keeping my PS for dh and I's date night at Le Cellier- it was delicious, and not at all terribly loud.
6. Characters: Having a young daughter, characters are a priority and dang do they eat up time! This leads to a major annoyance of my trip. My dd's must see was Marie from Aristocats, her fave character and I dutifully visited Guest Realtions every day at 11 am to see if she was anywhere on property. NO luck, until her birthday, when we were told marie would be in france at 1:30! It was great! WE got over there... and it was all a big mistake. Marie had actually appeared the day before. I was so annoyed. Ok, I can understand if they told me marie was cancelled- things can change, and maybe the actor became ill. BUt I had called every day, and they told me she had not been in the park when she had been! The cast members in france acted like this happens a lot, and I have to say that they need to tighten up this service if they can- it could lead to a lot of disappointment.
7. Ohana: Getting back to meals, boy, Ohana's service and food is really really really terrible. Ohana had always been a must-do for us, but based on the decline we had been witnessing I had planned to skip it this year, but dh requested it. So we went- food was bad as always but this time service was just as bad! Told them dd has a peanut allergy, and the server comes by right after that and clunks down the peanut sauce directly in front of her. Then they never bring us steak or pork after multiple requests... finally they ask if we want dessert, I ask them to bring it after the show portion because half our party is up on the dance floor, but then she walks away and brings it immediately, just as I had asked her NOT to do! I know they are trying to turn over tables, but please! I had to give her a bad tip- that dessert delivery was the last straw. We will definately not be going back there again.
8. Everest: I was disappointed that both the bird at the top of the hill and the yeti were broken. Also, all the waterfalls that used to run down the mountain (didn't they?) were off... it's too soon for Everest to start to decline by degrees already!
9. Food and Wine: Morocco was selling bud and bud light- that is so wrong! And they told me they had been out of the morocan beer for weeks. Big disappointment- that is one of my favorites.
10: The Coral Reef: Well, we went there for dd's birthday dinner, since she likes fish, and I was nervous. But it was incredible! I had steak and it was very good. WE also got the service where the diver swims up to the glass with a sign for dd's bday- it was very nice. Yes, it's loud in there- very loud. BUt since I have a young daughter I don't mind. I would not go there for a date night though- Le Cellier was much better suited to that IMO.
11. Confusing new ride storylines: This was the first year I went on the new pirates with Johnny Depp. I like the waterfall effect as you first go in, but for the life of me I could not figure out what the storyline was with Capt Jack. WHy was he hiding? It seemed very random and confusing (although the anamatronic was incredible). Also, the storyline of the new Mexico ride is very confusing to me. WHy are they chasing donald? It does not seem clear. These two rides were disappointing to me because it seemed like they just threw in new characters and did not spend any time developing them into a new cohesive story. It's sad- now that SE is closed and this new Mexico boat ride is not up my alley, the only ride I really like anymore at EPCOT is Malestrom!
Well, that is all that I can think of for now... it was a tiring trip because it was so crouded, but I am dealing with some major WDW withdrawl right now! This will probably be the last time we go until at least 2009, since next year we would have to buy dd a ticket, so I am so glad I got to be there for EPCOT's 25th (as small as it was). Here's a few last retro EPCOT shots for good measure:
Ah, it's gorgeous!
I got to see those old World Key kiosks- they're still there, if you squeeze behind a planter!!!
So does anyone know the error in the 25th anniversary exhibit? I will post it a little later... and I hope you enjoyed my observations!