This is a modified version of my original report but I hope it is still helpful. I would prefer not to go into great details for the reasons behind the change, but basically my original trip report contained some comments regarding the behavior of some people on the trip.
For those who read the original, I appreciate your discretion.
Just for the record this is a Walt Disney World trip report and I was there from September 14th-September 23rd. I stayed at Coronado Springs resort and had both the Magic Your Way passes and the Disney Dining Plan.
So what were some of the problems ?
1. One of the biggest issues was, as you might expect, the weather.
Florida
Humidity was in the 60-100% range the whole time, usually on the high end, with daily thunderstorms and lots of wild weather. To be fair I did ask some friends who are locals and even they said that things were pretty nasty for the time of year.
Obviously there is nothing you can do about the weather, but you can try to prepare. One thing that really helped was to have water bottles with built in water filters. The water in
Florida
has a somewhat unique taste and having the filters helped to really improve the situation. You have to keep hydrated; I went through gallons of water most days.
2.
Blizzard
Beach
before, I tried Typhoon Lagoon.
Now knowing the sun in
Florida
can be bad, I took a shirt to wear, but with cloud cover tricking me I allowed myself to remove the shirt and ended up with modest but still annoying sunburn that stuck around for the rest of the trip.
3. As referenced above, there were some personality conflicts on this trip which arose from a variety of factors.
Part of the problem was that we had both WDW vets and people on their first trip. This situation led to some problems as those of us who had been there before felt like they needed to act as tour guide to a degree.
Also, when you travel, you will find that there is a difference between spending time with a friend at home and spending time with them on vacation. Most of us have our own routines and this is especially true of me since I live alone, I am used to my own way off doing things.
I mention this in part to remind people to try and think of others on trips, it is easy to lose your temper and sometimes you just need to admit you were wrong.
I think there are some solutions to this, like even when you are meeting friends, you do need to plan to spend time apart. This can sometimes be a problem when your group is smaller. Because there were not a lot of us on the trip we felt the need to stick with each other to a degree.
One way to solve this problem is to go with a larger group. For example my next planned trip to WDW is for Mousefest in 2008. With a larger but less formal group you have much more freedom to break apart.
That problem is being overscheduled. In order to use the DDP you had to make dining reservations in advance and as a result each day we had at least one, sometimes two pre-set dining places and times. This made it a little harder to be spontaneous and on a few days we almost felt like we were slaves to the food.
So that is a look at a few of the problems that we ran in to and some of my ideas on how to deal with them in the future. Now on to the trip report itself.
Day One: Thursday/Friday September 13/14
I list day one as Thursday/Friday because I technically flew out of
Sacramento
on Thursday night but landed in
Orlando
I think what happened on my way out sort of illustrated the way the trip went in terms of generally minor yet annoying problems. My flight left at about
8pm
so my Mom picked me up around
5pm
About half way to the airport I suddenly made a horrible discovery. I had very carefully packed my two checked bags and my carry on bag. When Mom arrived I went and placed the check bags into the trunk then showed Mom how to lock doors/check alarm/etc on the house since she was keeping an eye out for me.
As it turns out, there was some major problem in
Los Angeles
that night so my flight took over almost an hour late. This was upsetting to pretty much everyone on my plane since we all had connections in LA. But we managed to get there on time and was able to make it to
Orlando
with only about an hours delay.
Arriving in
Orlando
around
7am
I walked out to the bus stop and was slammed in the face with what qualifies for early morning in
Orlando
. About 75-80 degrees and humid. Not the happiest way to enter into town but what can ya do
.
On the way to WDW we (me and the one other person on the bus) chatted with the driver and watched the introductory video (which is actually pretty cute with all the characters riding the bus to the parks). On arrival at Coronado Springs I was able to grab a shower thanks to the kindness of part of my travel group.
.
We headed off to have breakfast at Cracker Barrel. I have to say this is one of the things I really enjoy about visiting
Florida
California
, as the combination of wage issues, property costs and a dispute over the rights to the name are all acting against us.
After breakfast it was a quick stop Waaaaaaaaaal Mart so we could stock up on supplies and then headed back to WDW to check in to our hotel. Our group was supposed to get a adjoining rooms in the Cabanas area but we ended up in the Caistas area, which turned out to be a big problem.
By now it was around
1pm
or so and we decided to head over to Animal Kingdom for a few hours. I was wondering when my bags would arrive, but I still wanted to see the parks.
We then did the Safari ride, figuring it was a good ride to show people who have never been to Animal Kingdom, but due to the afternoon heat we did not see as many animals as we had hoped.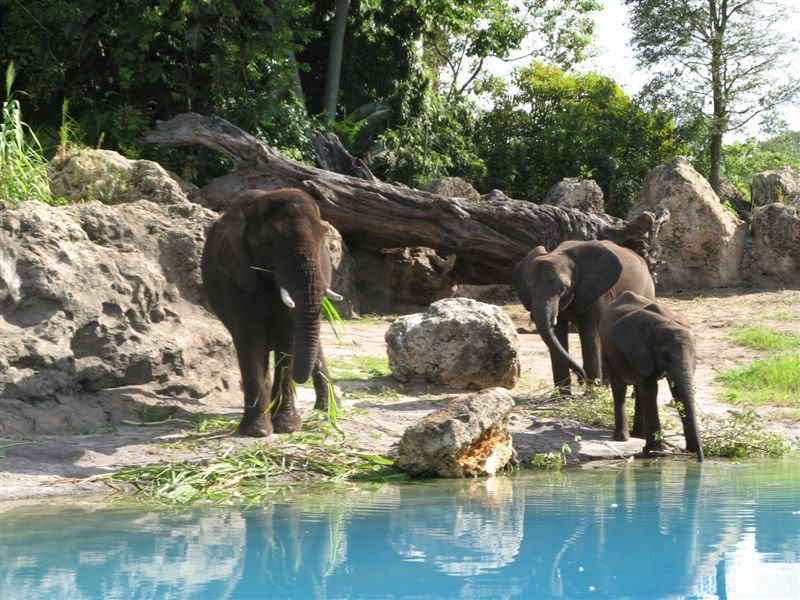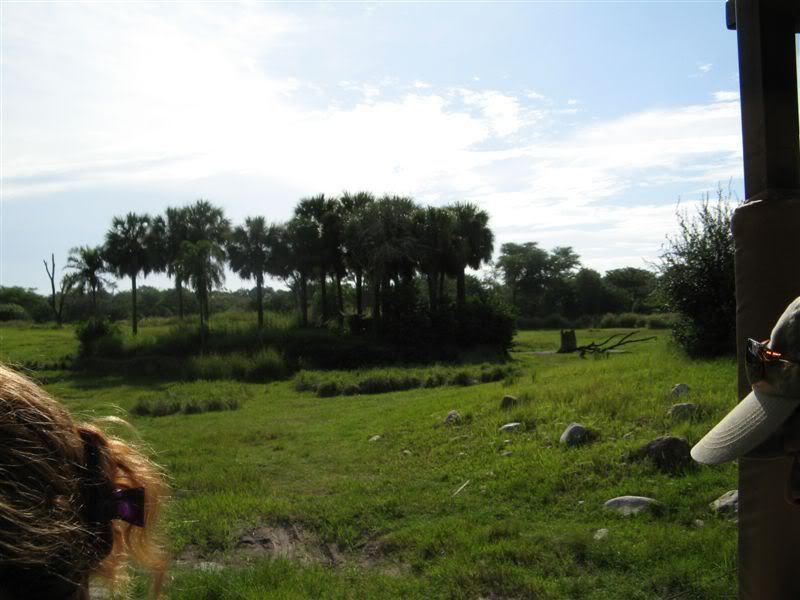 We also did Kali River Rapids and a good amount of walking around. We also took time to watch the Animal Kingdom parade
While watching the parade we took advantage of our snack option (DDP) to get some sundaes, and that was a nice afternoon treat.
Wanting to check on my luggage and get a break before dinner we headed back to the hotel. My bags were there and waiting so I unpacked and then headed to the snack bar to but us souvenir mugs and then to the pool for a swim. I do have to say I love the souvenir mugs they sell. Admittedly you pay way more that you get in terms of drinks but it gives you a very nice thing to bring home.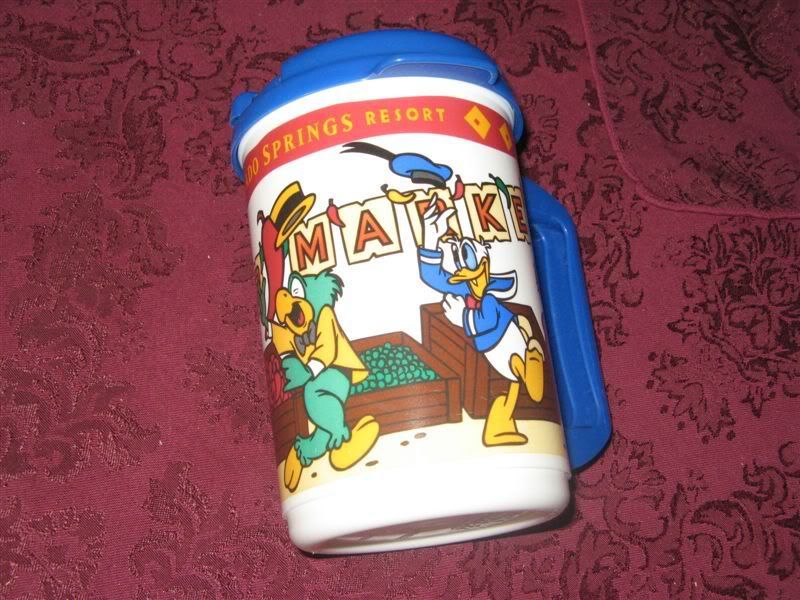 Around 7 or so we headed over to Wilderness Lodge for dinner at Whispering Canyon Cafe. Along the way it started to rain and by the time we got to the hotel it was really starting to come down.
As it turns out this rain was the start of a long and very active thunderstorm. We later learned that the storm shut down the boats on property and the monorail to Epcot. It was a real mess and we were glad to be inside.
This being our first meal on the Dining Plan we decided to have fun, and ended up paying for it. By the end of the meal, between three of us we ate: a bowl of chips and dip, two orders of cheese/sausage/crackers, two prime rib dinners, one large slab of ribs, 3 bottomless milkshakes, 3 glasses of water and 3 large desserts.
. But I ended up paying a bit for my overeating, if you know what I mean
Day Two: Saturday September 15th: Epcot and MGM
Today was an early day for us, we decided to take advantage of early entry at Epcot so we were up and going at around 7am (far too early for me personally, but what the heck).
But we did have Mission Space to look forward to, it was a new attraction for us all so we figured it would be a good idea to get fastpasses for Space and Test Track. Much to our pleasant surprise we found that there was almost no wait for Space and a minimal wait for Test Track.
Mission Space simulates a flight to Mars from launch to landing. As with
Mount Everest
, I really enjoyed this ride. When you get into the simulator it turns you on your back just like you are in a rocket ready to fly. During launch you can really feel the g forces, my face peeled back and I could really feel it pushing on me.
Moving on to Test Track we found that the line had grown, but it was still not long enough to justify doing a fast pass. We spent the rest of the morning working our way through Future World. One ride I made sure to hit was Journey to Imagination and good old Figment.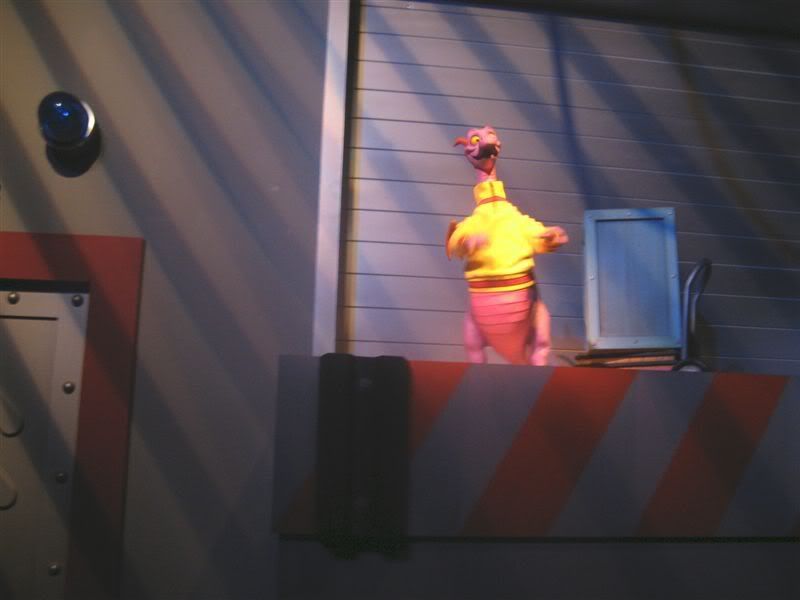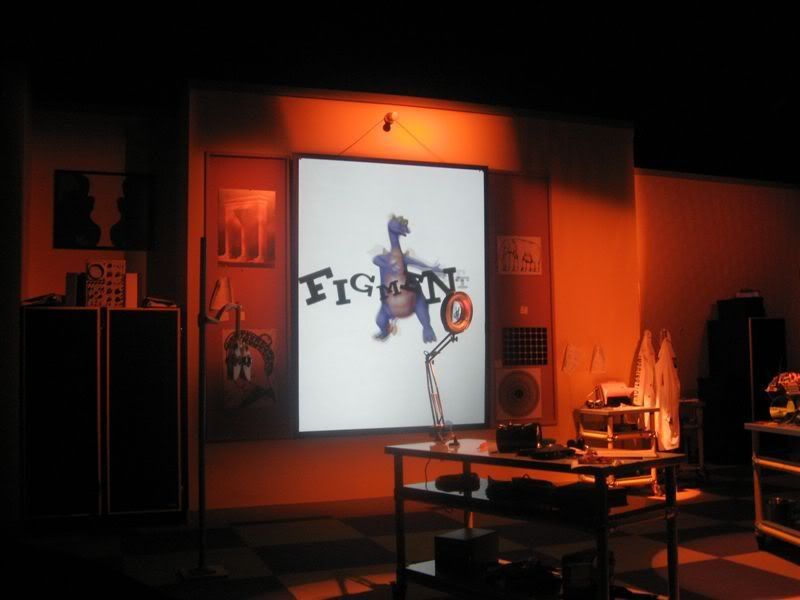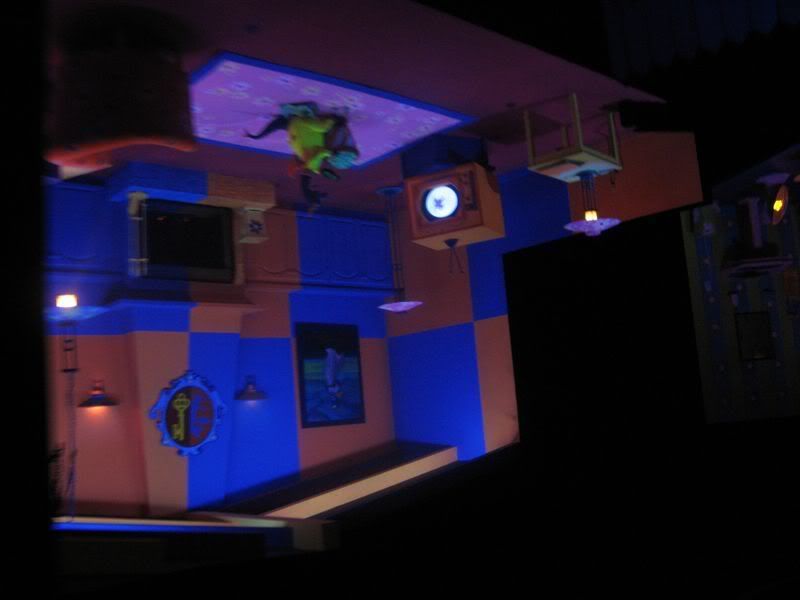 Another of the places I was looking forward to is The Land. I love riding on Living with The Land though again I was sad to see that Food Rocks was gone. Soaring is a great ride but you would think with all the room they have (including the empty Horizons and Odyssey buildings) that they could have kept my Veggie Veggie Fruit Fruit.
Living with the Land is still a great and informative ride though.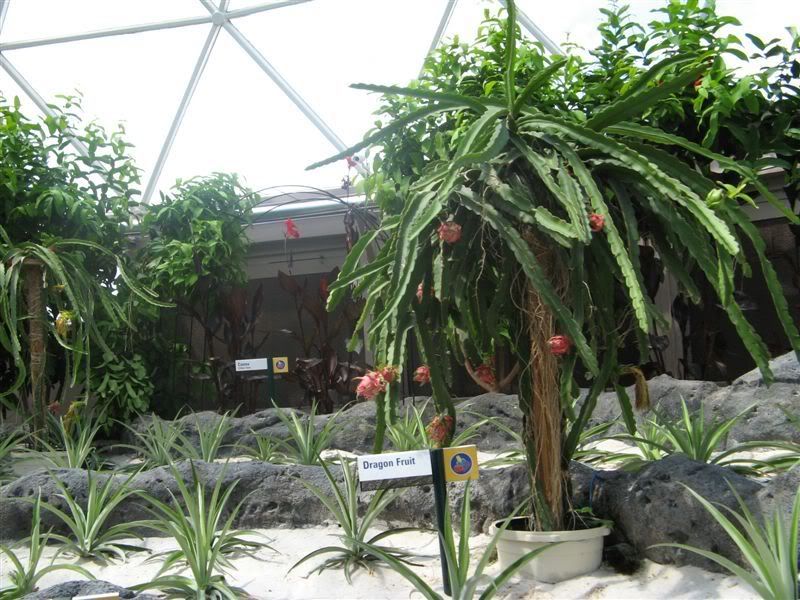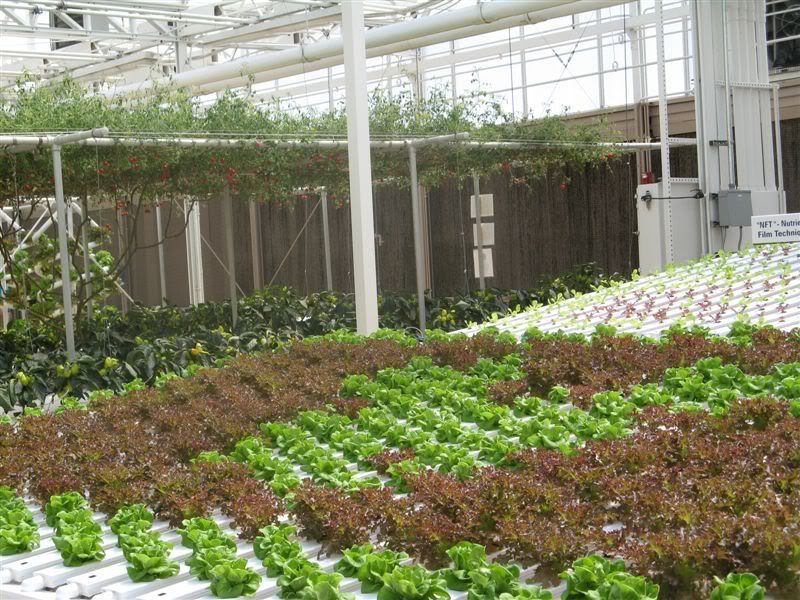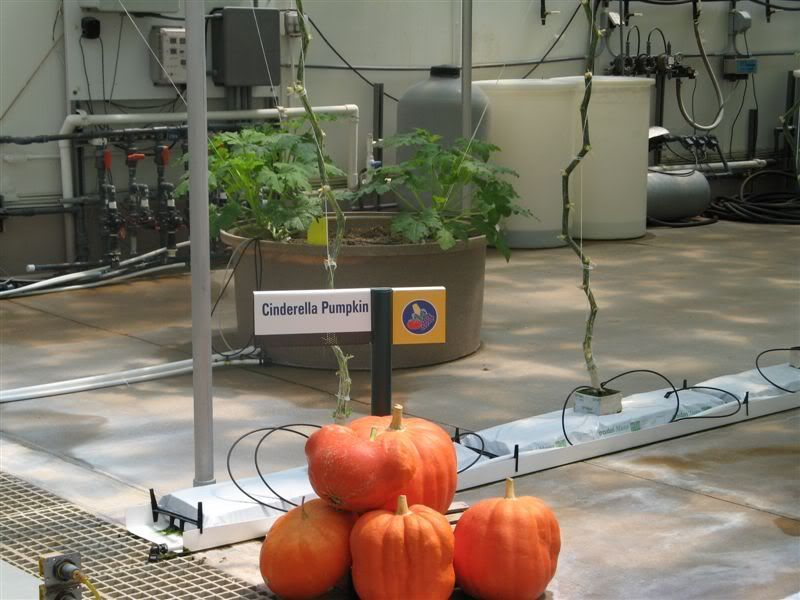 Canada
includes not only a movie but a lot of nice walking around areas with gardens and water and so on.
We were called for lunch and headed in to our seats in the
Prince Edward Island
section of the restaurant. Our server was a trainer so we actually got two people taking care of our table, including one that was very eager to please.
While the others went with the cheddar cheese soup, I settled on the shrimp for my appetizer. When served it came out with something of an Oriental theme, I had expected something more traditional. But it was quite good. It also reminds you that
Canada
is a very diverse country and not what some of us think.
For my main course I chose a great chicken sandwich topped with marinated, black diamond cheddar cheese, and tarragon garlic mayonnaise on a sourdough English muffin)( with some fries and a coke (big shock for those who have dined with me before, I am a coke addict.).
I have to say here that our server at
Canada
After lunch we did some more poking around in
Canada
while we waited for the next showing of the new film. I know there have been a lot of people who have criticized the change, saying the Martin Short is not a good host and that the movie is not enjoyable.
After
Canada
we moved through the
UK
. While they do a great job with simulating the different parts of the country I do agree with those who suggest it needs a makeover. For one thing, there is far too much
England
and not nearly enough Ireland/Scotland or
Wales
. In addition, the lack of any film, ride or show is a real downer.
We now walked down to the International Gateway to take the boat to MGM.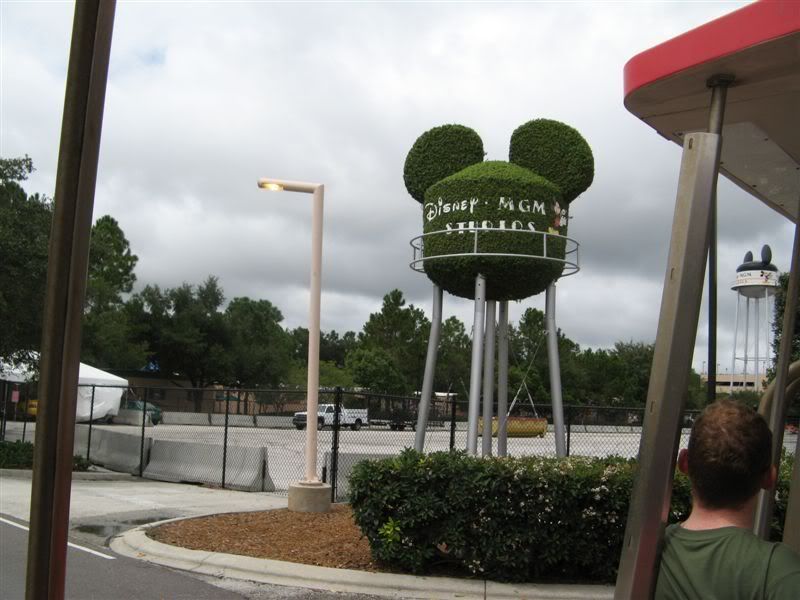 Once in the park, we walked through MGM looking around and then headed towards the back to ride on the
Tower
of
Terror
where I had a rather interesting experience.
Florida
. But in
California
, they organize the lines with the doors to the elevator closed, then they take you in row by row. Here they had the doors open, and people just walked in. As a result when we got to go in there were only two seats left in the back row, far apart. One was at the far right end and the other to the left of the center (suicide) seat (this from the perspective of facing in to load, when seated, the directions would be reversed.
Dinner tonight was in the hotel, a nice dinner of pasta/soda and dessert. Then a quick dip in the pool and rest for the evening.
Day Three: Sunday September 16th:
Magic
Kingdom
and Epcot
Since we had made it to the other parks already we decided to start today at the
Magic
Kingdom
. In addition we hoped to manage to pull of a bi-coastal hub meet at
3pm
, calling someone at DL from WDW.
As I walked down
Main Street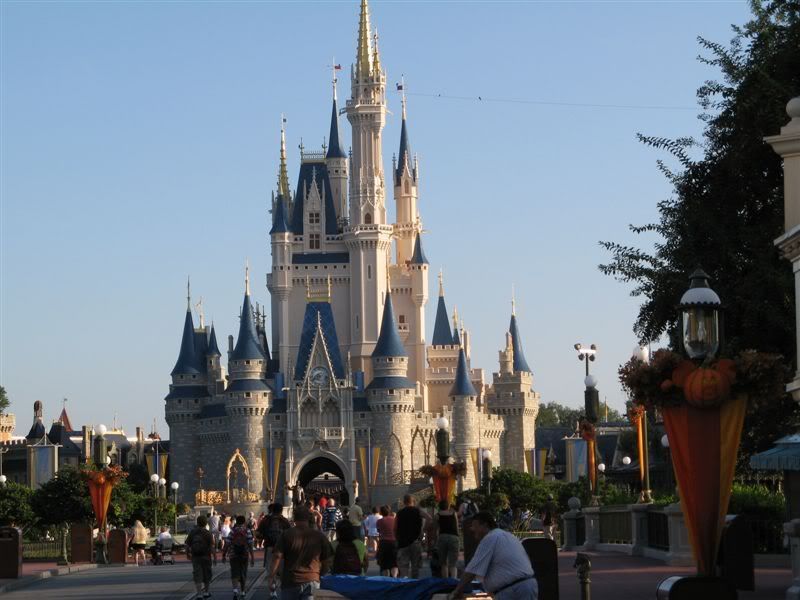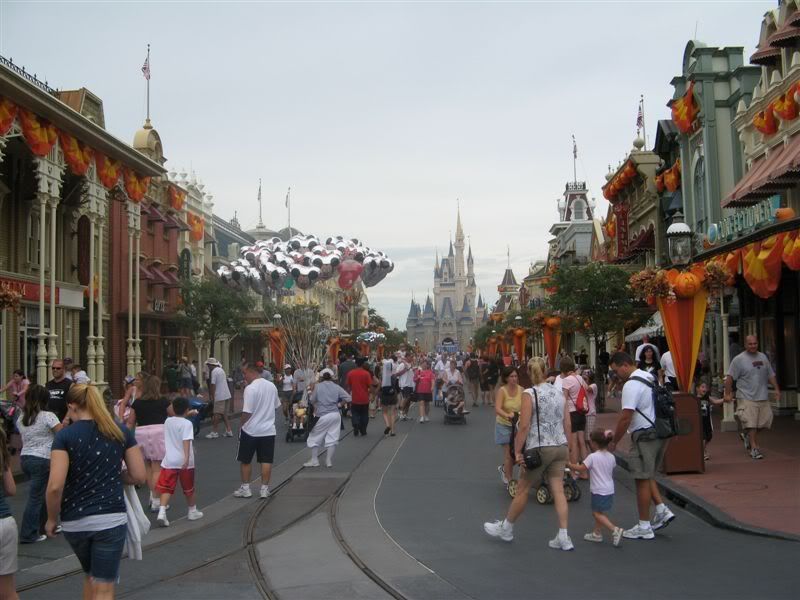 Magic
Kingdom
is bigger and more elaborate, but as a number of DL vets have said, it lacks the magic you feel in
Anaheim
Since it was early we thought that our best shot was to head into Fantasyland to get on some of the dark rides before the crowds grew. As I moved through FL I was reminded of another thing I find confusing about WDW versus DL. In
Florida
they had all the room they needed, and yet they seemed to do very little in terms of theming the queues.
I also really like the Winnie the Pooh attraction. For those used to the
California
After working our way through Fantasyland we headed into Tomorrowland. Judi and I had both been looking forward to getting a nostalgia fix by visiting some lost
Disneyland
attractions..
Since our feet were getting tired and we wanted to look around the land, we decided to take our first run on TTA/Peoplemover. I really hope that they seriously consider bringing this back to
California
. It may not be super fast or have the thrills of
Space
Mountain
, but it is a heck of a lot of fun.
After TTA we headed over to Carousel of Progress for a Great Big Beautiful Tomorrow (go ahead and sing along). This is another attraction that would be a nice return for
California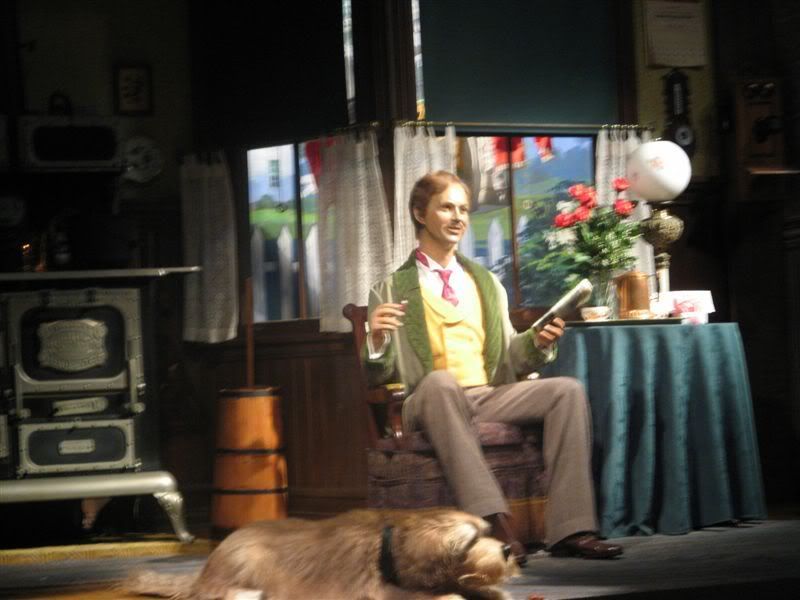 Before stopping for lunch we took a run through Buzz Lightyear and I have to say this is one case where
California
got the better of the deal. I had forgotten how bad the
Florida
).
Lunch was at Cosmic Rays Cafe, we got some great shots of Remi taking in the show and were just able to rest and relax for a while
By now it was close to
3pm
so we moved over to the hub for what was supposed to be a meet with some of the WDW Micechatters and a call to the folks in
California
.
Unfortunately, nobody showed up in
Florida
California
to answer the phone, so there went that idea.
We rested for a while at the hotel before driving over to Epcot for dinner. This was our meal in
France
and we were all wondering what it would be like. To start off the food was great. I had calamari with ratatouille, a terrific salmon dish and we shared a variety of desserts.
Southwest France
near
Spain
So
France
After dinner we took in the
France
film and did a little poking around in
Morocco
. Amazingly as we were walking along they announced the start of Illuminations and we were able to walk right up to the fence and get a great view of the show.
With the park now closing we headed out the gates and back to the hotel for bed. I sometimes am bemused by the fact that we work harder on vacations than we do when we are at home.
Day Four: Monday September 17th: Typhoon Lagoon
I had gone to
Blizzard
Beach
before and since Typhoon Lagoon was almost always closed during our normal December visits we figured this was our chance. We got there shortly after opening and settled down in a nice set of chairs and then moved out to enjoy the park.
In preparing to go to the park I knew the sun would be an issue, so I made sure to use plenty of sunscreen. I also brought along a shirt to wear, figuring that even on a somewhat cloudy day I would need to be careful.
Unfortunately, I forgot about this when we settled ourselves down and took the shirt off. I should make it clear that I have a body better suited to wearing a shirt, but for some reason I allowed myself to walk around without it.
In our moving around the park I have to say I was not as impressed as with
Blizzard
Beach
. It seemed the park was harder to navigate and that there were way too many stairs to climb up and down.
Deciding that we might as well give everything a shot we did most of the major slides, some of which gave us some pretty nasty bumps and bruises (or it sure felt that way). I would think Disney would be a little more careful about those kind of things but I guess that things must work out ok.
One of the most relaxing parts of the day was floating around in the area they call Castaway Creek. You just sit in an inner tube and float along, taking a short nap if you want.
The wave pool on the other hand was a bit rough on the skin. I do understand that they probably cannot use sand on the bottom due to filtering issues, but I would think they could have something other than hard cement. When you get knocked over by a wave it does hurt your hands when you land.
After a long day at the park we headed back to the hotel to rest up for dinner at the Animal Kingdom Lodge. I had been looking forward to this dinner not only because I had heard how good the food was but also because I could meet up with my friend Brian.
We got to the hotel early and were able to do some looking around. The AKL is a pretty amazing place, and if I ever manage to win the lottery I might just stay there for a night or two.
It was however great to spend some time with Brian and to walk around the hotel and have fun relaxing. I also was able to confirm from him that the rest of us were not weather wimps, that the heat and the storms (especially the Friday one) had been bad.
Day Five: Tuesday September 18th: Animal Kingdom and Epcot
Today we had more of a show day. We had done most of the rides at Animal Kingdom and planned to wrap up Dinosaur on Saturday when we had breakfast. So today we mostly focused on seeing the shows and walk thru attractions at the parks.
We first headed over to do another ride on Kilimanjaro Safari while the weather was cool and comfortable for the animals. I do suggest that anyone who visits AK try to do the ride early in the morning especially if it is a hotter time of day.
After the Safari ride we made our way through Pangani Forest Trail to get a look at hippos, gorillas, birds and lots of plant life and other treats. This is often an attraction people skip as it has a fairly quiet entrance, so I suggest you look for it. We also walked around
Africa
and
Asia
for a while.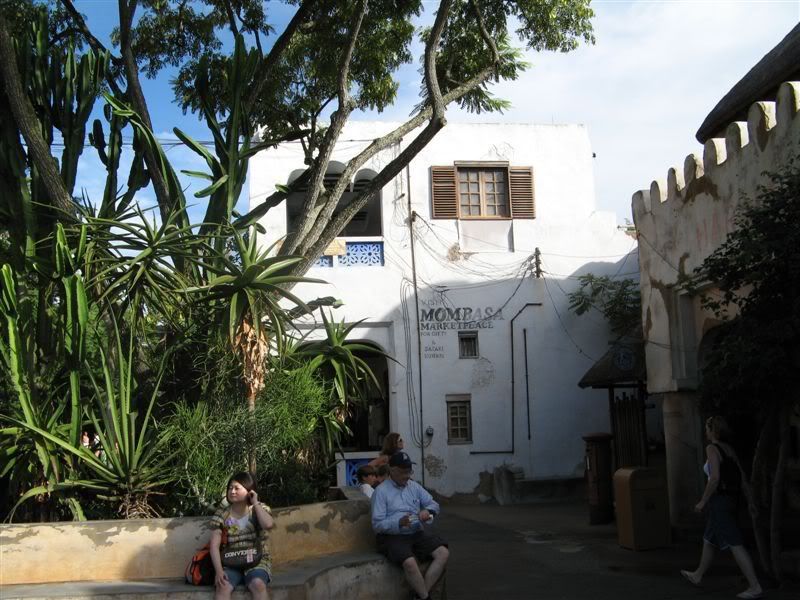 Our next stop was the Lion King show, which is absolutely one of the best shows that Disney puts on. The combination of singing, dancing, acrobats, fire eaters and everything else is just too good for words.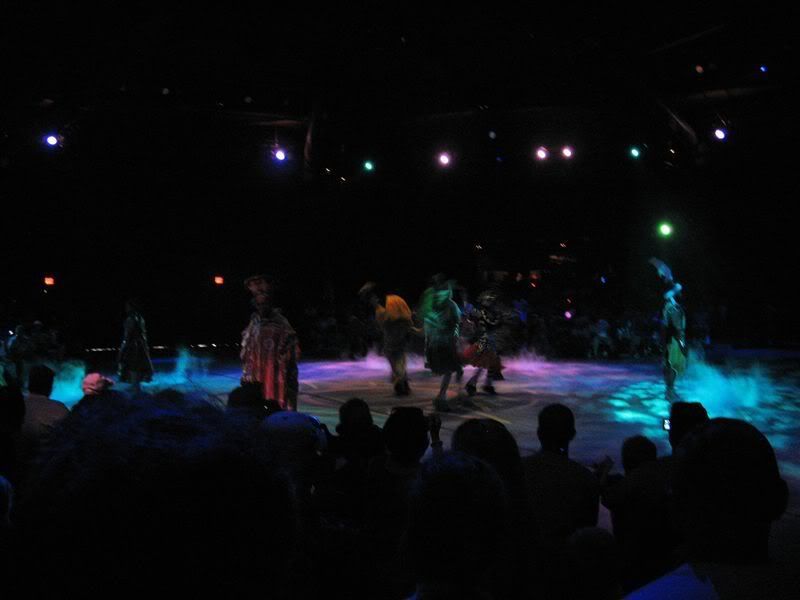 Lunch was at Flame Tree BBQ, which has some of the best seating in any of the parks. You get an nice view of water and trees and in the background the Tree of Life and Expedition Everest.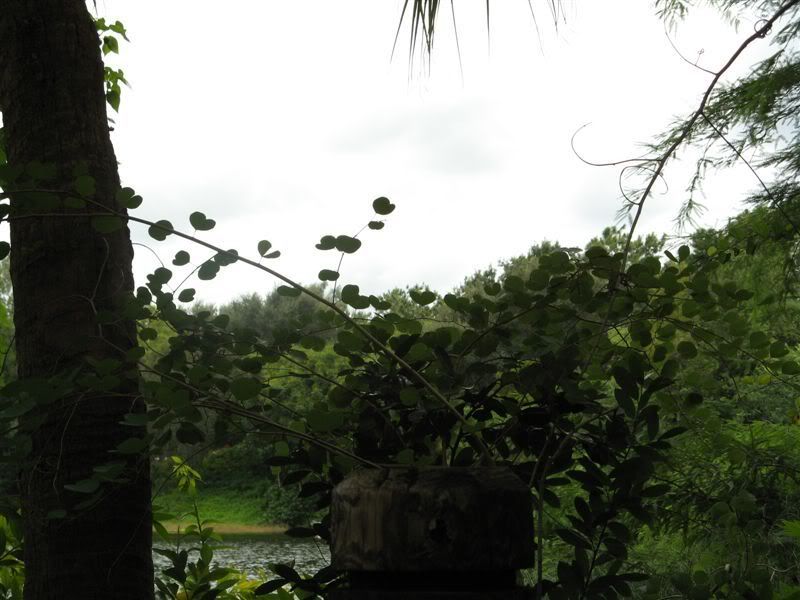 We then moved over to see the Jungle Trek, with tigers, bats and birds. We also took the train to Conservation Station.
Around
4pm
or so I headed over to Epcot and we did American
Adventure
,
Norway
and
Mexico
before getting ready for dinner.
I do think Voices of Liberty are another of the often overlooked things to see at Epcot. I could sit there for hours listening to them perform and from the reaction of the crowd, so could they.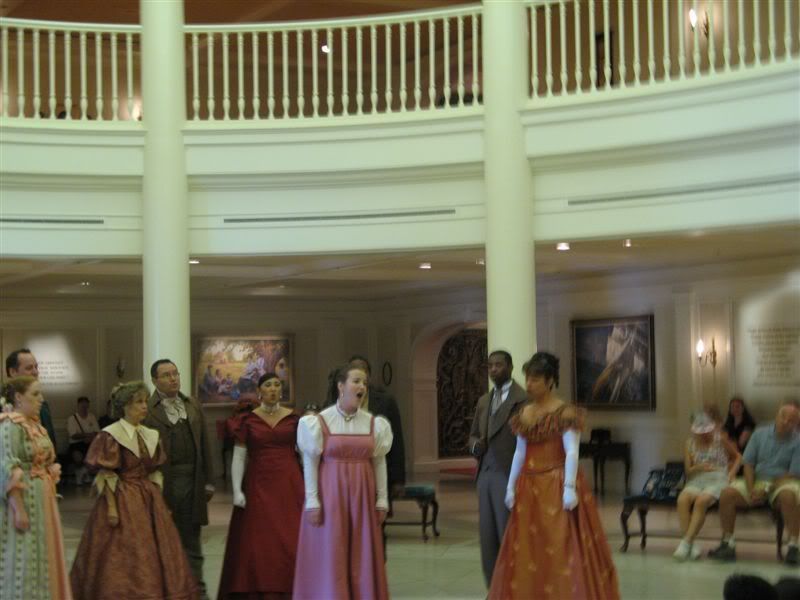 Mexico
Norway
, which is a cool ride and I especially like the way that they use very limited space in a very clever way.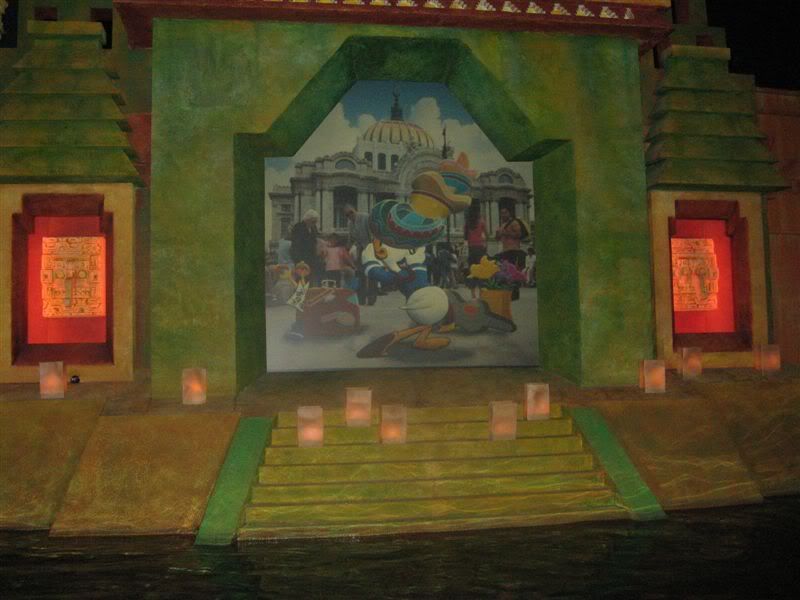 By now it was time to head to dinner, so we moved towards the boat dock at International Gateway. We had planned on dinner at Teppanyaki but they had not finished renovations yet so we were moved to Spoodles.
I had never been to Spoodles before but I think it was a real nice place. I had the 4 cheese flatbread and the Lemon-Garlic Shrimp Pasta. For dessert I went with the Brulee. All of the food was good and the open kitchen is a ball to watch.
We had to pick up our tickets at Customer Service by Spaceship Earth, which is on the other side of the park from where we were and there were no buses for us to take. So it was a long walk through the park.
However our seating (well standing) was perfect. We had a direct view from
Showcase
Plaza
in Future world, looking right across to American Adventure. This is really where the show should be viewed from to fully understand it.\
Showcase
Plaza
is that there is coordination to the lighting. As the globe spins, as viewed from SP, the areas light in based on what part of the world is being showed.
Again, I think Illuminations is one of the best shows they put on at WDW and the music and effects always make me feel good.
With the show over, we headed back out of the park and to the hotel where we found a problem with our rooms.
While most of the deluxe hotels have some sort of business center, only two Disney properties have major convention facilities. One is at the Contemporary and the other is at Coronado Springs. As it turns out, there was a huge IRS convention coming in to the hotel and it was open to the local public.
This meant that when we arrived back at the hotel there was literally no parking of any kind anywhere near our room. Needless to say this did not please us and we had a rather stern conversation with the hotel manager about the problem.
I was a bit surprised at how they dealt with the issue at first when they tried to tell us that they had never had any parking problems before did not endear them to us. We understand that problems happen but it is worse when they try to lie about it.
However they did manage to find new rooms for us over in the Cabanas area so we decided that we would move the next morning.
With this I will end Part One with Part Two to follow.