Hi everyone, like most trip reporters i've just returned from a Disney park. Living in southern California, I pretty much know Disneyland, and recently visited both the Hong Kong and Tokyo Resorts, so i'm lucky to feel i have some breadth of ride experiences. My mom says my first words I ever read were all the Exit signs surrounding us in Circlevision360 while on my dad's shoulders when 18 months old, so, maybe there's some magic.
In this case, Orlando, was my first time back to the Magic Kingdom in over 40 years. An old college friend was taking his cousin's wintery New England-based family, whom includes a five year old girl and eight year old boy, for their first Disney experience (and plane trip, for that matter), and i was to be an, ultimately unnecessary, adult escape valve (since the kids were amazing). The timing needed to fit within their kids' Spring Break, while ignoring weekend crowds, which meant ideally the short Mon-Thurs week of February 20-23, 2017. Afterwards, my amigo and i took advantage of the trip to grab one extra parkhopper day to ride the monorail from Epcot to MK, and also visit Winter Park, downtown Orlando, and Universal all for a few days.
We started planning earnestly about six months previous, buying airline tickets and securing timeshare reservations nearby (so very excited to find us sleeping literally one mile west from the lions of Animal Kingdom). To spread out expenses, park tickets were purchased about three months out, with full group Fastpass and dinner reservations getting set up at the 30-day mark. Luckily, the family was willing to trust we could plan the ideal vacation amidst the bloodsport of all you other early-planners of the parks, and they let us figure out all the gory details.

First task was to figure out which parks in what order.

Putting the Magic Kingdom as Tuesday, our second day, made sense to us for two reasons - avoiding Presidents' Day Monday there, and not wiping out the kids serotonin completely on the first day with the thrill of the original (okay, second original) park. Epcot seemed a perfect introduction to Disney World, plus we decided a Princess Breakfast in Norway for Monday morning would be a fantastic way to start the vacation for the five year old. With winter's earlier park closing hours, it also meant first day could be limited for the parents that would need way more sleep by then. It was decided that ending the four days with real live animals would be the best we could ever do, so Hollywood Studios (starring Chewbacca for the eight year old, plus Star Tours) got Wednesday, with Animal Kingdom rounding out the kids' very full week on Thursday.

As the FastPass 30-day open approached, each new day began with an exercise in figuring out when the Disney clock rolled over on the west coast, and frantically jumping on the most popular attractions we could fastpass within times that made sense - worst case was the Seven Dwarfs Mine Train's first availability was 8:10pm. The most difficult task was studying menus and satisfying the Vegetarian and the Gluten-free members of the group, which took a fair amount of google-research, then actually scoring a table for six within times that also made sense.
We knew, in planning, that kids would completely change our perception of the parks, figuring we'd already be missing what, as adults, we'd speed by knowing there's three E-ticket rides to get to before our fastpass in two hours, would instead totally fascinate the kids to no end. Proved true time and time again - usually by toy kiosks more than anything, though some carvings in the rocks outside Animal Kingdom almost derailed an easy entrance one day. However, what we wanted to prevent was a total group decision meltdown, where we reach the Hub and have no real idea (or too many ideas) what to do next, or have a badly thought out ride decision list with long lines that suddenly required the five year old to walk from one side of the park and back again.
So, after locking in whatever Fastpasses were left 30 days after the resort dwellers had their fill and making reservations for the few properly vetted restaurants, we started drawing doodles on maps of the parks, trying to discover the most efficient means from point A through Z for each day. Thinking, everyone likes an adventure, (in adobe Illustrator) we turned those doodles into actual adventure treasure scavenger maps we printed out for each park each day for the kids. ...OOOoo Maps.... It gave them something suddenly specific to think about over breakfast, since they'd only learned a month before they were even going and did the amount of park research you'd expect from an eight year old in the middle of a school semester (aka none). At least they knew almost all the Disney films. We marked the exact Fastpass times, food locations, and various attraction ideas that we'd encounter on these walkabout paths. It was hoped that such a map could also prevent mid-afternoon burn-out, if they could see there was a plan and that the plan promised fun.
And it actually worked. They were suddenly deeply, richly involved in finding real treasures to ride.
Each day, they were blissfully excited as we were up and ubering in time for rope drops, and with the exception of the Hollywood Studios downpour one night, they stayed up and rocked the parks until they closed us out. I had printed out six copies of the maps, and handcut each one out (so when you held the batch of them together, they never looked made from cookie-cutters). The kids carefully folded them up in their pockets and referred to them throughout the day as much as they did the regular park maps. They even made sure we are on track with our fastpasses, for we just couldn't miss the Haunted Mansion they'd heard stories all about, but they could tell there was plenty of time for them to do whatever they wanted as well. I don't think they felt constrained by our prior planning, since they could look around and see just how many other families were present and trying to do exactly what we were trying to do. The little one kept asking the night before our first entry, about the waterslide at the timeshare pool, "are we at the park now?" - proving (adorably) they had just no idea what was coming.
[speaking of, this is the first large posting for me, so i need to figure out how to post inline pictures and maps at the correct size, and i'll continue to put stuff up in stages over several posts, as i finish writing - kudos to those that

have written these, it sure takes a lot of preparation and energy, i promise to be slow]
As proof I've figured out out to post pictures inline, the day before I left West Hollywood, I had this sight outside my apartment...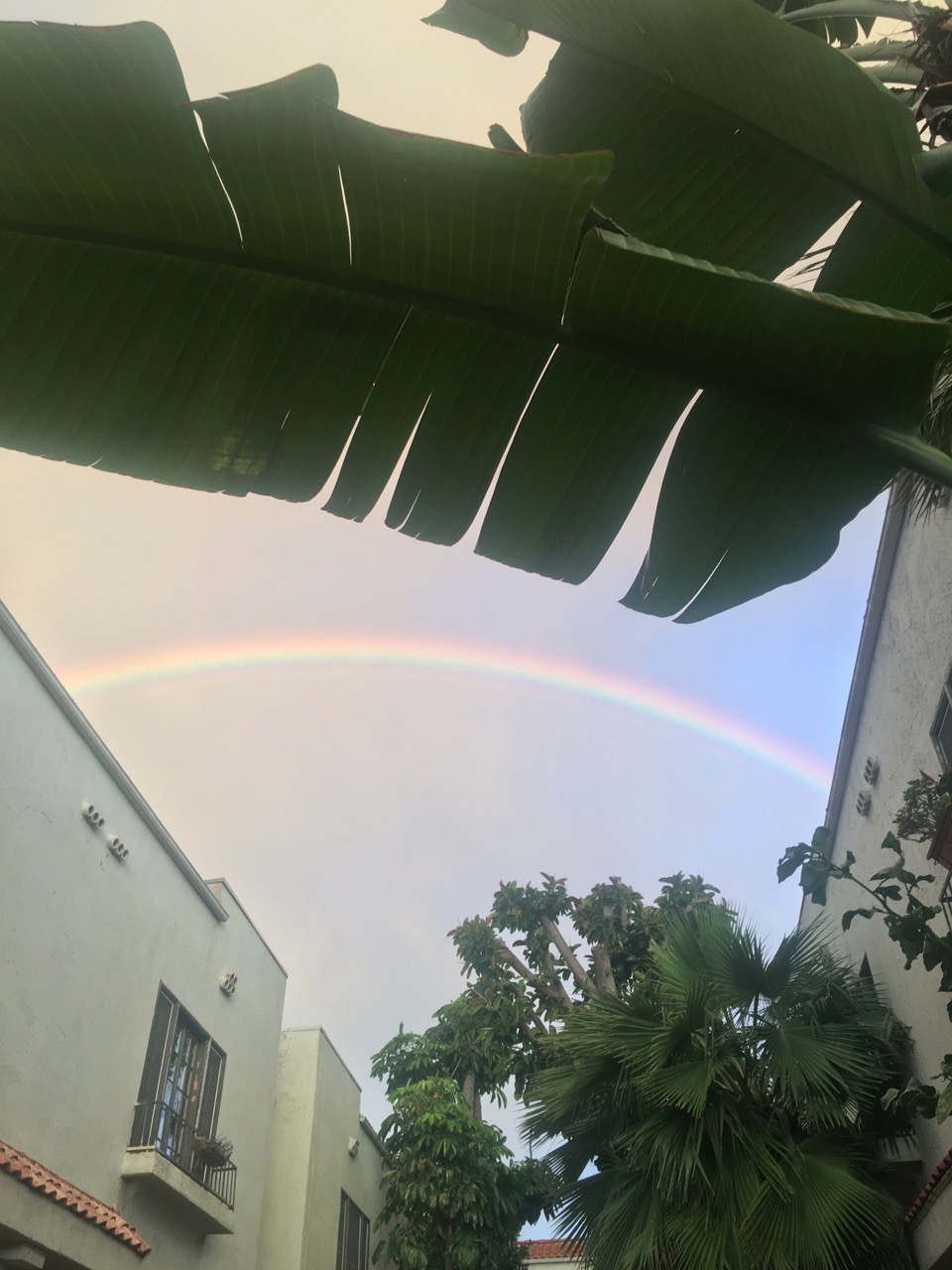 ...and I'll tangent one moment to explain, I live one block down the street where, the neighborhood story goes, back in 1939 Mr. & Mrs. Harold Arlen were driving east from Beverly Hills into Hollywood for a movie screening, when a similar atmospheric condition struck, and this was right at the time when he was struggling to conceptualize lyrics for an important, primary, 'I Want' song for Judy Garland in MGM's The Wizard of Oz. Apparently, he quickly pulled over on Sunset Boulevard under the Schwabs Pharmacy neon lights, and scribbled out history. I've been looking almost twenty-five years for a rainbow like his, and this... was the exact same rainbow over hollywood.

Good omen.