I rode this countless times as a child. This is NOT my personal video, but rather an edited compilation by YouTube channel "epaddon"; they have spliced other videos together to create a full ride through experience from the entrance queue to the exit.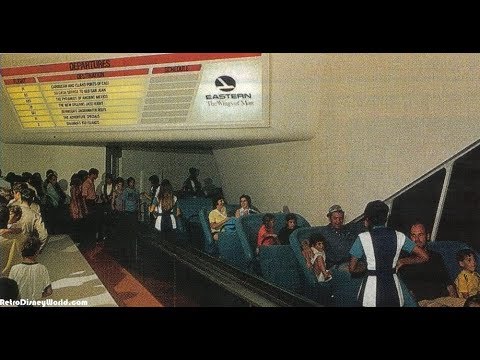 Some trivia:
1) The track layout has remained the same throughout the many ride transitions/re-imaginings, including the current Buzz Lightyear's Space Ranger Spin
2) At the exit of the ride in the above video, you will see a freeze frame image of an Eastern Airline jet on the wall, with a desk and (covered) computer console. This was at the exit of the ride (which has since been extended to include the Buzz Lightyear gift shop and photo op). At this "desk" would sometimes be an airline representative, so you could sit down and discuss flights/get info, etc. Not sure if you could BOOK a flight from this location.
3) Disneyland vets will notice the similarity of the queue line, ride vehicle with a shorter back), passage into the globe effect ("Mighty Microscope"), and ride layout to Adventure Thru Inner Space. So essentially:
a) If You Had Wings was the WDW version/cousin of Adventure Thru Inner Space. However, the Disneyland attraction was closer to the Tomorrowland Entrance, basically where Monster's Inc. Laugh Floor is located in the WDW Tomorrowland.
b) ...and by the way, the WDW Space Mountain is basically the Disneyland Matterhorn attraction (double tracks and all) set inside a domed building with a space theme. They have even shared similar ride cars over the years.
4) There were no animatronics in the ride. There were static props, and dark ride style flat buildings/tableau with projected film scenes of people enjoying their Caribbean vacations at various ports of call.
5) After Eastern Airlines left its sponsorship of the attraction, all of the Eastern paraphernalia were removed. White bird silhouettes where painted over the Eastern logos, and the attraction name and theme song were both changed to "If You Could Fly"... but it was otherwise essentially the same attraction. This was until the scenes were gutted and Delta Airlines stepped in as the new sponsor, with "Dreamflight"
6) The theme song "If You Had Wings" is still played in WDW Tomorrowland (and possibly Disneyland as well?) as ambient, instrumental background music, although somewhat "space-ified." You can here the part at the video below, 29:30 mark through 31:30: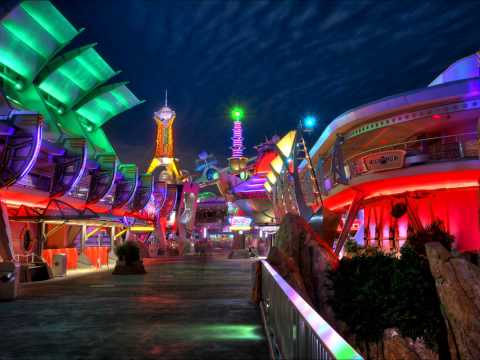 Here is Martin's Tribute video to the WDW attraction, with some additional info.