I recently went on a brief trip to the Magic Kingdom for a class trip. I hadn't been to the park since summer of 2006, and it was my first trip since visiting Disneyland last summer, so comparisons between the two parks were inevitable. I have kind of been avoiding visiting MK and WDW as a whole for a while, because once you visit the parks so much like I have, you get tired of them and start noticing their flaws (or maybe its because I've been reading Mice Chat/Mice Age too much
)
My big issue with the Magic Kingdom is that, being the park with the top attendance records, management seems to not care for adding any major additions to the park in comparison to the other parks. To me, they feel that they can ride on the fact that MK is the classic quintessential Disney theme park experience with its existing aging assortment of attractions and don't need to add any significant big E-tickets, because the park is likely to remain the top park in attendance regardless. (I don't know about you, but I consider Laugh Floor and Stitch minor additions... Buzz to me was the last great addition)
Our trip started in the early hours of the morning when we began our four hour trip to the Magic Kingdom from South Florida. The bus ride was very comfortable, and I played around with my iPhone to entertain me along the way. The iPhone also worked as a GPS device for me to track exactly where we were along the way and how long it would be until we get there using the handy locator feature. As we got closer and closer to WDW property, we passed by some interesting sights.
No class trip to Walt Disney World is complete without a drive by the Gaylord Palms Resort. [Insert lame joke about this resorts funny name here]
We also drove by the newly-renamed Disney's Hollywood Studios and Wide World of Sports before reaching the gate to the Magic Kingdom parking lot and ticket & transportation center.
Crappy cell phone pictures taken via iPhone.
Once we arrived at the TTC, I was convinced to take the ferry, a means of transportation that after 15 years of visiting WDW I have yet to use since we always take the monorail. It was a very pleasant ride, and provided great views of the park in the distance as well as the surrounding hotels in the MK resort area.
The Contempoary Resort as seen from the Seven Seas Lagoon with construction cranes looming overhead working on the new DVC wing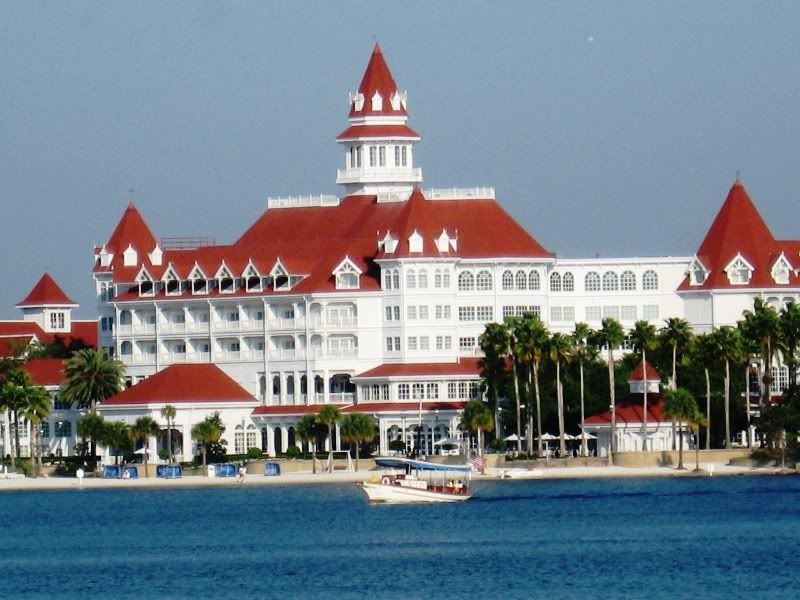 View of the Grand Floridian from the ferry to MK
Polynesian Resort from the ferry leaving the TTC to MK.

Panoramic view of the MK skyline from the Seven Seas Lagoon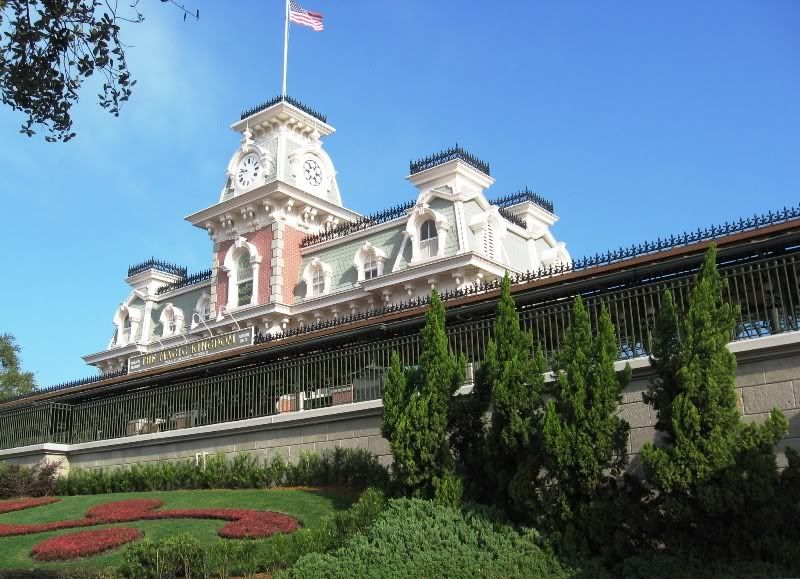 As we entered the park, I took a few pictures of Main Street and the castle while friends waited for the bus from an all girls school to school to arrive (we are an all boys school). They were a bit behind, and I decided that since we had a limited amount of time in the park that day, I would use my time wisely by taking a walk around the castle to take some pictures and riding the Haunted Mansion while they waited on Main Street.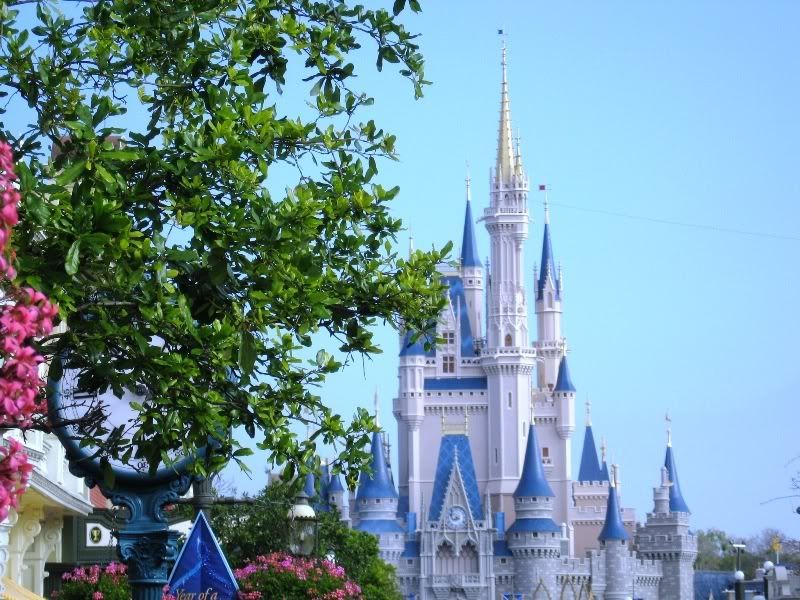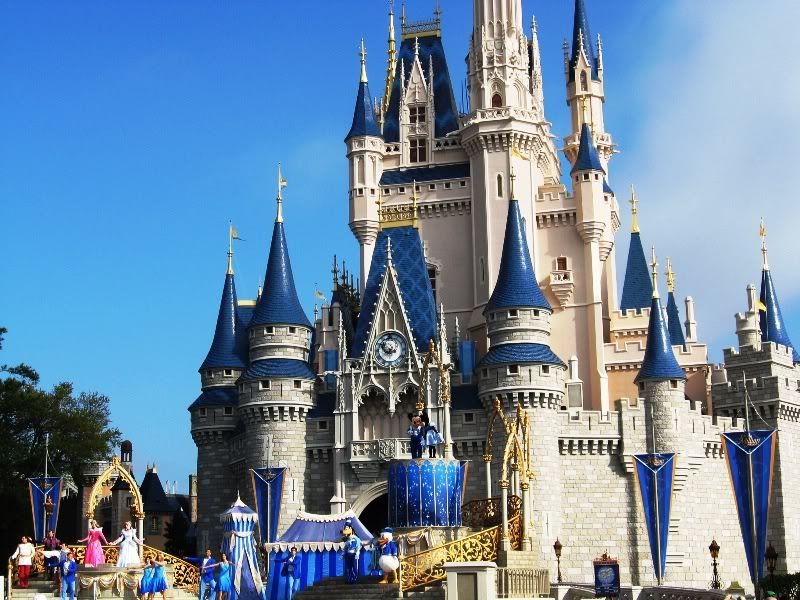 Dream Along With Mickey castle stage show was playing when we got there.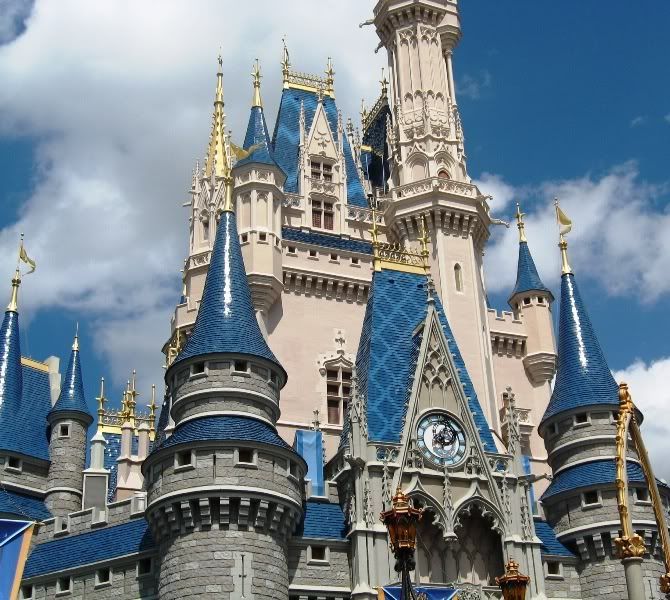 Castle close-up shot. The castle got de-50th anniversaryized and a new paint job since I last saw it.
Main Street U.S.A. with the castle in the distance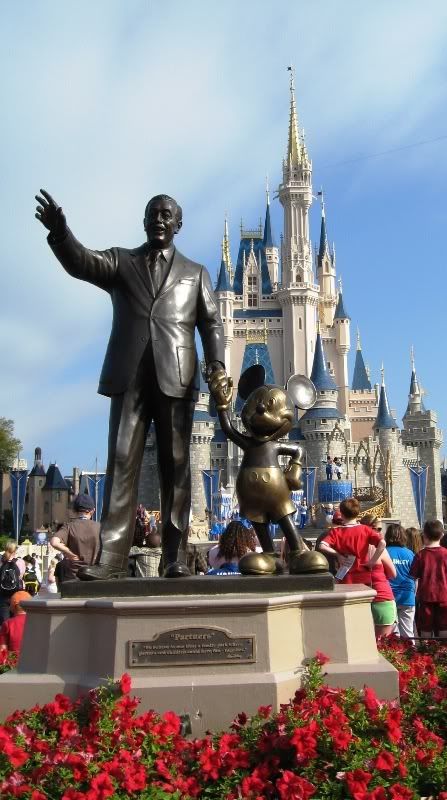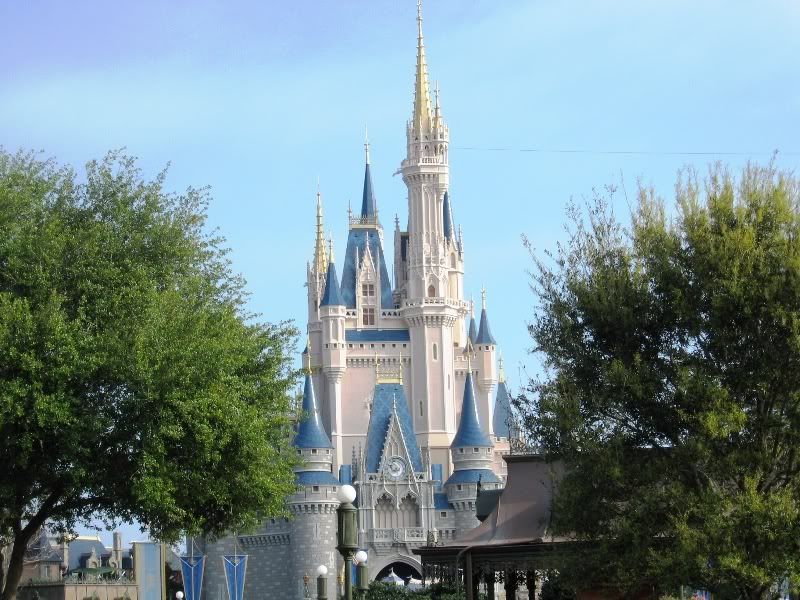 You can never take too much pictures of the castle on such a nice clear day.
The Haunted Mansion only had a short 10 minute wait, but it was actually much shorter since the park had just opened. Pre-refurbishment, this ride was not better than the Disneyland original, but today after riding MK's mansion is just as good if not better. There were various improvements, and I'm glad they took the time to refurbish this aging ride. By the time I was done riding, they called me letting me know that they had arrived so I made my way to Main Street to find a huge mass stampede of people entering the park (I assume the park was busy because it was a Saturday, some schools were out on spring break, and it was St. Patrick's day weekend).
After meeting up with them, we quickly formed a group of about 12 people and made our way to Tomorrowland and got fast passes for Space Mountain before seeing Monsters Inc Laugh Floor. The show was very well done, but I didn't find the jokes very funny. I loved the interactivity aspect of the show, and how you could text in a joke and the monster comedians interacted with you (a joke was read by someone who texted it in my group & I loved this line "If you have any trouble text messaging in your jokes, ask the nearest teenager). A positive is that since it's so interactive, you'll get a different experience out of the show every time.
After, we rode on Buzz Lightyear's Space Ranger Spin. If only they would refurbish it to allow you the flexibility to pick up the gun and shoot like at Disneyland, it would be a much better attraction since the MK version seems to be bigger and on a much larger scale since Disneyland had limited space to work with. I ended up getting a very high score, I forgot how much, but it was probably the highest I've ever gotten. By the time we were done, it was time to use our fastpasses for Space Mountain. Although the ride is still fun, its obvious that this coaster needs a Disneyland-style refurbishment since it is very rough compared to its smooth and better west coast counterpart.
By the time we were done with Tomorrowland, it was the middle of the day and we had to check in with our teachers in front of ISAW, and the girls had to check in at the castle, so we ended up meeting at Splash Mountain later to get fast passes before going on Pirate's of the Caribbean. It's obvious that the Disneyland version of POTC is much better, no question – but thanks to the addition of Captain Jack and Barbossa, this ride remains a popular classic that's still fun (oddly enough the movie tie-ins are still to this day being promoted as new additions as you'll see in the park maps).
After POTC, we were all very lost and confused on what to do. Some people wanted to go get lunch, some people wanted to shop, some people wanted to ride other things, and its very difficult to get things done when you have a group of 12+ people, but we ended up going to BTMRR, which was broken down, to get fast passes. Turns out our fastpass were for 4:55, and we had to leave the park by 5:30, so we knew we were pressed for time.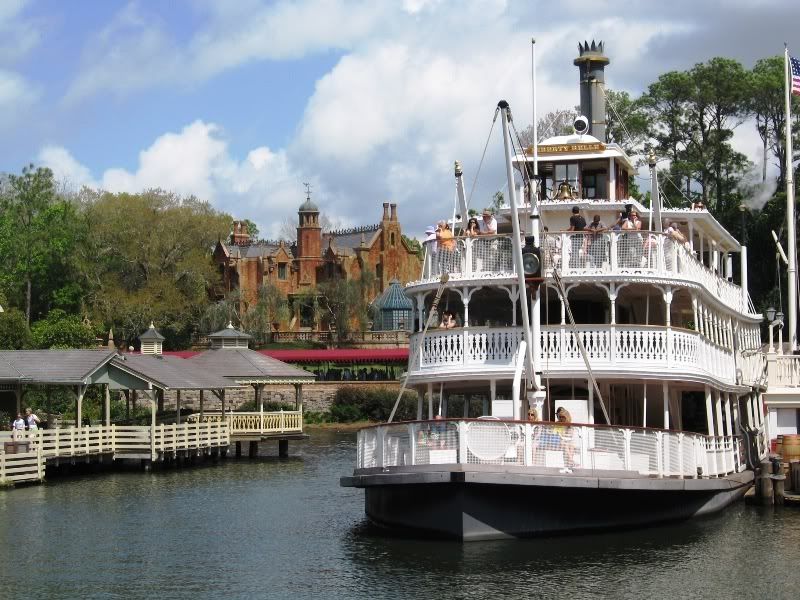 Afterwards, we made our way though the parade crowds and after confusingly running back and fourth across Frontierland we ended up at the Columbia Harbor House where I paid $10 for chicken fingers, fries, and soda! I have yet to have a decent counter-service meal at the MK, at Disneyland fast food seemed better. We ended up loosing half of our group in the previous mess in Frontierland, but after lunch we didn't bother finding them. They wanted to ride Haunted Mansion afterwards, but it had a 60 minute wait (longest I've ever seen for HM, apparently the refurbishment is being promoted and word spread) so we made our way through Fantasyland and into Toontown to ride the Barnstormer. At this point our group was a mess, and I regret even wasting my time going to Toontown with them to ride the Barnstormer (the kiddie coaster, which if you've been on, is a joke).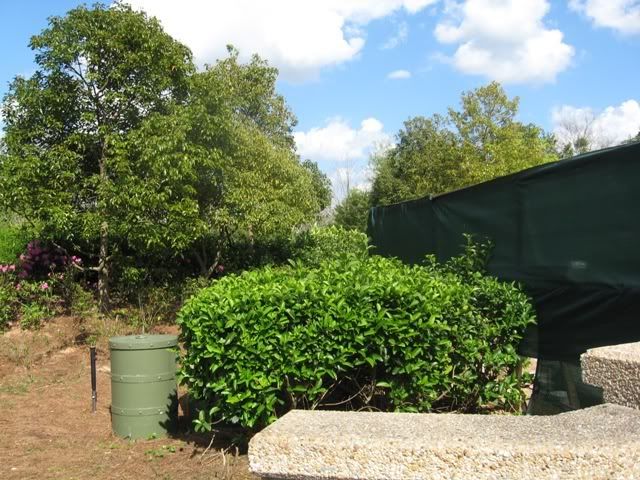 A nice empty plot of land behind Fantasyland I noticed on my way to Toontown...Hmm, [ Insert multi-million dollar E-ticket here ]
When our ride on the Barnstormer which seemed to last only a few seconds long was over, our group was an even bigger mess and we were just kind of standing around doing nothing for a long time so I gave up on them and met up with some other friends on the other side of the park to take a ride on the Jungle Cruise. The sign posted outside said the stand-by line was 30 minutes long. Well, it ended up feeling like double that time, which was a big let-down since the day was ending for us and we had a limited amount of time left to go. On top of this all, my camera decided to break on me – the lens would get stuck and it would tell me "lens error, reset camera," which was a bummer because I couldn't take pictures for the rest of the day (so the rest of the pictures in this trip report will be taken from previous trips), but I guess I couldnt expect more out of my cheap little Canon point-and-shoot camera.
The ride was fun and relaxing though, and our skipper was pretty funny.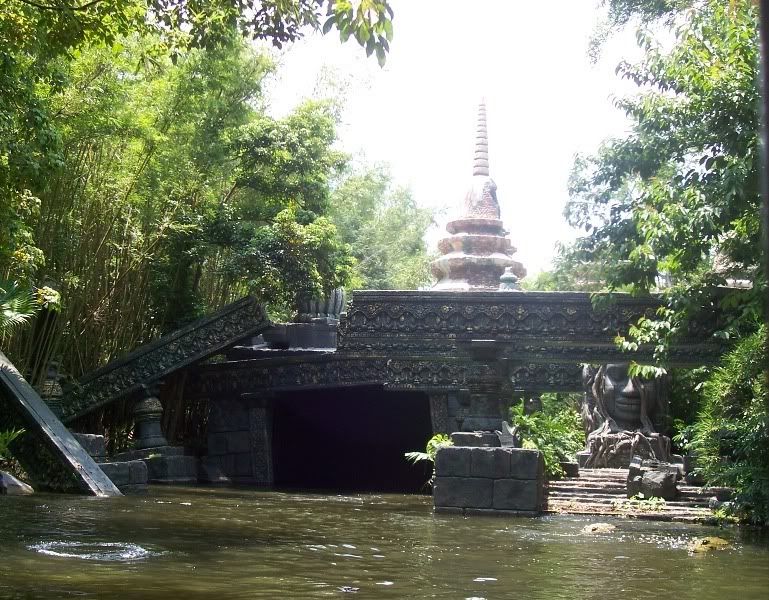 By the time the JC was over, it was 4:55, time to use my fastpass for Big Thunder! But time was winding down, and I had to be on the bus by 5:30, if not, they would leave me. I ended up taking the chance and running over to BTMRR, where I met up with my previous group who were also rushing to get on and finish so we could leave.
The ride was fun, but by the time we finished it was sometime around 5:15-20, so I ran as fast as I could all the way to Main Street where I parted ways with my group, who regardless of our lateness, decided to go on a Main Street shopping tour. As much as I wanted to buy souvenirs, I didn't want to be late so I rushed out of the park and to the ferry dock with the remaining bit of energy left in me. At one point I cramped up and couldn't even move after all the walking and rushing around I had been doing all day!
Well, in my crazy hurry rush I ended up in the dock for the ferry to the Fort Wilderness/Wilderness Lodge! Thank goodness that I realized this and quickly left for the dock to the TTC, because if not I would have been even later than I already was. The clock ended up striking 5:30 while I was boarding the ferry, and I knew I was in deep trouble. All these thoughts came across my mind…what if they leave me? What will I do? Do I have enough cash for a hotel room? Will my parents pick me up?
After disembarking the ferry, I'm not sure what time it was- all I know was that I was late, and there was a good chance that they left me. As I made my way to the bus parking lot, I saw my bus waiting in the distance and two unhappy teacher chaperones waiting outside. I gave them a convincing explanation, and thank god I didn't get in serious trouble, but to be honest with you, deep down I was kind of hoping they had left my a$$, because I would have ended up staying at the park till midnight closing time until my parents came to pick me up.
At 5:50, the other two guys that were in my group (the ones I had left behind in my rush to get back to the bus) showed up, and the chaperones ended up being much more pissed at them than they were to me. After a few minutes of yelling and lecturing, they entered the bus, took their seats, and we were off back home. The trip back was not as comfortable as the trip there, but I attempted at taking a nap for a while. On these trips, you cant fall asleep for a long period of time without being pranked, so you have to be careful. Last year I got pen ink poured on me for falling asleep for an hour on the way back so I learned my lesson.
In conclusion, I left the park with an incomplete feeling. I was very tired and stressed from everything that had happened, and this trip was unlike other trips I've been on to MK since it was just a quick day class trip. No staying till nighttime, no fireworks, no going back to my cozy Disney resort at night – but I'm glad I went. As for the park itself, not much at all has changed since I last visited a year ago which is very disappointing. The only addition, Laugh Floor, was just mediocre, and apart from that the park remained the same old Magic Kingdom that I had been to back in '06.