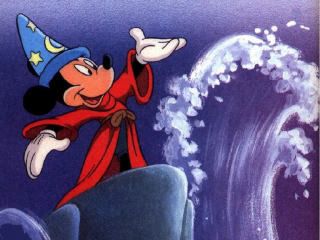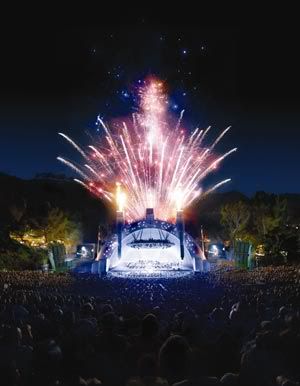 Hi there!
I commonly get large groups together to see events, and I happen to have a few extra tickets to see Fantasia @ the Hollywood Bowl this Aug 19th. Please let me know if you would like a ticket, thanks much!!
The event description:
Nearly 75 Years ago, Walt Disney used the skill of his world-class animators to visualize the world of classical music. The result: Walt Disney's Fantasia. In celebration of the 20th anniversary of the Hollywood Bowl Orchestra, Bowl Hall of Famer John Mauceri returns to recreate this magic - an evening of selections from the classic film shown in the Bowl's big scree accompanied live by the orchestra. You'll see your favorites, plus a glimpse into the brilliant artwork and unfinished segments of this Disney masterpiece. The evening ends with fireworks that complement the spectacular beauty of this cinematic triumph.
Okay, back to me now. If you've never been to the Hollywood Bowl before, it's quite an experience. You can bring the entire family, and enjoy a picnic meal in designated picnic areas outside the bowl, OR even in your seats. Oh, and go ahead, bring that bottle of wine you've been saving for a special occasion, you can drink that while enjoying the show.
The date is Aug 19th (which is a Friday) at 8:30pm. The cost is $38 per ticket, and includes all handling fees. There will even be a few special surprises! You can pay me by cash, check, money order, or PayPal. I can only confirm tickets for those that have paid.
You may either pick up from me personally for free at the D23 Expo or in Anaheim the week of, or I can ship to you.
PLEASE NOTE: This is the weekend of the D23 Expo, so many more of you may be in town! The Expo should be ending at 5pm (if you don't leave sooner!), and the concert begins 3 1/2 hours later.
If you have any questions, please let me know!
FAQs:
Where is the event?
The Hollywood Bowl
2301 North Highland Avenue, Los Angeles, CA
When is the event?
Friday, August 19th @ 8:30pm (picnic area open by 4:30pm)
How much does it cost?
$38 per ticket/person (Children under 2 years of age do not need a ticket)
How can I pay?
Cash, Check, Money Order, or PayPal
Where do I park? Is there public transport?
Visit:
Getting To The Bowl|Hollywood Bowl Presented by LA Phil
Where can I eat?
It's always recommended to share a picnic at the Hollywood Bowl. You can bring your own food and wine, or enjoy the gourmet offerings serviced by the Patina Restaurant Group. Quick service to fine dining is available. Visit:
Patina Group
What section are we in?
Section F2
Can I bring my kids?
Kids of all ages are welcome! In my opinion, if your kids enjoy the original Fantasia movie, they will enjoy this show. All kids over the age of 2 require a ticket. The Bowl's official statement on kids: "Although there is no minimum age for admittance, regular evening concerts at the Hollywood Bowl are generally not suitable for young children. In any case, children ages two and up must have a ticket to enter the theater, must sit in the seat indicated on the ticket, and should be able to sit quietly through a concert. (Children under two years of age do not require a ticket.) Management may require that baby strollers and carrying devices be checked at the Operations Office."
What should I wear?
Wear whatever is comfortable! It may get cool in the evening, and the management asks that there be no bare feet.
What type of seating is it?
We will be seated in "bench seating." Think of it kind of like a park bench.
Are seat cushions available?
Yes, for a nominal fee. See an usher when you arrive.
Thanks everyone!! Again, please let me know if you have any additional questions. Also, when submitting interest, please let me know how many tickets you would like, and how you would like to pay/when you will be able to pay. Hope to see you there!!
You can PM me here, or my email is