Our longest roadtrip trip to date. 1058 miles roundtrip.
Planned out a couple weeks ago, to meet my daughters boyfriends parents who live in central California. They are taking my daughter with them on their vacation to the Cal. coast. We agreed to meet half-way.
I came up with a suggestion we meet at Crater Lake.
So we set out from home at 6:30 am Saturday the 26th. heading south on I-5.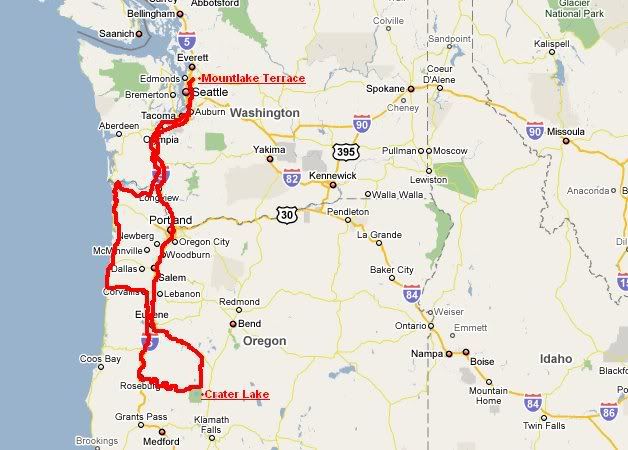 We stopped at a rest stop a for bathroom-break, then over the columbia river into Portland. Stopped near Salem and had sandwiches, at about this time my daughter text messaged them and discovered they were in Redding, CA. We pressed on past Eugene, and veered off on hwy 58 heading SW on the Willamette hwy, a pretty drive much like the cascade drive to Eastern Washington, but then, suddenly, to the left was a vision of beauty, breathtaking beauty, Lookout Point Lake, 20 miles of just the most relaxing and beautiful drive. I wanted to stop and get pics but we were pressed for time and needed to keep driving, my calculations were off as I figured 55-65 MPH the whole way, this country we were in was keeping us around 45 most the way. Finally we passed through Oakridge at around 1:00 and nearing the destination, we entered the Crater Lake Park north entrance and drove to the vistitors center at the north rim and took pictures.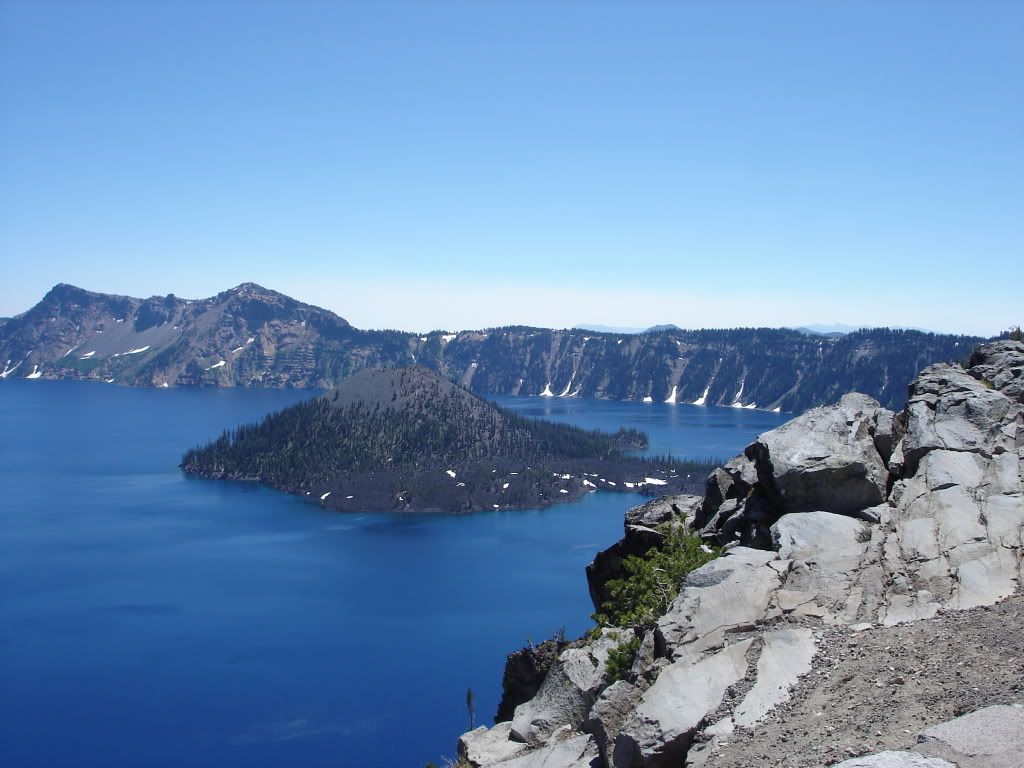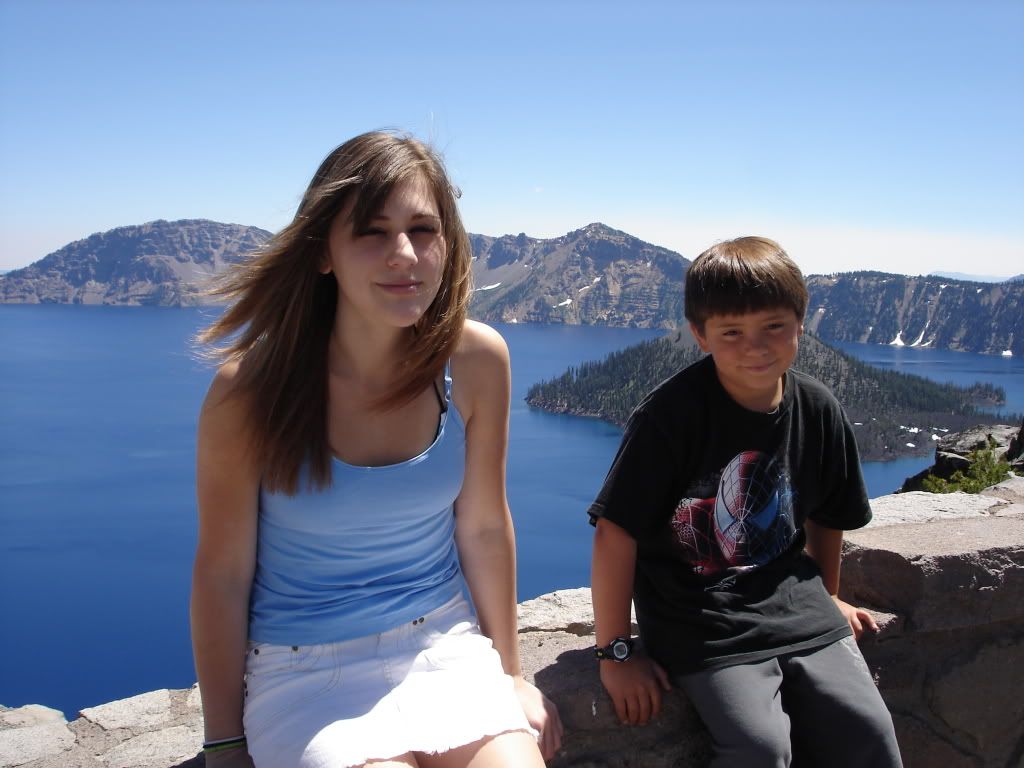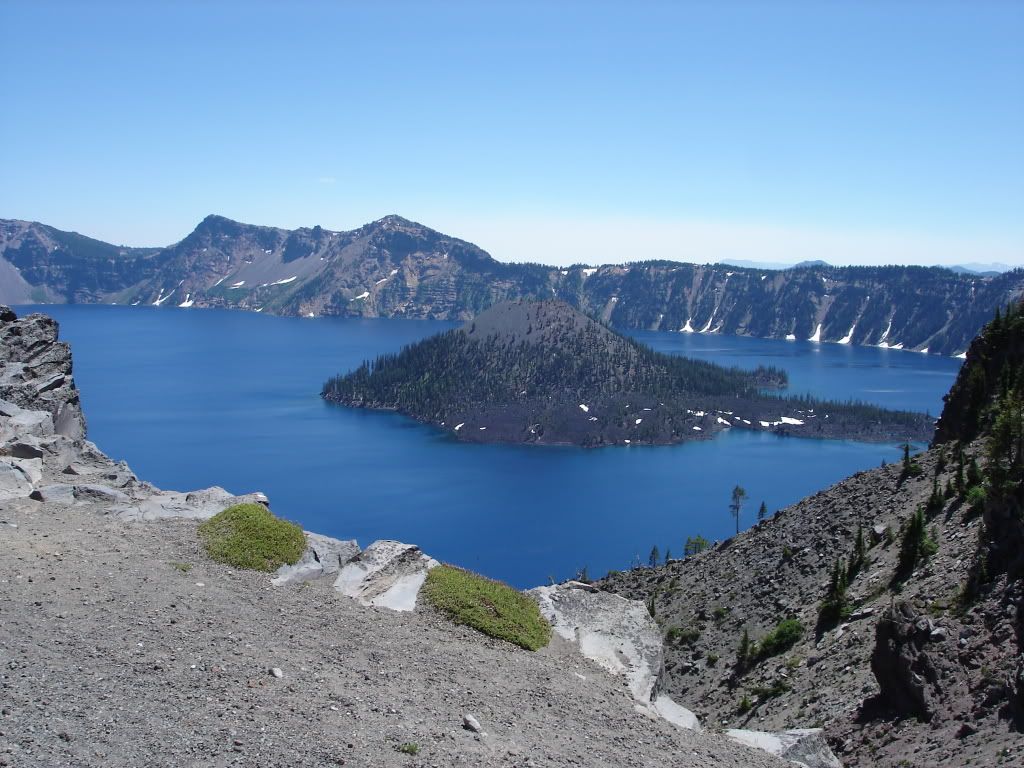 We tryed to call but their cell phone were out of range, so we left them a message where we were, drove down to the Mazama Village restaurant (about ten miles below) but there was no phone coverage there, so we drove back up to the rim. We finally met up about 3:30 and went back down to the restaurant and had dinner. Nice people, we had spoke on the phone, but not yet met. We talked (well my 8 year old did most the talking - he's breaking out of that shy mold now) for a while but had to part, they were driving right back tonight after stopping at Klamath Falls and we had hotel reservations. I hugged my daughter and told her to have a great time and off we went.
We drove out west on 138 headed to Roseburg, it was a slow but gorgeous drive, we finally arrived in Roseburg and were very tired of being in the car for most of the past 14 hours, our hotel was still 50 miles away, so we canceled and found the Garden Villa Inn Best Western, and they had a vacancy, my son and I headed straight for the pool and hot-tub, my wife had forgot her suit, so she wnet and got us a snack and ice cream (what an angel) and we swam a while before retiring.
Up at 5:30, full hot breakfast at the motel and we were off on our way home. Planning to run the coast, hit the beach and then stop in Tillamook for the ice cream.
Travelling north on 5 we took a left at Corvalis headed for Newport. Stopped for Starbucks in Newport, it was foggy so we headed north on 101. Stopped in Lincoln city.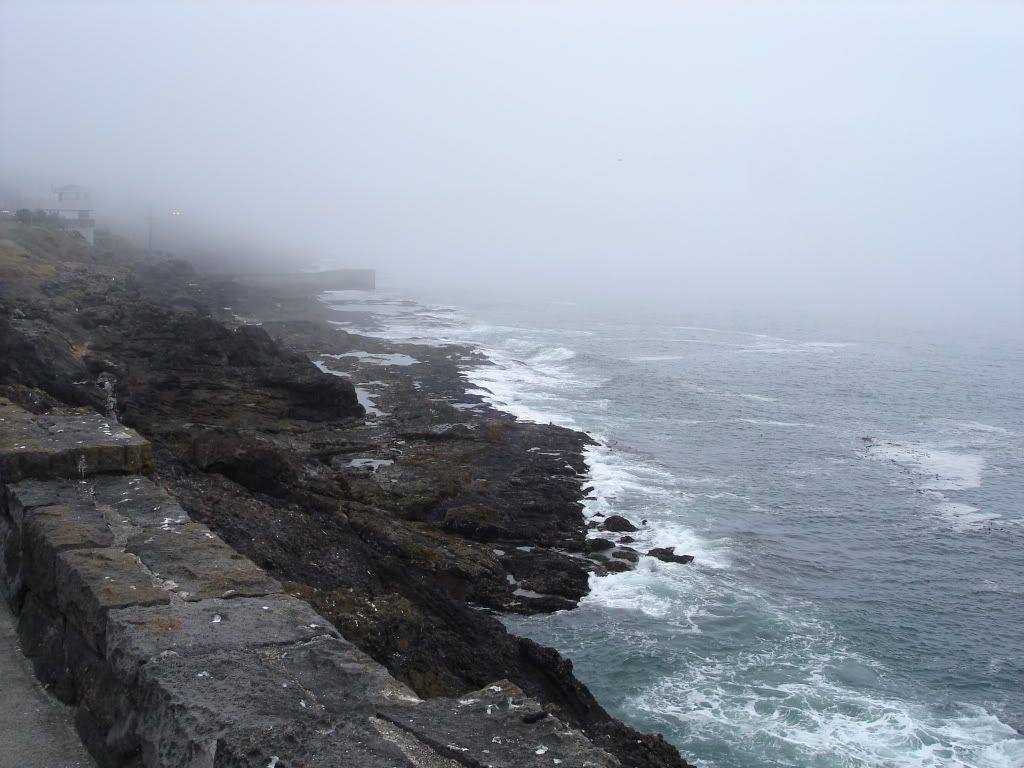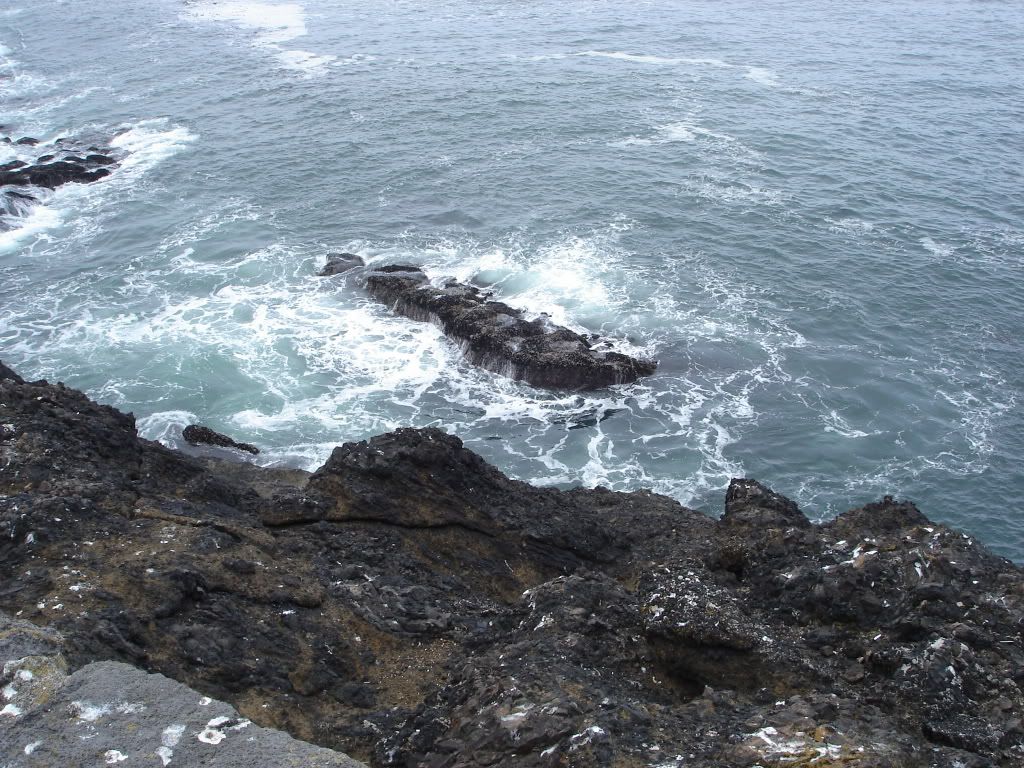 Picked up some souveniers and headed back north up the coast, spotted a decent place to walk on the beach for a little while. My son wanted to spend more time there but we had to make it brief.
Northbound again we entered Tillamook and searched for the factory, finally we found it, looked around, got a cup of chowder and a, well, of course some ice cream!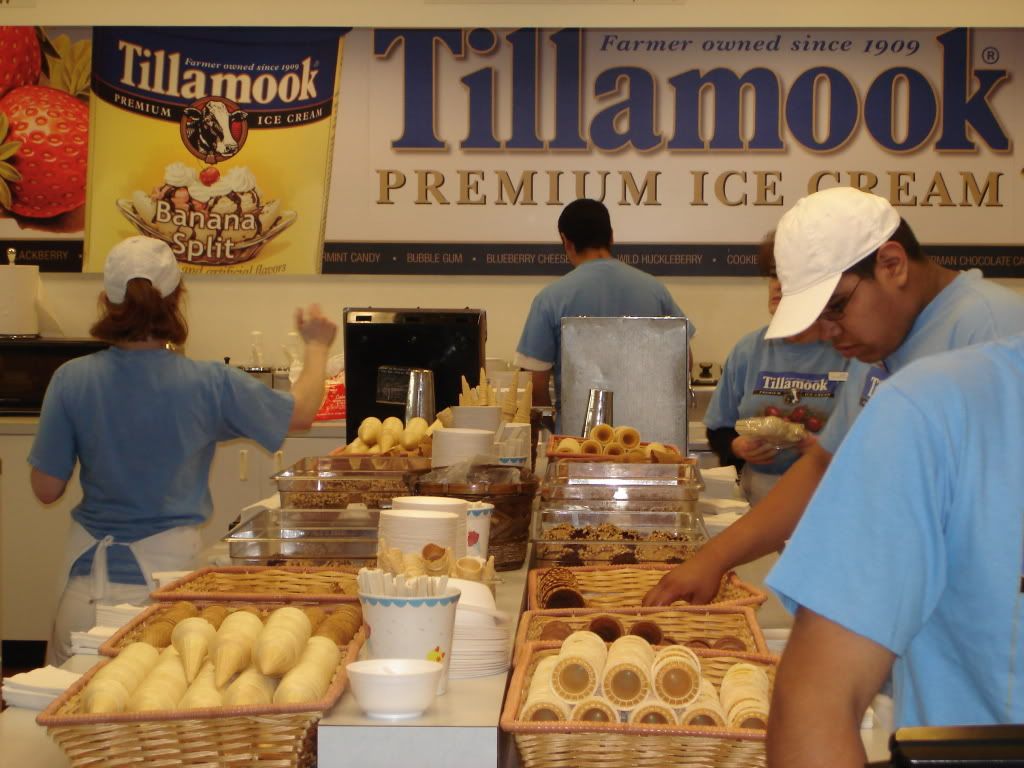 Pressing on we decided we would cross over in Astoria, so we were on our way again, we stopped in Astoria to the see the bridge, the longest continuous truss bridge in North America.
The bridge is 21,474 ft (6,545 m) just over 4 miles.
So we started heading east on hwy 30 at about 4:00 and then need to stop for a bathroom break.
Back to the car and it wouldn't start, the ignition lock cylinder, or steering column was jammed, so we called a tow truck. He asked us were we wanted it towed. ? Nothing was open, so we asked if we could call him back when we figured it out, he said yes and did not charge us. So we asked a nearby hotel if they had a room, they did, we didn't need to hold it. We kept calling people in the family for advise, thinking we might have to leave te car there over-night I looked and noticed a sign saying cars would be towed, so I called the number, the nice man said no problem, we would not tow you. So after another hour past of continued trying to "jimmy" the ignition, a light went on in my head... a lock smith! My wife found a phone booth nearby, used the yellowpages and called a lock smith, said he'd be an hour or so, we said.... we are not going anywhere. Suddenly a truck pulled up, a older man with a small dog, was with the port and was the man I spoke with on the phone about the towing concerns, he came out to give me an official "ok" sign. What a nice guy, we began chatting, my son was playing video games in the car, he told us all about the history of Astoria storms, fatal accidents off the bridge (if you go in the water there, you aren't coming out) and that "up there in that house on the hill is where they filmed that movie the Goonies, and over there was the school they filmed Kindergarten Cop". He also said "that robot movie" (I looked it up, Short Circuit. in addition Free Willy was shot there as well). That was so nice of him, but as busy as he wasn't he had to move on. Shortly after that the lock-smith showed up, said he was sorry for being late, he was at Fred Meyer waiting for his prescription, smacked the lock cylinder with a hammer and punch, got it working, I wanted to hug him so bad. He had just gotten out of the hospital from suffering a heart attack (at 31-yo no less) and said that would be 50 bucks we had nothing but 20's but did not feel bad about giving him 60. Would have paid double that just be getting on our way home - I wanted to sleep in my own bed tonight. We were so happy.
So we headed onward along 30 toward 433 to cross the border in to Washington heading north on I-5 we pulled through the drive through at Burger King in Castle Rock about 8:30 for dinner, we could not turn off the car, luckily the tank was near full when we left Astoria.
We pulled into our drive-way about 10:30. So happy to be home!