This perfectly cromulent birthday message was brought to you through a joint collaboration of Matsumura
Fishworks and Tamaribuchi Heavy Manufacturing Concern:
Ladies and gentlemen, MiceChatters of all ages . . . . put your hands together for one very special MiceChatter who turns 36 today . . . the one, the only, the picture takin'-est, Simpsons lovin'-est, Haunt fraid'-e-est, lovable, hug-able guy who makes you type a lot of hyphens when you talk about him. Why, it's none other than the dude with the tude, the trip report-e-est guy in town.
Yes, you all know him and love him, and so do I. That's why I want to wish a very special birthday message to the man without a tan, king of a thousand smiles, prince of pirates, and hater of all things Bruckheimer . . .
Fish . . . did I mention that he loves fish? Well, he does. And he also loves popcorn. A popcorn lover? Who knew???! Well, his sisters knew and so do the popcorn farmers of the Midwest who work so tirelessly to provide him with the freshest, roundest, and most perfect kernels which he demands.

And now, without further ado, hats off to someone who deserves our praise and well wishes. My special little man. A man who works so hard for so many and with so little expectation of appreciation.
Well, what are you waiting for? It's time to celebrate the birth of MiceChat royalty, a great man and humanitarian. Someone who can bring home the bacon and fry it up in a pan, and never EVER let you forget you're a man!

Happy Birthday Fishbulb, you are a rock in a storm of insanity. Thank you for being the WONDERFUL person you are and for sharing your life with me.
May the gods of a thousand samurai movies smile upon you today and may the year ahead bring more monsters, mischief, and merriment.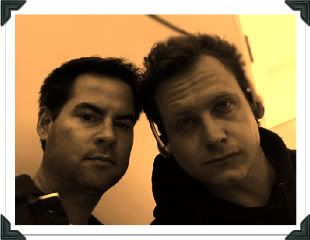 With all my love,

Dusty