News is spreading like wildfire about Disney's ambitious plans to extend their fan base beyond the physical realm. We had heard about this project a couple of years ago, but thought it was just some far fetched plan that would never see the light of day. But it appears that this rumor is about to become a reality and could forever change both the Disney Company and the way people think about death.
The extensive and far reaching plan opens a whole new level of potential for the Disney company, one which might help Disney fans continue their lifelong love affair with all things Mickey into the afterlife and to assist their loving families cope with the loss. Yes, you heard me right . . . Disney is getting into the funeral business. . . and in no small way. The program has apparently been in the works for years under the codename:
Disney Ever After
; but
Al Lutz
is claiming that the official title will actually be called
D-Eternity
.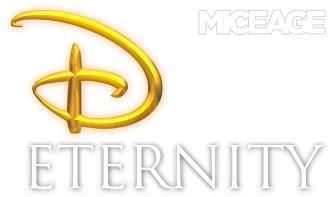 Several divisions of the company will be brought into this process, with the primary driving force being Disney Vacation Club. DVC is currently planning multiple resorts around the world, which will combine elements of a luxury hotel and a funeral home. The first of these life after death hotels will likely be built on or near the current Crystal Cathedral, just a few miles down the road from Disneyland, as mentioned today by
Al Lutz on MiceAge: To Infinity and Beyond
.
These new "Remembrance Properties" won't be all sorrow and tears. In true Disney fashion, they will be places where you can go to visit with your loved ones forever in a joyous way. A family might buy Disney Vacation Club points and use those points for annual visits to see grandma. But instead of visiting a grave, various virtual representations of grandma might make themselves known to you on your visit. You might be able to talk to her on the phone (using advance technology made famous in the Turtle Talk with Crush attraction) or see her faint image in a mirror or in photo frames throughout your room. It is meant to be done in a respectful but fun way - reinventing what it is to memorialize a loved one and cementing Disney as a company you can love from the day you are born until well after you are gone.
But DVC isn't the only arm of the Disney Company getting into the act. Disney Consumer Products is apparently developing a line of urns for your loved ones (see images below).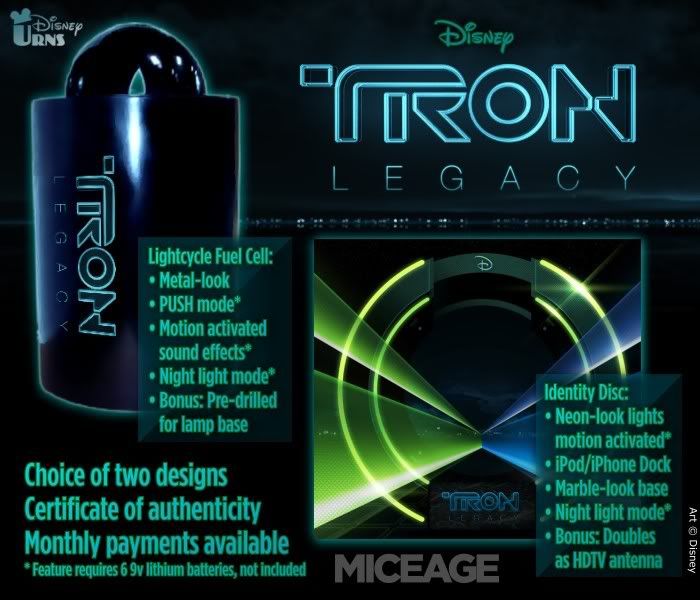 Disney Parks and Cruise Line are prepared to help you spread virtual ashes in the parks. Disney Channel and Disney Interactive are working on an initiative to help digitize vocal patterns and phrases of a loved one and work them into interactive content so your loved one will always be close at hand.
And it doesn't stop there. Though much remains to be worked on, it was explained to me that once your data and the data of your loved ones is entered into Disney's interconnected systems, you'll soon be able to travel with a departed loved one from one Disney property to the next. Grandma's image might be seamlessly inserted into your Disney Photopass pictures, her birthday will be automatically celebrated on the appropriate day if you happen to be at a Disney resort or hotel, you may see or even hear her in a Disney attraction. Imagineer, Tom Fitzgerald, wants to use fancy new projection mapping equipment to insert images of your loved ones onto the faces of animatronics (like Leota in the Haunted Mansion) and special dolls in Small World. Tony Baxter was apparently so taken with the Concept of D-Eternity that he wants to build special remembrance benches and planters around Disneyland where guests can actually carry on a conversation with the departed. He feels that for this project to be a success, guests shouldn't just "See" grandma, they should "Feel" as though she is actually right there with them (or just was).
My first reaction to this whole project was one of unease, perhaps even disgust, but the more I thought about it, the more it made sense. Do I want to spend eternity in some moldy old crypt with infrequent visitors or do I want to spend the afterlife with Walt, Mickey, family and friends?
What price happiness? Well, it may be expensive (very), but Disney is going to try to make this an easy decision. The base package to be "Scanned and canned" will be a Disney Urn (with concepts that range from Beauty and the Beast to Davey Crockett and beyond). If the loved one purchases the package before death, they will have the option to interact with a Disney collections system which will ask them questions and record their answers (for use at a later date), photos will be taken and thoughts and wishes stored away for when they are needed. An Urn may be purchased for around $1,000 plus additional options and accessories (various models and price points will be developed and many will be limited additions). Payment plans are in the works which will help lower the burden. But the real advantage of this program will be the DVC element. For the same cost as any other Disney Vacation Club purchase, a family can ensure a lifetime of memories. (We should note that DVC memberships are only good for 50 years and it isn't a sure thing that any purchased items will be maintained by the Disney Company after that time.)
What this plan isn't:
It isn't a burial. Disney doesn't want you to put grandma to rest. They want you to help keep her memory alive
It isn't a cemetery. No bodies will be buried on Disney property. At least not as the plan is currently being developed. Though, a portion of ashes may be spread at Disney parks in planters and and mixed into stone pavers (please see the Al Lutz article for more details).
It isn't for the short on cash. To get the most out of the program, you'll need both an expensive Urn AND a DVC membership (the current minimum number of points you can purchase is 160 at an expected average cost of about $125 per point (perhaps less with promotions and discounts).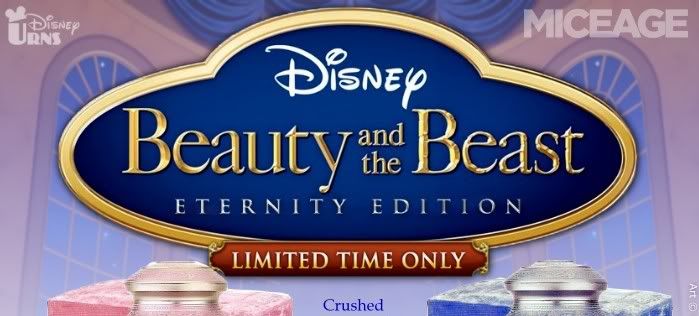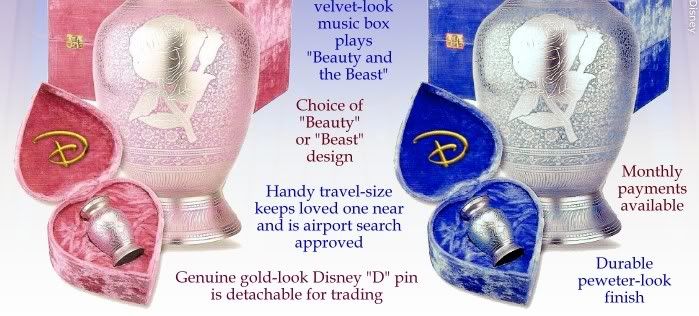 So, what should we make of all this? Can centuries of cultural practice be undone overnight by clever Disney marketing and a loyal fan base? Will people everywhere give up on the cemetery and church as the touchstone for the final phase of life? I can't answer those questions. Though I have a feeling that there is a dedicated group of folks who will be lining up at death's door to buy a piece of Disney immortality. It stands to reason that with the aging baby boomer population, who grew up with Disney and were the very first Mouseketeers, entering their golden years, D-Eternity may be launching at exactly the right moment in human history.
I don't think that another company who has ever existed could pull off a program like this except for Disney. The art of reassurance, cultural identity, and delft marketing is Disney's niche. When the time comes, don't say farewell to me, pull my name up in an interactive queue at the Haunted Mansion and say "Hello old friend, so good to see you again."
-Dusty
DON'T STOP HERE! CHECK OUR OUT NEW D-ETERNITY FORUM ON MICECHAT - HERE