Welcome to a trip report to my first comic convention:
The Calgary Comic Expo
at the BMO Center (Stampede Grounds). In the past I've seen Coheteboy's reports (and others) from SDCC, now it's my turn to report from my neck of the woods.
First of all, I want to say is that I only took a few photos today as my new Fuji camera had a problem and I had to leave a little earlier to return it at Costco and exchange it for a better one. Having said that, these few pictures aren't that great which bugs me as they are all celebrities.
The biggest highlight this year is that Calgary is the only con on the con circuit that got the whole
Star Trek TNG
cast together! Met the whole cast today (Patrick Stewart tomorrow). I asked Denise Crosby when was the last time they were together like this and she said probably since she left the show. So onto the pics...
First off, lets go to the universe of
Buck Rogers
...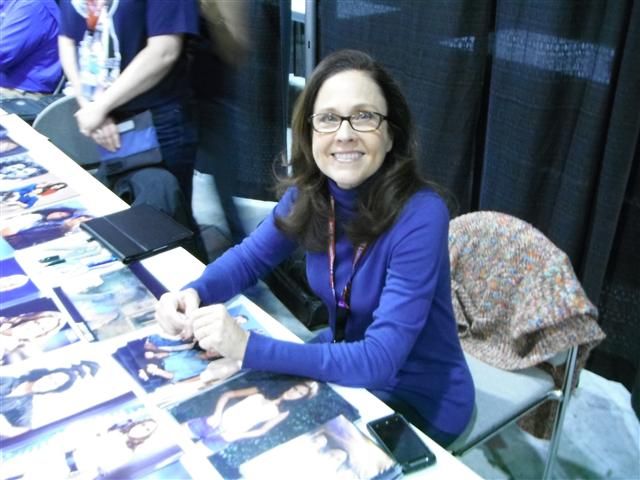 Erin Gray! I had a crush on her when I was younger, but who didn't? She still looks great! I told her when I was watching Silver Spoons, all I wanted was that train. She laughed and said the whole crew wanted to take the darn thing home and ride around on it. I got a nice pic of her as Wilma Deering signed. Great lady.
Next up, and filmed in my home province of BC...
Battlestar Galactica
...
Richard Hatch. Great guy. No line-up at his table so we had a good little chat. He signed my Season 1 Blu-Ray set for me.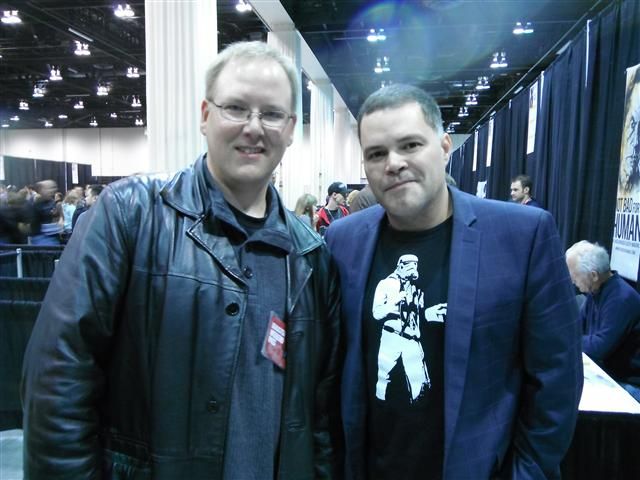 Me and Chief Tyrol - Aaron Douglas. Aaron had no line-up so we started chatting. We're both from BC so we chatted about fishing
. He's kinda unemployed right now so I think I may get another autograph from him tomorrow. The gray-haired guy to Aaron's left is Lance Henricksen. Got a pic signed and my Season 1 Blu-Ray set. Tomorrow I'm adding Katee Sackhoff's sig to it.
Next up some
Star Trek TNG
. Unfortunately, photos weren't allowed for most of them, but you could take from a short distance while they were signing.
Jonathan Frakes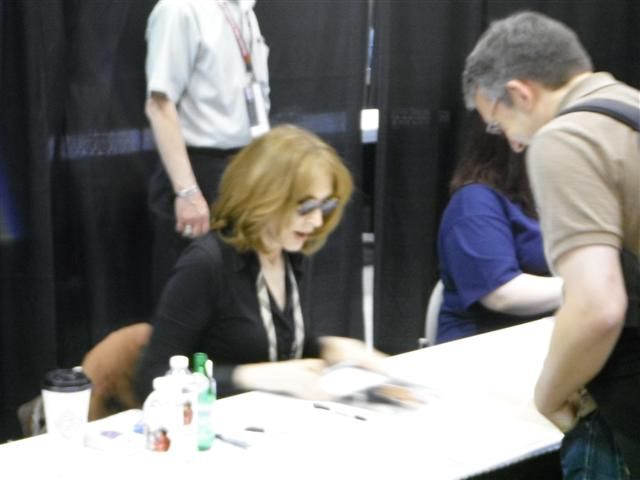 Gates McFadden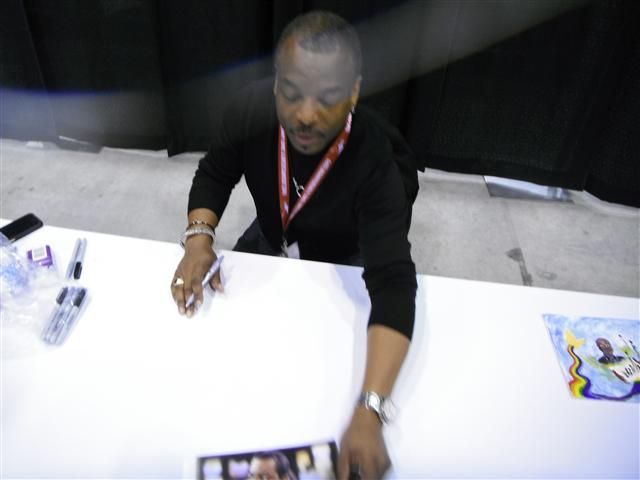 LeVar Burton handing me my signed photo.
Hopefully my new camera is better than the one I had today and I'll have some good pics tomorrow.
Funny thing is. I think Wil Weaton had the longest line-up of the TNG cast, well that is, until Patrick Stewart shows up tomorrow. Getting an Autograph from Patrick tomorrow.
The TNG cast was the highlight today.
Marina and Brent were awesome!
So far I got autographs from:
Erin Gray (Buck Rogers)
Richard Hatch (BSG original and re-imagined)
Aaron Douglas (BSG re-imagined)
LeVar Burton (ST: TNG)
Michael Dorn (ST: TNG)
Marina Sirtis (ST: TNG)
Jonathan Frakes (ST: TNG)
Brent Spiner (ST: TNG)
Gates McFadden (ST: TNG)
Denise Crosby (ST: TNG)
Wil Weaton (ST: TNG)
I got all my signed photos personalized. I'm not one of these guys that goes and sells them on eBay after. And it makes it more special for me.
Tomorrow, Sir Patrick Stewart and Katee Sackhoff, and maybe a few others. Stay tuned!