London 2012 Olympics: Games legend Michael Johnson believes Oscar Pistorius has an 'unfair advantage' - Telegraph
It's amazing how far science has come. Although we are not at the point of reating an actul bionic man or woman, Oscar Pistorius and his Olympic "blade runner" prosthetic legs are prtty much the next best thing. The man is so fast that issues have been raised by other athletes (etc) as to whether he actually has an unfair competitive advantage. Science is certain to surpass this amazing benchmark in the future.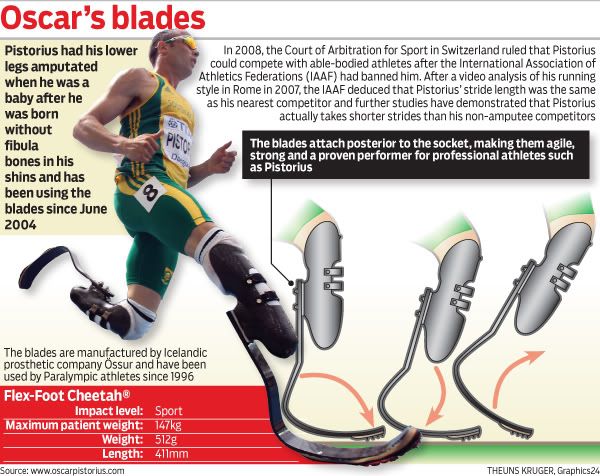 Unfortunately, there is a "fly in the ointment so to speak. Legendary medal winner Michael johnson and others feels that Pistorious's prosthtics present an unfair advantage.
For the time being, I think Oscar's hard work makes him a deserving London 2012 Olympic track competitor. How do you feel? I have includedan articl that discusses his challenges, triumphs, and the conflict he is running into as this ever-changing world seems to be heading in the direction of making the disadvantaged super-handicapable.