VIDEO OF MOUNTAIN RESCUE OF DOG
VIDEO: Abandoned Dog Rescued from Mountain
MEDIA STORY
Dog Rescued From Colorado Mountain | kplr11.com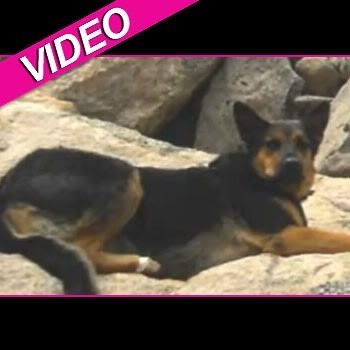 An abandoned german shepherd named Missy was rescued by hikers from a summit ledge she had layed helpless on for eight days, injured, weak, starving, thirsty, dehydrated and scared. As the dog weighed over 100 lbs., the rescuers carefully placed her carefully inside a backpack and carried her safely dowm.
One of the hikers and his wife decided that they wanted to adopt the k-9 and provide her with a deserved loving family and new home. A fly in the the doggie droppings exists in that the owner has asked to have her returned after claiming that he had called 911. He said that she was too heavy for him to carry down the mountain with inclimate weather on the horizon. I'm not sure how she got hurt.
The good news is that the sheriff has filed charges of animal cruelty against the owner...hopefully former owner. The man is claiming that he had called 911. I can't see why the sheriff would file the criminal charges if it can be proven that this scumload had indeed called for a rescue unit. I don't know where the rescuers got Missy's photo from. Regardless, he should have went back to attempt to recue the dog, and it is scary thinking about him getting another chance to abuse her.
One thing.s for certain, the newly dubbed Missy the Wonderdog is in wonderful hands at this time, and I'm hoping it stays that way. The tory of Missy the Wonderdog has touched the hearts of people in every corner of our nation and the world. Talk about a tail wagging tear jerker.
Media Story