I wasn't going to post these... I mean look at them... but after mentioning them to some micechatters the other week, here they go.
This was Relay for Life, which I am sure many of you are familiar with. For those of you who aren't it's a major fund raiser/rally/party/memorial for People who suffer from cancer. A good cause to be sure.
Anyway, the school that I work in participated, walked all night and all that, but I participated in the "Miss Relay" pagent. And I won.
The idea is that the Miss Relay contestents dress like women and try and solicit as much money as you can from relay participants. Whom ever gets the most money wins, they also have a prize (cupcake) for best costume, I won that too, the other contestants were.... worse than me.
Anyway, here I am in all my Alice in Wonderland glory. Be kind eh?
my wife made the costume from scratch, apart from the tights and shoes, which sucked.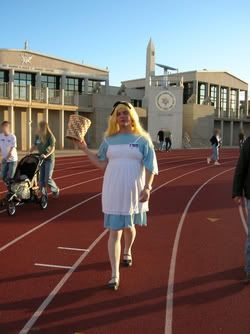 That's my brother, he had to be there to, you know,
make fun of
support me.
To fight embarsment, I started a bit of a dance line with the girls at the school. it was fun, but it caused nasty, bleeding blisters on my feet.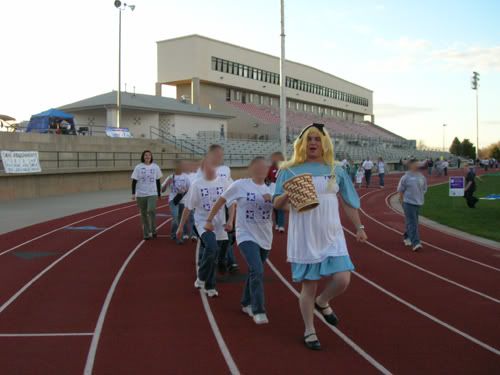 The student's faces are blured due to, you know, the clause I had to sign not to post them on the internet. They are some crazy girls who need help. They don't get out often so, other than raising money for cancer research, I did this so they could have a more memorial day.
My brother soon got into the fray.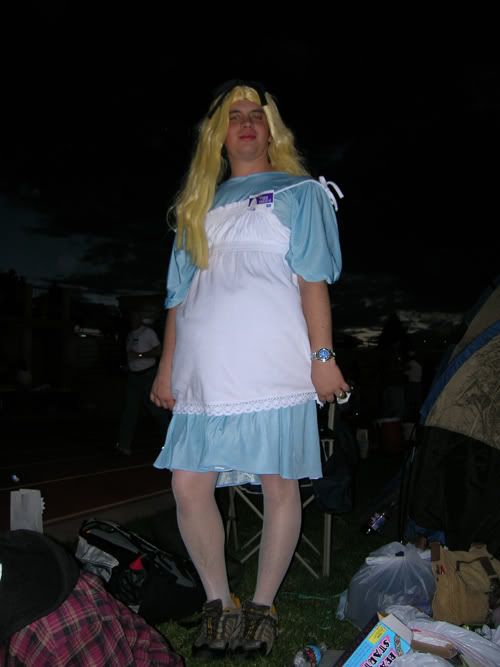 besides the fact that tights are uncomfortable, and the shoes suck (by now I changed them) I could never dress like this every day. I look WAY to ugly. Though the breeze around my bits and pieces was nice.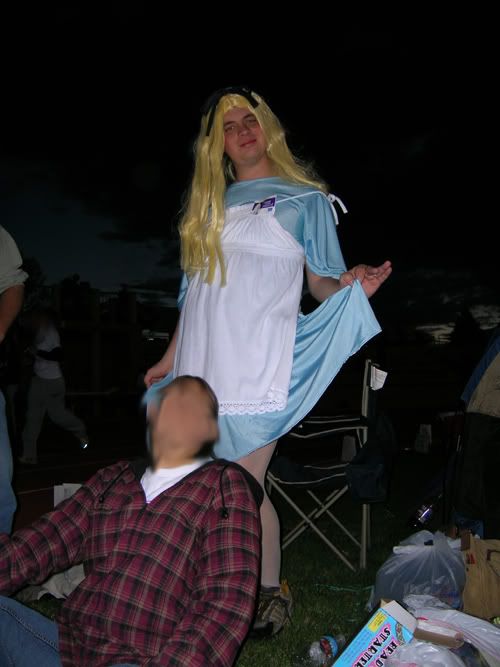 and, that's all. It was a fun night. The girls at school still talk about it and enjoyed it.