So, I have this Disney coffee mug. And my new pup Angel who still is small enough to almost fit inside. I have this camera, and what should enter the remaining cells of my brain...an IDEA!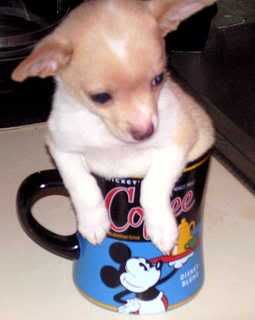 Now is that cute and original OR WHAT? Okay, as you're giggling and nodding your heads just to humor me, here's a pic from her first trip to the vet, and another just because I can still almost fit her in the palm of my hand.
So you think you got any cuter puppies or kittens or pet tarantulas out there? Here's your chance to show us what you got...
--Barry
NO PUPPY WAS HARMED IN THE MAKING OF THIS POST ALTHOUGH THE PHOTOGRAPHER WAS ALMOST BITTEN...