It is said that, wherever two or more people of like mind are gathered in MiceChat's name...we can call it...a meet.
Okay, I'm the one who said it...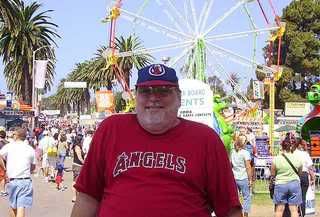 In all my glory, your intrepid trip reporter. I had to go a long way from my La Conchita estate for this one...all of about 15 miles to the place they call...Seaside Park...for the annual get-together...
"A Country Fair and Ocean Air" being the theme for this year's Ventura County Fair. The Fairgrounds are directly adjacent to the blue Pacific. A nice summer getaway for the L.A. crowd, and the locals like it too.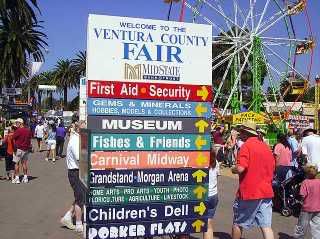 Not exactly a Disneyland crowd yet, but it got much busier later in the day...that's when my two friends that would make this a "meet" would show up. Til then, you know me and my camera...
This is the Magnum ride, with a likeness of Tom Selleck that I figured the ladies would like...and this is about as close as you'd ever catch me to getting on any one of those Midway rides...
I like to spend time in the Home Arts building, looking at all the different things people have made and entered. (Although she didn't have time to enter anything this year, Kathleen has won a lot of ribbons in the past for her needlepoint and cross-stitch entries.
)
Take a look at this...made by a "developmentally challenged" member of what they call the Super Seniors...
This Mickey took 2nd place!!!