Well all I have to say is WOW!!! Vegas rocked!!! :thumbup:
I left Friday the 18th bright and early (7AM), I went with two of my girlfriends. My friends decided to get a room on the strip to save time and stay closer to the action. My best friend lives in Vegas so I did not take up their offer to stay with them. Our first day was spent taking my best friends father in law to the Emergency room due to a faulty pacemaker. So there went day one, but night one was spent inside Jet, a nightclub inside of the Mirage resort. We danced the night away, litterally!! We headed home at the wee hours of the night or morning I mean. Day 2 which is now Saturday I rolled out of bed at around noon. By the time I got showered and dressed it was close to 2 Pm.
One thing Iv'e noticed is the time flys in Vegas.
We went to the stores to do a little shopping. I found the Disneyland Store, (not sure what the name of it was). They had great stuff, LOADS of shirts and hats some pins and even some nice collectables. I had limited myself at the begining of my trip to $20. I know that isn't alot but I only had $200. total. So I got a really nice shirt($5.50) and a cute pop up shag photo album($2.00). I didn't see much else that suited my taste. When all was done with my day shopping I spent a total of $35. That includes a dress, shoes, and the stuff I got a the Disneyland store. Go me!!:bow:
That evening I decided to take my stuff to the hotel and get dressed with my girls. Here we are all prettied up.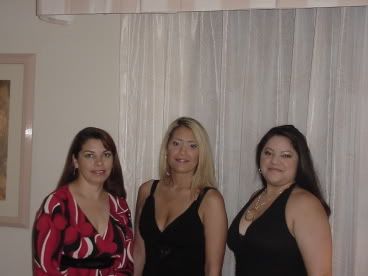 Lola, Angelica, and Me (Margaret)
That night we hit about 6-8 clubs and lounges. We had a great time. The highlight of our night was Body English a club inside Hard Rock Casino. That night we got back to the hotel at about 6am. Just in time to sleep a couple of hours and head out to have champagne bruch. With our tummys full we went to Caesars Palace to do some window shopping. Fun Fun Fun!!!
While taking in the sights we started taking about our plans for the evening. They asked me what I would like to do, I of course had no clue so I said I don't care anything,....were in Vegas baby. So...........
My girls surprised me with ...........
Thats right Celine Dion tickets. OMG!!!
Her show is amazing. A must, if your into that kind of thing.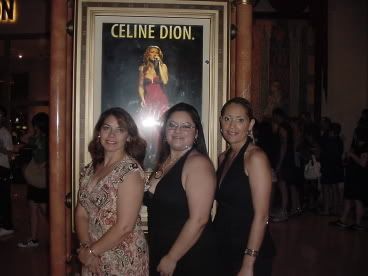 I was able to sneek my huge 1970's digital camera:lol: into the show!!!! I got about 10 diffrent movie clips I posted them on Youtube, but the're private so if you would like to see them pm me with your Youtube account name and I'll add you to my friends. The night went on. Keep in mind this is my last night here in Vegas, so I plan on living it up.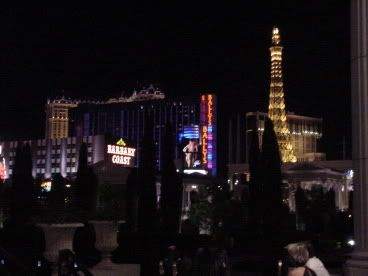 After the concert/show, we went back to the hotel changed and headed out again. We hit another 8-10 clubs and made our way through the pre dawn hours. We closed the night off with a quick bite to eat and then back to the hotel to pick up my stuff and go back to my best friends house to pack for our flight.
I still had'nt seen all the sights I wanted to so I stopped at Luxor and Madelay Bay just to check it out. It's amazing how beautiful the hotels are. By this time it was around 7am, I still needed to pack shower and not mention get a little sleep before our flight. That left me with 3 hours to get to the airport. Needless to say I made it to the airport on time, and home safe.
I had the greatest time and all for under $200. bucks. Pretty good if I don't say. I told my best friend to expect me back before the year is over. I'm hooked!! You know what they say,.... well I just shared with you all the stuff that should have stayed in Vegas. You should feel fortunate!! Just kidding. All in all it was the best time.