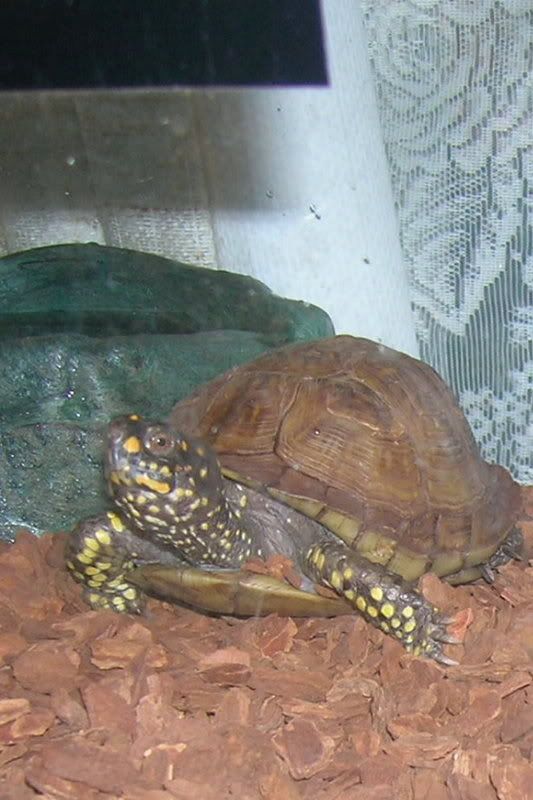 That is a picture of my grandson's turtle Gamera. We actually have 2 Box Turtles. Today when my husband and I were going out for dinner, we realized that Gamera had died.
We have had our 2 Box Turtles for a very long time. My husband took very good care of those turtles. The death was a real shock. Gamera, who was a female, showed no siigns of sickness, or unhappiness. She was active, and eating. Our other turtle Daisy, seems fine.
My grandson Sean is coming over later, and I am going to have to tell Sean that Gamera has died.
It was about 8 years ago, we have forgotten exactly when, that we set out to the pet store to buy Sean a turtle. We decided on a Box turtle, because they are easy to care for. Sean wanted a male turtle, so he could name it after the flying turtle Gamera from the Japanese Godzilla movies that he had watched many times. The man at the pet store got it wrong and after we got our 2 turtles home, we realized that his Gamera was a girl, and our other turtle who I named Daisy was a boy.
So my husband became the primary caregiver of these 2 turtles. Sean spent a lot of time at our house, but since he lived with Dad, the turtles stayed here.
Gamera and Daisy were about 7 years old, when they first game home from the pet store. They are 3-toed Box Turtles. They eat a good variety of food. Strawberries, canteloupe, kiwi, banana, chicken dog food, they like avacado, just to name a few.
So, I am sad. I will miss Gamera. I am sure Daisy will miss her too.