These are the pictures of my bridesmaid bouquets the morning of our wedding on September 24. Please tell me what you think happened to these flowers!!!! The florist we went through refuses to do anything about this and forcing us to take them to small claims court. I won't go into how nasty this battle has been.
Here are the details of what happened with the flowers.
1. They were picked up at 4pm on Saturday evening. When they were picked up my friend picked them up he was required to inspect the flowers. He had asked them about a silver effect they had on them. They told him that it was a glitter floral spray. After inspecting to the best of his abilities he signed for them. They packed them in the ice chest for him. All of the bouquets were put in cups and then packed down in ice. As I requested him to do, he then asked them how they should be handled. Whether we should leave them in the ice chest or put them in the fridge. The girl who packed it for him told him it would be best to put them in the fridge.
2. He arrived at the hall for the rehearsal dinner. He told me that we were to put them in the fridge. So we pulled them out and looked at them to see they all turned out. They were pretty and looked just as I wanted. So we stuck them in the fridge. The bouquets left in their cups werepushed to the back and then the two arrangements for the candle stands layed on the same shelf on the front. The bountineres and corsages were left in their plastic case and put on the next shelf down on top of a case of water. The floral halo was left in it's bag and placed in the door of the fridge.
3. The next morning at 10:30 on my way back from my hair appointment, my mom and I went by the hall to pick up the bouquets so that we could take pictures with. When I picked them up the flowers were as you see below. My bridal bouquet had some edges that were browned and nasty but not the whole thing. Just around the edges.
These are the bridesmaid bouquets at the location where the girls and I were taking pictures. My photographer's assistant was sure to get pictures of these!! Please note that as soon as these pictures were taken that they were moved back into the shade. As you can see one of them still has a semi-blue hydrangea left.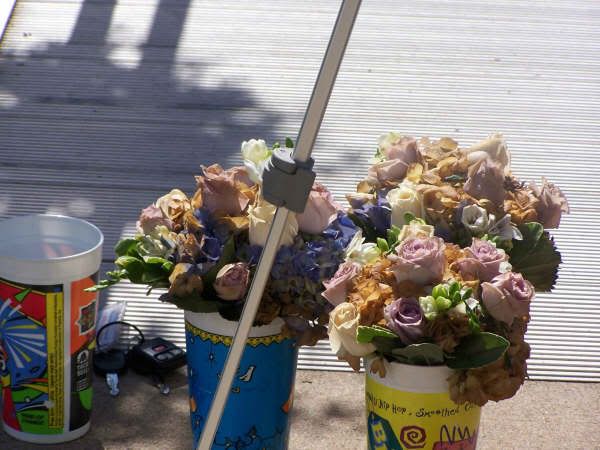 This wasn't going to work!!! Fortunately my bouquet was somewhat salvagable. Here are pictures of where we took them apart to try and make something usable.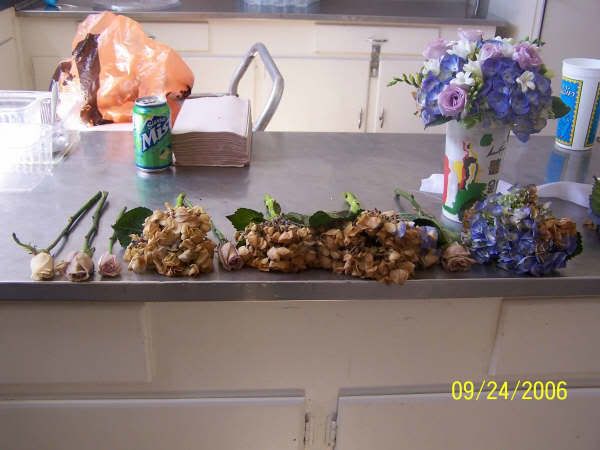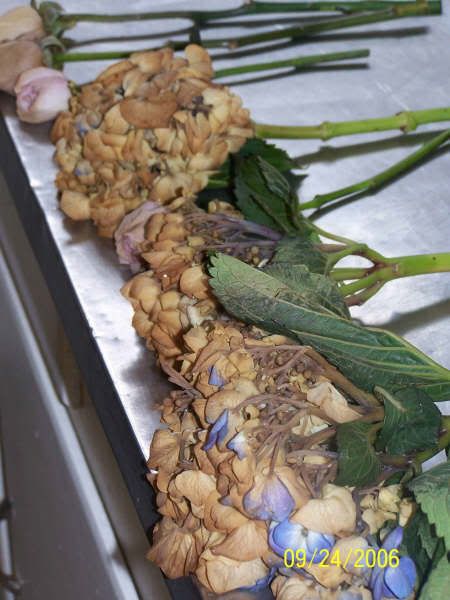 As you can see there was not salvaging any of this. Thankfully my husband's cousin is a miracle worker and was able to put together beautiful bouquets with flowers from the Safeway down the way.
If you have any experience with flowers I would truly appreciate your advise and if you could possibly write me a statement to take with me to small claims court!!!