Last night Mr.Disneykat and I were surprised to find out that we would be going to the Duke vs. Miami game this afternoon. After a brief stop at my work (someone had to take a 2 hr shift over for us for our church fundraiser), we were off to Durham to the great Duke University!!!!!
I admit, this spoiled USC Trojan fan compared D.U.M.B. (Duke University Marching band...yes they call themselves "D.U.M.B.) to TMB
They kind of reminded me of Standford Marching Band!!!!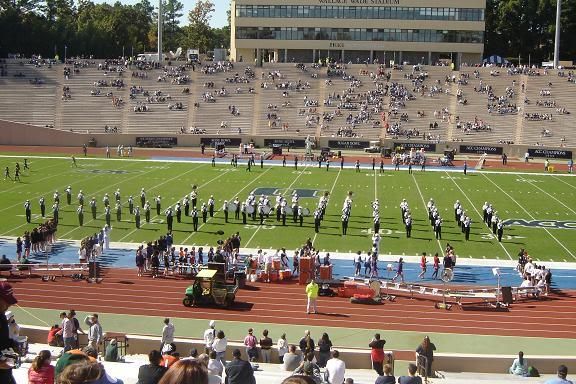 So the game started (after the Marching band poked fun at Miamai by having a "mock brawl" in the end zone), and Duke is not by any means well known for their football (though they did win Rose Bowls and such in the 40's and 50's), so i joked with Mr. Disneykat that if they did get past the 50 yd line...i'd take a picture:
1st time: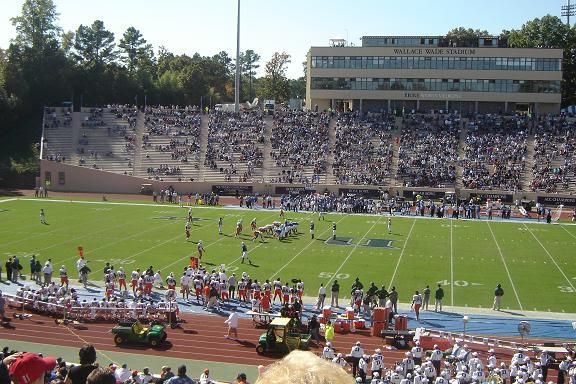 of course they fumbled.....but they did make it a 2nd time:
And while they fought hard in the 2nd half (scored 13 pts) They sadly lost to Miami, but let me tell you it was a very good game. Duke, on paper, out played Miami in the 2nd half (stupid 5 turnovers total in the game...GAH). The last few seconds of the game were tense. Duke was 3rd down on the 6 with 3 seconds left. Little old man next to me said "Do you think we can do it?" I said "I'm the wrong person to ask, I'm a So Cal fan." Thaddeus Lewis threw and it was intercepted...
Duke lost 20-15. Good Game guys!!! Good Game
After the game, Mr. Disneykat and I decided to walk around campus, hit the Campus "chapel" (I say that because it's HUGE), bookstore and Cameron Indoor Staduim.
On the way, We passed by one of the dorm buildings, complete with bell tower:
Then, to the Chapel: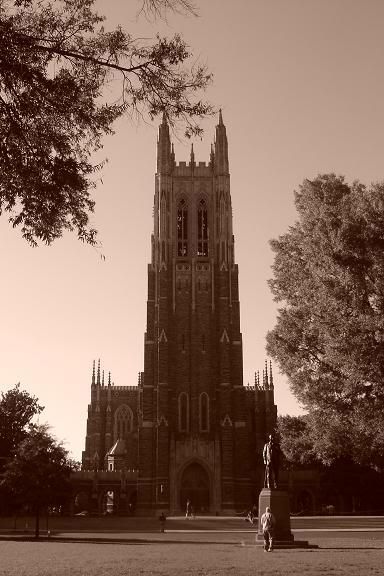 I tried to get indoor pics of the entire chapel, but the lighting was dim and I do not have a super pro camera. They came out less than beautiful and slightly blurry. I can tell you that this is one of the most popular wedding locations for Duke Alums. Booked way way (like YEARS) in advance. I did, however, get pics of the stained glass windows: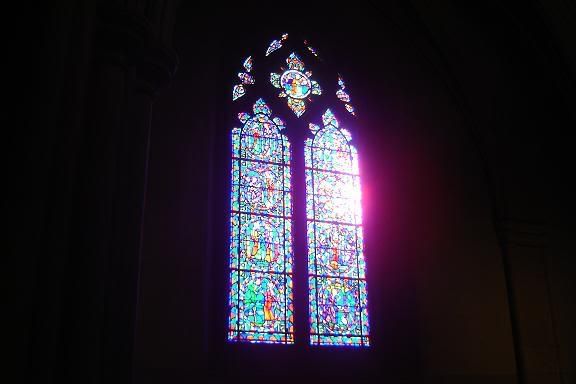 Mr. and Mrs. Disneykat outside the Chapel building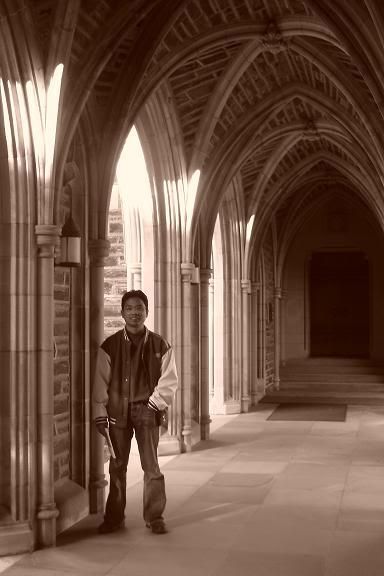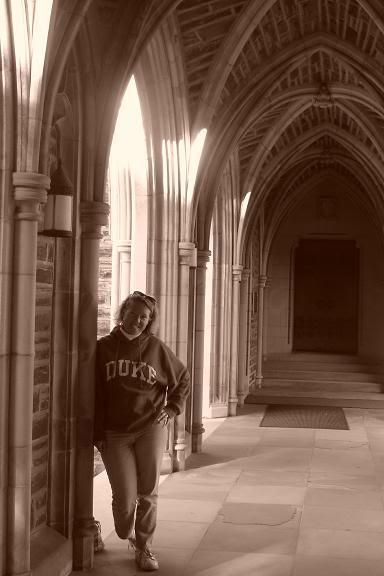 I apologize for the multitude of Chapel pics, but the building/architecture is just so gorgeous: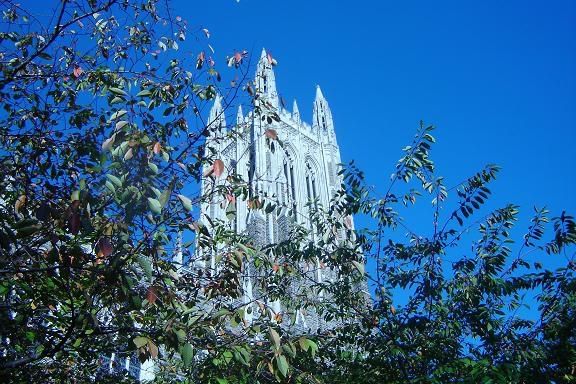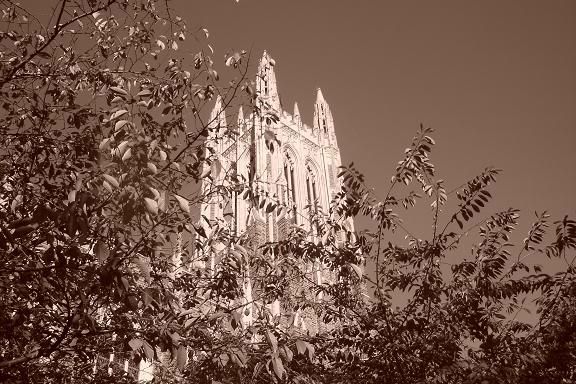 Mr. Disneykat wanted a picture without the trees "in the way" and this one shows you just how blue the sky was today: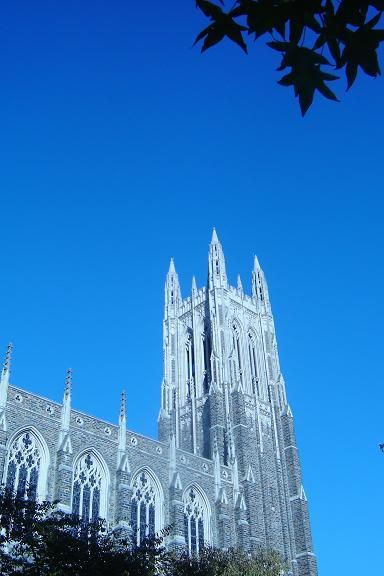 Mr. Disneykat demonstrates the wonders of aerodynamics currently being studied at Duke :lol:
Mr. Disneykat on the Duke Campus: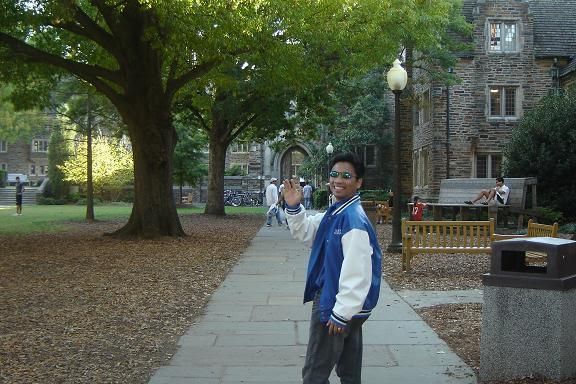 Yours Truly also on the duke campus, Fear not, I have not traded my USC love for Duke love, nor do I plan to:
Dorm room Building: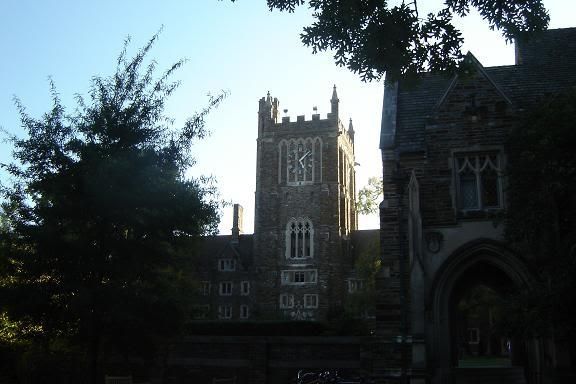 Corridor of the dorm room building: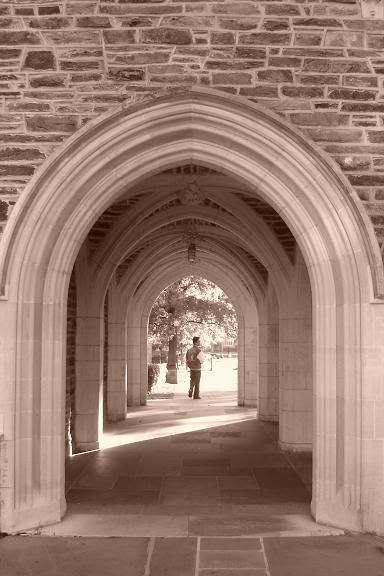 More to follow....................