It was Christmas Eve when my dad told my brother and I that he won Rose Bowl tickets in the lottery. He's a season ticket holder for USC games and has been since....forever! Well, he said he wasn't going to and asked if one of us would like them. My brother was going out of town and I said, "Maybe. Let me ask one of my friends if he's interested". That night, I called the fabulous Olympicnut if he was interested. After much debating, he said, "Yes!!" So I told my dad the next day that if the tickets were still up for grabs, I would love to have them. He said, "Their yours."
I went and met my dad on Friday afternoon to pick them up. I give you the tickets to the 93rd Rose Bowl.
I met up with Onut in Arcadia at 10 to drop off a car. I was a little late because I had left the tickets at home.
Good thing I wasn't that far!:lol: But I made it up there in record time because there wasn't anyone on the freeway!
We had quite the luck that day! As soon as we paid the parking, we were led into the first lot, right near the gate we had to go in. We were parked where the big red circle is. Our gate was gate B, tunnel 26...in the end zone. Not only did we get great parking, we got the prime spot. Rose Bowl parking tends to be in rows of 5...end to end. So if you're the 2nd, 3rd, or 4th car, you're pretty much screwed, cuz you have to wait til the people around you, or in front of you, leave. We were the first car so we were able to just go whenever we got out to the car after the game!!
As soon as we parked we saw this guy and wondered if he knew he was at a college bowl game...not a Charger game.:lol:
My mom's friend was having a huge tailgate party where the motor homes are and she invited us to stop by. We found them very quickly and hung out and had some good food!
Afterward, we went back to the car to get our "seats" and sweatshirts. Since we parked so close to the gate, we figured we didn't need to lug them around. We stopped for picture on the walk back.
Then a nice Michigan fan offered to take our picture. Pretty nice since we were all rivalries that day!:lol:
As we walked on, former and legendary USC coach John Robinson was getting to the game and stopped to take a picture with a fan (that's him on the phone).
The CHP officers were in a huddle forming a nefarious (for Dmom) plan.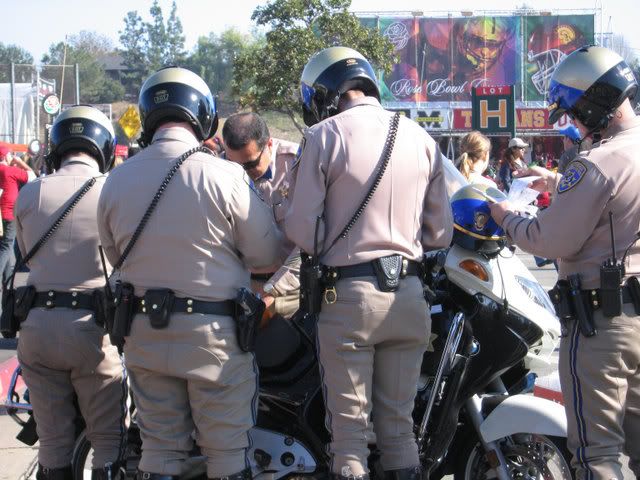 This was the big picture over one of the merchandise booths. I thought it was cool
After getting our stuff out of the car, we headed in the gate and walked up to our tunnel. Right under the infamous Rose Bowl sign.
Between the columns they had all the plaques from all the Rose Bowls played. They had the year, the teams and scores and the MVP on them
Here is the one from 1996. The last Rose Bowl I had gone to
More to come....