It all started with a magical phone call from the Lakers office asking me and a guest to join them in a special season ticket holder experience for the game against Orlando. So since Anna Kournikova was busy, Frenchy joined me in what seems like an experience that is surely to be cherished...
We arrived at Staples Center around 6:30pm and met up with our Lakers representative
He led us down thru the secret gray doors, down the elevator and to the event level, thru another 2 sets of secret doors, and we were in the tunnel where the Lakers players come out to get onto the court.
As we were waiting for the players to get out of the locker room, the Lakers girls were doing some pre-game rituals, a new ritual is taking a picture of us before the game.
Then we were allowed to take a picture by the court, next to where Dyan Cannon sits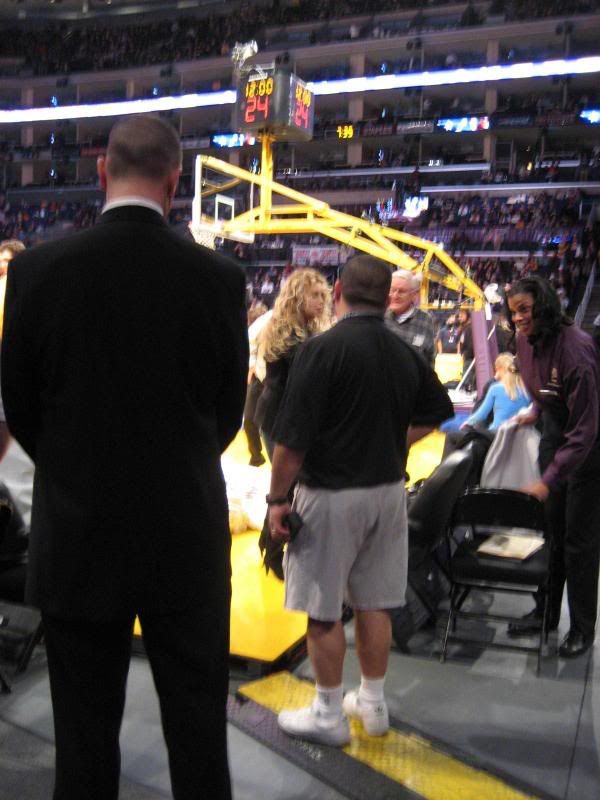 The players came out of the tunnel and gave Frenchy and I a big high 5 as they ran out of the court (sorry no pics of that, we were too busy high 5ing, and they ran too fast)...
From the floor view, a sight of what all other teams dream of, and are jealous of...
The pre-game, starting line up show huddle...
Kobe...
Time out to discuss how to work around the horrible officiating...
View of the court from the AmEx Platinum Lounge...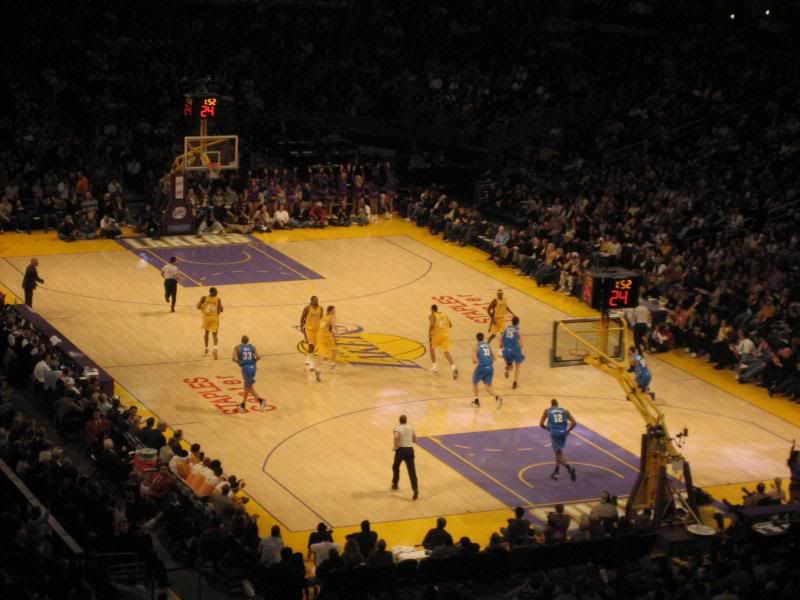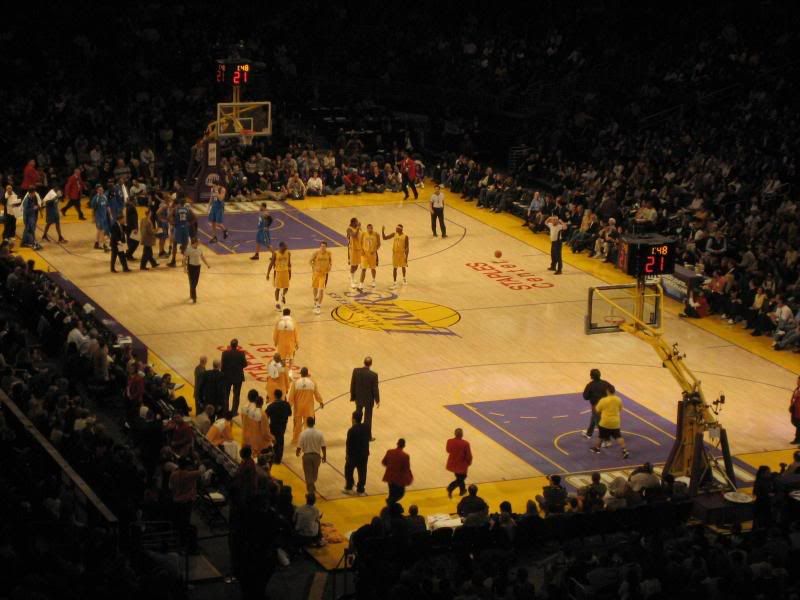 That's all the pictures, well the ones worth sharing.
It was a great night! We got to greet the players as they ran on to the court, got to see Kareen up close, had some inspirational words with Frank Hamblen and got to see how Phil Jackson is still getting used to the hip surgery he had.
We were treated greatly by the Lakers Organization. Many thanks to truely the greatest and most storied basketball team and one of the top sports teams ever! During halftime we were treated to a nice dessert spread of many gourmet desserts and had a chocolate overkill!!! This was truely one of the greatest nights! Hope you all have a chance at this too one day!
p.s. (If anyone has tips on getting the blurryness out when taking pics, please PM me ehehehe its a Cannon sd630 and still tryin to get used to it, its blurry on most of the zooms, thanks!)