Since posting the original thread on the MiceChat badge, there has been a change in ownership of the badge company, as well as some personnel changes. So here is some updated info on the MiceChat name badge:
Here is the finished badge design that is available for sale
IMMEDIATELY
.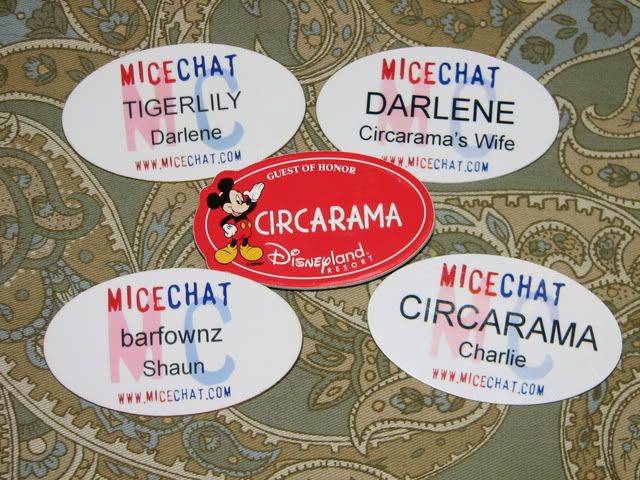 The badge is about the same size (1.75" x 2.875") as the Disneyland "guest of honor" badges.
User names and first names WILL be interchangeable(i.e. CHARLIE on top and Circarama on bottom)
The pin-back badges will cost $11.00 each. They are a true oval (custom cut) like you get at Disneyland. The shipping on my badge (from Utah to Central California)was $6.36. Multiple orders are available to the same address to reduce shipping fees.
ORDERING INFORMATION
To order your name badge,
please email Wendy Hallstrom @
wendy@namifiers.com
.
If you would like, you can copy and paste the following to help expedite your order. Please include a daytime contact telephone number so Wendy can contact you for your credit card info. Make sure and double-check your spelling and capitalization for the namebadge, as Wendy will be copying the info from your email directly into her order form.
If you have problems with your order, you can call Wendy Hallstrom at Namifiers. She can be reached at 1-800-470-6970 Ext. 116
Dear Wendy,

My name is:
I would like to order a MiceChat name badge. The invoice to reference is invoice #SO-151983.The account number is #28592

Here is how I would like my badge to look:
First Line:
Second Line:

My shipping info is:
Name:
Shipping address:
City:
State:
Zip Code:
My daytime telephone number for billing info is: