Hi Folks! Since I can't seem to fall asleep tonight for some reason, I thought I'd tell you a story .....
A few years ago , I read a thread about a guy who had gone on a bike ride on a very challenging trail I know of in Tahoe, had crashed , and had had an amazing rescue by helicopter. I replied to his thread via a pm and thus began with my relationship with Trekkie Dad.
I continued to correspond with him both on the board and in pm's and when I'd decided he wasn't an "internet weirdo" and confirmed with my friend Earkid who had actually met him at DL that my instincts were correct, I agreed to let him and his friend come down to my house for a weekend so they could visit with me and my family and participate in a local 100 mile bike ride.
My first impression upon meeting Trekkie Dad in person was "Whoa...this guy can talk.....and talk.......and talk...and talk.......LOL I knew I'd met my match! He talked to me till almost midnight. He talked to me at the crack of dawn . Heck, I think I even heard him talking in his sleep in the 6 hours between midnight and the crack of dawn!!! LOL
In between all that talking, his friend he 'd brought with him did manage to get a few words in edgewise and we discovered that he had a GPS and knew of an activity called geocaching. It sounded like fun , so the next thing we knew, we were all in my van and going all over town looking for geocaching treasures. It was great , especially when his friend thought he'd found a treasure and pulled it out of its hiding place only to discover it was not a treasure but a slimy snail!:lol:
I'm not great at remembering exact details and time frames, but I know that there are a few more times that Trekkie Dad has come down to our house since that first initial visit. One of those times was last April when he came down with big plans to take me on a bike ride with him. I remember being at work all morning dreading the ride I was about to go on with him that afternoon because I was terribly out of shape and I knew he was in great shape. I got home from work and he had my bike and helmet all ready to go. We drove out to a beautiful spot in Corralitos and began the
long
trek straight up a
very steep
mountain! I can't say I rode fast at all, but I
can
say I never stopped , but kept right on peddling and wasn't huffing and puffing too hard or turning bright red! When we were done with our ride , we drove to Gizdich Ranch and met our friend Pixywings for a short visit and I think Trekkie Dad ate a piece of pie!
A few days later , Trekkie Dad posted a trip report about coming to my house complete with pictures of me bike riding and this quote, "Princess Buttercup has really let herself go..." I was totally embarassed and to be honest , a little bit ticked, but also
very glad
that he said it because his brutal honesty made me finally get off my butt and start doing something about losing the weight I'd gained and I lost 17 pounds after that!
I know Trekkie Dad can give advice about dieting and exercising that is sometimes overwhelming to the person just starting out on a diet and exercise routine. But having been a former athlete, I also know that his diet and exercise tips are right on and great for someone who is well on his way to getting in shape or already there. And he is definitely a bike guru.....I would totally trust anything he tells me about bikes, bike gear, bike trails, etc. One other thing I can say about Gary, is he can sometimes dish things out, but he can also take them. It's one of the things I like and admire about him , since often times friends are polite, but not really honest with each other, and I believe it's the honesty that helps us grow.
I've also had the pleasure of meeting Trekkie Dad's wife on one of their visits down here to my house. We had a great time going to the Santa Cruz Wharf where Trekkie Dad was brave enough to try an oyster with me on the pier and then we all had dinner at one of the restaurants. The next day I had fun visiting with his wife and hearing about the book she was reading about the Himalayans while Trekkie Dad was on a bike ride.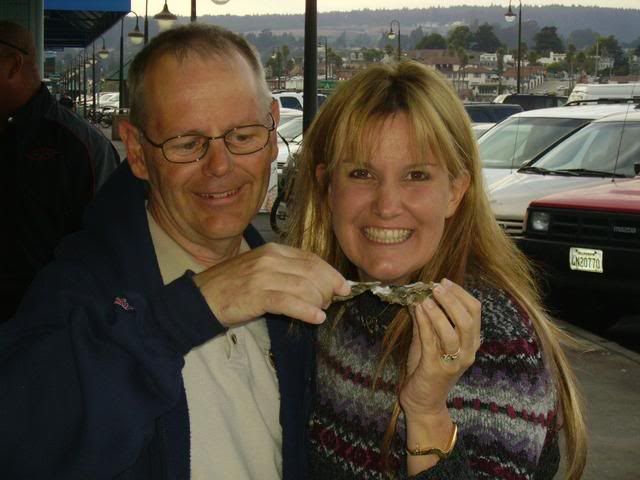 In October, Trekkie Dad traveled all the way from Stockton to San Francisco by BART to keep a promise he'd made to Hakuna Makarla to come visit her if she ever made it out to California again! We all had a great time at Pier 39 and Bubba Gump's. And one of my favorite all time memories of Trekkie Dad is when we dropped him off at the BART station to head home. We watched as he disappeared down the escalator and the last three things showing were his eyeglasses, his hat and then his little hand waving goodbye. And then less than five minutes later , he was calling us on his cell phone and telling us in his excited voice that he'd hopped right on a train, had already gone under the bay and was already as far as Oakland.
I think Trekkie Dad is one of the people who you don't fully "get" until you meet him in person and get to know him well , and then once you do, his online personality totally makes sense and you just can't
help
but like him , quirkiness and all!!
And the thread he started about the addictiveness of Pockey has been cracking me up lately!
My life and the life of my husband and kids has been totally enriched by knowing Trekkie Dad, and I hope a lot of you get to have the pleasure of meeting him and getting to know him better too if you haven't already!
I love you Trekkie Dad and just felt compelled to say so online tonight!!!
And now, maybe I can
finally
fall asleep since I'm not just writing this in my head , but have actually said it!!!:lol: