Okay, I'm not a parent but I have a word of advice to all the parents on this board.
My father was a policeman for 33 years and the way he saw the potential for something bad to happen rubbed off on me.
On cars all throughout the Mickey and Friends parking structure and all around town I see these stickers people put on their SUVs, cars and vans of stick figures representing family members. You know what I'm talking about here's a picture: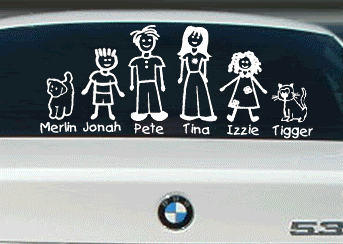 I have nothing against these stickers, they're cute.
But for the love of Benji, don't freakin' advertise your kids names under the character that represents them. I mean, all a freak would have to do is call that kid by his/her name one day as he/she is walking home from school and bam the kids think this is someone that knows them. A ride in the freak's car and you never see your kid again.
AND don't go and display your last names either. A sticker that says "We're the Johnsons!" is just asking for trouble. All a freak would have to do is say, 'Hey there Princess, aren't you Mr. and Mrs. Johnson's girl?' Now the girl thinks a family friend is going to drive her home from school.
Don't open yourself up to bad stuff happening.
My dad also told me that putting kids names on backpacks or on the backs of jackets etc is also just not a good idea.
Just a word of advice from a cricket. I saw three cars today with those stickers with names under them. It's just not a good idea.