Good morning everyone - It's so awesome to be back on MiceChat after a few weeks. Hopefully I didn't miss too much.

well i had a wonderful time in San Antonio and was able to come to the decision that I WILL be moving there. It will be a while though and I will explain that later.

The trip out on Greyhound, which took me through Dallas was nice and uneventful for the most part. There was a lengthy delay in the middle of the night because the bus I wouldn't start. We ended up being late but I did not miss my connection in Dallas because the driver of the bus I was on met the bus that goes between Dallas and San Antonio on the south side of Dallas. I did not get too much sleep though and ended up making that up on my first night in San Antonio.

My cousins, My aunt, and I tried to go to the Guadalupe River to do some tubing my first day there. We ended up going to the wrong place and it was too late to go to the right one so we ended up finding a nice shady spot along the river and set up our folding chairs. It was fun seeing my little cousin Caleb wade in the water and all the rowdy folks tubing and rafting down the river. No doubt there was alcohol involved with the rowdies (some of them were shooting fireworks too.)

My cousins ended up going to the right place the next day but I was anxious to see my good friend William after not seeing him for six years.

I spent a good week with William and his wonderful family. They have a beautiful house with wood and stone floors. William and I watched the Dover race and Game 2 of the NBA Finals with a few friends of William's who we will probably be renting a house with eventually. Don't leave pizza out on the stove if you have dogs. William and I were watching a documentary on Chuck Berry after everyone left and we heard someone or something in the kitchen. I went over the investigate and the last two pieces of Pepperoni pizza were gone. One of William's family dogs had gotten into the box! I hadn't seen that before so I laughed so hard!

San Antonio has a good variety of food. Some of the regional chains from the South are there as well as some Western ones that I have never eaten before. I had my first Jack In The Box visit (reminded me of Hardees when I was growing up). The BBQ is awesome down there (Awesome ribs)! also Texas is not too far away from the deep south to make Sweet Tea non existant.

On the Thursday night that the Spurs clinched the NBA title, William and I went to Sam's Burger Joint for a blues jam sponsored by the San Antonio Blues Society (I plan on joining up since I am a Blues enthusiast). It was awesome! The burgers were good and the atmosphere was great. Of course the end of the game killed the rest of the night and everyone cut out to go party out in the rain (it was pouring!). William and I walked through the patio area between the restaurant and the stage areas and all you could hear was horns honking and the rain pouring (the cars were not moving). San Antonio fans are very well behaved and don't riot. All they do is drive downtown and cruise for five hours. The town is Spurs crazy. It reminds me of Atlanta back in the early 90's when the Braves got good all of a sudden (and yes that brought me good memories of that time).

William's dad is the GM of the AT&T Center where the Spurs play. The team won the title in Cleveland but there was a viewing party down there that night. William's dad got through the traffic and picked us up. I thought we were going to go back home but instead we headed toward his office to party. To my surprise we actually got out on the court and took pictures (They are below)! It was one of the coolest things I have ever done! And yes I brought home plenty of Spurs gear.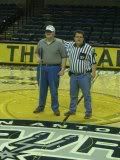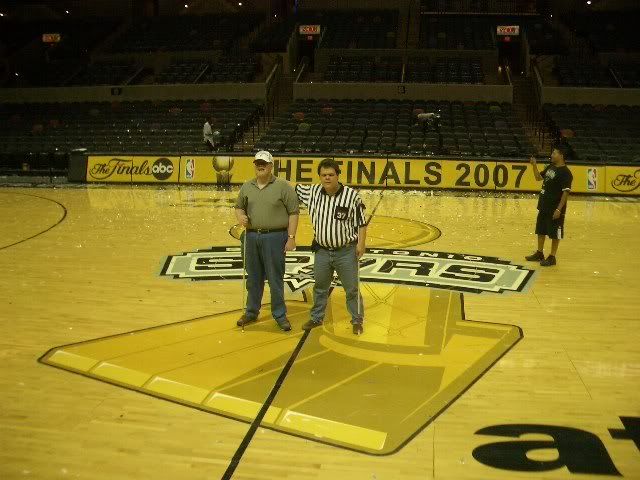 On Wednesday my cousins and I finally got down to the Riverwalk. What a nice area! I didn't have a chance to get on one of the tour boats but I will do that the next time I go down. Lots of great places to eat and plenty of places to sit and listen to music. It looks especially nice at night with the city lights as a backdrop. I was very fortunate to find a Disney related item that has eluded me for many a year. The two times I went to Walt Disney World I had looked for a Davy Crockett Coonskin hat with no success. Well being the home of the Alamo I found plenty and gladly picked up one for my Disney collection!

While the trip out was uneventful, the trip back home was quite the different story. If anything could go wrong it did! First of all I had brought a lunch bag with me to keep drinks cold and stuff. Well I discovered it full of ants (cause there was food residue in there. So that had to be sprayed and was unusable. That wasn't a big deal to me at the time I could always but drinks on the road. Next thing that happened was I bumped a mole I have on the side of my leg (it's been there for most of my life) on something in my cousin's garage and it started bleeding. It made quite a mess! So that was the bad.

Here comes the ugly. I went to the grocery store and picked up some food for my trip and I should have picked up some drinks. After a drive through visit to Jack In The Box, we headed to the bus station. But I left the car without my wallet. My pocket where I usually put it was good and full so I thought I had it. It was not until I was a a stop in Seguine, Texas that I noticed it was not there! I was at a Valero gas station buying some cookies. I reached for my wallet to pay and I am sure the look on face was priceless as I told the cashier that I had to put the stuff back. I quickly ran back to the bus and exclaimed that I had lost my wallet. Thank goodness for the help of strangers. the looked in my carry on and under my seats. I called my Cousin to make sure it was with her. Fortunately for me the wallet was in her car! It is being overnighted to me. Unfortunately I only had pocket change for drinks and that wasn't much. By the time I needed one I was somewhat dehydrated. The movement of the bus didn't help me at all. the bus driver was nice enough to give me some water but it would not stay down. So for about five hours I was nauseated. It was not a pleasant experience but I have definitely learned my lesson. (1). Always make sure my wallet is in my pocket before getting on the bus. (2.) In case something happens, always bring drinks with me or plenty of change to get them.

Well that's my trip in a nutshell. I will explain what this means in another thread I have made for the moving process. Thanks for reading!