Hi,
For the last few years they have been building a new bridge across the Tacoma Narrows to get people between Tacoma and The Olympic Peninsula. Tomorrow the bridge opens for traffic. Today, the bridge opened for pedestrians to walk across it. I decided that I would never get this chance again and left my home around 8am to get ot the opening at 10.
I parked at the Tacoma Narrows Airport and took a free shuttle to the Bridge. They were expecting 40,000 people, so I wanted to get there as soon as possible.
Here is the line for the bus. After waiting in lines for Disneyland this was a piece of cake.
The bus let us off near the bridge and I walked on. The old bridge is the green one on the left.
There was a run earlier in the day.
The two bridges.
I've made it ot the first support structure.
Here's mid-span.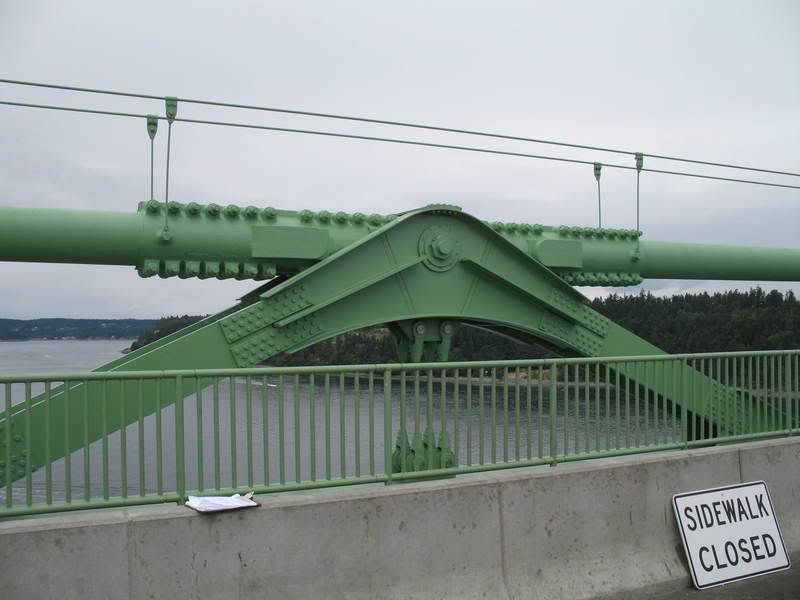 From mid-span towards Kitsap County (home)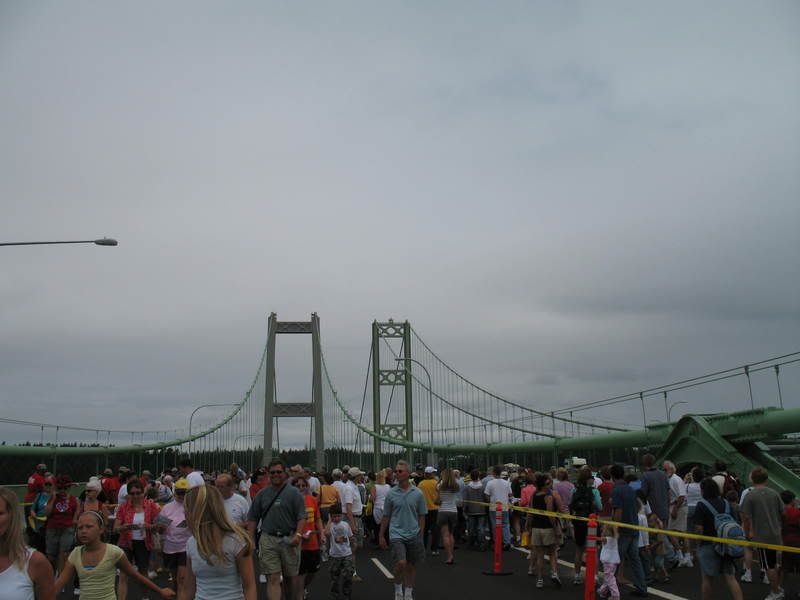 From mid-span to Tacoma.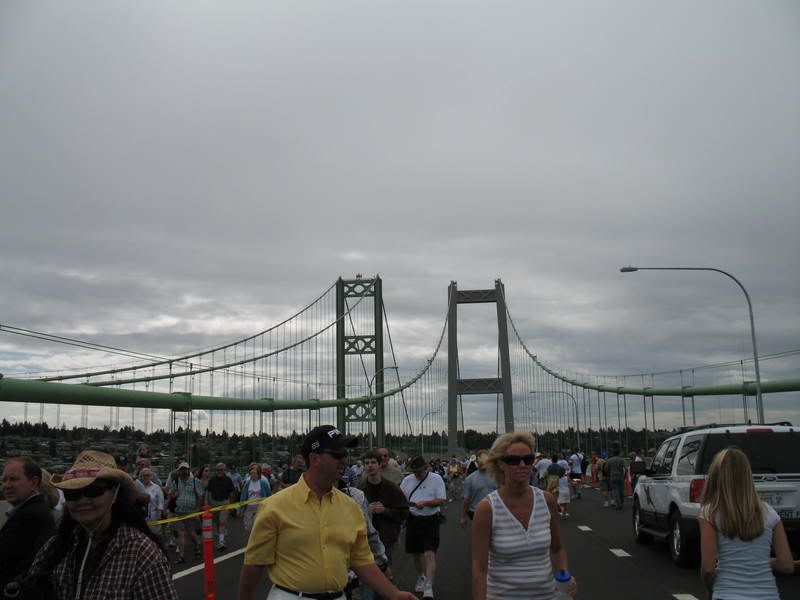 on the far side of the second support tower.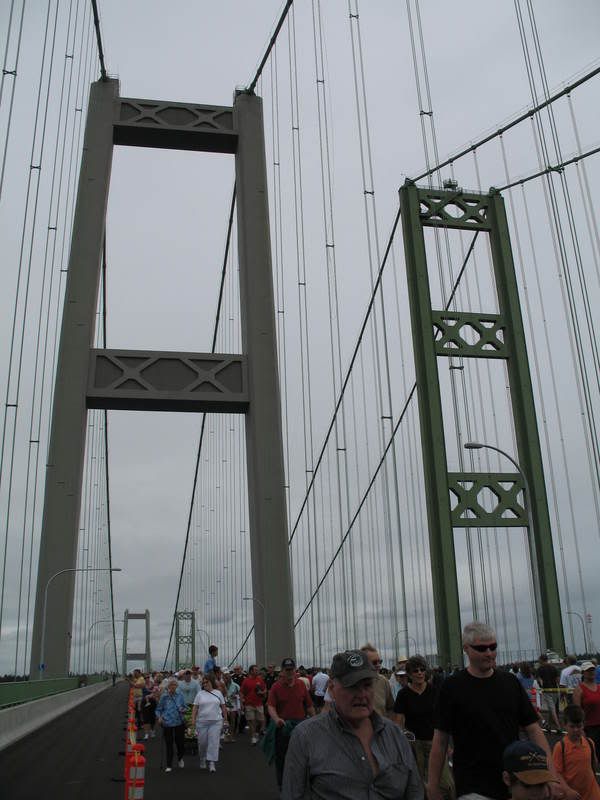 Almost there!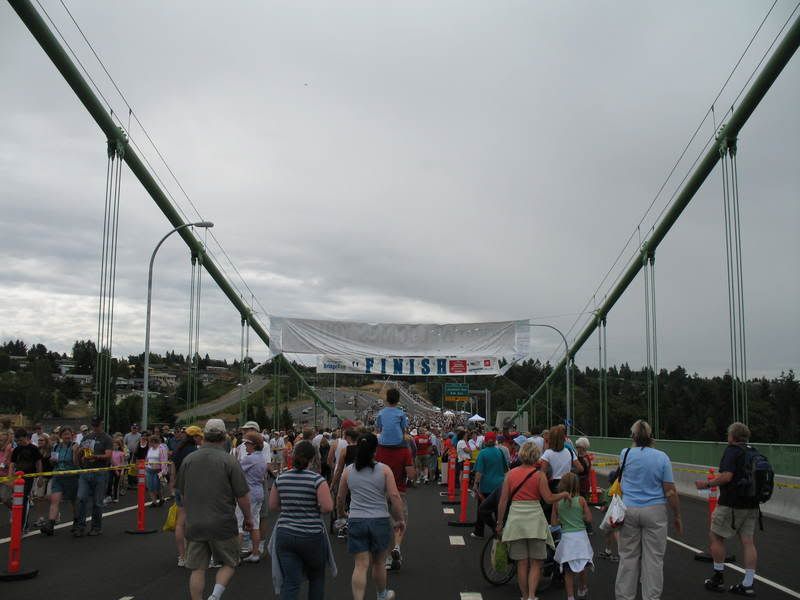 On the other side an eagle was being hassled by some crows.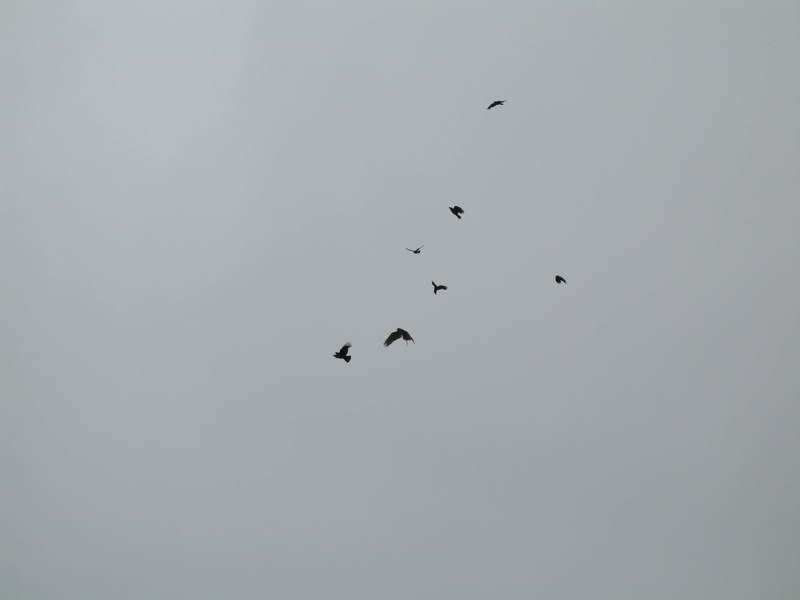 Just after I got to the other side they put up a cordon. Uh -OH Someone left their camera bag unattended.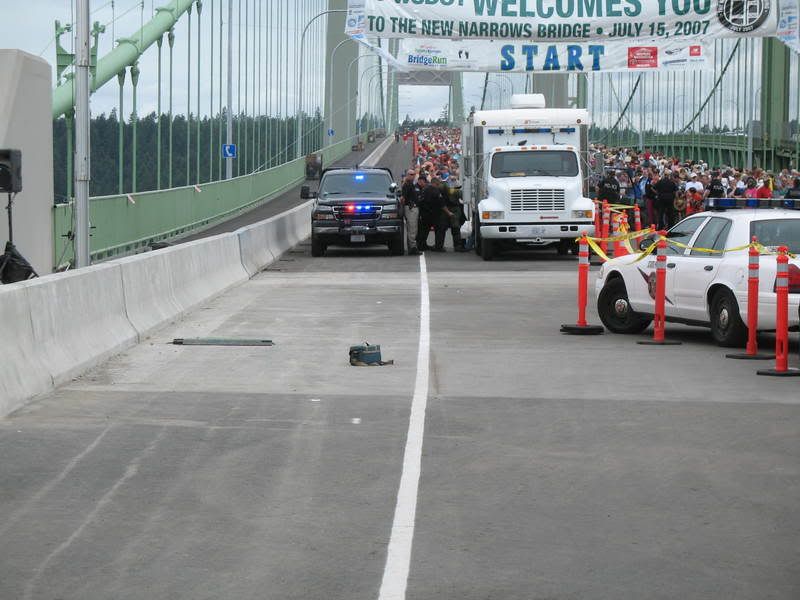 All right, front row seats to Armageddon! The Bomb Squad showed up.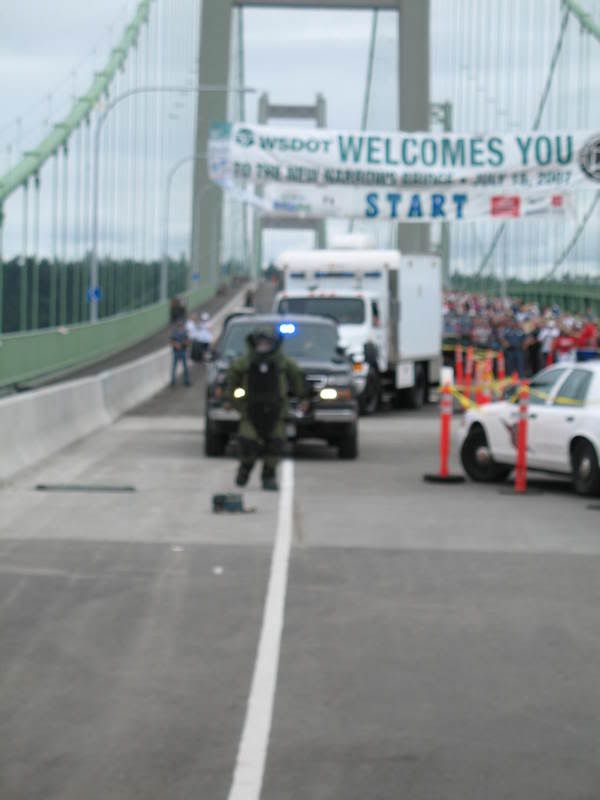 They loaded it into a special container and took it away.
Well now that was over it was time to head back to the other side. I got up on a grandstand first to take a picture.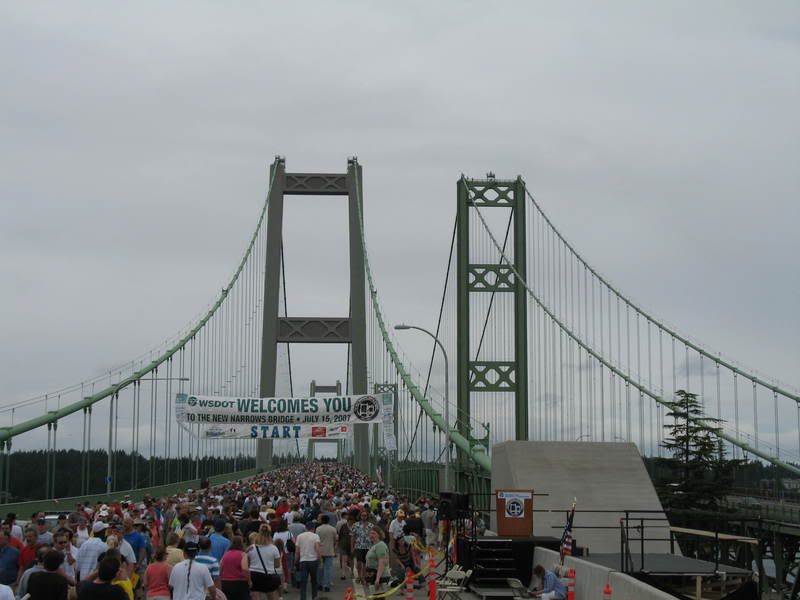 More of the two bridges.
A support tower from each bridge.
A kayaker way down below.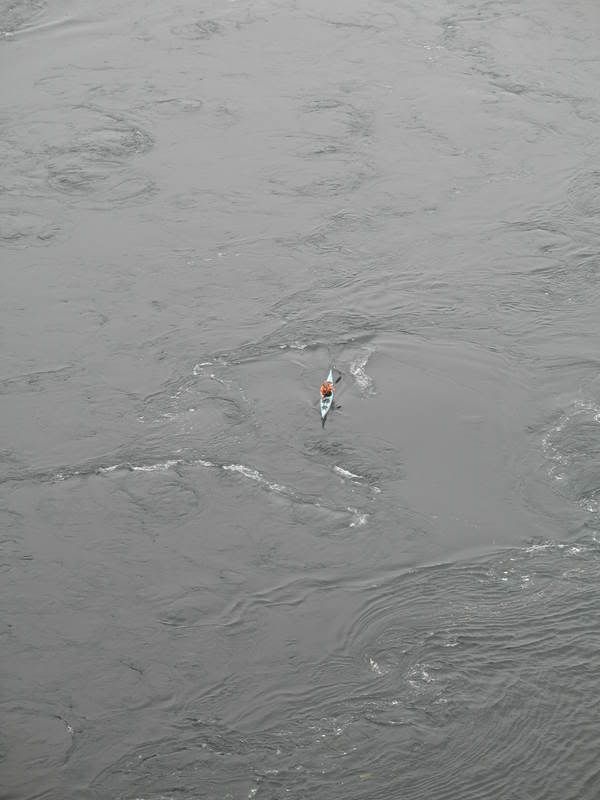 A bagpiper. There was also someone in a Gorilla suit. I was waiting for a member of the 501st to show up.
I was by myself in the carpool lane. LOL
Tourists on top of the old bridge.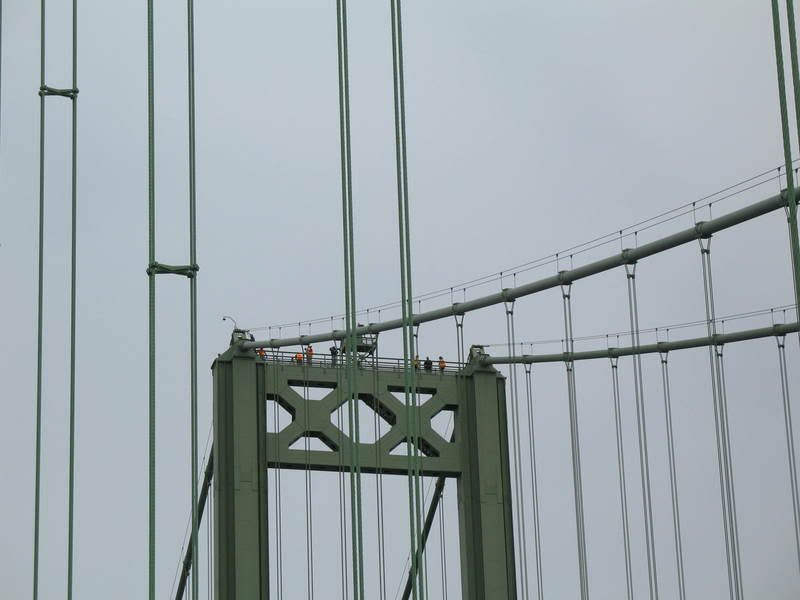 The anchor, encased in cement.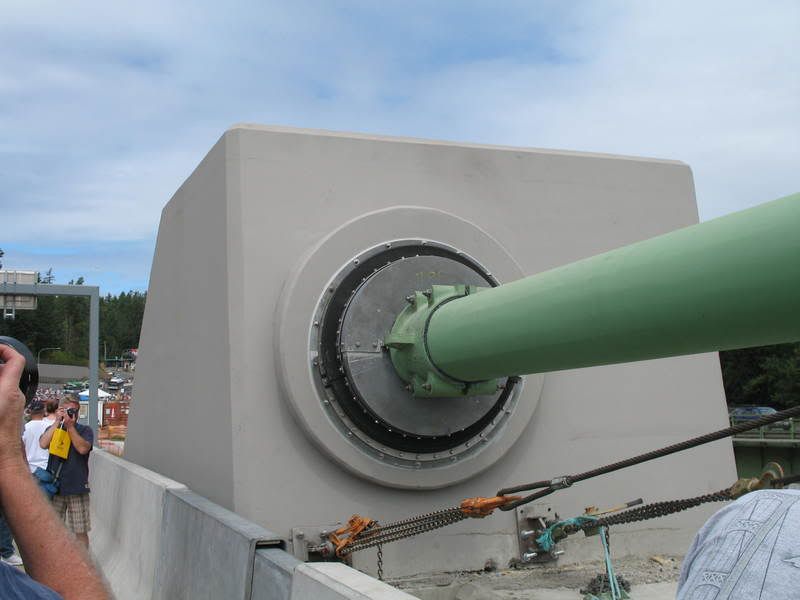 Time to leave, one last look back.
The line for the shuttle back to the airport was enormous, so I decided to walk back. It was a very long walk. This pick shows all the cars parked up and down the road.
The bridge is 5400 feet long. So I walked over a mile each way. It was probably at least 2 miles from the bridge to the airport.
I had a good time and everything was pretty well set up. They had passports you could get stamped at several locations across the bridge. That was sort of fun. It was full of people, but there was so much room it was not a problem. I took one last eastbound drive across the old bridge (the new bridge is going to handle eastbound traffice the old westbound).
I've been using the old bridge my entire life. The new bridge will hopefully really help with the traffic congestion at the bridge.