This past weekend we had our yearly guys out camping trip. We stayed at Pine Cliff in June Lake for 4 days. We had a schedule to stick to but with one guy sick and in the bathroom constantly the first day, and the altitude taking it's toll on one of the other guys, the schedule had to change a little bit. We were still able to get in everything that we planned and I was able to take some pictures to prove it!
7-12-07
We left Long Beach early, about 4:30am. We had to stop off in Rancho Cucamonga to pick up my brother and finish loading up. We were already later than planned when we finally left..........
We were worried the whole trip was going to get cancelled due to 2 fires that were blazing a few days before we left. One of them was very close to our campground but it was put out the day before we got there.
So 309 miles later, we're finally here!! June Lake!!
Stopped off for a bite to eat at Tiger Bar.
(Left to Right: Brother-in-law Enrique, friend Ted, brother Adam, brother-in-law Richard)
Now it's time to set up camp!
We've been coming here to this same exact spot for the past 3 years. It's somewhat of a tradition for us but it seems to be getting more and more sloped each year. I still love it though!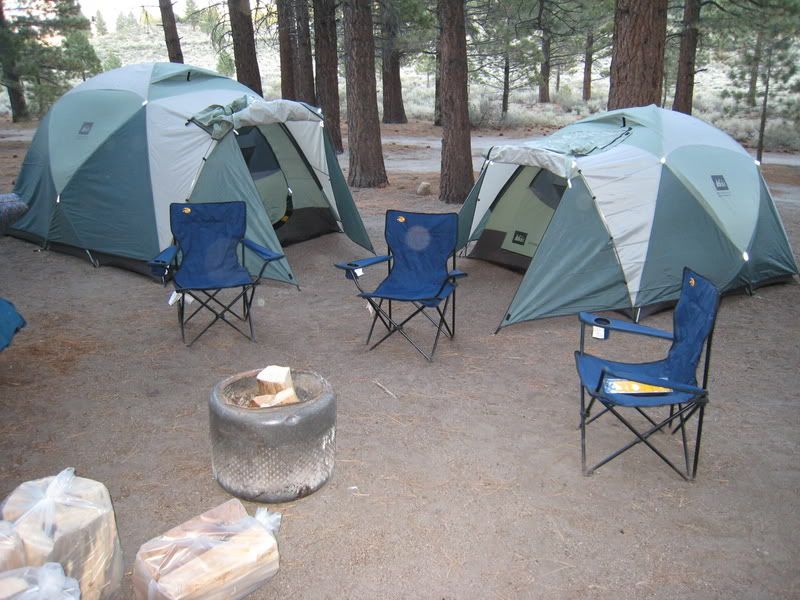 That was about it for that day. Hamburgers for dinner. Jack and Coke and/or Beer for dessert, we were good to go!
7-13-07
The next day we headed over to the Ghost Town Bodie and a quick drive through Mammoth to waste some time.
That night I grilled up some steaks and we just hung out late. Walked out into the middle of nowhere with no light and then to the lake. It's absolutely freaking amazing how beautiful the stars are up there. I felt like I was in a dome with a fake sky.
(I didn't have a tri-pod so the pictures I took didn't come out at all. Sorry.)
7-14-07
Today was the day we were waiting for! Mountain biking is one of the main things we wanted to do on this trip and now that everyone was feeling better, today was the day! 3 of us have ridden Mammoth Mountain before but it was Richard and Ted's first time. Of course pulling up to the parking lot, the first thing we see is a guy with a big ol sling on his arm and in pain. That put a great feeling in our stomachs........
After our first run we saw a guy that slammed his head so hard he basically imploded his helmet. The ambulance came and got him and he had a really really bad concussion. This once again didn't help us to hit the harder trails. We're rookies on that mountain! We were happy with the beginner to intermediate trails for sure.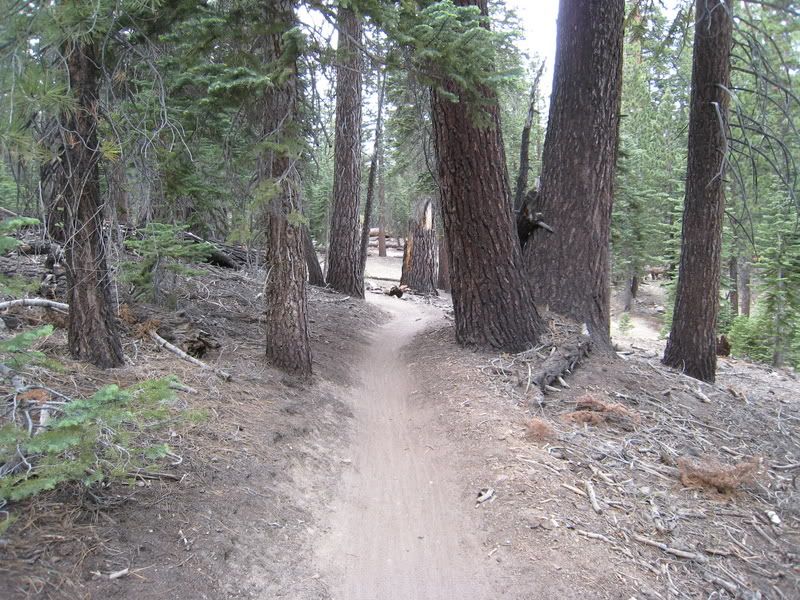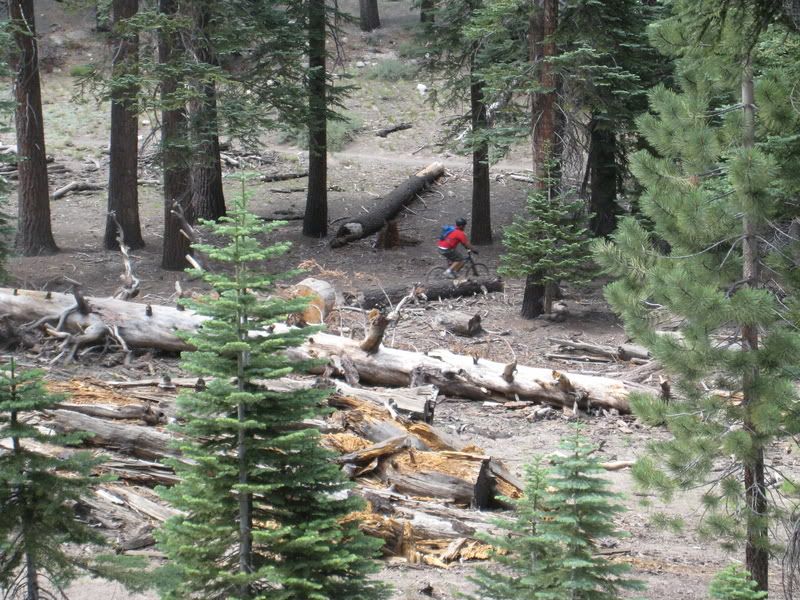 After the ride we hung out in the Village for a while and had a little sippy sippy to get our energy back.
When we got back to camp after riding, we were beat. We grilled up some bratwurst and just relaxed. It started to get pretty cloudy and we felt some drops so were were concerned a storm was coming. Luckily no storm but we did get this instead.
That was it for that night.
We woke up early Sunday morning to pack up and head out. Our wives and kids were waiting for us as well as our own home showers and most importantly, our own toilets!
Another great camping trip!
Hope you like it.