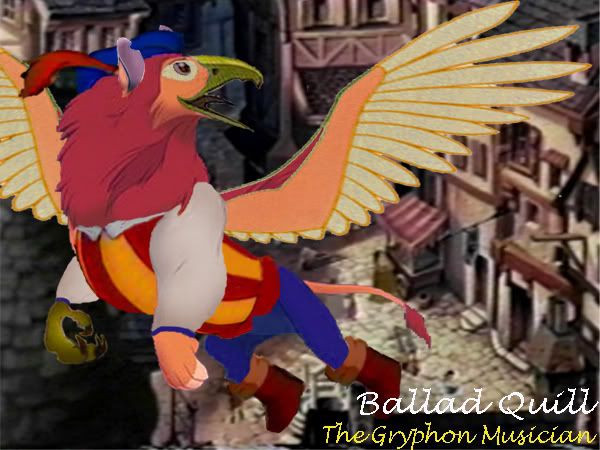 Just for fun, I made a Photoshop picture of my character Ballad Quill, the gryphon musician, constructed out of pieces of various Disney characters like some sort of celluliod Frankenstein
.
See if you can guess which parts came from which characters (and which film the backdrop came from). Later, I'll post the answers.
These were my self-imposed rules for creating this picture:
1) Disney characters only. No non-Disney animated films or TV series.
2) Hand-drawn 2D animated characters only.
3) Genuine Disney artwork only (from screenshots, promotional materials, etc.). No fan art.
While I initally set out not to edit the original parts at all, that quickly proved impossible. Still, I tried to keep it to a minimum. The thing that was most edited was color (using Photoshop's "Hue/Saturation" adjustment.)
My biggest concession was that at-a-painfully-wrong-angle talon (Ballad's right "hand"). It wasn't easy finding good shots of that talon.
Ballad is copyright me, Disney characters are (obviously) copyright Disney.
Here are a couple pics of what Ballad looks like when I draw him:
http://animagusurreal.deviantart.com...-quot-54595554
http://animagusurreal.deviantart.com...yphon-45045749
I know there are some other artist/writers out there with characters of their own. Anybody else care to try their hand at this? (You don't have to follow my self-imposed rules - you can make up your own
)
If you've got an original picture of your character, please post that as well, so we can see what they usually look like.