This report is going to have come in a few stages. (I will also add additional pictures later, when my mom gets around to sending me hers!)
1st up - Nuremburg, Germany.
After a long flight "across the pond" (I really hate that term), we landed in Frankfurt, Germany only to go through 2 terminals, 2 check-in counters and 4 different security gates, we were loaded onto a bus and driven out into the middle of nowhere to meet our little plane. After about 40 minutes we were in Nuremburg. We got a taxi to take us to meet our boat, only to find out that there was no boat there. It was running late. The scary thing was that there is no terminal, dock, nothing. The boat just pulls up to the side of the bank. So, we sat at the side of the Danube and waited. Luckily it only took about 20 minutes.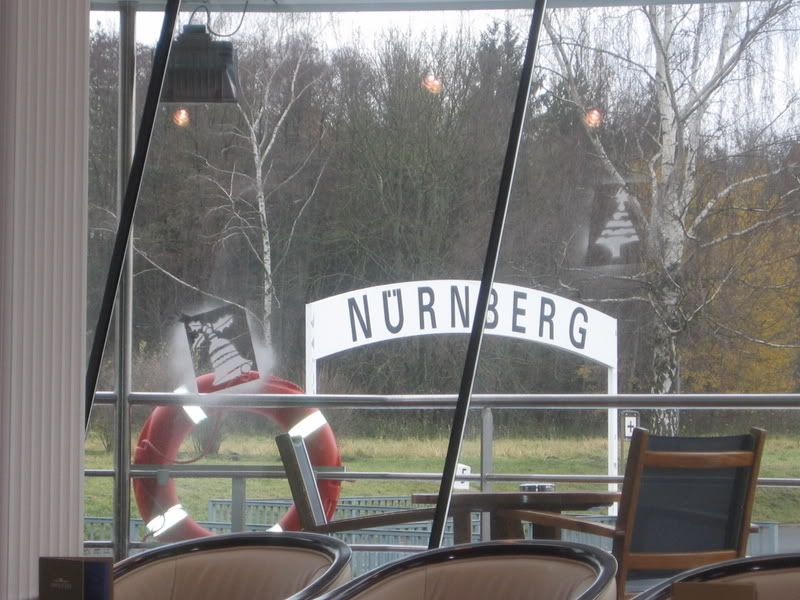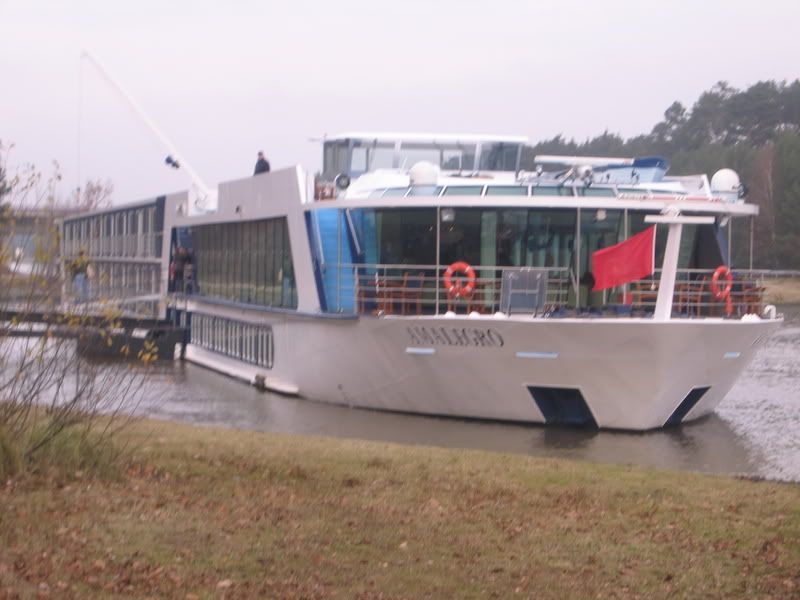 We immediately went to our room and took a shower and a nap.
Best Shower ever!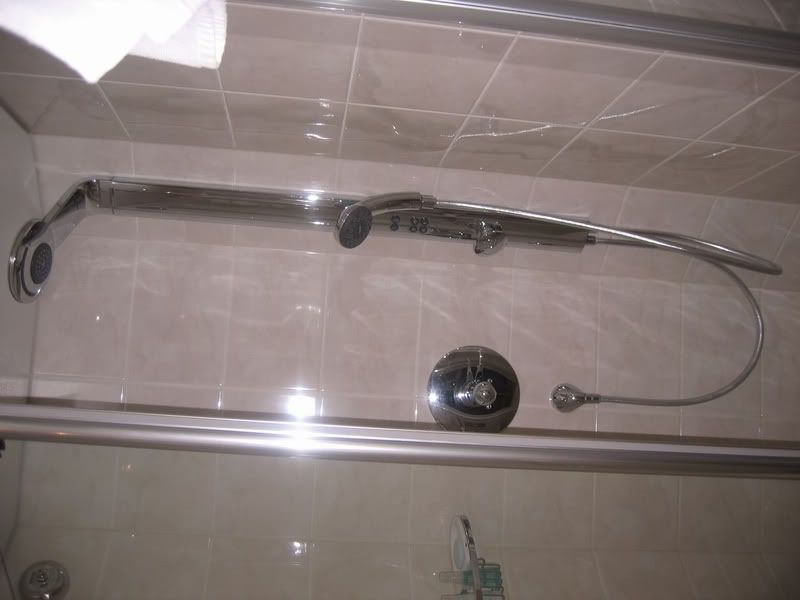 That night we had dinner and met the other passengers. Nothing too exciting.
Day 2
It was barely 0 degrees celsius - freezing. Most of my trip consisted of cold and fog. But, no snow or rain - thank heavens.
Our ship, the MS Amalegro (Amadeus Waterways) offers a free town excursion every day. So, we got on a bus and headed in. Nuremburg was considered Hitler's playground. This is where he came to unwind and show off his troops. We first visited the courthouse where the Nuremburg, Nazi Trials were held - it's still a working courthouse, so you can only visit it on Saturday.
These upper 4 windows is Room 600 - where the trials were held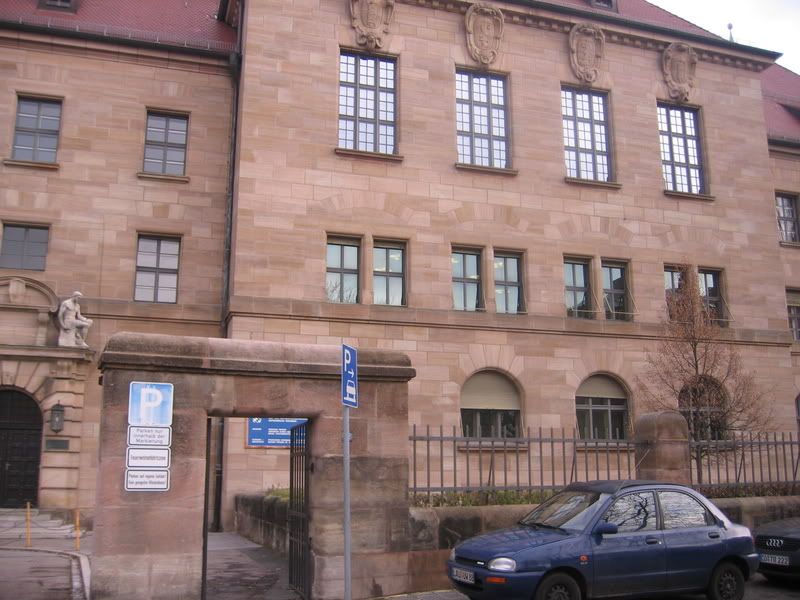 We then went into the Congress Hall - this was supposed to be a spectacular building built in a horseshoe shape with Hitler's own cathedral in the middle of it. He never got to finish it.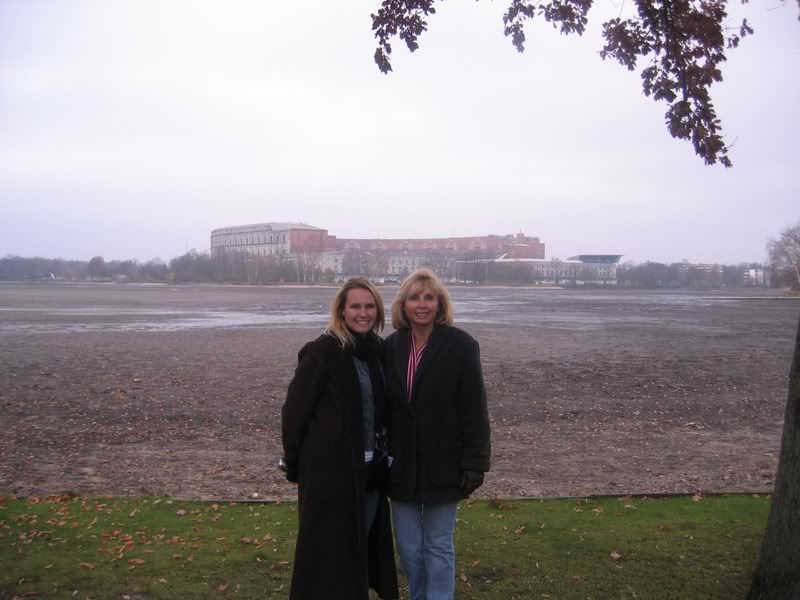 We also visited the Zeppelin field. This is where Hitler used to parade his troops, hold rallies, and make speeches. It was bombed heavily by the americans. There used to be 36 towers surrounding the field. Now the field is used for rock concerts and the asphalt is now pit row and the starting grid for a Formula 3 race.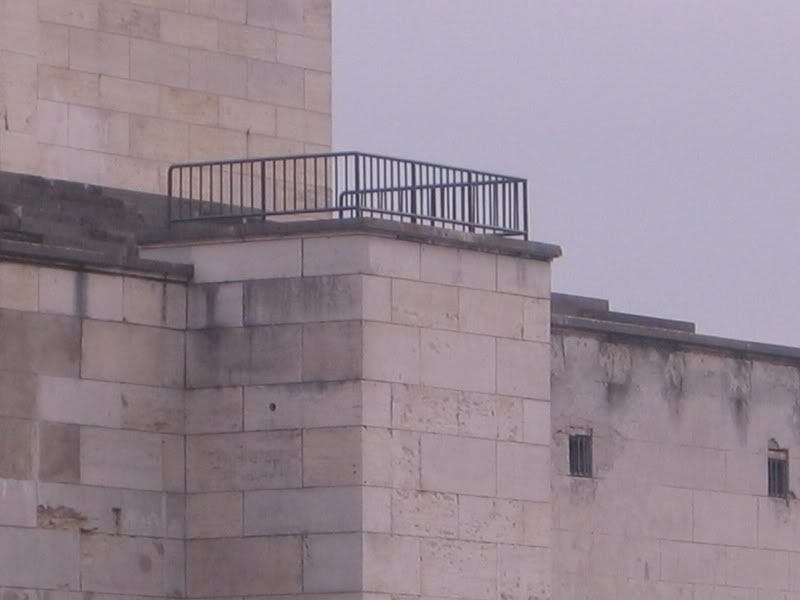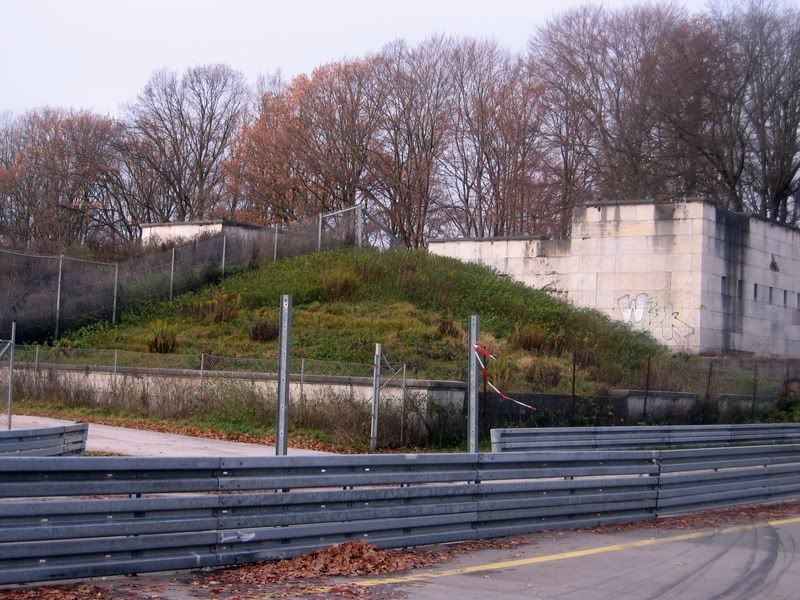 We finally got to the old town of Nuremburg. It was built like a fortress and has a wall surrounding it. We started at the Castle (it was damaged during WWII, but it has been reconstructed). It was estimated to have been built around 1105. It was built on and with sandstone.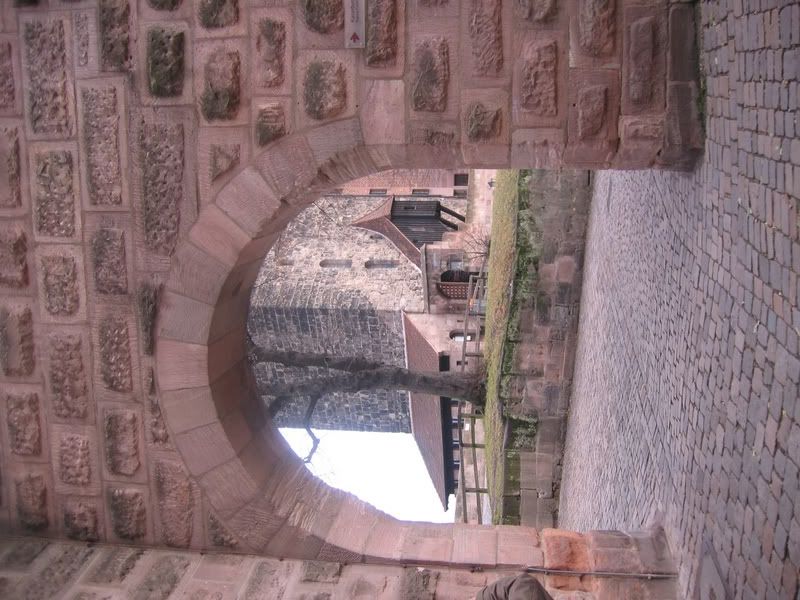 The huge blocks were picked up by a pick like clamp and that's what caused all the holes in the blocks.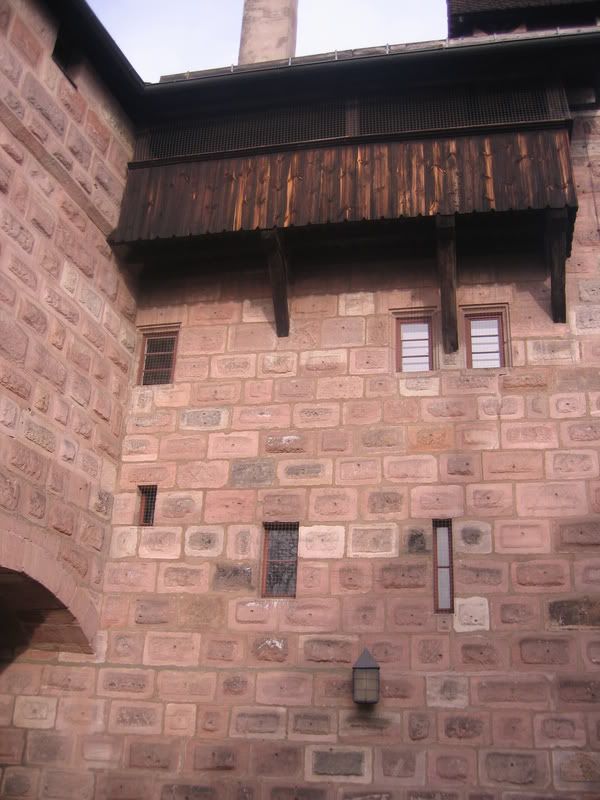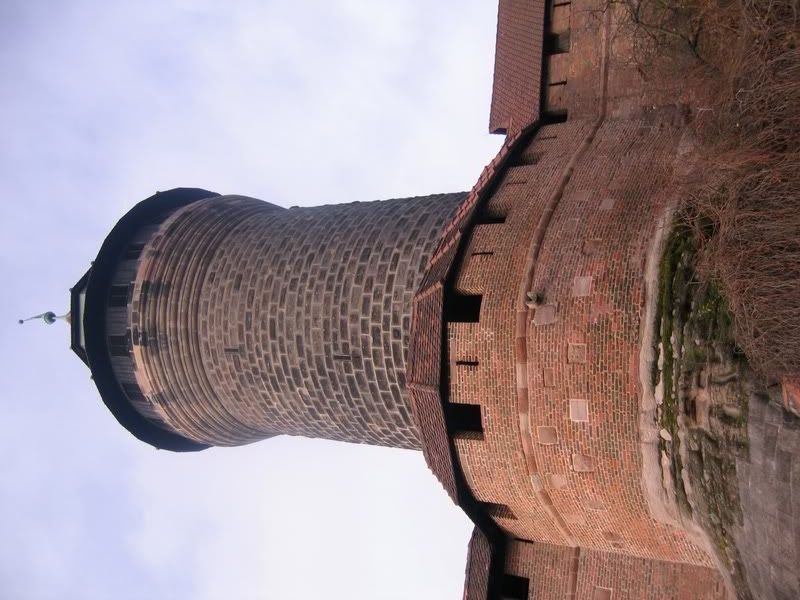 View of the town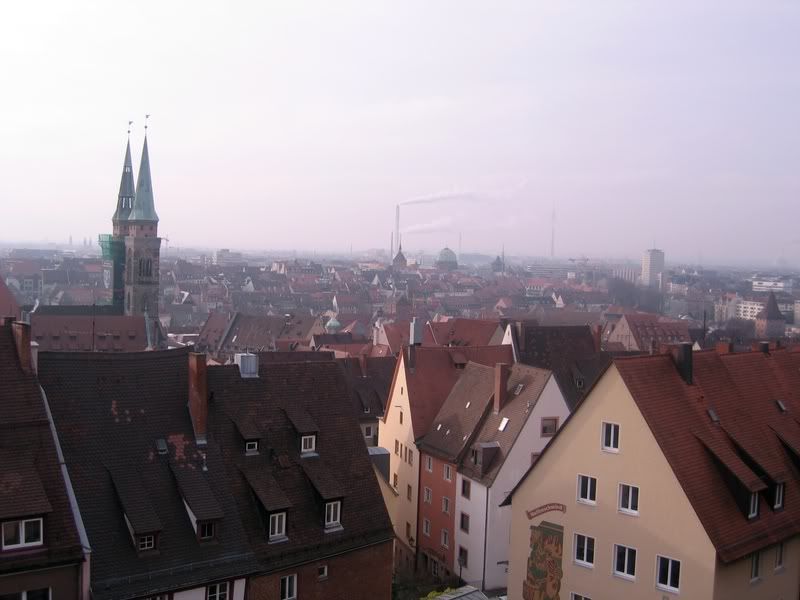 We then wandered down into the main markets of the town. I loved how most of the restaurants had little statues on them.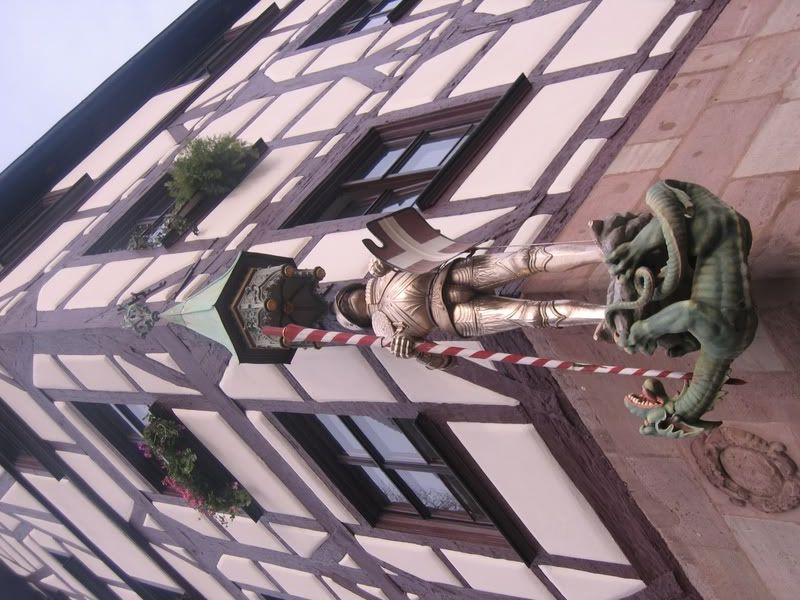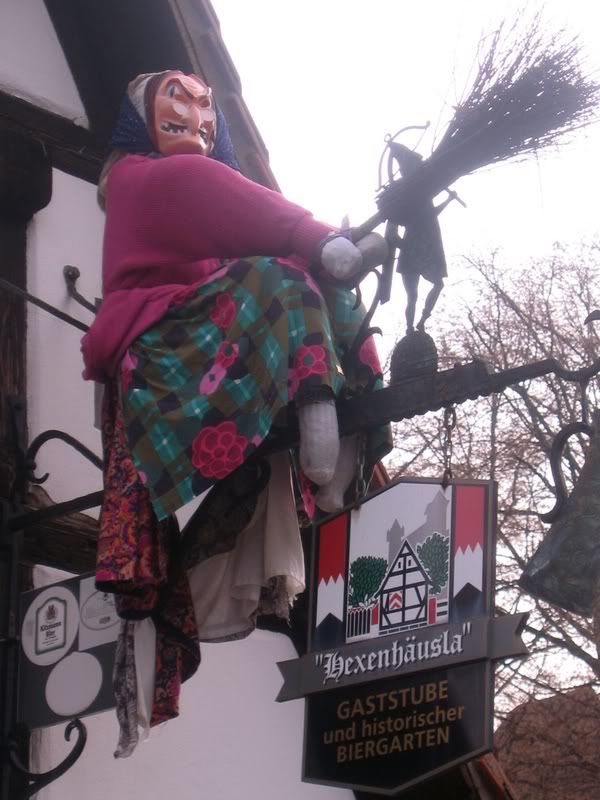 This horrible bunny monument is a tribute to Albrecht Durer. He was this town's most famous artist. I guess his most popular painting was of a rabbit. So, someone created this - most of the town hates it.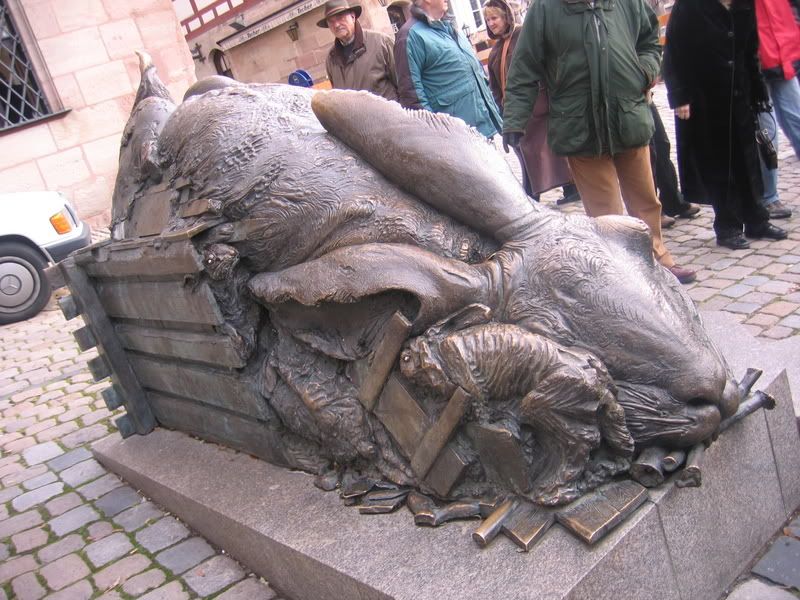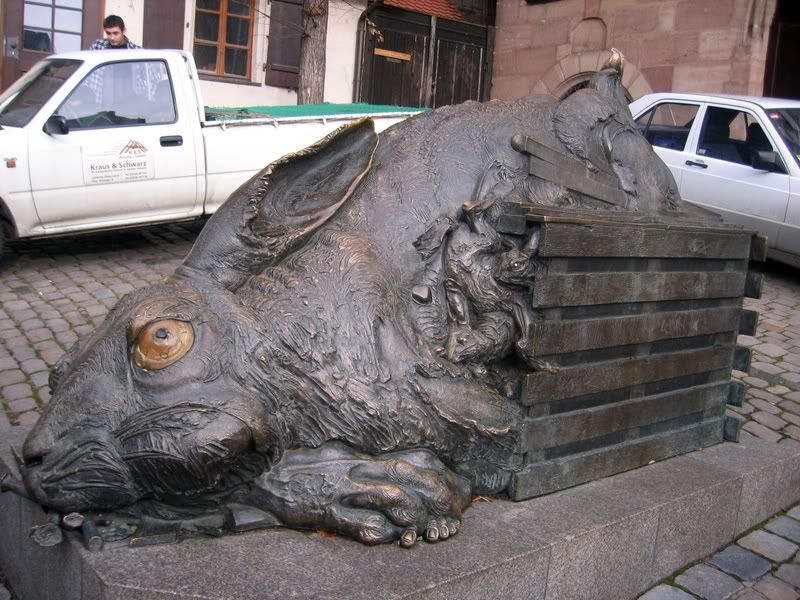 Of course, in Europe, you can't walk more than a block without seeing a huge cathedral. My favorite part - gargoyles
St. Michael (Baroque Church) - every tour guide made sure you knew what the architecture style was.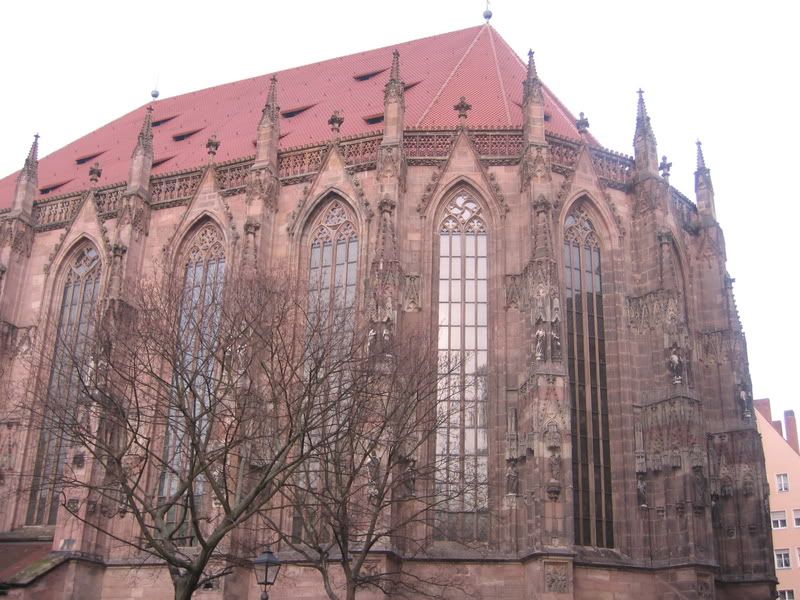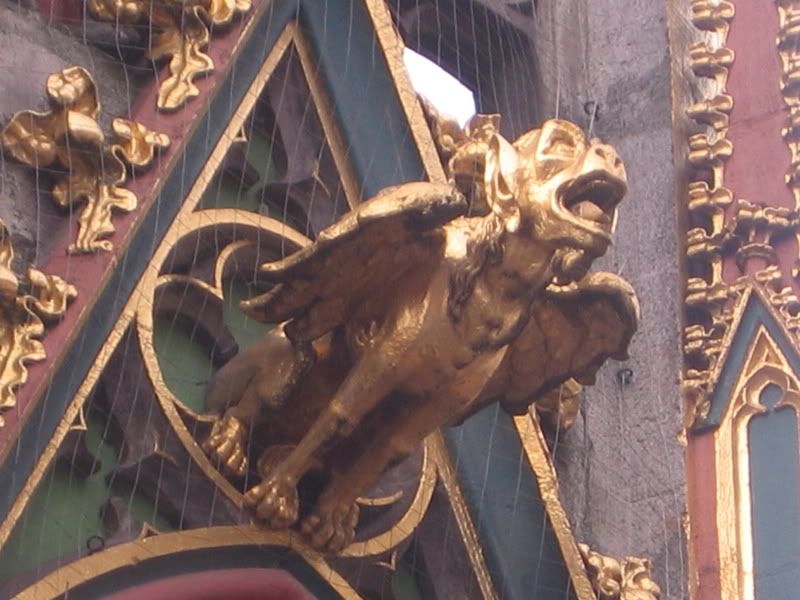 On the police station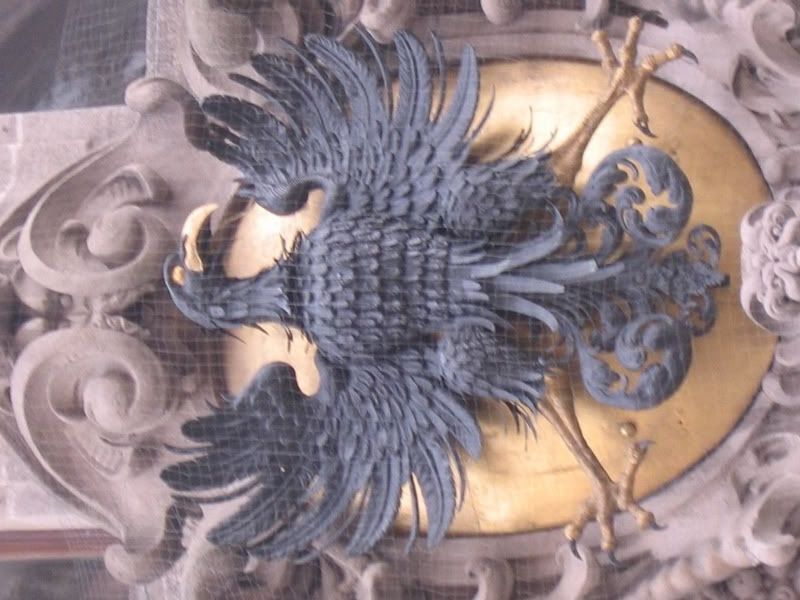 This is a 600 year old glockenspiel on the Frauenkirche - it still works.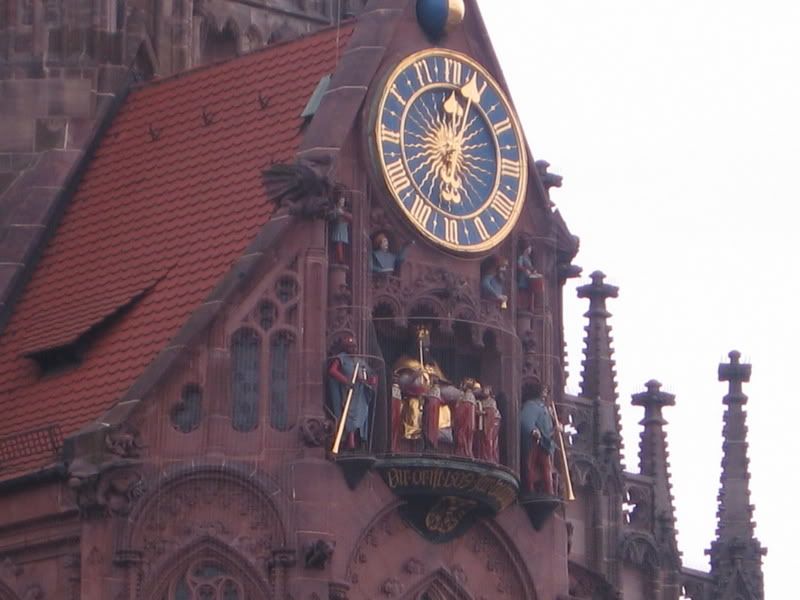 In the middle of the town square is the Beautiful Fountain. Hidden in the gate is a ring. You're supposed to spin it 3 times to the right and make a wish
Mom making a wish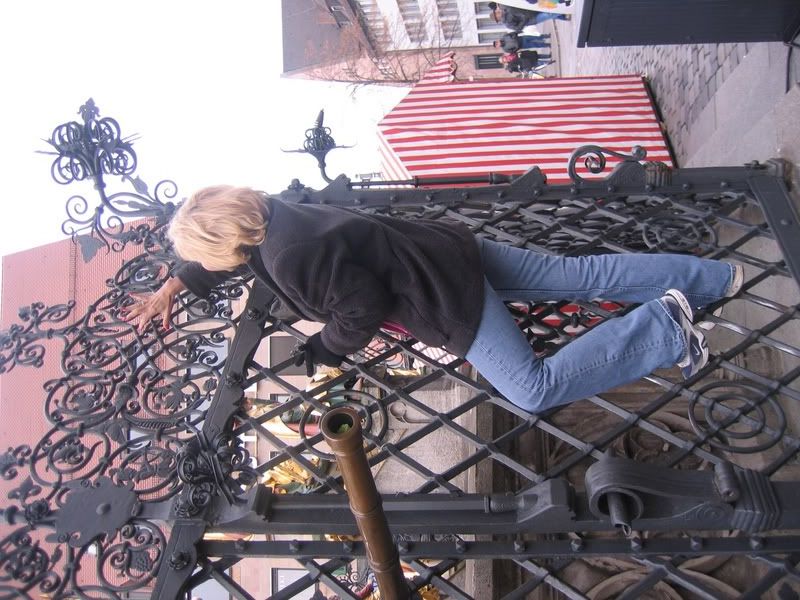 A weird cherub on the fountain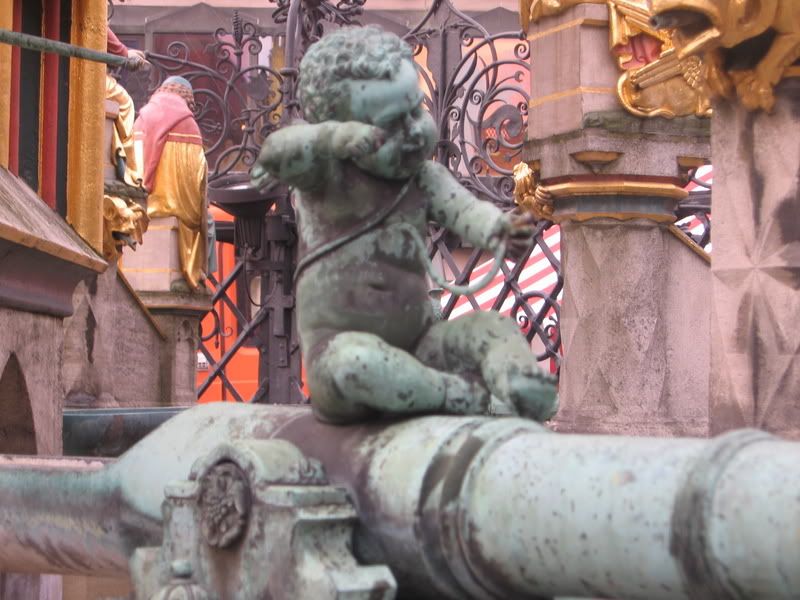 Statues everywhere (St. Michaels in the background)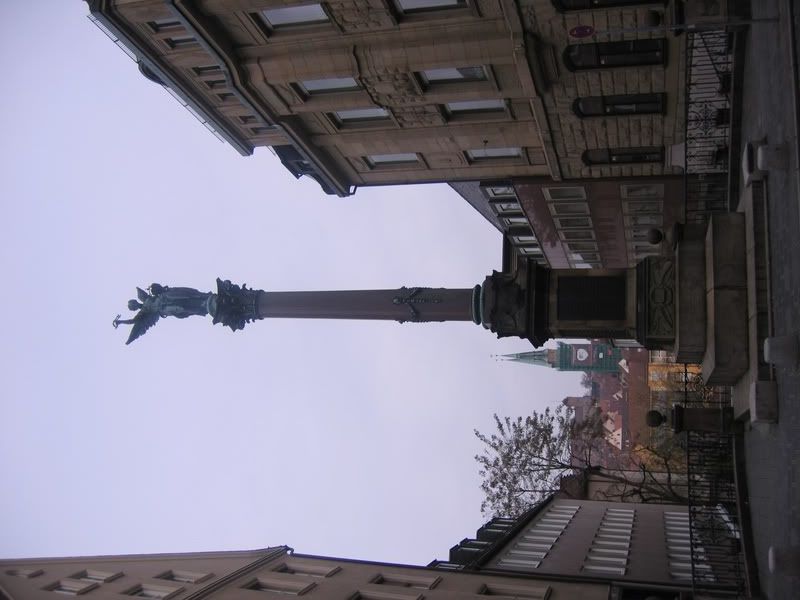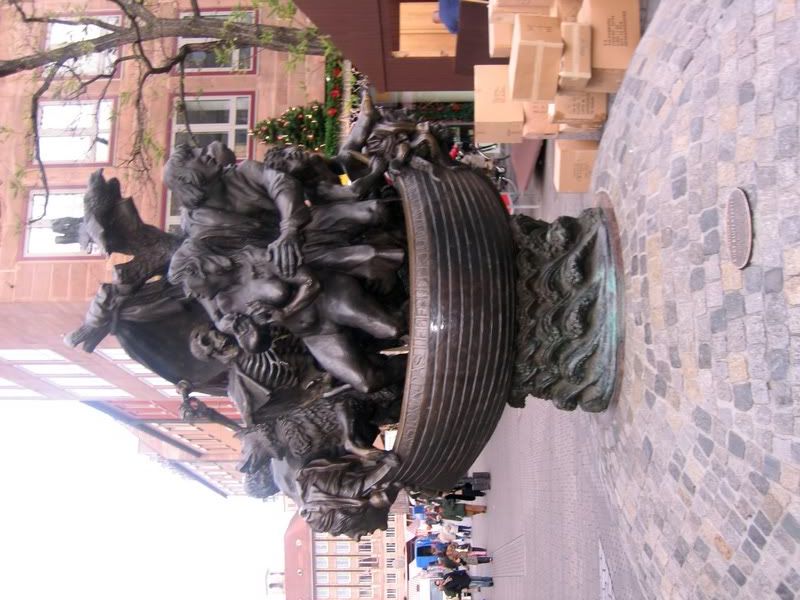 Regnitz River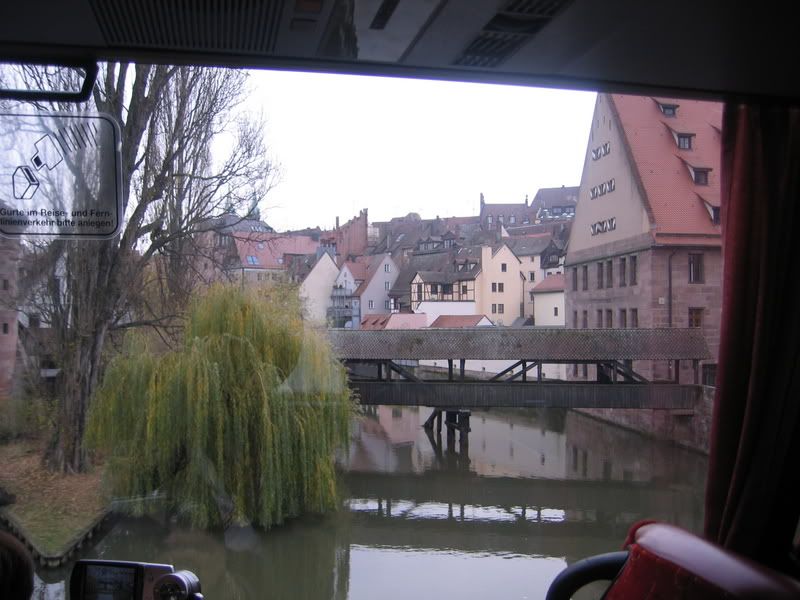 I thought of the fartation cafe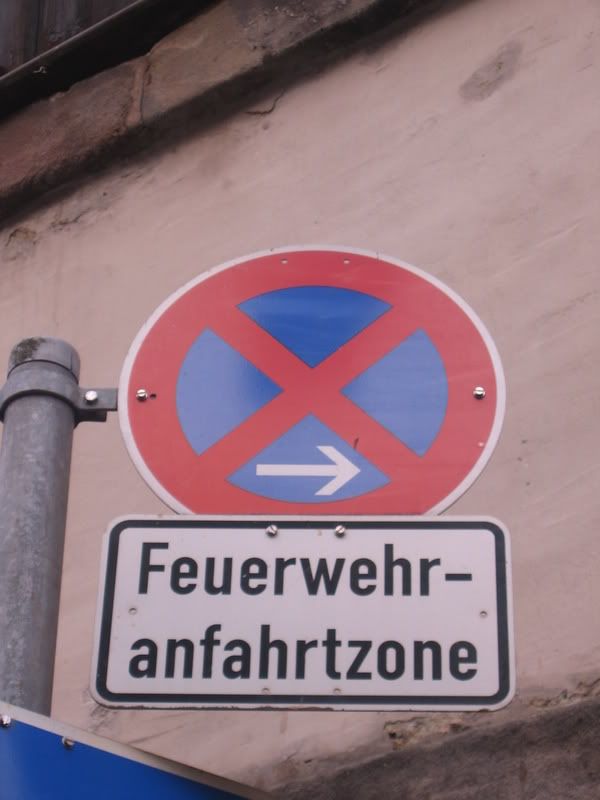 All through Europe, the towns are putting up their Christmas Markets (think state fair with a Christmas Theme). Nuremburg was just getting theirs started. This is where I got to try the world famous Lebkuchen (like gingerbread with almonds). They've been making it in this town for almost 800 years. Yummy stuff.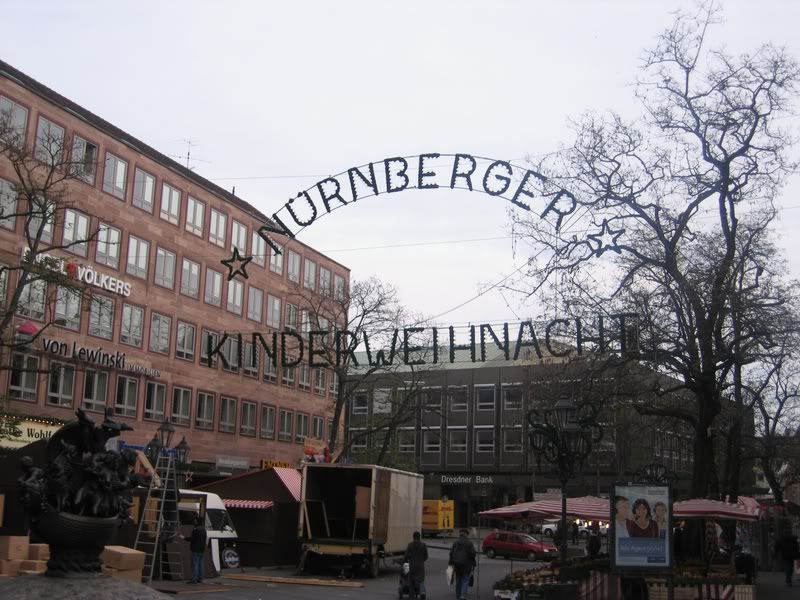 That evening we went through our first of 26 locks on the Danube