We decided to spend Valentine's Day @ Disneyland Resort. We got a later start than usual, but still were quite excited to spend "Heart Day" together. As well, we went to Lake Arrowhead yesterday to let Grant experience SNOW for the first time - so if you have time, check out this double whammy trip report! Thanks in advance!
It's Valentine's Day and Grant's all ready to go! So ready, he couldn't hold still for the camera....
With Daddy - ALL READY TO GO!
Finally - straight to get late lunch @ ESPN Zone.
Hanging out with Mommy.
"Daddy - you know what it says here???"
Lunch is over and now our ride on Monorail into Disneyland!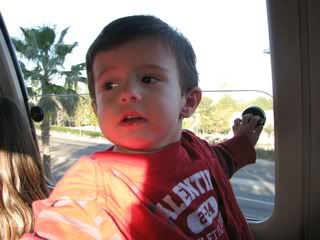 Grant loves the Matterhorn! Can't wait until he's old enough to actually ride on it.
In line for Pooh
Maybe a tad sickening, but our own "FAMILY" Congress of the Cons.
We got Grant some Converse a couple weeks ago, and then wife and I thought it would be cute if we got them for each other for Valentine's Day..so here it is - matching shoes for all of us! Look at how itty bitty Grant's are! HYSTERICAL.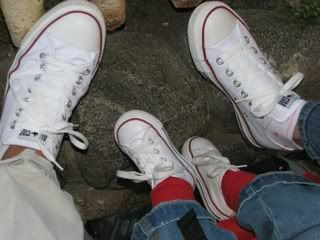 Live Music in NOS
Grant get's his 'beads' from the live band! Doesn't look like it, but he was quite excited!
_________________________________________
Off to Lake Arrowhead on 2/18:
Grant really didn't know what to make of his first experience....taste it? Throw it? Taste it???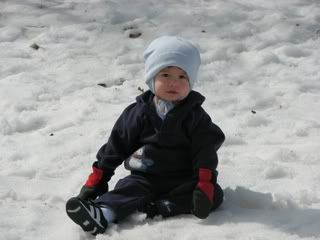 W/Daddy
Tongue is out - I think he'd just tasted snow....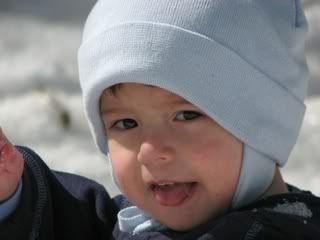 Pretty scenery shots taken by my wife...thought I'd share.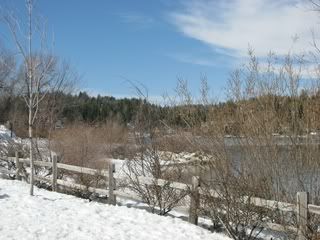 And ........
THE END!