Hello everyone! Just thought I'd post some photo's of Disneyland Mommy & my 6th Wedding Anniversary Celebration - March 2.
For the record.....my wife and I have been through a whole HECK OF A LOT in the 6 years we've been married. What we have endured over the past couple of years is what people married like 40 or more years deal with. We dealt with infirtility...and the that got fixed and we got pregnant right away...and then after our son was born, I was diagnosed with cancer......and spent the better part of a year in chemotherapy/radiation treatment.......and so on. My company closes during treatment, leaving me unemployed when I was released to go back to work........moved in with parents.....just a whole heck of a lot of craziness. So, not only do we celebrate our 6 years of marriage, but also celebrate that "I'm still here - WE'RE still here."
So, we move on.........We'd had dinner reservations @ Orange County Mining Company for about a month.....so we had planned on dropping our son, Grant, off with my Wife's folks around 4pm. But, after church, they told us "Why not drop him off sooner?" So, we did. We dropped him off at Noon.
What to do after that!??? Well, my mind wandered - hee hee hee.....keep in mind we're STILL co-habitating with my parents, and THEY were home so no 'wild sex' !
So, what next? DISNEYLAND!
So, we headed to the Happiest Place on Earth....and instead of taking the tram, we walked through Downtown Disney....and so my photo show begins.
No Trip report would be complete without at least one picture of my son in it. Here he is crying because Poppa (my father in law) had taken the remote control away from him. I'm still not sure why he did that - so, he gave it back to him in an effort to calm him down for the picture. As you can see, it didn't work in enough time. But from what we heard, he had a BLAST with his Grandparents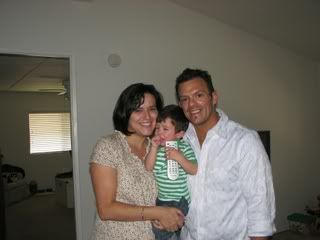 Once at the resort, we decided...no tram...and we decided to hoof it to the Monorail and take it directly into Tomorrowland. Here is my lovely bride at the crosswalk.
And then ME at the crosswalk
Finally, we made it to the line for Monorail in Downtown Disney. I thought I'd share with you one of the first things that attracted me to my wife: Her ankle tattoo. She has another on her lower back, but this is the first one I saw....love it.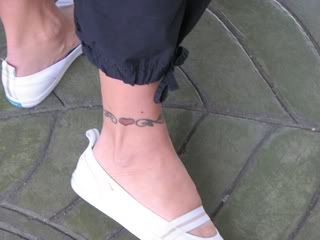 Here we are in the line for Monorail......and we realized if we'd just walked to the front gates, we'd have made it IN to the park way before the single running Monorail made it to pick us up.........Oh well. At this point, I'd just looked at my watch and said "Honey, look - 6 years ago we were like 15 minutes into our wedding ceremony." Cool!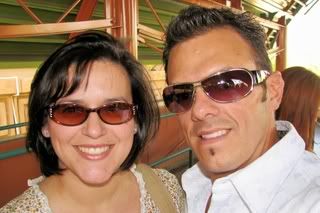 Upon entering Tomorrowland, we decided to head straight to Main Street and get our "Happy Anniversary" buttons at City Hall. But before we could make it out, we met Aashee! FINALLY I meet up with my old school chum - Chad! It was wonderful to see him again! Brought back many memories. Hey Chad - "SCRUNGE!"
And finally - we made it to City Hall and got our buttons...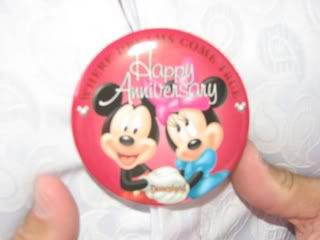 From Main Street, we headed straight back to Tomorrowland....and as it would turn out, the only ride we were going to be able to get on was Space Mountain. So, I took and 'artsy fartsy' turn....or attempted it at least.....and tried 'something' here with the sun, Space Mountain, and my wife's head......
A streak of 'artsy fartsy' again - with a 'reflective picture'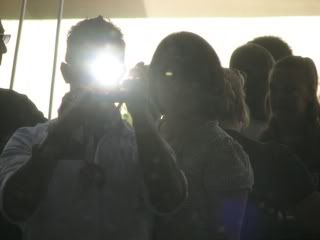 I don't know what the trouble is with this, but I can'd seem to make it stand up right - so turn your head to the left and there you'll see it. Anyway, wife wanted this 'diaper bag' she saw @ Anne Geddes store on the way out to the tram....so we HAD to stop....and we got an AP discount too, so RIGHT ON!
While waiting for the tram, I display my Cherry Sour Ball candy that I absolutely LOVE .... and hadn't had them in quite a while.....anyway, notice how
RED
my tongue is!
And on to our Dinner Reservation!
Here I am in the lounge....with my 'homemade' Cherry Coke! I'd had a big glass of wine the day before at a wedding - and that was plenty of alcohol for this 'light weight'.
A nice fellow a few tables behind us asked us if he could take our photo! What a nice man....anyway, this was our table and the incredible view from it!
Wife was INSISTANT upon getting a photo of Disneyland from our table...and she was successful. If you look closely, you see the "A" at the Angel Stadium, and beyond that, you can see the Maliboomer, Tower of Terror, and a few other Disneyland Structures (hotels)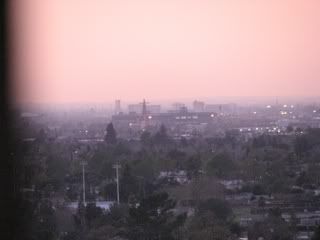 This was as the sun was setting....amazingly beautiful. It's moments like these that I stop and just thank God...
And the evening wouldn't have been complete without a HUGE dessert! We shared this, by the way! In Rachael Ray fashion, I say "YUMM-O!"
And so I end it with a picture from our wedding day - taken Saturday, March 2, 2002.
Thanks for viewing!