04.04.08
I have finally made it to one of the holy lands of the vinophile; Napa and Sonoma Valleys. Dusty and I joined our ladies for a long weekend up in California's wine country. We left about 1 in the afternoon on Friday and got to Napa in record time, about 8pm, thanks to lead foot WidowBessler's expert minivan skills.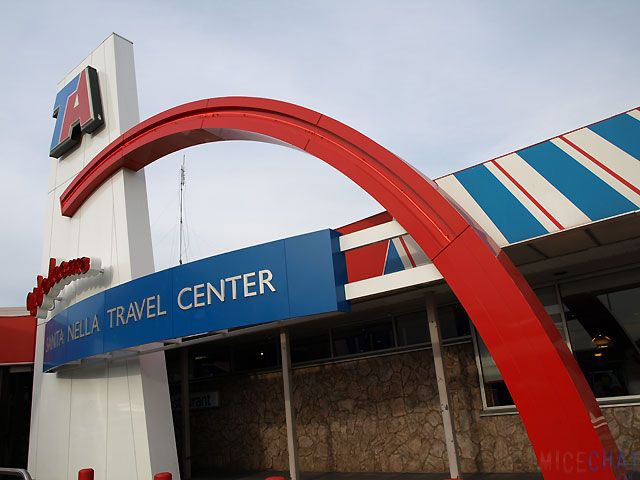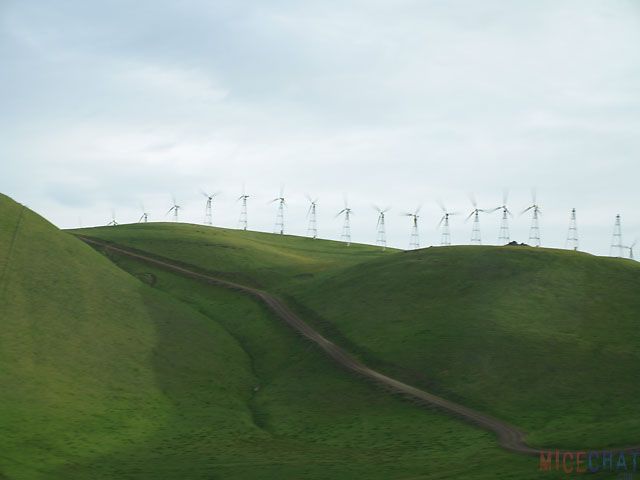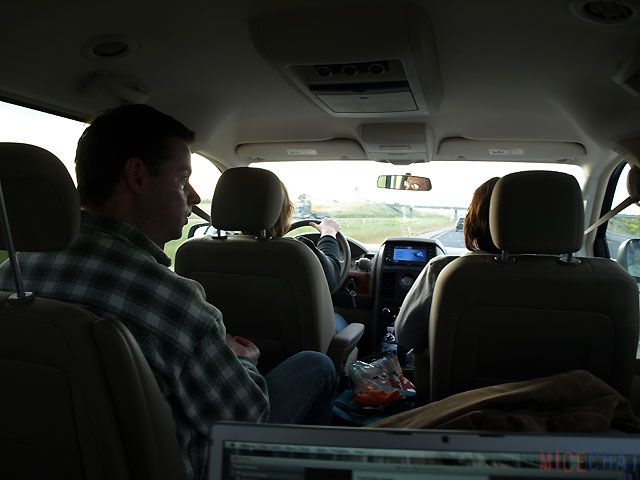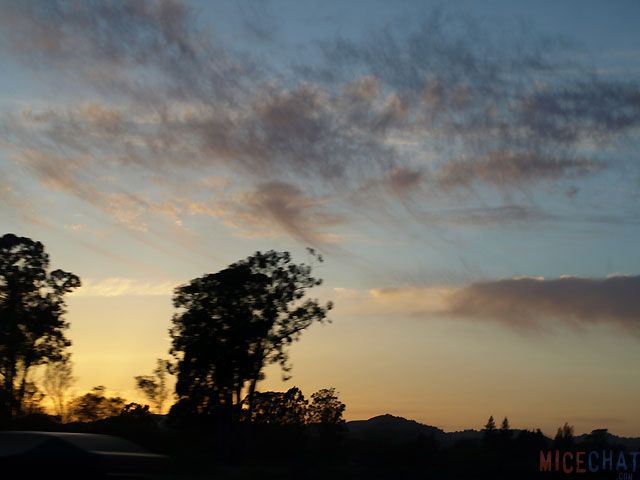 We began our weekend of Gastronomical delights with a fabulous Cabernet from Folix a Deux and some rustic food at a cafe called Pacific Blues in Yountville. Great Start.

We reached our final destination for the evening. El Bonita in the heart of Napa valley. Grammatically flawed, this cute little hotel was once THE place to stay in Napa because of it's great location. As time went on new units were built further from the main highway to accomidate the growing crowds. Our rooms, however, were in the original units and faced the seismic traffic that continued at all hours.

It was alright though. Once I was out that was it.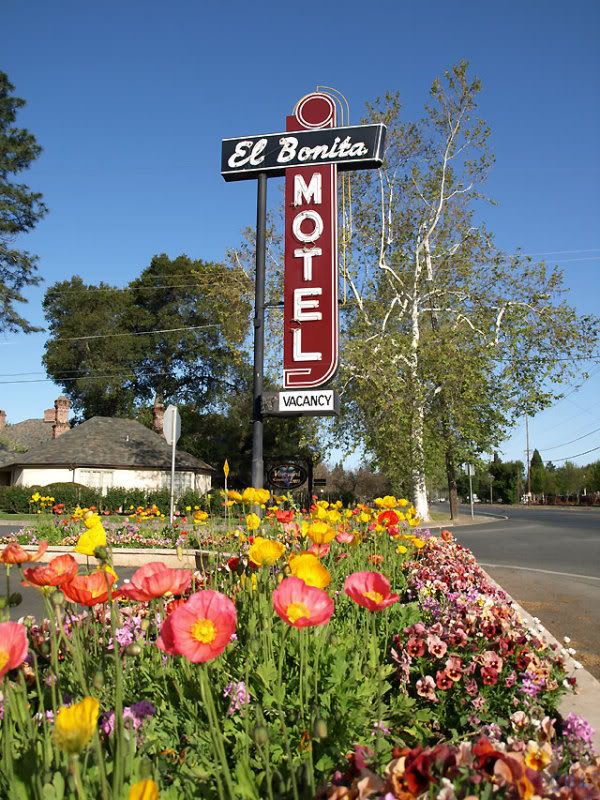 Saturday morning came and we woke up bright eyed, bushy tailed, and ready for a day of tasting. We knew that we couldn't start the day on an empty stomach. We hopped into the rented minivan and drove north to the Main Street of St. Helena. and found a cute little cafe.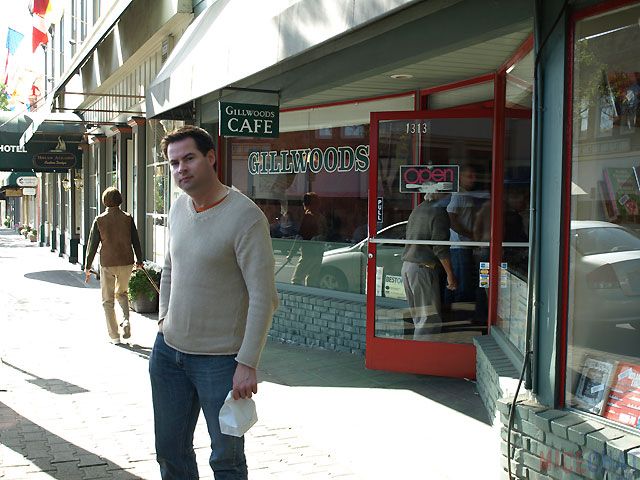 Yummy.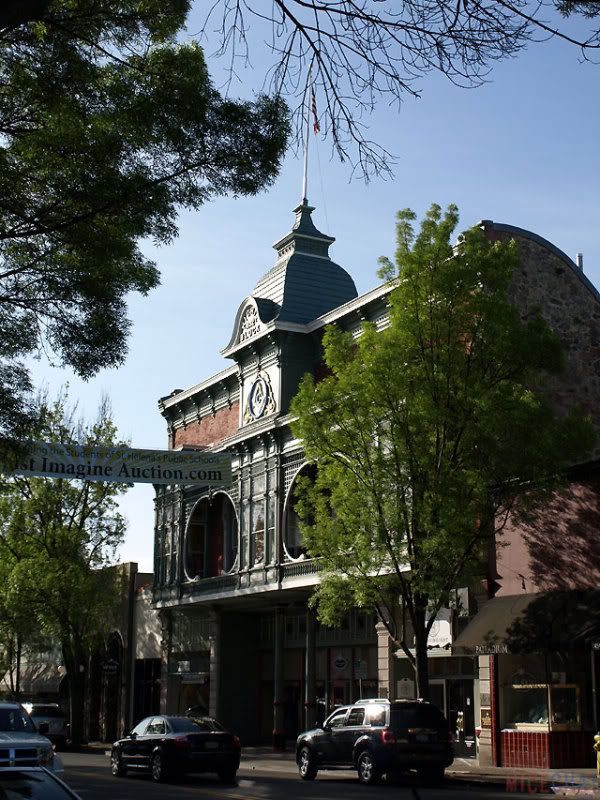 St. Helena's main street


Now it was time for tasting.We headed straight to one of our favorites, Provenance. It was 10am and just a little too early. They didn't start wine tasting until 10:30. PRUDES! No worries. We were actually still waiting for our other friends, Tony and Sharon, to join us. We called them but no answer. Hmmmm. Well now what do we do? Find a winery that was open of course.

Just minutes away was the BV Vineyards winery. They had just started tastings for the day and that is where our journey began.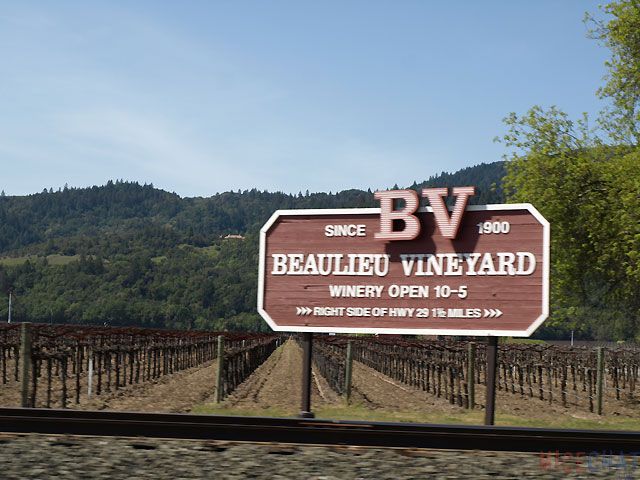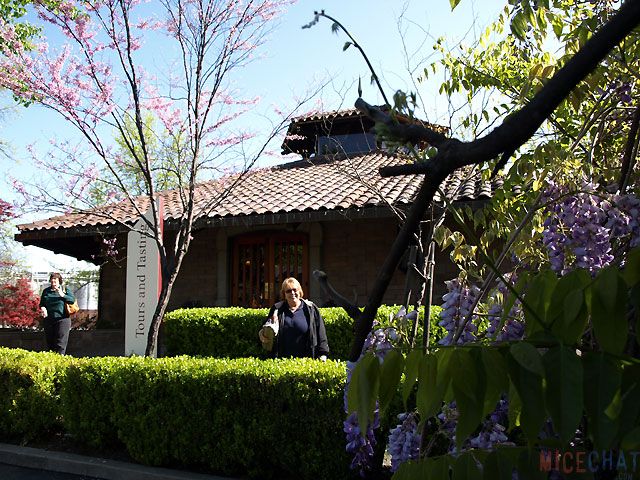 Widdowbessler in front of BV Vineyards tasting room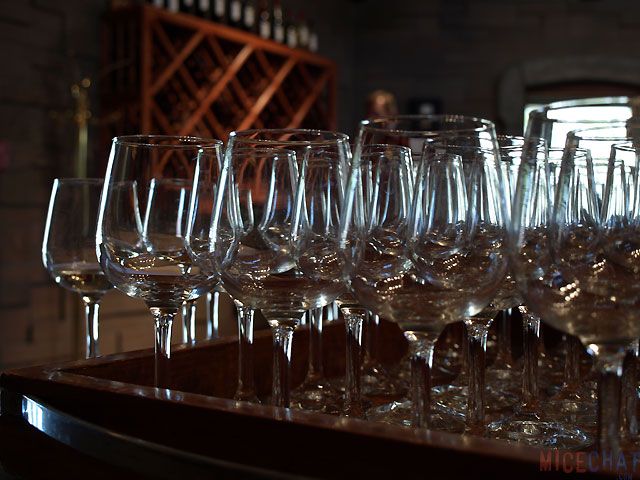 Chilled glasses waiting for visitors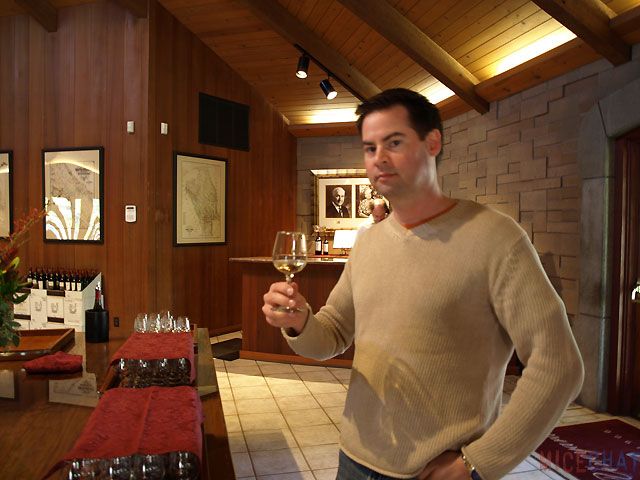 Dusty in the BV tasting room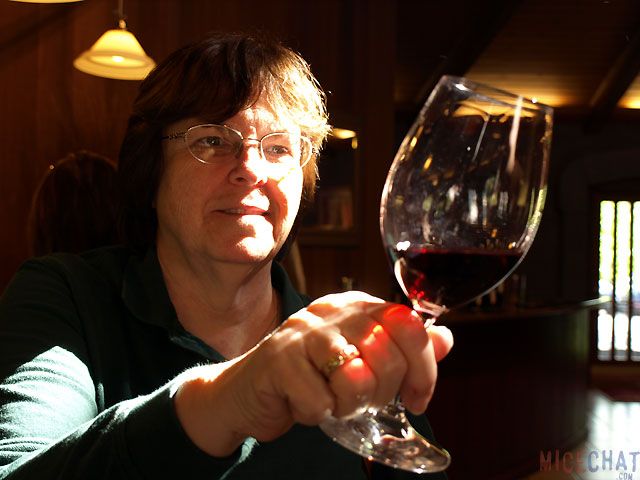 Fantasy55 looks at the legs on a red
It was so cool. The minute we walked in we were handed a chilled taste of white wine. It was an unremarkable taste but a cool way to start the day.
Tony and Sharon called and we told them we would meet up with them back at Provenance where we were originally. We left BV, whose offerings were mediocre, and shot straight back up to Provenance.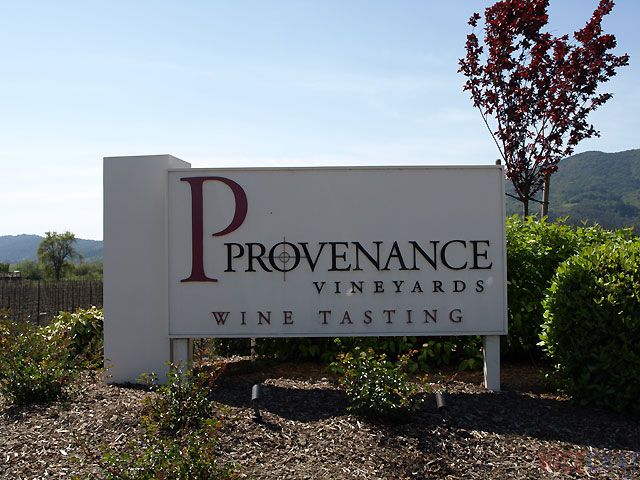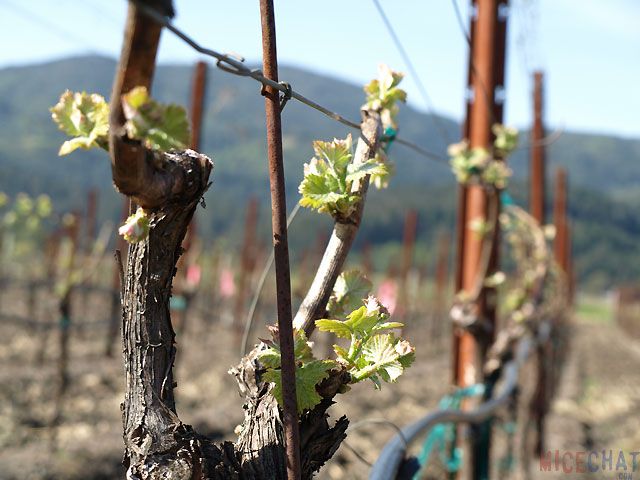 Merlot vines at Provenance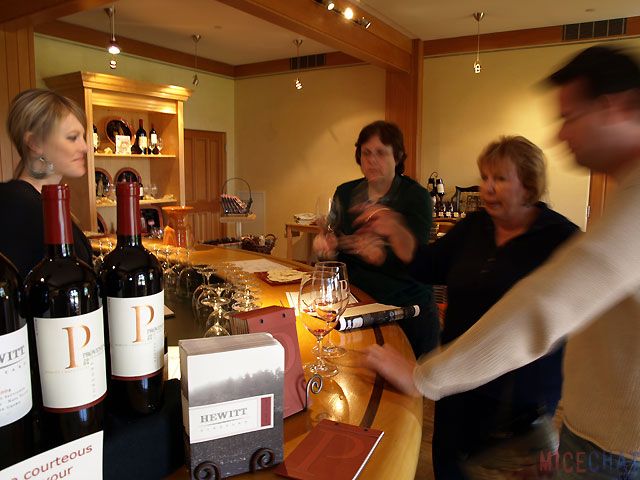 The tasting room at Provenance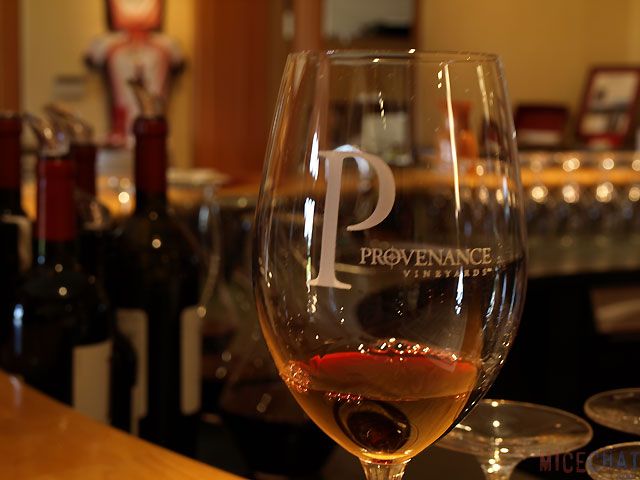 They were open! The tasting was OH SO GOOD! We got to try a variety of their offerings. Some highlights; We compared Merlot from different years and compared the taste, we tried the estate reserve Cabernet, and Zinfandel. But the best was the Oakfield Cabernet Reserve from 2005. It was a silky taste of heaven.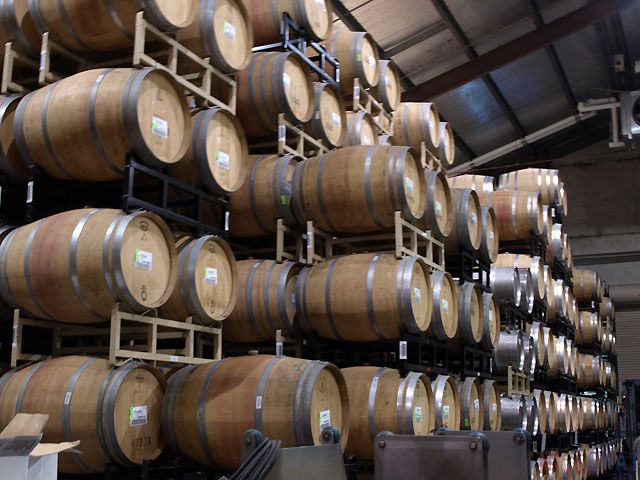 Provenance barrel room
Leaving Provenance we met up, finally with Tony and Sharon in the parking lot. Tony brought his convertable Corvette and I quickly kicked Sharon out so I could ride shotgun to the next winery, folie a deux.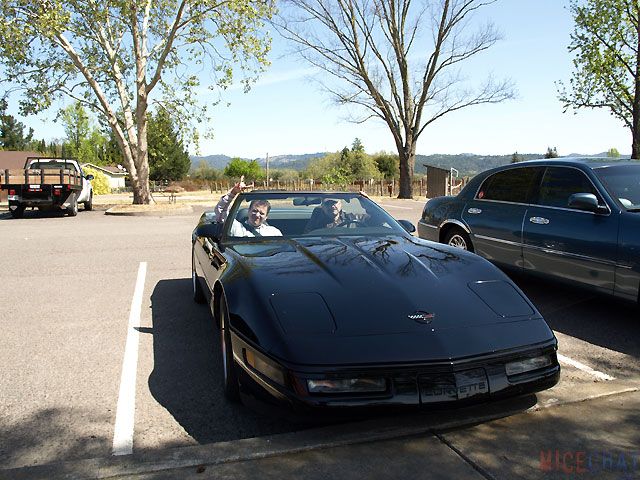 Tony and I in Black Jack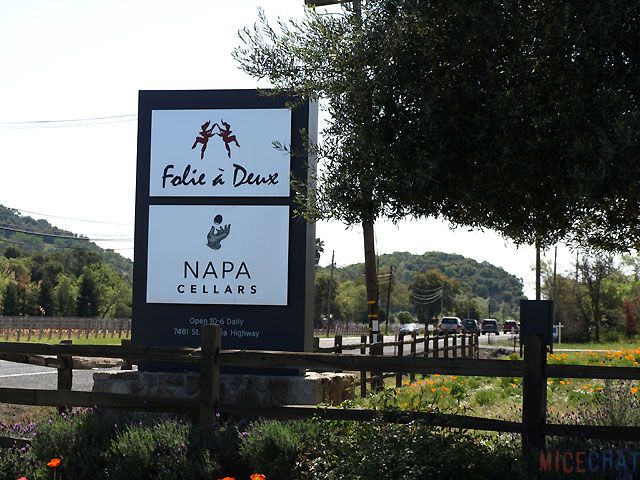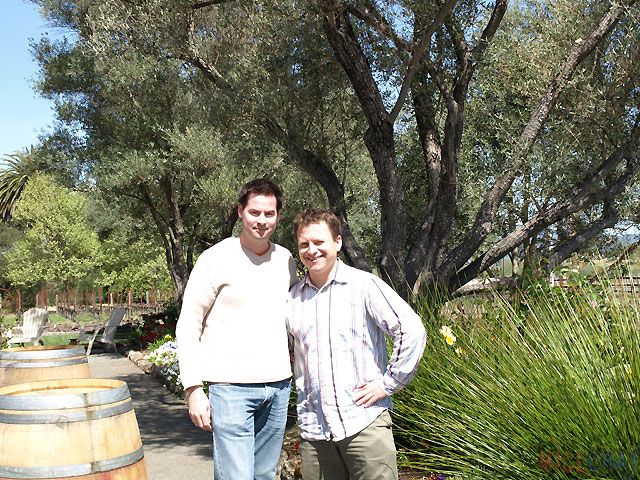 Dusty and I at Folie a Deux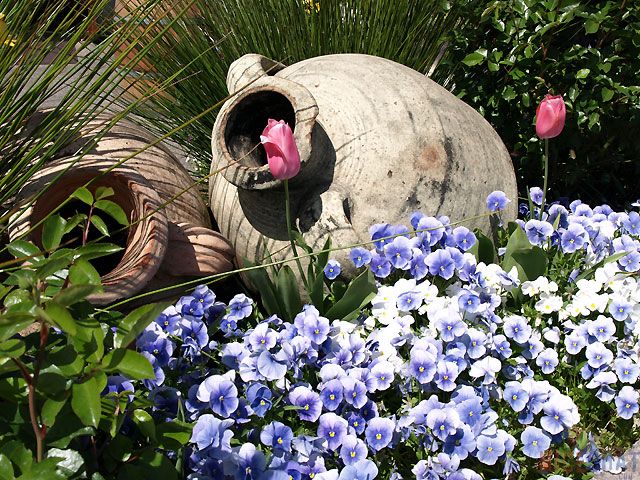 This was the winery that produced the we had as out first wine in the valley at dinner the night before.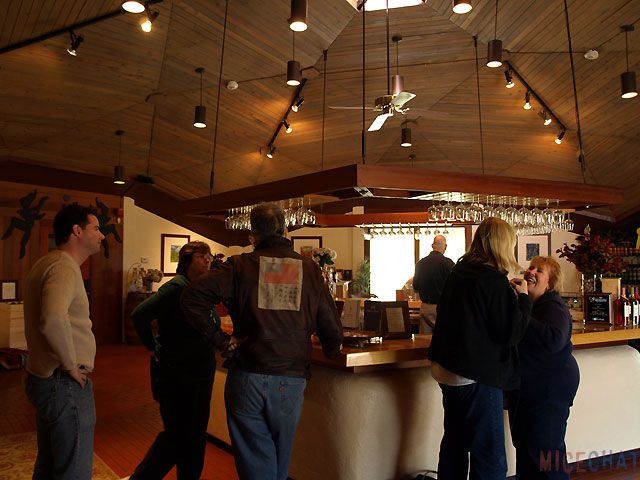 We all felt it was time to hit Dean and Deluca for lunch. But we also wanted top go to Flora SPrings winery. We decided that whichever we came to on the road first we would hit.

Flora Springs won.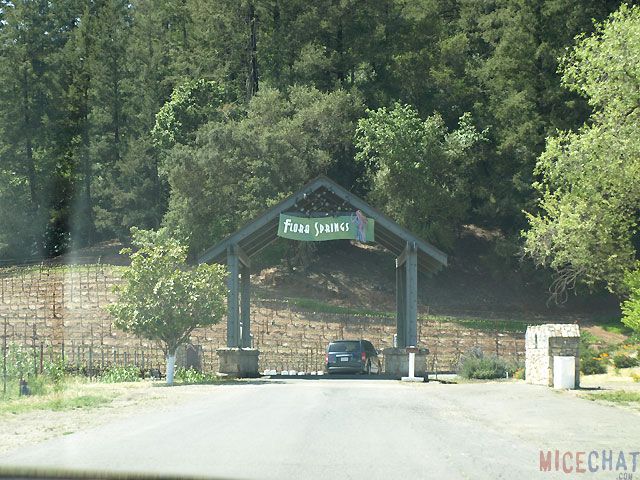 We had a fabulous time here with our excellent server.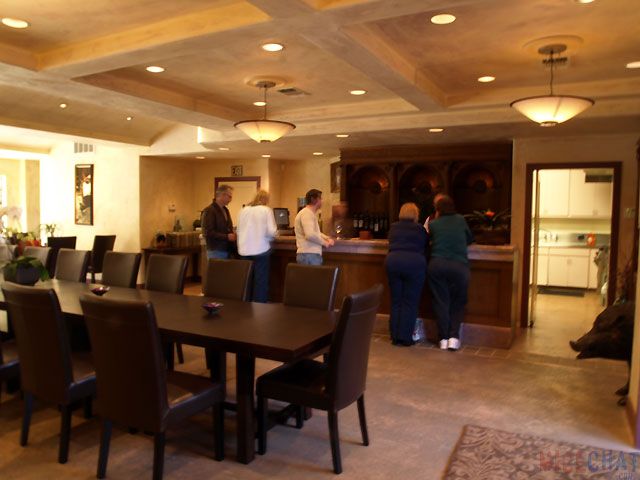 Natalie couldn't think of a pose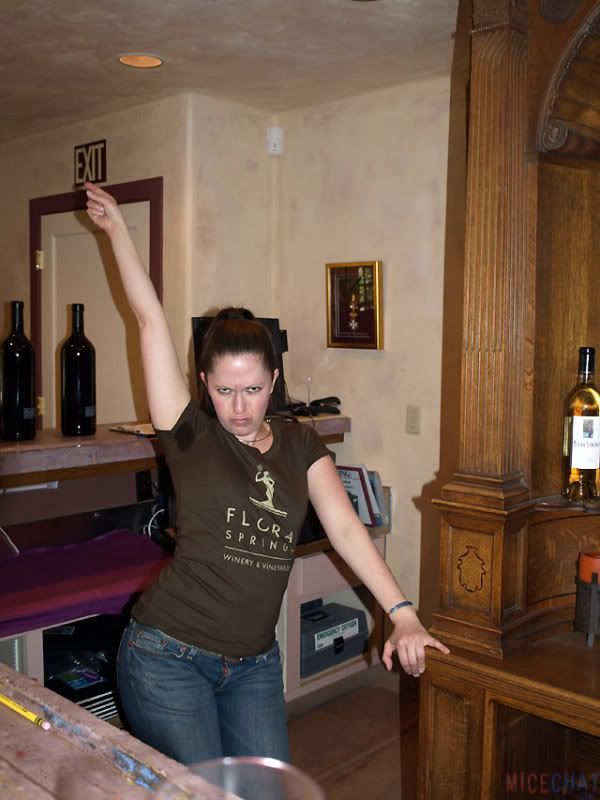 then she got it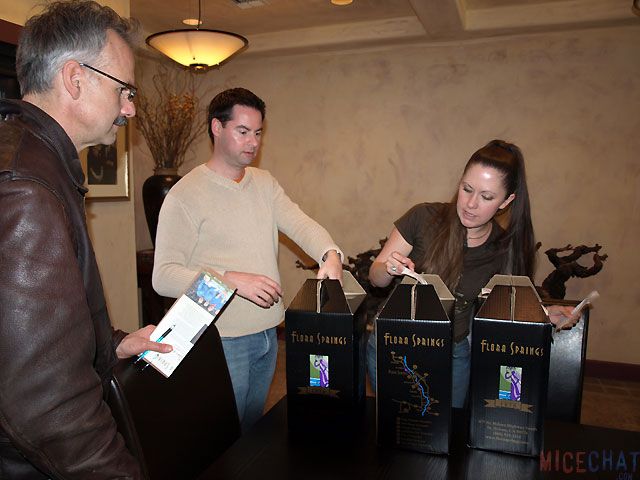 Natalie helped us with our purchases
On to Dean and Deluca.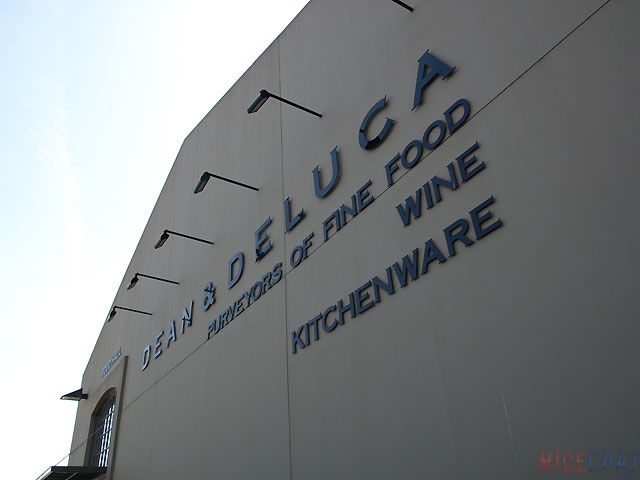 Dean and Deluca
We picked up some chose, some cold cuts and some bread and headed off to Raumbauer Winery which is known for it's red zinfandel.

Raumbauer is situated atop a forested hill in the middle of the valley. For some reason this place was PACKED. Although the setting was great, the wine was too sweet. BLECHHHH.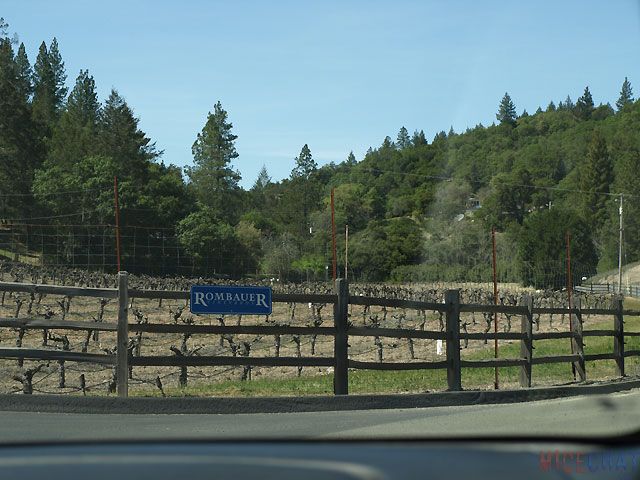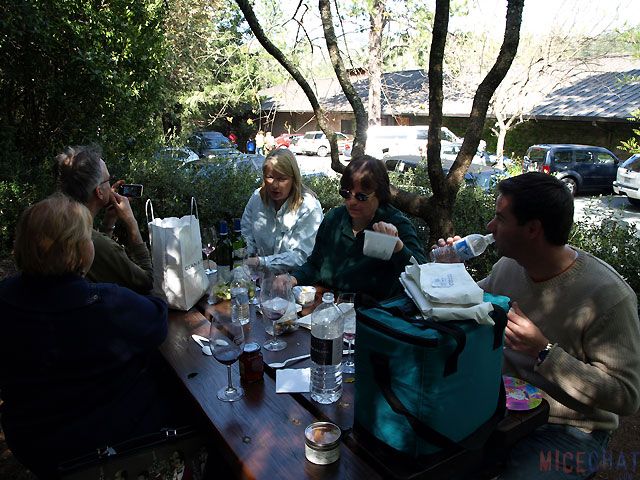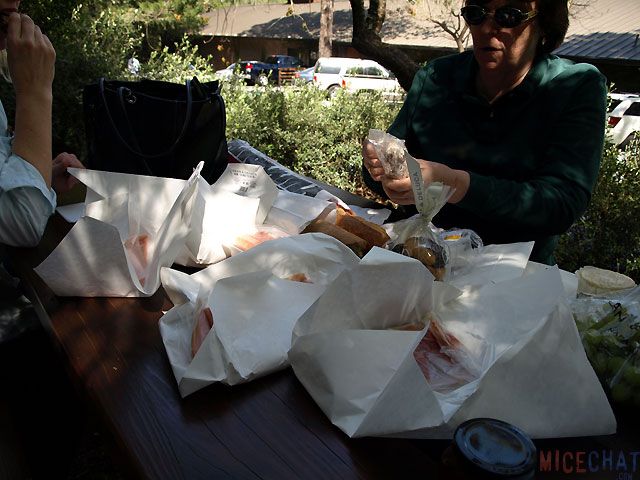 Picnic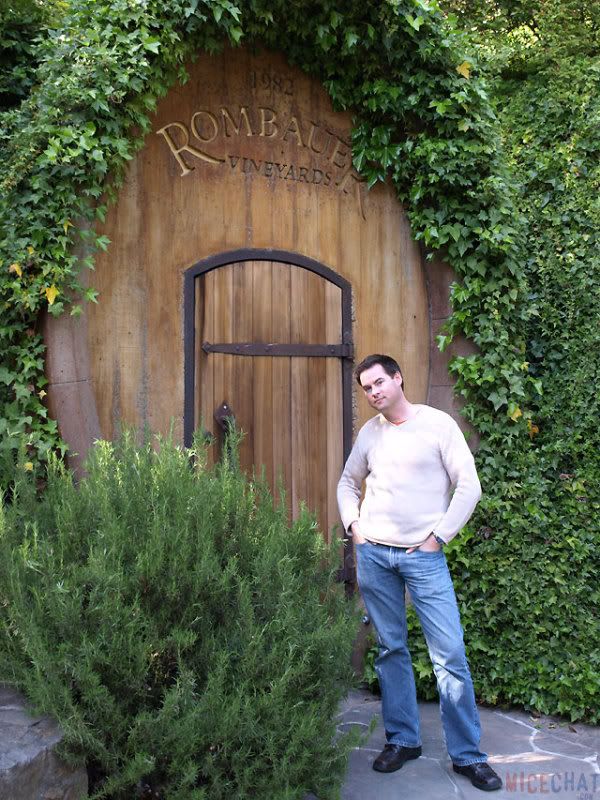 The caves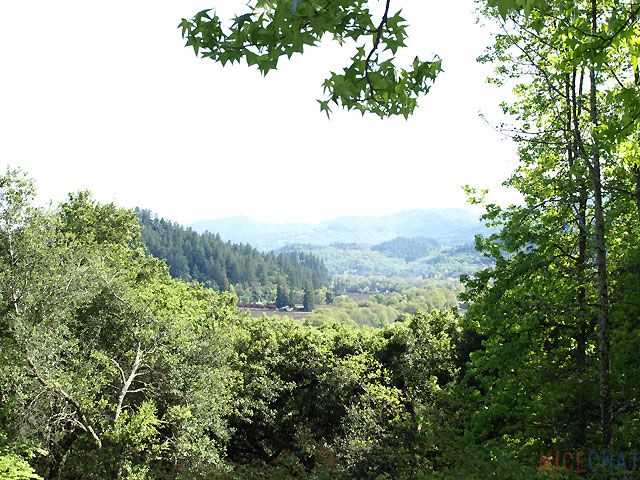 The view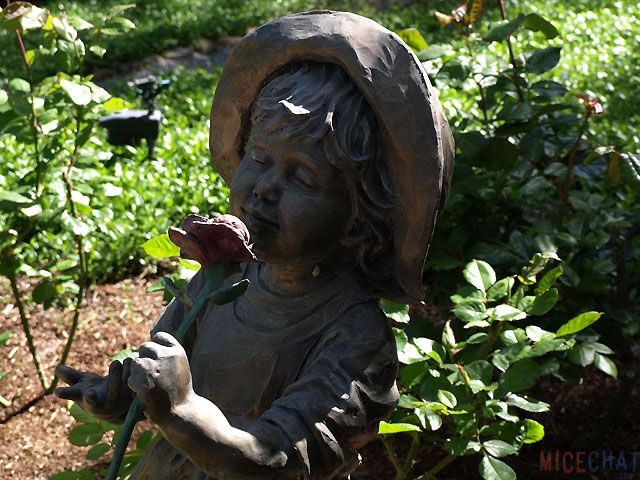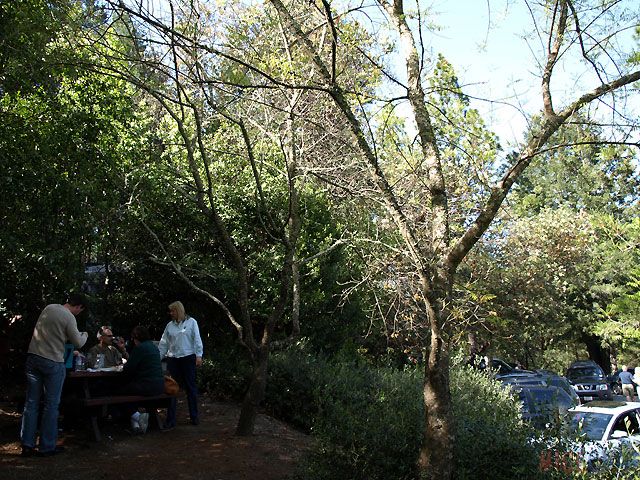 We went back to Ol' El Bonita for a nap and then got up around 7:30 for a dinner reservation at Stonecrest.

This place was WONDERFUL! It is this huge stone building built on a hillside facing the road. This place was FABULOUS. None of us had a taste for wine as we were all still kind of fatigued from the day's tasting. We all settled for water and I ordered the pork.


Dinner was wonderful and we headed back to El Bonita to crash for the night.

Best wine of the day? The Provenance Oakfield Cabernet.

We were stuffed and content. But that was just day one.
More to come...