Hello ladies (and some gents)
First I must start by saying I hardly ever let anyone touch my hair, like EVER. Today, I took the risk and went and got my hair down. I wanted DARK auburn low-lights and a trim to enhance the curl in my LONG hair. What I ended up getting was bush-wacked and orange stripes...I am so mad... I AM NOT going back to this woman who charged me $100 to do this, but i need to fix it, it is SO not me.
How long should i wait before I put another color over the top t even out the highlights.
She double processed me (lifted the highlights then colored allover). I do have very healthy hair as I never really do anything to mess it up. I am a wash and go girl.
Would Wednesday be too soon? Do you know of a better way to even it out? Help?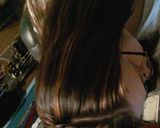 Isn't the definition of a low light DARKER?