I like to write and blabber. XD I like to explain things to people and talk about events. yada yada blah blah blah. so I guess that's why I'm posting this little blog-like thread. [it's not in my blog because i don't have a single Mice Chat coin 8D. i'm justa riff raff street rat, guess i'll have to do that].
I shall start out with a brief intro <--knowing me, because i said that, it probably won't be very brief @_@. sorry folks, if ya wanna just skip over this and saunter over to the meat of this post, by all means. and if you wanna just click that little X button or red button, go ahead =)
I'll sum up myself really quickly. I'm Vi. I'm 5 feet two and sixteen, yet have the strange habit of telling people I'm fourteen by accident. Academics-wise, I'm average--my strengths in English, History, and the like are balanced with my failure in math and chemistry =D nonschool-wise, I'm pretty sure my IQ is equal to that of a stick o' butter.
I'm a SoCal Chinese kiddo.
I think I'm one of the typical people who cruise the Internet that you've met before, the ones who like to write, sing, dance, sew, cosplay, draw, act and voice-act, play video games, etc., and I'm mediocre or less than mediocre in all of it =D
and like the rest of you, I love Disney stuff. I always have, but what really seemed to trigger the obsession was a combination of two consecutive trips to Disneyland and The Little Mermaid on Broadway @_@. Top favorite Disney characters are probably Ariel, Eric, Naveen, Charlotte La Bouff, the Tremaines, Fawn, Peter Pan and Aladdin. Jasmine too, but some of the episodes in the T.V. series made me think of her more as a snob. SHAME ON YOU, T.V. series ! D=
now I shall slowly yet discretely transition into the topic of Alice in Wonderland. =D
I think I always really liked the movie just because of a particular memory of it, where me and my cousin were sleeping over at another cousin's house who had recently had twin boys. The boys had this awesome little caveman...play..house? sorta set up, complete with two levels and a slide 8D IT WAS COOL. so late at night when all was asleep, me and my cousin built it into a fort. it was pretty cramped, but we smuggled a teeny T.V. onto the second level where we perched, watching Alice in Wonderland in our fort. D= gah, that was fun. Tell me what is more fun that making a fort, padding it heavily with pillows, and then watching a movie inside of it!
NOTHING
. there is nothing.
[It's funny because I also remember it was a recorded tape, and after Alice in Wonderland, Swiss Family Robinson was showing, and my cousin instantly went ugh LOL. sadly, not many people know of the movie. or like it. D= i still love to quote, fake-sobbing "it was because of the pirates!"]
anyways, on to the point of this whole thread.
cue the corny poorly edited picture.
-----
At school, people know that I'm all about Disney, and I'm all about cosplay. For Halloween, I made a wedding Giselle costume which I wore to school [and then later had to ride a crowded bus to the mall in O_O man, my feet hurt. I'm a wuss when I wear heels.]
So the yearbook team is making this section about pop culture...you know, what's popular XD. They asked two students to do something about stuff that's "in". One girl was asked to do a tutorial-like section about Lady Gaga, meaning she's going to do one of Lady Gaga's hair styles [AND wear it to school =D!]. The other student is yours truly. They asked me to do something with Alice in Wonderland, because of Tim Burton's new movie coming out [can't wait to see it O_O].
what I'm doing is turning a classic Disney inspired Alice in Wonderland dress into one inspired by the new Tim Burton movie [which is also Disney, but I'm going to call it the Burton one because it's easier to distinguish XD].
Yeah, it's not going to be that good, I can see it now XD. I'm not planning on buying too much extra stuff [I already have a wig that I think is good enough to use for this one time thing, and I'm using the material from the original dress for most of it] as my mother refuses to let me spend money on more cosplays till I finish my other ones [I'm also working on a mermaid Ariel--got the shells done, tail in progress but that project is on hiatus for now]
but so far it has been an interesting + fun experience, so I thought I'd share =) for the heck o' it.
this is my costume that I'm editing: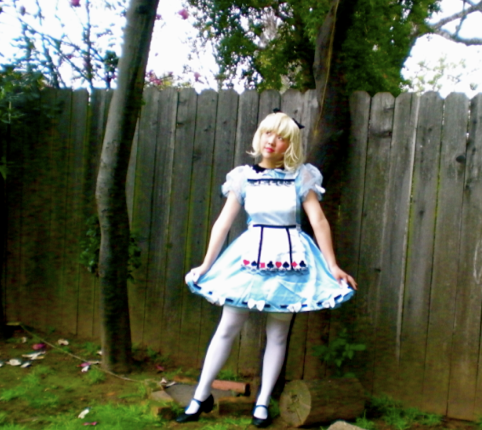 I do believe it was 7 dollars at Wal-Mart after Halloween XD I'm going to use a different wig than this one for Burton Alice, as well as different shoes--boots.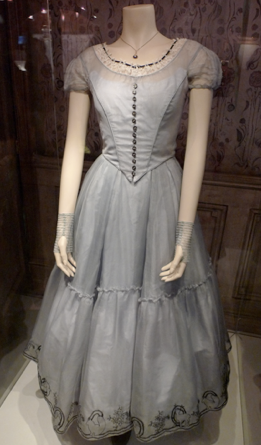 This is the Burton Alice dress. as you can tell, totally different fabric and color HAHA. @_@ and the embroidery at the bottom is screaming nightmares at me.
i cut the apron + collar off of my dress.
to make my dress longer, i did some serious thinking.
there's a blue silk layer beneath the main dress:
like so [SCANDALOUS PIC!, I KNOW]
so i cut that off and added it to the bottom and then put the little line of ruffles thingy in the Burton dress to cover the sewing.
sorry the quality sucks [the dress looks really dark here, and a little bit like Cinderella's? O_O] i took it using Photobooth 8D <---lazy. there's actually a layer of clear material at the top where I'm going to sew lace to, but you can't see it. the blue lines on the torso section were cut from the petticoat's hem.
Sleeve detail in progress.
And that's all so far O_O
tomorrow my very supportive mother is going down to West Covina to get the Alice necklace for me [I have no time to make it, much less find the stuff I need to, as this is due on March 3rd and I have SAT prep like ya wouldn't believe ;__;! ON TOP OF SCHOOL WORK. yargh.]
i'm scared to make the gloves. O_O.
and i'm scared to do the embroidery.
but a dork's gotta do what a dork's gotta do!
FIN~
for now.