Fishbulb: So, tell me about your new maze.

Brooke:

Well it's called Endgames: Warriors of the Apocalypse.
Fishbulb: Endgames?
Fishbulb: With all the ideas bouncing around in your head, why this?
So, it's essentially like Mad Max meets Gladiator, kind of. Or like Hunger Games. I don't know if you've read Hunger Games. The setting for the maze is that it's after the apocalypse in a situation where the people--basically the people with the most money, the most inventions, the most power--they've decided to kill for sport. This is where the gladiator thing comes in.
When you first enter the maze, you enter on the outskirts of this civilization. Guests will enter a crashed zeppelin that has been converted into somebody's house.
Fishbulb: Ah, a zeppelin. So that's how you are tying in the kind of steam-punk vampire thing of Necropolis.
Brooke:
Right. But, I tried to come up with a theme that would compliment Necropolis rather than blend with it. I'm calling this maze "Steam Punk Rock". So, instead of it being the elegance of steam punk it's a grittier version of that.
Throughout the maze and even out in the queue, there will be televisions that are showing commercials for the "Endgames", which is this big event for people to watch. The televisions will be showing live footage, a live feed, from people getting scared in the maze.
Todd: This is actually the first time we've tried something like this.
Brooke:
You go into the first room and you are in a hermit's house and he's going to have a television there because he's watching the games. And then there are the slave quarters and then a torture chamber and they have a television in there, because, you know, when they get bored they should be able to watch television.
Fishbulb: Of course!
Todd:
You could torture people with T.V. too!
Fishbulb: Yeah, you turn on Lifetime and I'm dead.
Brooke:
Then there's a creature room with a huge toad and this huge, buff, Siamese twin thing. And those are all going to be effects. Then after that you will come to the gladiators, then the invention room and there's going to be some televisions in there. The path is actually going to ramp upward. The maze is being built in a new area where the ground is a little uneven.
Fishbulb: You aren't building up along the Balloon Race trail right? There won't be a maze where Labyrinth was last year?
Brooke:
Right, the new maze will be over in front of Tugboat in the far corner of Camp Snoopy. That area isn't exactly level. But, at one point in the maze you will be able to look down on the last room where the Endgames are, so we will have a raised pathway for that. You will first see these killing games from the audience perspective, looking down at people making their way through the killing arena.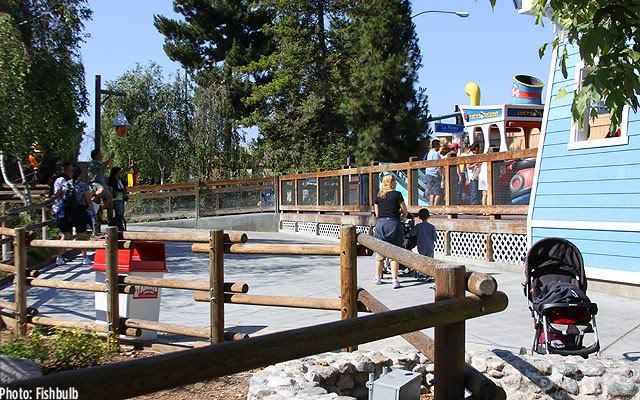 The area in front of Tugboat.
More of the construction area
Fishbulb: Wow, so you get a preview of what's to come. That's going to add some depth to the maze.
Brooke:
Exactly. Now, after that the path goes back down to ground level, you will be wandering through viewing rooms with all these televisions. But then at the end, the last room, you actually walk through Endgames Arena and you are being hunted. It's a huge room with big, burnt out inventions and people coming after you.
Fishbulb: Now, is there going to be a set path or is it going to be a free-for-all where you have to make your way through.
Brooke:
No. There will be a set path through there defined by, you know, corpses, burned out inventions, a killing machine, stuff like that. But then we have a final room where we are planning to have a live feed from every camera in the maze, so you see all the places and people getting scared.
Fishbulb: There's going to be a big bottle neck there.
Brooke:
No, but I have a good scare spot there. It's going to be good.
Fishbulb: So, when did you come up with the whole idea for this maze?
Brooke:
I got the basic idea for it last year. I was looking around trying to think of a way to fill a hole. I wanted to do something that I was excited about. But, it took me a while to figure out how I was going to go about doing it with the whole gladiator edge and Necropolis and all that. So it had just been sitting there kind of marinating.
Todd:
Brooke:
But, we wanted to do something different. I wanted it to have more of a story, something a little more gritty than just underground or steam punk. One night I was watching Sparticus: Blood and Sand and had just finished reading Hunger Games and the idea just hit me. It's funny too because I could even hear the soundtrack and how I wanted that.
Todd:
And I think that was a better choice.

Fishbulb: Yeah, it gives it a more sinister bent.
Brooke:
I wanted to have a really good anchor for Necropolis and I think this will do it.
Todd:
Fishbulb: It needed to be fleshed out.
Brooke:
Right. I hope that this will flesh it out and I am hoping to give the area more support, decoratively.
Fishbulb: You were adding stuff all the way through the run last year weren't you?
Todd:
Well yeah, because we just ran out of time. There was so much to get done. I think, too, that it will help that the scare zone will be much more defined and limited to Camp Snoopy.
Fishbulb: Where do you pull inspiration, aside from music.
Brooke:
All over. I mean everything. I'm a creative brain so I'm always absorbing. Things are always developing in my head. I mean I'm sure it's a combination of a lot of stuff. I went to film school. I watch T.V. and movies all the time. I'm reading all the time. I have a horror brain. It's what I want to do. I want to scare people.
With all of that in my head, things will just come to me. Like with the entrance to the maze. I was just talking to our set designers about it and I know exactly what I want it to look like. But, it's also a collaboration with all the creative departments. I have ideas and visuals that I want, but then I start to work with Tim on the costumes and he brings something to the mix. Then we go over what is possible with the set builders and it's just a collaboration. When you work with a bunch of people, everyone brings something to it and it comes together.
Fishbulb: What I really want to know is what scares you?
Fishbulb: Nothing?
Brooke:
Fish. Large bodies of water. My worst nightmare consists of being trapped out in the ocean, in the water, surrounded by fish.
Fishbulb: Any movies scare you? Anything recent?
Brooke:
No. I just saw the film Rubber, about that killer tire. It was terrible.
Fishbulb: Really?
Brooke:
Yeah it was SO SLOW. I'm trying to think of the last time I got good and scared. Sci-fi. I'm particularly edgy in sci-fi movies. GOOD Sci-fi.
Fishbulb: Like Event Horizon?
Brooke:
Yes. That terrified me. But you know, when I was coming to Haunt as a visitor I was scared of Haunt. The first time I went I was 12. I would go with my theatre group and I remember waiting in line for the mazes and being afraid of the street monsters, and thinking they were following me and all that. But clearly that's gone now. (Laugh)
Fishbulb: But, that is what memories are made of.
Brooke:
Yeah, I loved Haunt. And now I love that I do it.
Fishbulb: Are there going to be any other new things coming to the other mazes?
Todd:
Well, we are trying to fix a lot of things in all the mazes.
Brooke:
We are working on a new ending for Terror of London.
Fishbulb: Let me go on the record as saying that I understood the Frankenstein ending.
Brooke:
I know, but this year we are going all Jack. It's going to be a room full of murdered women in there. Like his hive of death.
Todd:
A lot more gory. We are still going to have the grating.
Brooke:
And we are going do this new thing with hospital curtains.
I am also working on fixing a few things in Doll Factory too. Like the incinerator room. That part of that maze never got to the point I wanted it to, so this year it will be like a storage locker with lots of places for monsters to hide, and we've rearranged the freezer room.
Fishbulb: Cool.
Fishbulb: So you can take a look far ahead and address things you normally wouldn't have the time to think of.
Fishbulb: What are some of the things you want to do in the future with Haunt?
Brooke:
Wow, um, I don't know.
Todd:
C'mon Brooke! 2012!
Fishbulb: I know it's kind of like looking into a dark pool of crazy.
Fishbulb: Malice was amazing.
Brooke:
But the problem is finding a plot. You know, something that people can grab on to. I think Pinocchio is a terrifying story.
Fishbulb: You have that fish thing.
Brooke:
No, it's not just that. It's also a turning-little-boys-into-donkeys and them gambling and running away and putting them into slavery thing. That's so disturbing.
I'm not sure what I would want to do for next year. I would love to do a more interactive maze. We'd have to make it an upsell because of our capacity, or part of a VIP ticket.
Fishbulb: Kind of like the Fear maze a while back at Sinister Pointe in Brea where you had to press buttons or do tasks to progress through the maze.
Brooke:
Yeah, and us, with our numbers, we have to figure out how you can meter a maze like that.
Todd:
We've been talking about that for several years, doing a highly interactive type of maze.
Fishbulb: Sounds like it'd be pretty interesting.
Todd:
Whatever it is, Norm, You'll be the first to know.
Fishbulb:
Brooke:
Absolutely!
Todd:
Of course.

Fishbulb: Thanks! We can't wait for you to scare the socks off us again this year.
So that's the conversation I had with two of the scariest people at Knott's Halloween Haunt. Endgames: Warriors of the Apocalypse sounds a lot better than I expected it would be. I really like the idea of being the prey in a crazy world gone mad.
You can look forward to continuing coverage of Knott's Halloween Haunt right here in In The parks and on MiceChat.
SAVE THE DATE!!!
Join MiceChat for a one-of-a-kind experience at the original Halloween party.

MICE

CHAT

VIP night at Knott's Scary Farm
Saturday Sept 24th


Tickets available soon.