On Mondays my work usually takes me within 10 minutes of Six Flags Marine Kingdom Discovery World Africa USA of Vallejo, so yesterday I decided tough luck for the boy, Daddy wants to ride a roller coaster. I parked at 10:25, and as I hoped, not that many cars in the lot, but, as I feared, busses were disgorging hordes of middle school kids. There were so many that the walkway from the lot to the entrance was jammed full, and my normal brisk walk was a slow crawl. Unfortunately, this year's 10:30 opening time means bigger crowds when they start for the day. I was able to take advantage of the inevitable chaos of managing large groups to slip through, spot the shortest lines and make up ground at the gates while these folks were getting organized.
As you approach the ride , what seems to be the logical place to go is in fact the exit and Flash Pass entrance. The queue begins behind the lockers. This is on the list of coasters not allowing anything loose on to the platform, although enforcement on this day was spotty. There's an outdoor section, then a covered section with the line going up one side and down the other, then an outdoor bridge to load. The line at this time was about 1/2 way down one side of the covered area.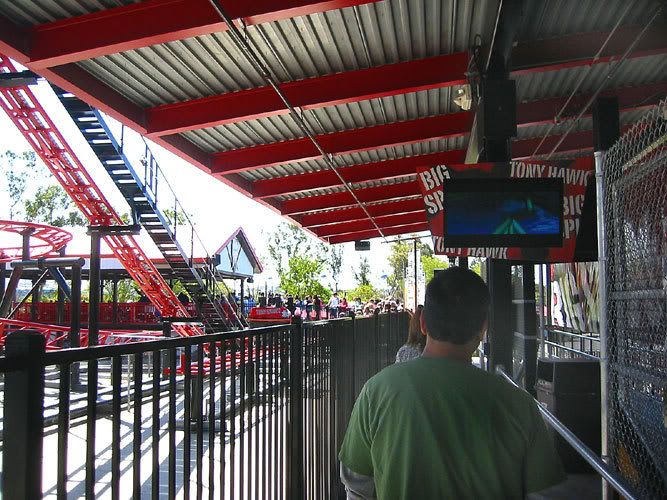 For my second ride, the entire covered section was full.
There is a single ride line, but you can't get into it until you're almost to load. The split is at the circled sign in the pic below.
I saw no one but myself use it. Each car has 2 video cameras in the center, circled in the pic below.
DVDs were for sale for $19.95 with discounts for multiple rides on the same disc.
So how was it? Lot's of fun. No one will fly across the country for it, but it's a good time. After the lift, there's a small drop that curves up into 3 hairpin turns where the spinning usually starts. The cars spin freely, so each ride will vary. Most rides have periods of variation in the spin, but sometimes a car would go furiously for the entire ride. After the hairpins, this consists of mostly curves and swoops, with a couple of little hills at the end for brief airtime. After a county fair guy left us on a Tilt-A-Whirl for 5 minutes a few years back, my desire to spin dropped substantially, but no queasiness to report on my part. They had five cars, although there were usually no more than 2 on the track. Didn't have a timepiece, so can't give an accurate idea of the wait time. For what it's worth, I left the car at 10:25, and got back at 12:05.
This will change the patterns a bit at SFDK. I would advise being there at opening, and riding THBS 1st. After that ride Roar, V2, Kong and Medusa to cover all the coasters except Boomerang, which we consider optional. As of now, still only single trains on Roar and Kong, but they've been running 2 on Medusa all Spring. I'd personally skip Kong if there's a line with only one train running, but that's because I've been there so often.
Here are a couple of action shots of THBS.
A bientot.