It had been around five years since Rixter and I had gone to the San Diego County Fair. Not because we didn't enjoy the fair, but summer is the busiest time of the year at our little souvenir store, and despite the fact that we do still get days off, they have always been booked with other activities the last few years.
Most of the time, we manage to run errands and waste time, so our arrival time at the fair is early afternoon. That leads to parking in a dirt lot, east of the freeway, which has a walk time not unlike that from Mickey and Friends to the entrance of Disneyland. This year, we arrived just after the 10 am opening time, and found ourselves with a parking space just steps from the ticket booths.
The line to purchase tickets was huge, but thanks to the folks they had directing guests to ticket sellers, it moved right along.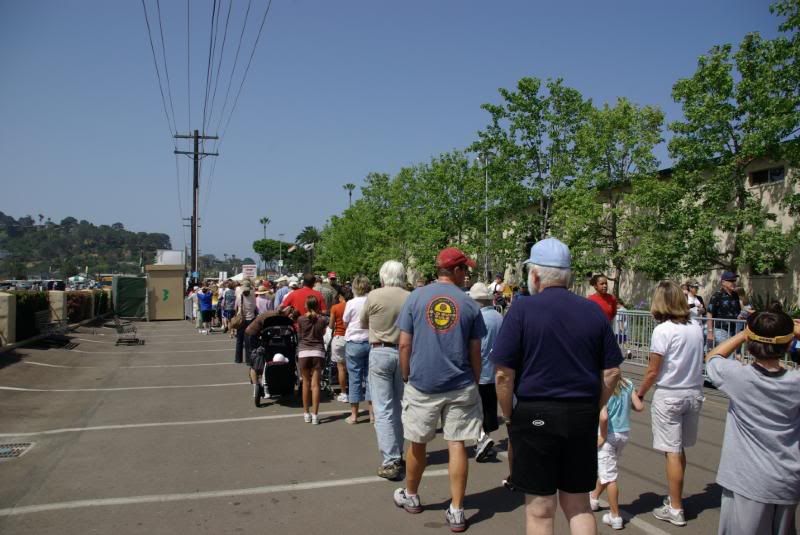 Tickets in hand, we then faced the line to get in to the grounds. Here's a tip: consider going to the fair on any day except for the day all children are admitted for free. Welcome to Kid's Day at the Fair! Which means that every group charged with caring for children carted them off to see livestock and deep fried foods.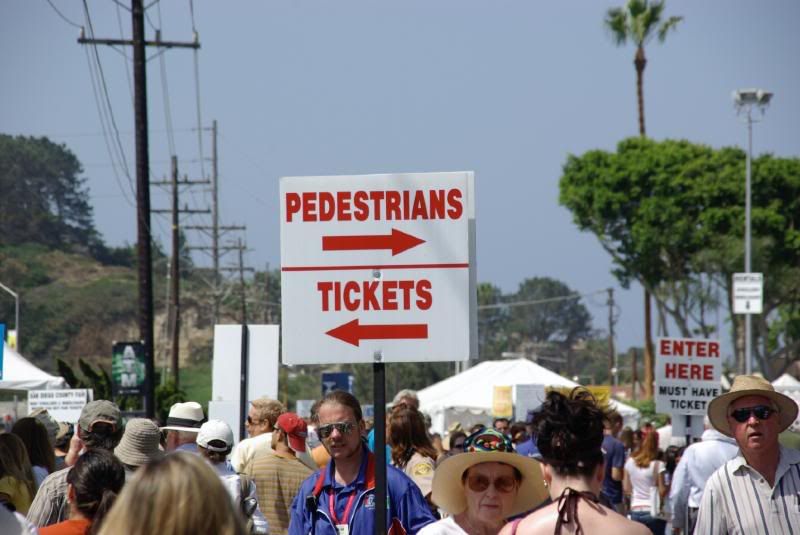 While the secondary line moved pretty well, we soon saw the hold up. We had to go through a security check much akin to that of an airport. All our metal items went in the tiniest of baskets, and we had to walk through these:
Rixter passed with flying colors . . . I had to go through again, then show them my belt buckle, to which the security lady said, "It's his belt buckle." waving me through.
Here's the stunning entry to the fair . . . the build quality and design was not unlike something I would make in Jr. High shop class. I got a "D" in shop.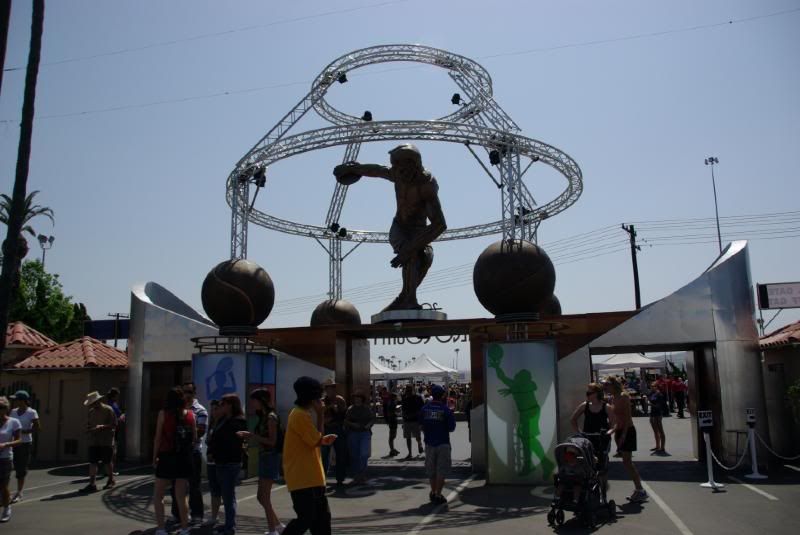 And the theme this year (which we'll mention again later):
Signage was great, making all our "must sees" easy to find.
Just inside the entrance, we saw this, which made us smile.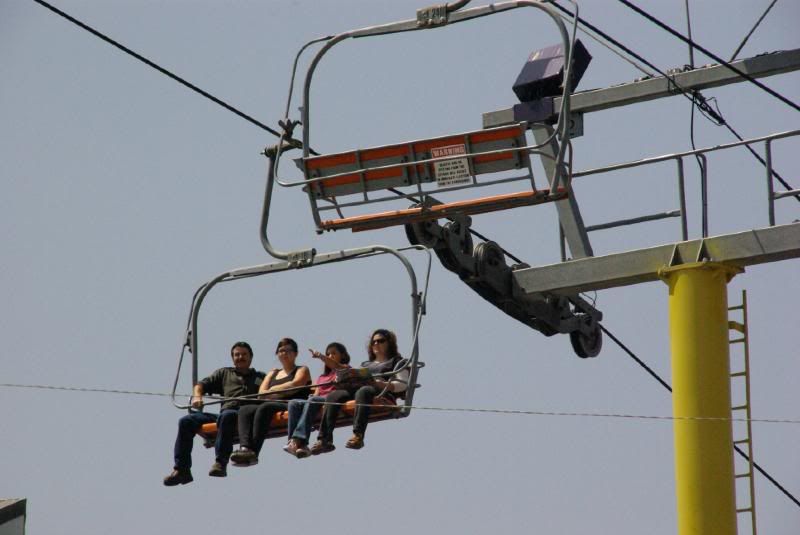 And, a few steps later, Rixter sought relief in one of these.
We decided to hit the exhibit halls first, since we are big fans of things fast talking people sell you. We still have a shower head, the best knives we've ever owned (Quikut), the handiest kitchen slicer/dicer (V-Slicer), and those cloths that look like a chamois, but which I could never get to absorb any liquids. The first hall we went into looked more like Spa-World. I swear there must have bee 2 acres of spas. Most of them sporting fancy car radios for your entertainment, LED lights to bedazzle you, and enough jets to power a 747.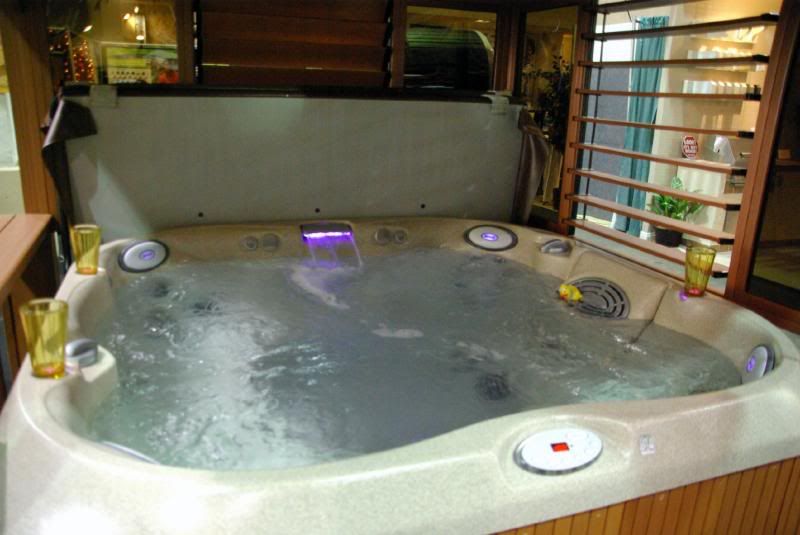 We also ran into this handy device. Our only question is, where do you insert the baby?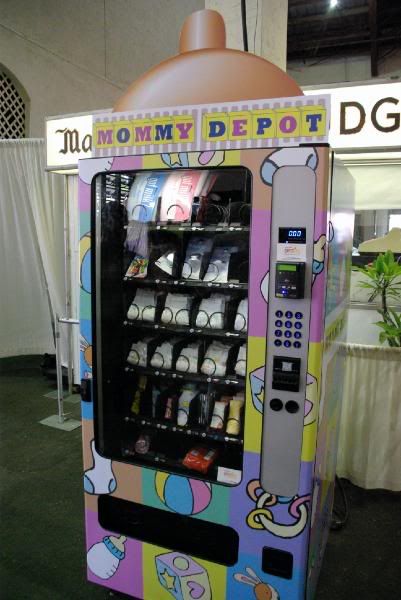 Also this guy, who was promoting solar energy. We didn't take a brochure, just a picture. I just liked his attitude. I should be more like him.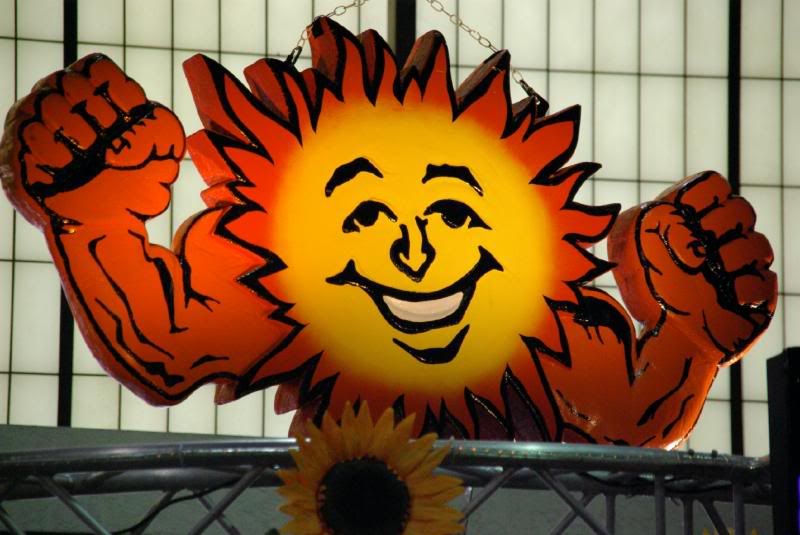 We gots your special effects! Top that, imagineers!
We both bought wallets, exciting guys that we are.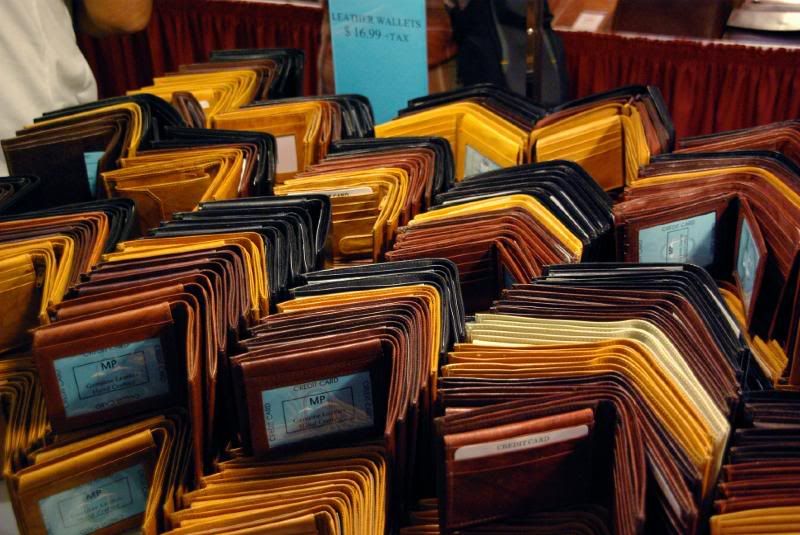 The Del Mar Fairgrounds are beautiful, with most of the buildings, these days, looking more like they belong at a local country club. Even the older buildings have been well maintained, and the landscaping is first rate.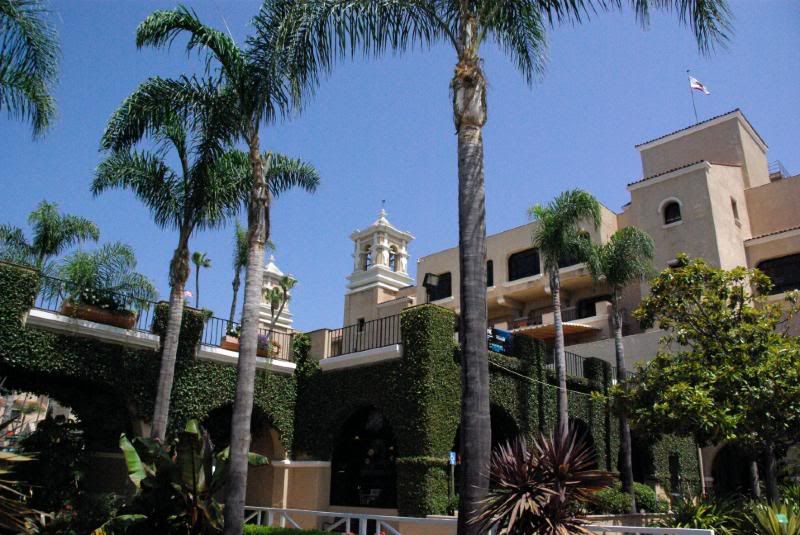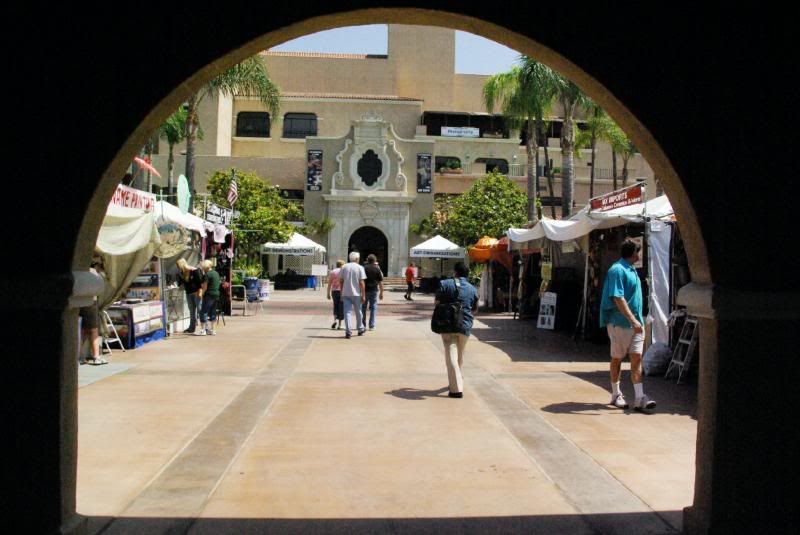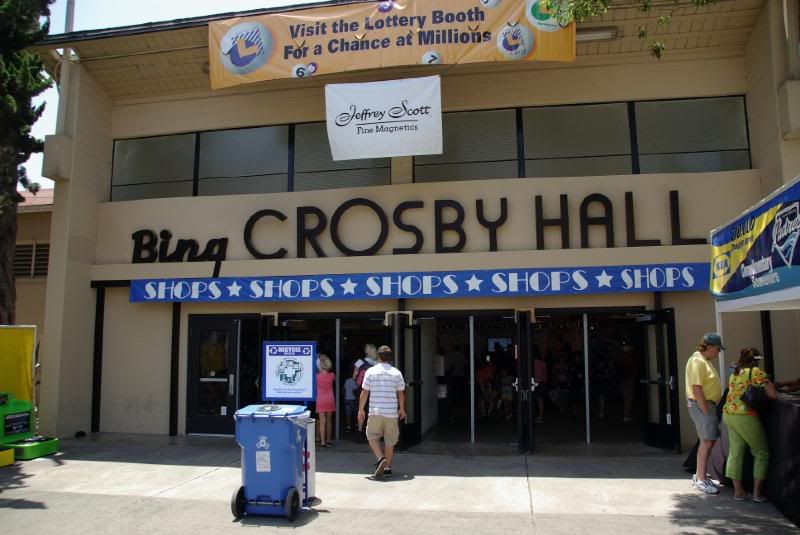 The beautiful grandstands.
And, a close-up of the seating.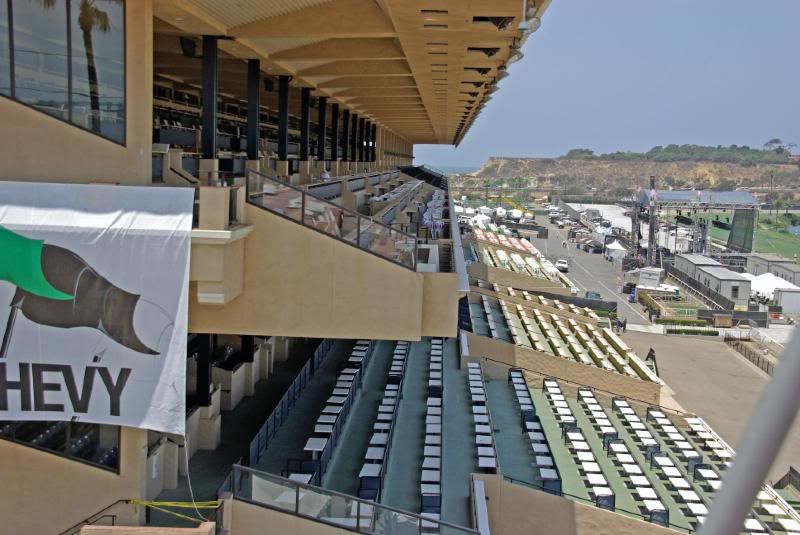 Next, we headed to the infield, that part of the venue inside the race track. Mostly kiddie rides, and food, including the world's longest BBQ . . . over 100 feet long. That's it up there. It would appear that they were actually grilling meats and veggies on smaller grills, down at ground level.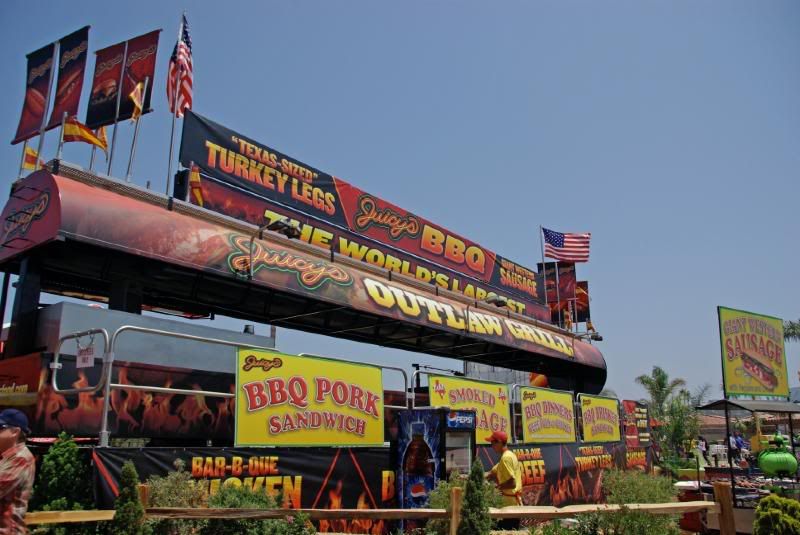 Place your order here.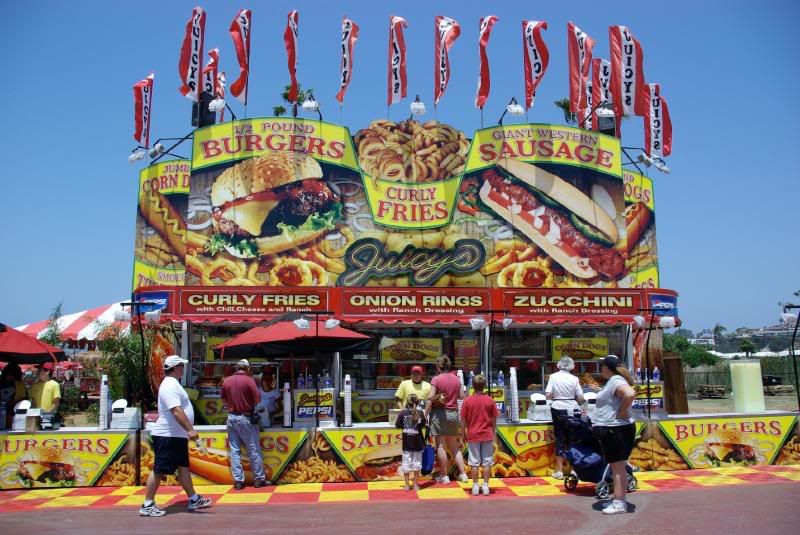 It's not easy to decide.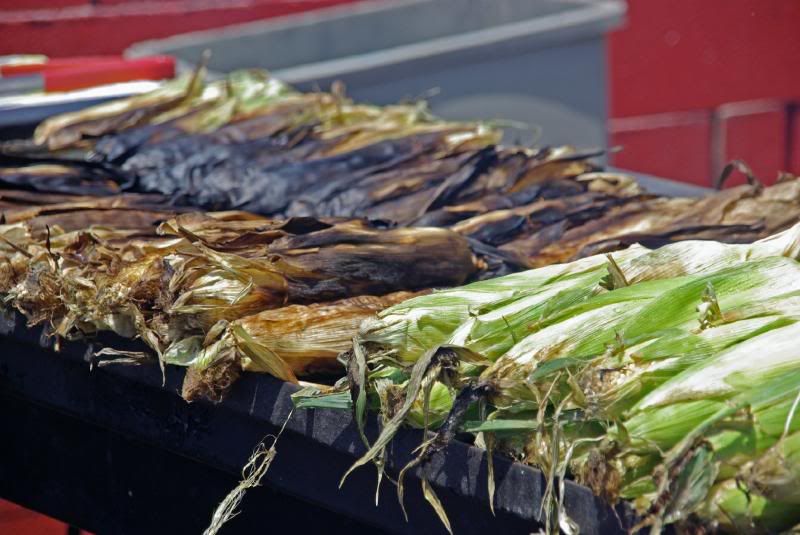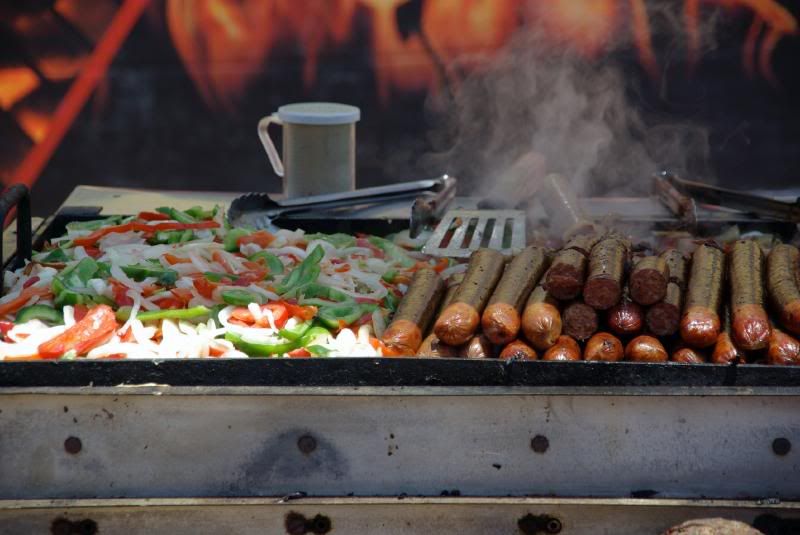 And, of course, lots and lots of turkey legs.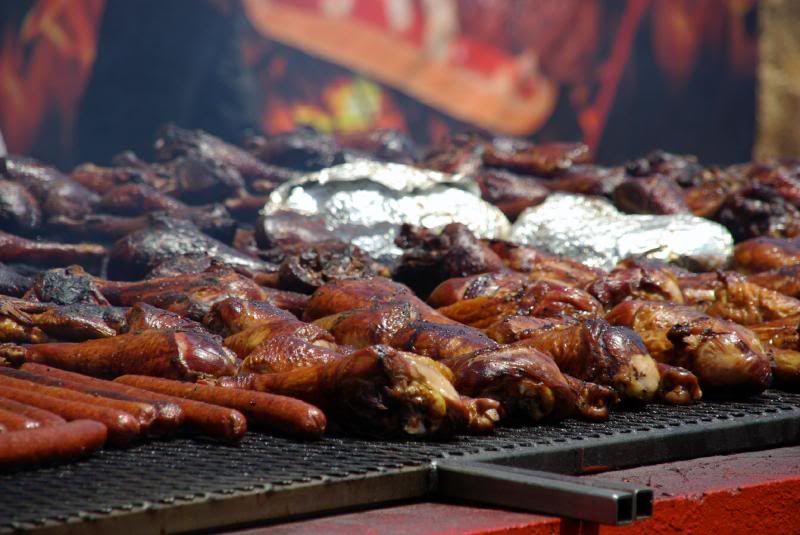 Which were just a few feet away from this.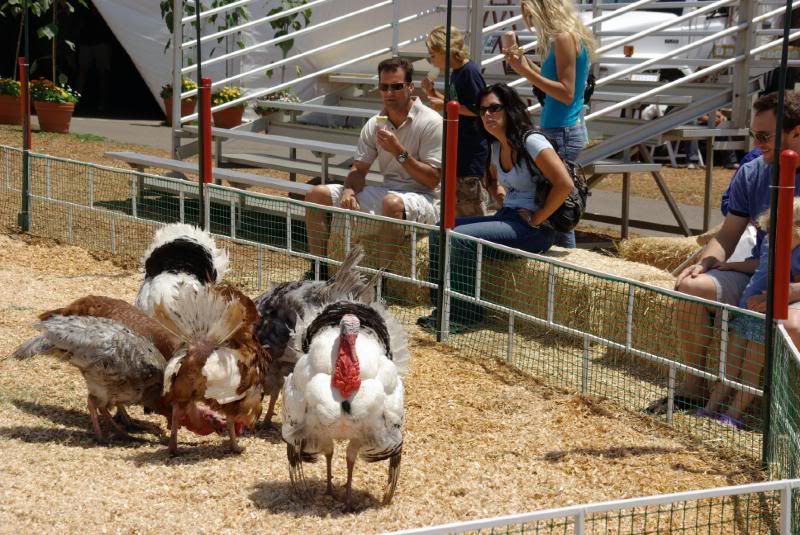 Yup, turkey races. Heaven help the losers.
A tribute to our thousands of local military folks.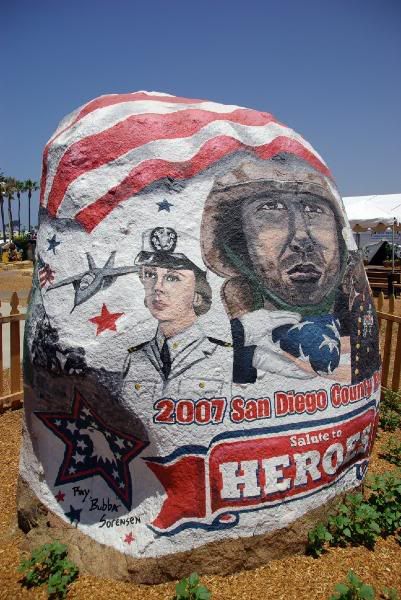 And, just like Disneyland in the early days, we, too, have a Kohler Bathroom of the Future. Note the sign. Apparently in the future, handicap access will not exist. That's not exactly progress.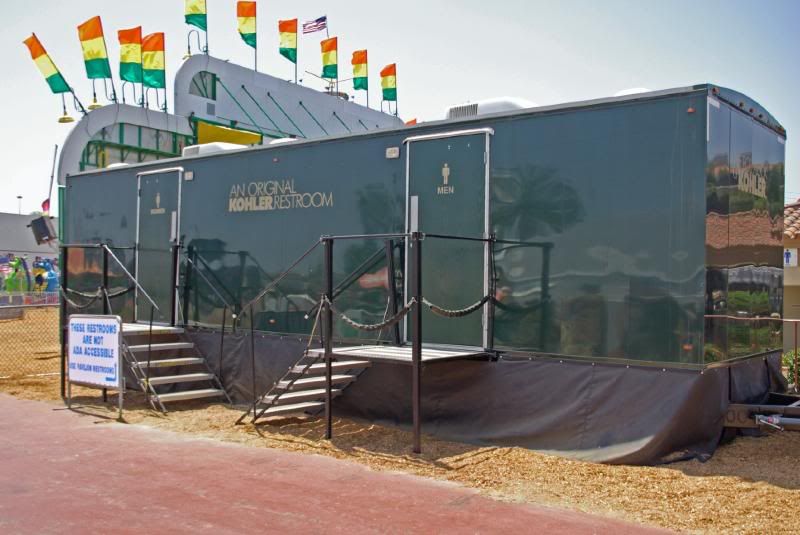 There were some other things that reminded us of Disneyland. This perky little mouse,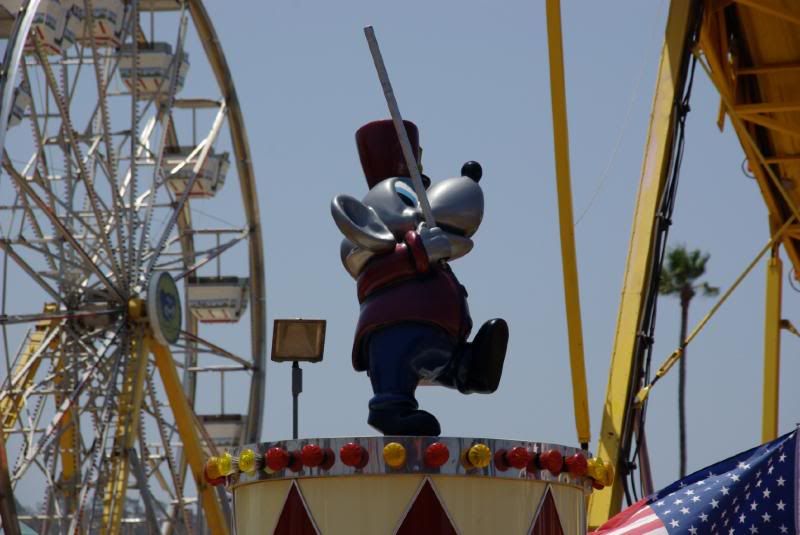 Was leading a flying pack of elephants.
Could we have somehow been transported to the Happiest Place on Earth? Uh, no. "Jumbo", not "Dumbo", and apparently they are jumping, not flying.
But, wait. It's happening again. Surely this ride must be in Anaheim!
And this one!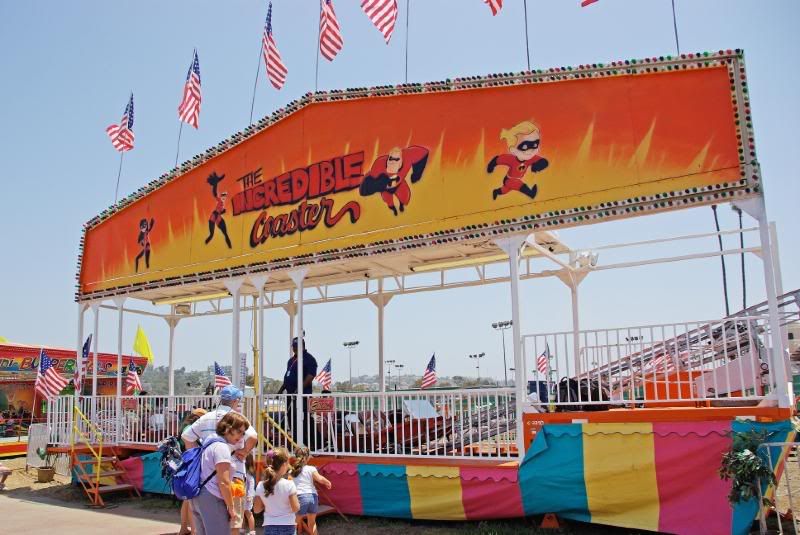 Where's a Disney attorney when you need one?
This lazy river kiddie ride was cute.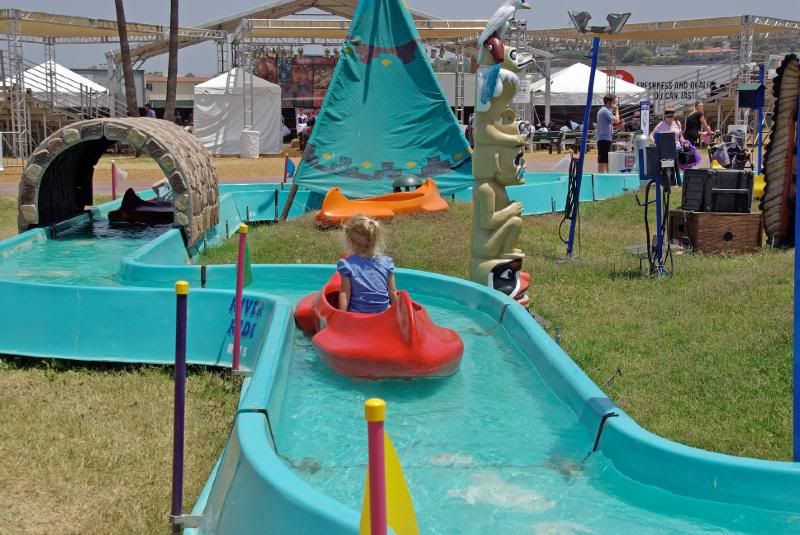 As was this one.
There were several walk-throughs, including this one with the two lovely ladies on the right, which remind us of a recent bachelor party we attended. Except those ladies weren't women, and we, for sure, were not at a county fair.
Still, in all, I'm pretty sure it's the same gals.
Since I was carrying the good camera, somebody had to go on the sky ride to catch a few shots. It would have to be me, even though I'm not known for enjoying rides that involve potential danger and/or thrills, because Rixter can't look off the second-story balcony of a motel without getting weak in the knees. So, up, up I went.
It's possible that the safety restraints in Del Mar, are not quite as well-engineered as those in Anaheim.
A little commerce going on below.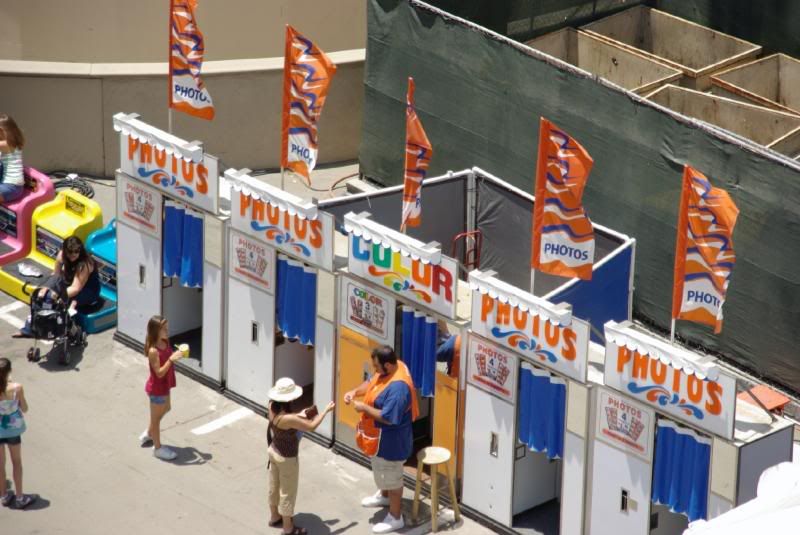 A bit of eating. Were we supposed to wear matching outfits, because it seemed that most parties were.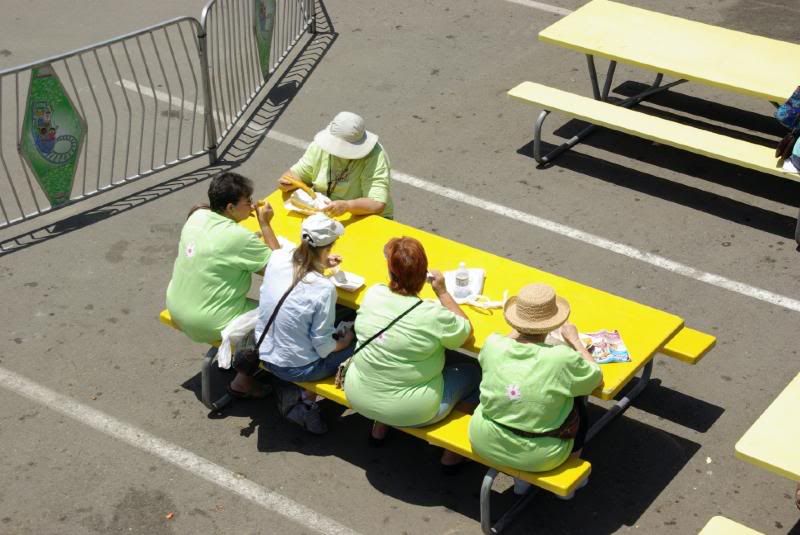 A couple of views of the road to the midway and the beautiful ocean beyond.
Is there a better sight at the end of a scary ride that this guy?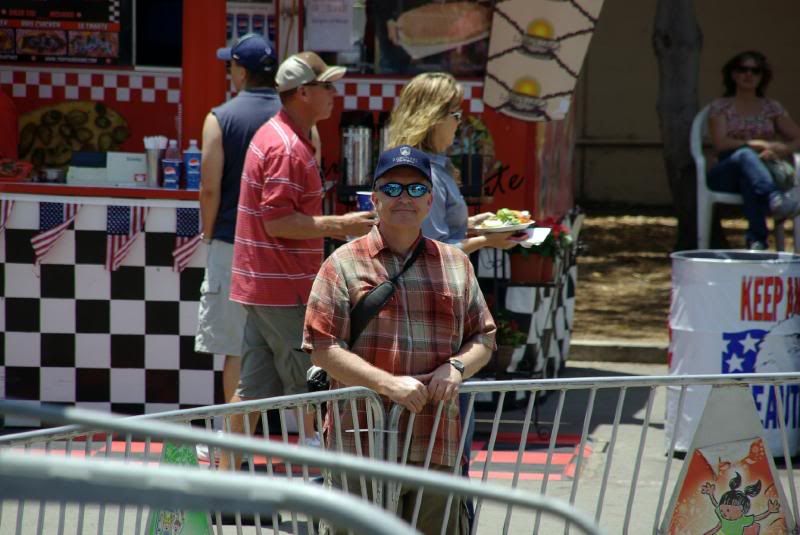 The complicated and thoroughly modern mechanism that held my life in its grip.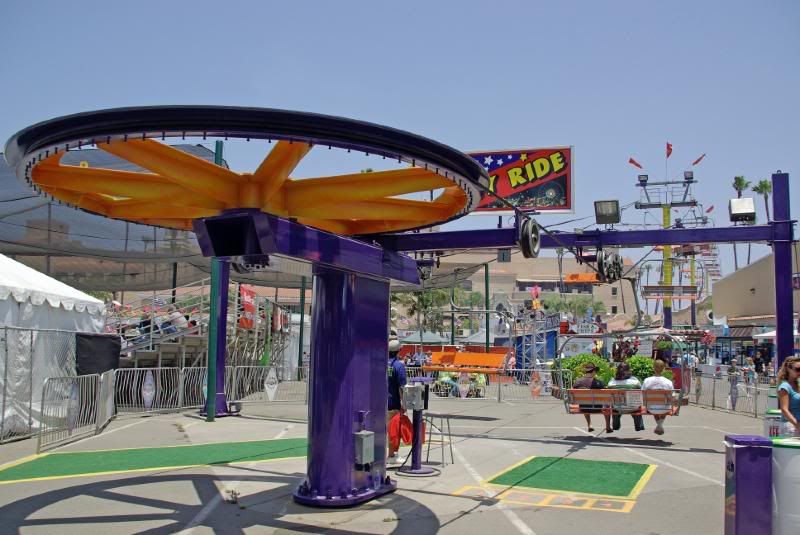 A few shots from the fun zone, just for those of you who insist that climbing aboard rides, trucked from town-to-town, assembled and reassembled on a weekly basis, which thrust you 15 stories in the air, make for a fun experience.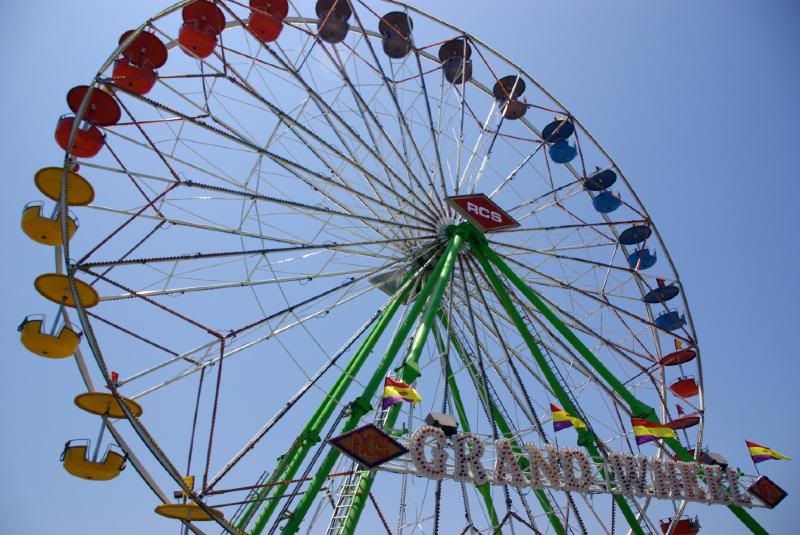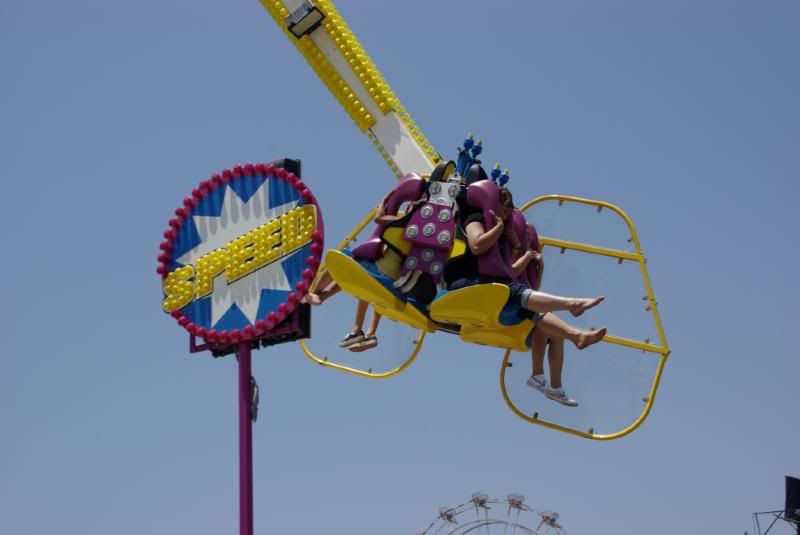 Does this ride remind any of you of the "Eureka" parade that graced DCA in its early years?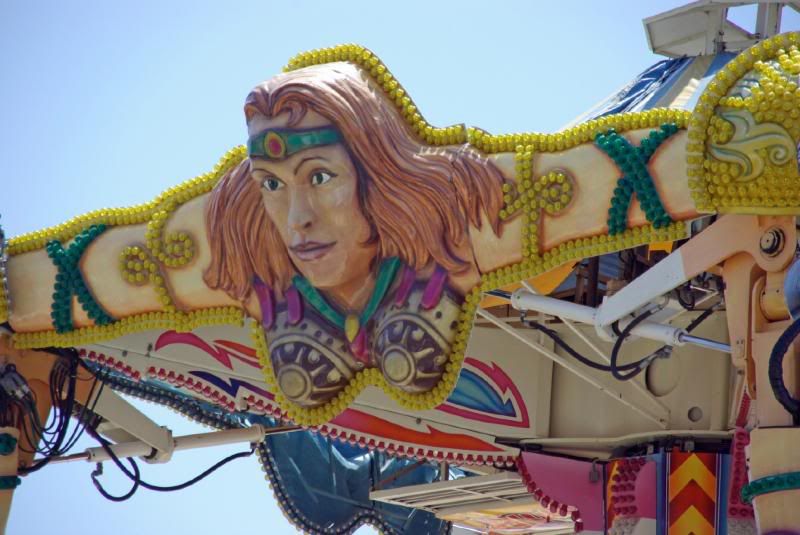 The animatronics were stunning.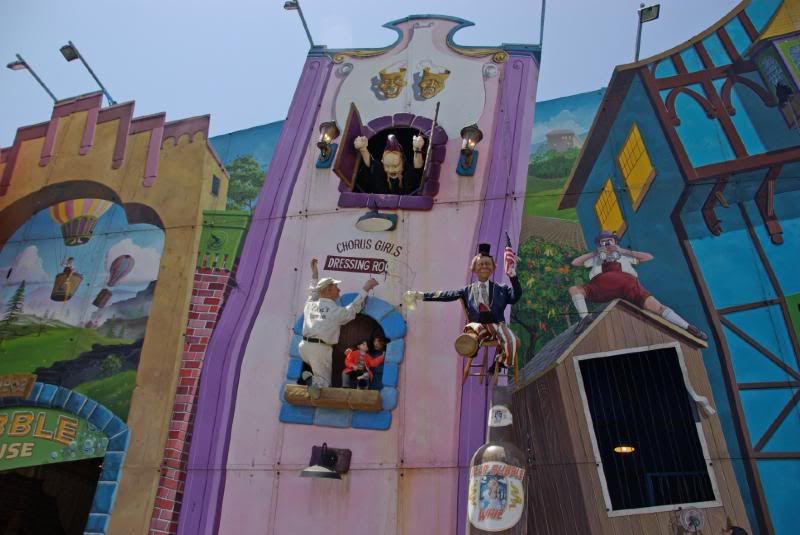 The artwork, world-class. Hey, don't we have a club in gold for this?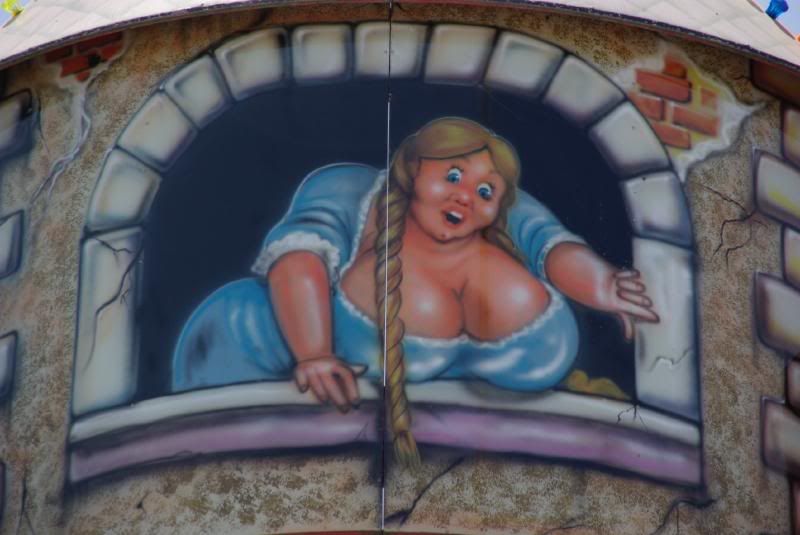 But there was no question it was colorful, and there were fun sights at every turn.
OK, so some of you might assume that two guys like us, just might be planning to sample some of the food.
There certainly are lots of choices, in this case, at a single booth.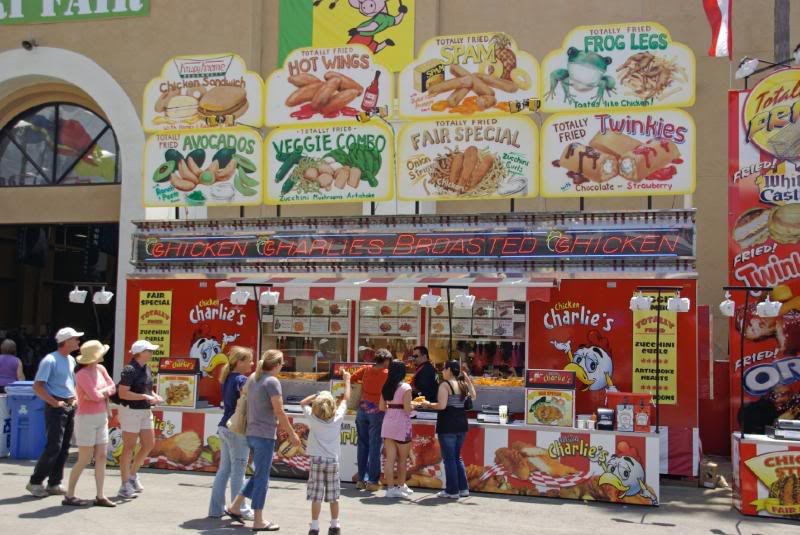 Food booths have come a long way. Not only were most of them beautifully maintained, several had large electronic signs that rival Las Vegas.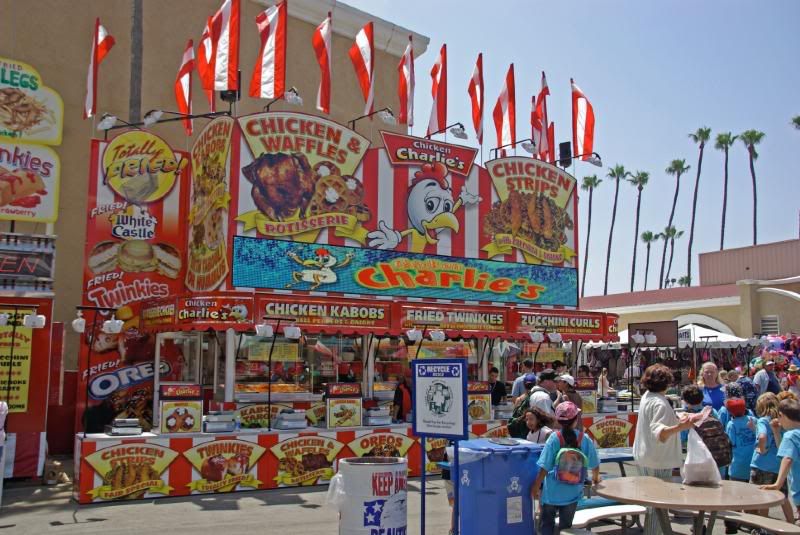 Not sure where their name came from. They were just serving large sandwiches. Not that large, though. And, it couldn't be a reference to the customer's buns, because they were mostly way beyond 10 pounds.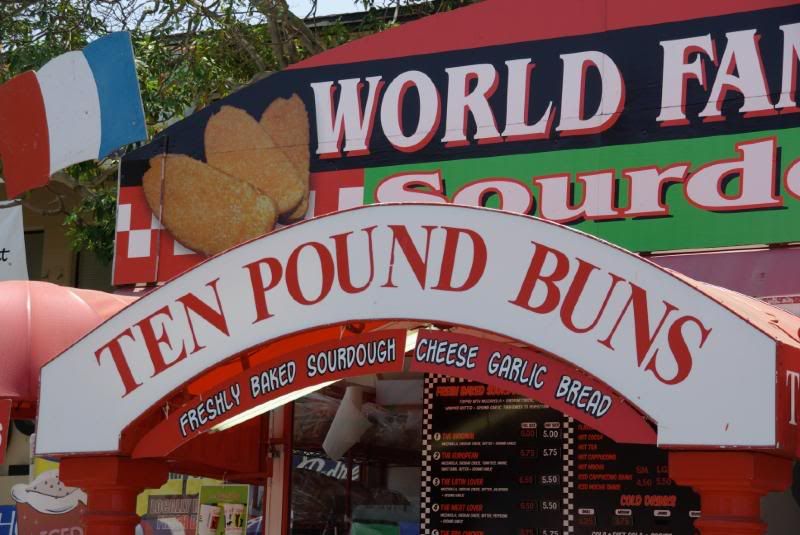 Love them Aussies, but we weren't up for a bucket of anything.
Here's what we settled on. I got a foot-long corn dog. The employee took great pains to explain that it wasn't actually a hot dog, but a sausage inside. Works for me.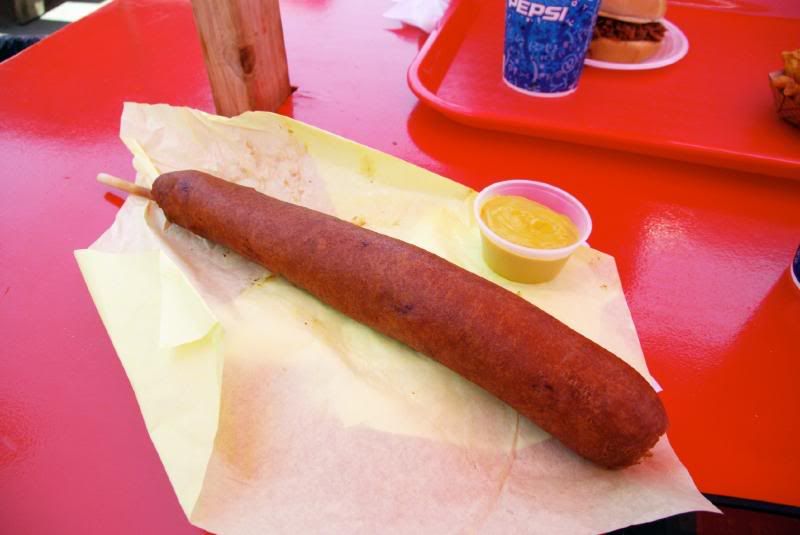 Rick got a a plate from a restaurant, he loves. Fair, after fair. Ain't broken, dig in!
And our shaded seating.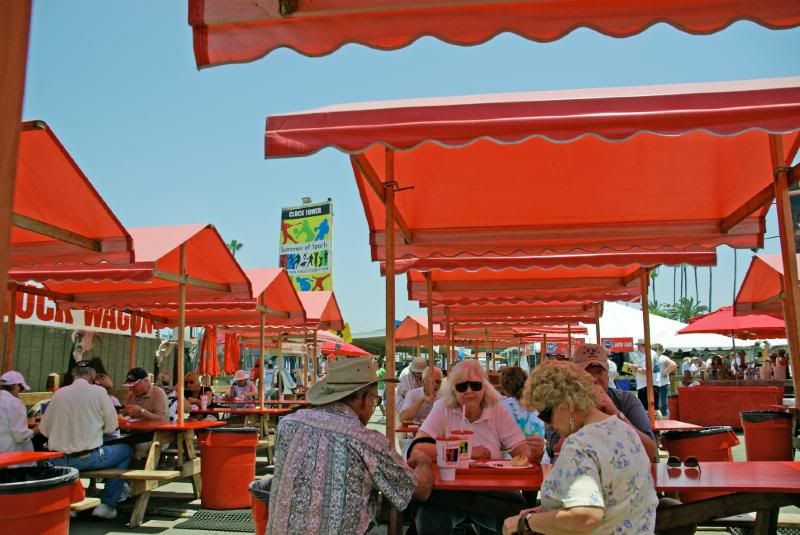 That's all we ate. Honest! No deep-fried twinkies, no mega cinnamon rolls, no ice cream. Such restraint!
Well, that's about it. We had a wonderful time at the fair. It was bright, clean, colorful, and full of things to do and see!
There's just one last thing. You know that "Summer of Sports" theme at the beginning of our report? Well, as we were leaving, we saw some truly bad judgement. For more than three decades, the San Diego County fair had a real live greeter, named Don Diego, who celebrated the heritage and traditions of this area. He was played by an actor named, Tommy Hernandez, and was beloved by generations of fair attendees. In 1984, Tommy died of leukemia, and the Fair Board correctly concluded that he could not be replaced. They founded the Don Diego Fund in his honor, and a statue was commissioned to stand at the entrance to the fair, forever welcoming future guests. You can read more about Tommy here:
http://www.signonsandiego.com/news/f...c10wewere.html
This year, some committee decided it would be a good idea to dress Don Diego up in garb that reflected the theme. We'll let the picture speak to the wisdom of that decision.