Welcome to another trip report!
Due to the mutual decision of my partner and myself, we've elected to not vacation this year--but the motivation to hit the road was not dead. We tried to do things closer to home. Luckily, this past week, my aunt and uncle from Pennsylvania came for a visit. My uncle has been a huge influence on me-we're both teachers and we love going to museums and the like.
And this trip was no different!
I live about 15 minutes from this place, the famed Air Force Academy. I've visited West Point and the Naval Academy and, by far, the best real estate has been given to this school in the 1950s. They pretty much own much of northern Colorado Springs and there's something beautiful in seeing our young men and women practicing their parachuting skills in the early morning.
These are really some good kids and I kinda feel for them-I did not have the gumpsion to do what they do. You see them every where (the underclassmen have to wear their dress blues even when going off campus) and they are respectful and kind. Rarely is there a scandal; and if it is...it's because, less we forget, they still young men and women.
You enter through a guard gate that does not let you drive right up. Instead, concrete is poured to force you to drive in a zigzag pattern (I didn't get a pic). You must show your identification and, on occasion, have your car inspected by the MPs.
Once inside, you are given directions to the main campus (the place is gignormous!) with it's visitor center, overlook, quad and chapel.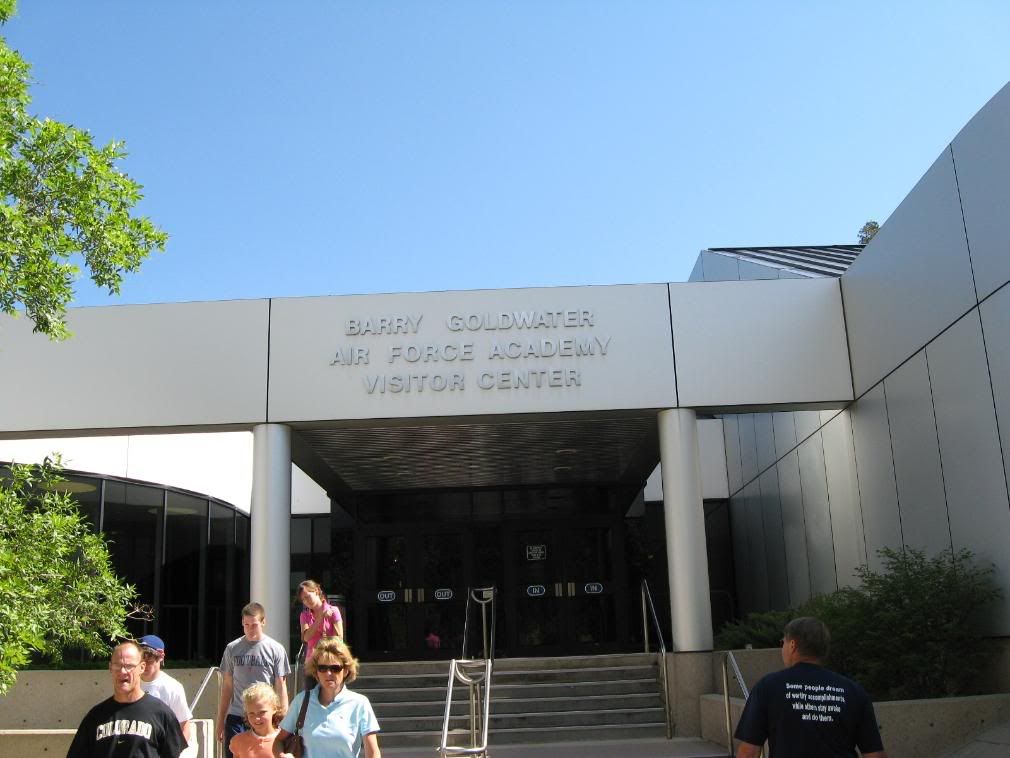 The Visitor's center houses the introductory film, the museum and the all important gift shop. Unlike the Disney post-ride visits, the money here goes to fund the football team and is not taxed.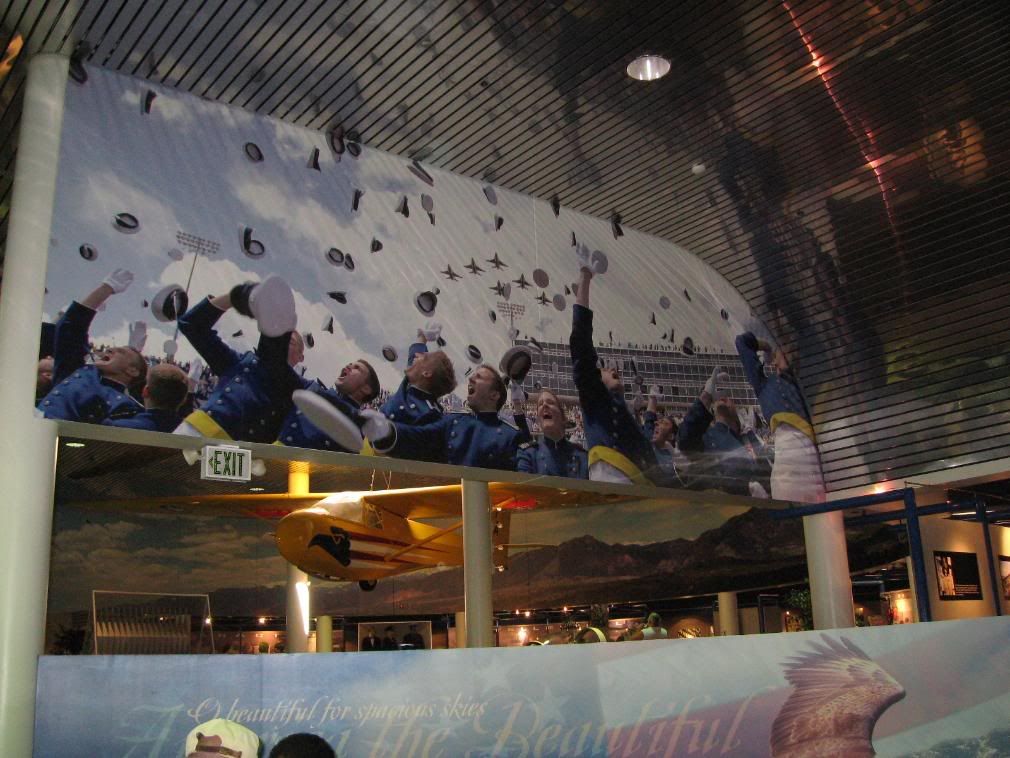 Graduation is a huge event as seen in this photomural upon entry. Traffic stops all over town. Of course, that's usually because the president is in town and every cell phone and garage door-opener is being jammed. And also because they keep doing fly-overs by the Blue Angels and ultra creepy stealth bombers.
However the 50's concrete design could use an update. This gives you an idea of the displays in the visitor's center.
Freshman are referred to as Cadets FourthClass...or doolies. I never thought of myself as old, but you look at these young men and women and they look like they are 14 years old! AHHH!
A dome covered interactive map does not do justice to the size of campus. You can see the famed spires of the their art deco church, the main draw.
More to come!
Peace,
Roo