Please to be noting: this is a TR about a Zombie Walk, some of the images may be found as disturbing, scary and gross....even though i thought it was a hoot and a half
This past Saturday Dustin and I got to participate in our first Zombie Walk. It was through downtown Pasadena, we walked right along Colorado Blvd. and had a heck of a good time! Everyone who participated was encouraged to bring a donation for Toys for Tots, and we managed to collect a large pile of goodies for those less fortunate than ourselves.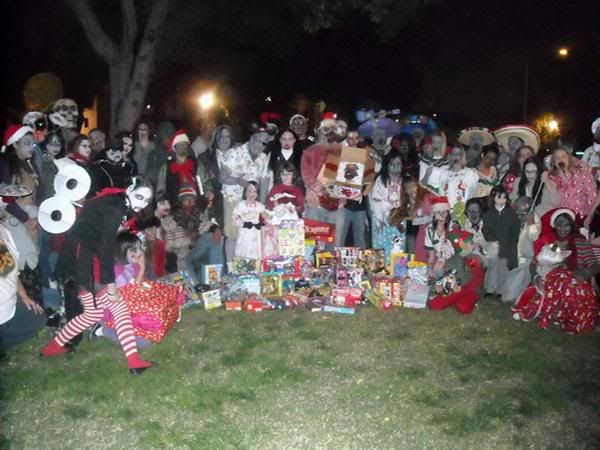 And then we got to scare the crud outta the "normal" people! What could be better?
Our day started off at lunch at Claim Jumper which was great, then we headed back to me and Dustin's hotel room to get dressed and zombie-fied for the walk.
Dustin decided to be a Backyard BBQ zombie, and our dear friend BiZaRrE offered to do his makeup.
BiZaRrE mixing gelatin (i think?) to slather on Dustin's face: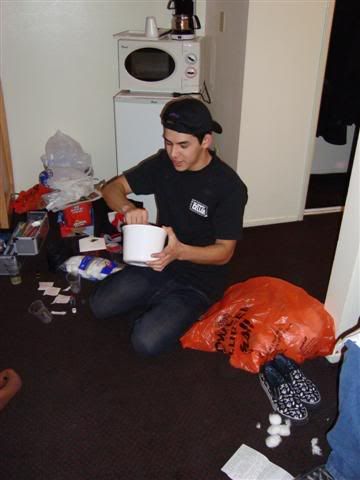 While BiZ and Dustin were working in one corner of the room, our Gumball Rally 2008 teammates, Gina and Mike, were working on makeup in the other corner: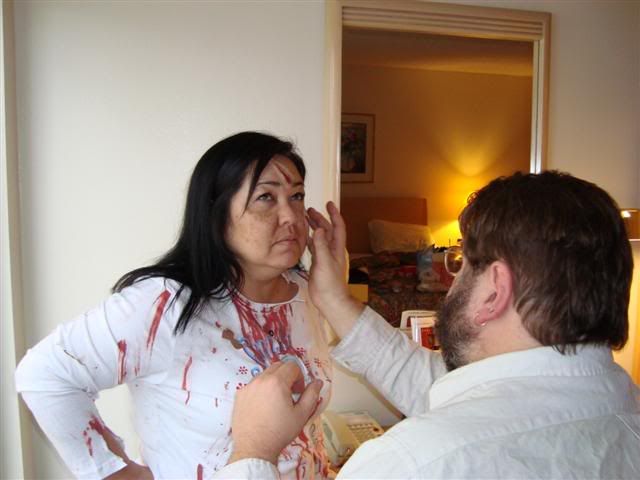 Our other friends Henry and Liza were also getting ready in our room, so just about every single free mirror was taken:
There was only one makeup casualty as i grabbed for a bottle of liquid makeup the lid popped off and it spilt all over the carpet, thankfully it was all water-based makeup and i was able to easily clean it up.
Meanwhile, BiZaRrE was doing an AMAZING job with Dustin's makeup:
And the rest of us were coming together nicely as well:
here's Dustin and BiZaRrE and the final product, it srsly looked like something was gonna bust out of that stuff on Dustin's cheek, it was fantastic!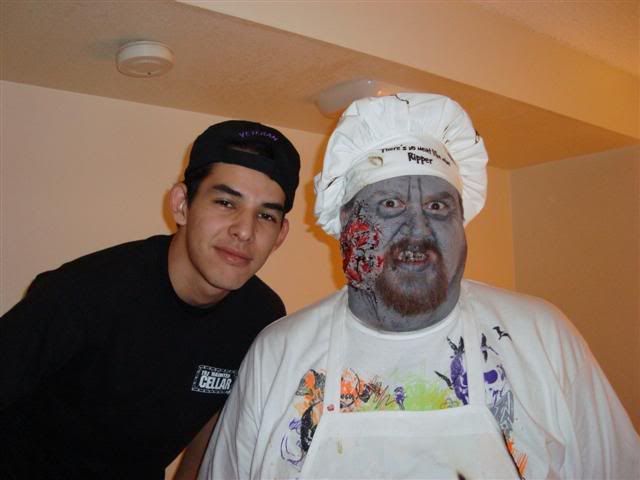 Hilarity ensued on the drive from Buena Park to Pasadena: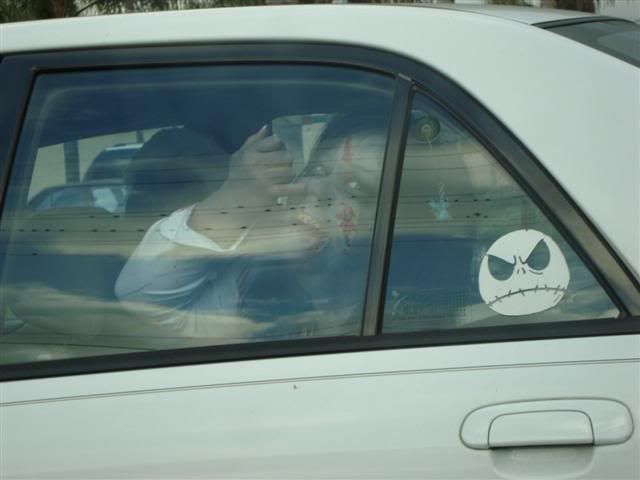 It was a lot of fun seeing people glance over, like everyone does while on the freeway, then do a double take when they saw the car was full of zombies covered in blood. The getting ready and driving to aspects of the night were completely fun!
Once we got to Central Park in Pasadena and found some parking we ventured to the meeting spot and found lots of zombies and lots of our friends that work Haunt in attendance: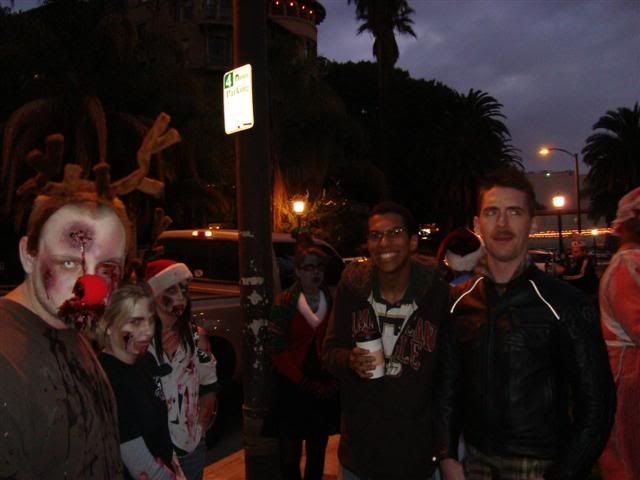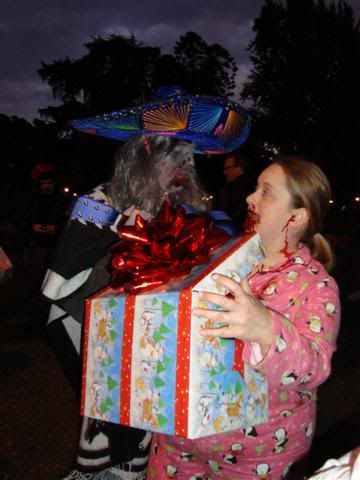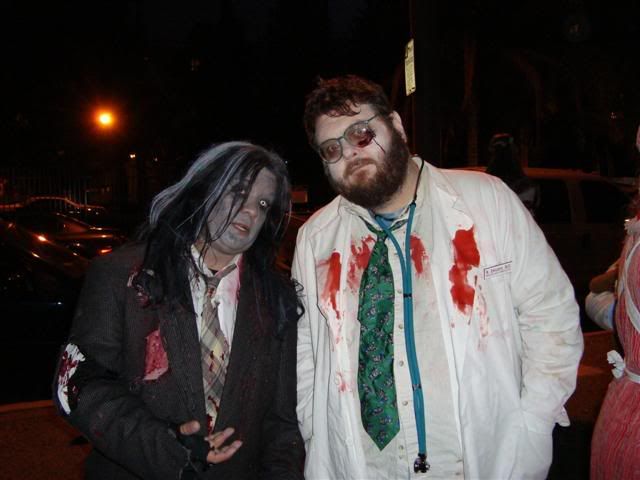 Dustin and i were rip-roarin' and ready to shuffle down Colorado Blvd...all in the name of charity: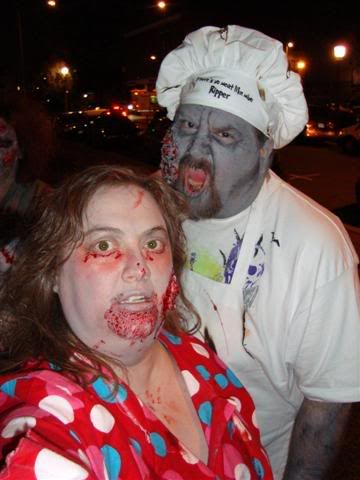 It must have been quite a sight for the people who had no idea we were coming. The portion of Colorado Blvd. we walked down had lots of high end restaurants, some with outdoor patio seating...and this is what they saw:
Zombies EVERYWHERE!! Bwahahhahahaha. The best part of the walk was when we walked past the Apple Store. Uncle Mike pulled his iPod out of his lab coat and held it up, and one of the other zombies was wearing an iZombie tshirt..the Apple Store people gave us a huge standing ovation and were definantly the most receptive store we went past.
After our tour of Colorado Blvd. it was back to Central Park for some more photos: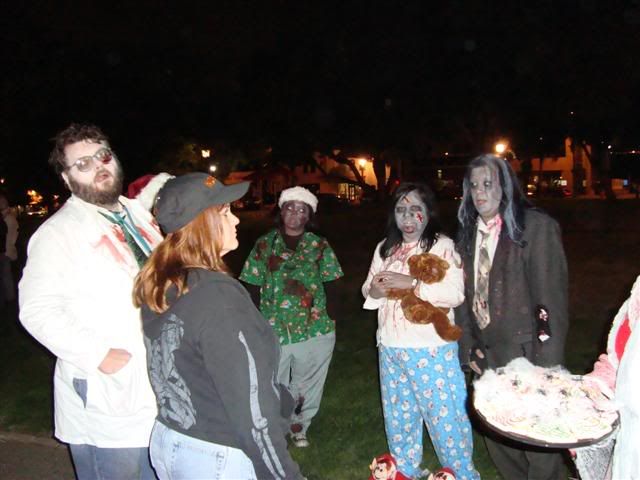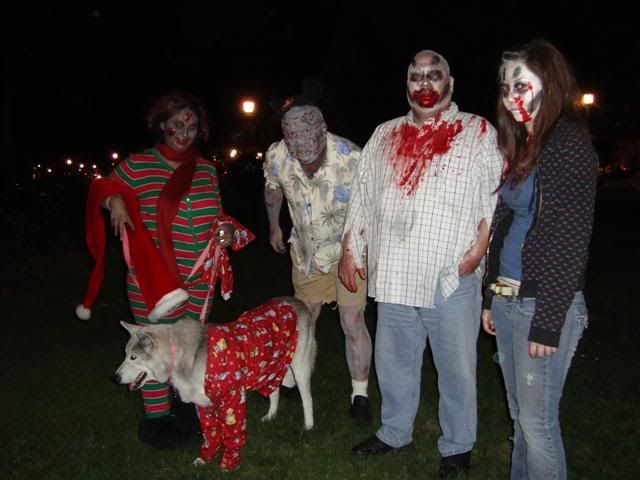 Here's the organizer of the event, massive kudos to him: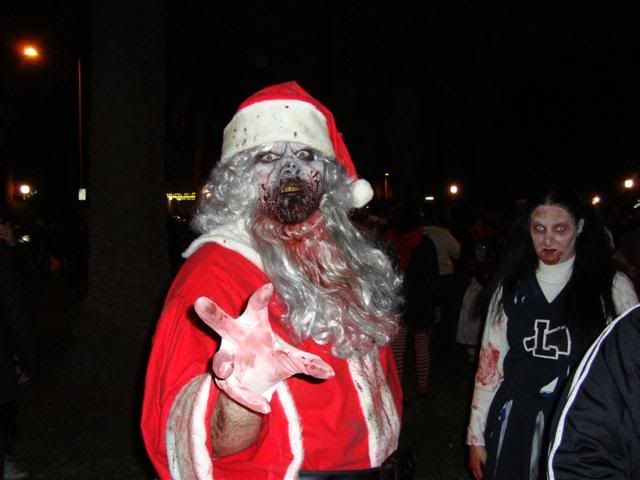 Dustin was apparently getting hungry: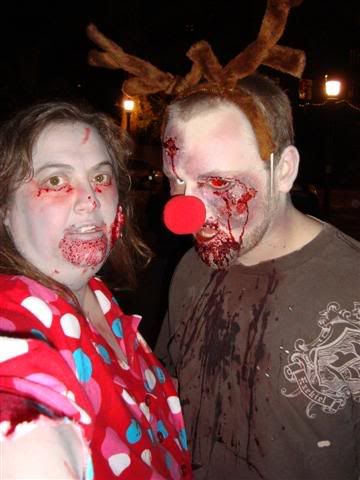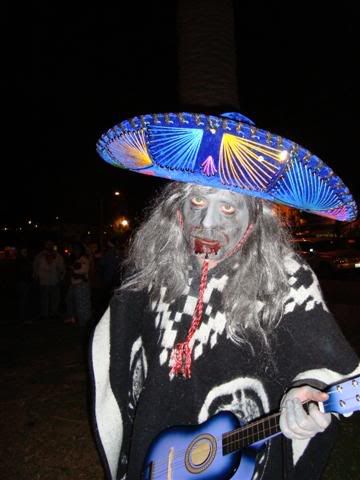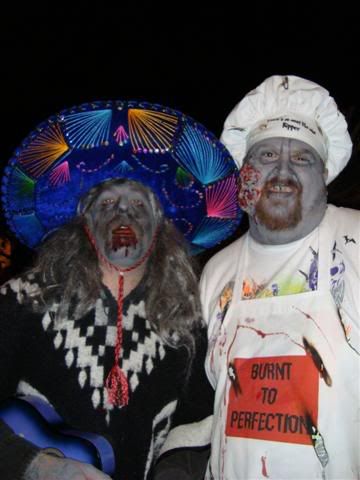 After we left Pasadena we went back to the Ihop next to our hotel in Buena Park and had some well deserved chow, it was great even if they didn't have brains on the menu:
then it was back to the hotel room to try and clean off all that makeup, ripper finally got that prosthetic off his face, and i gotta tell you, its in our suitcase that i haven't unpacked yet as we speak: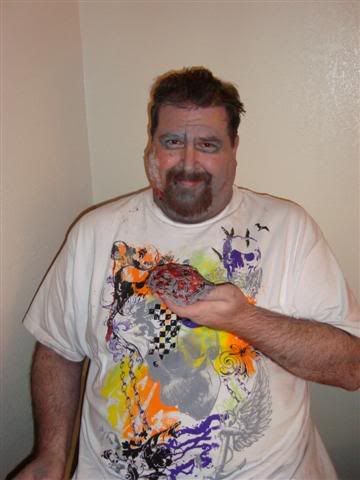 We had a fabulous time for our first Zombie Walk. And we got to help out Toys for Tots along the way, which made it even better.
SoCalZombieWalk.com
hosts zombie walks around Southern California about 3 to 4 times a year, each walk help support various charities from Toys for Tots to Linda Blair's World Heart Animal Rescue.
Mumblings around the walk this weekend indicated the next walk might be sometime in April and take place in West Hollywood along Santa Monica Blvd. Stay tuned to this Forum for more info, i'll be sure to pass it along once i know more.
Thanks for stopping by and remember
We're coming to get you............