Hey all! Thought I would share some photos from the 2009 Phoenix Comi-Con that I went to on Saturday. I used to attend Comic Conventions all the time, back in the day, but this is the first one i've been to in about 10 years and the first one I went to in Phoenix.
The Con started on Thursday night and ran thru Sunday. I was only able to go on Saturday, but that was the big day. From what I heard others say, this was the best one held in Phoenix since they first started doing them. They had some really great guests there, I went mainly to meet Brent Spiner (Data on Star Trek: TNG) but they had a few more guests than that as you will see in the pics below.
So I got up early to make the 1 1/2 trek to Mesa, AZ. Funny thing about the
Phoenix
Comic Con, it was held at the
Mesa
Convention Center. Now, for those of you not familiar with the layout of Phoenix, Mesa is a part of Phoenix as a whole, but is actually east of Central Phoenix. So I can kind of see their point in calling it the Phoenix Comi-Con, but still if someone didn't know better they would have shown up to a Boat show at the Phoenix Convention Center. Well Enough about
Conventional
(ha ha get it
) names and on to the show.
So I get there and meet up with my war time consigliere Aaritzimo (reezit's for short) who also was kind enough to volunteer for the convention and scope it out for me on Friday!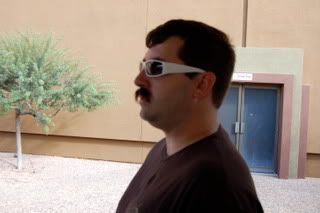 And yes he is rockin the John Oates look! Just waiting for his Daryl Hall so he can finally start-up "Private Eyes" the Hall and Oates Tribute band.
So we get there and there is a line and we patiently wait in line. Now the line was moving pretty fast so we got inside in no time! Problem was the Will Call line inside did not follow any logical rules for lines in the known universe. People were just standing around looking confused, and that was the people with volunteer badges. Reezits was able to get in and get his volunteer and pass badge and I finally got mine and off we went into the convention center!
Like I said above, pretty much the whole point for me was meeting Brent Spiner and getting his autograph. Reezits had scoped out the area before hand and took me right to his location and there he was, in all his glory, the man/android himself Mr. Brent Spiner aka/Data.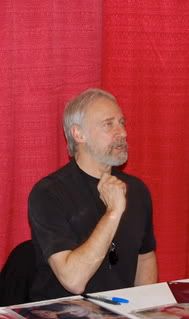 My favorite character on any Star Trek incarnation, my favorite actor on any Star Trek thingy, the reason I love all things Trek, a big part of the reason I am a computer geek and technician and ONE HELL OF AN AMERICAN!
Now the whole way down to Mesa I kept thinking about what I was going to say to the man. Was I going to play it cool? Should I say what an honor it is to meet him? Tell him I enjoy his wide body of work on Stage, Screen and Music? Will I geek out and start throwing technical questions about the Enterprise? Will I pee myself like a 12 year old at a Jonas Brothers Concert? Well you all would be glad to know I did none of the above. I stood there and stammered like I was a coked up Porky Pig. "Eibeta, eibeta, eibeta, W-w-would y-y-you si-si-sign this for me?" and handed him my cassette tape cover for the first album he did called "Ol' Yellow Eyes is Back". His versions of some famous standards from the 40's and 50's. He asked my name and luckily i was able to give him that and while he was signing, I complemented him on his work and told him I was a big fan. My heart was racing and I was shaking but I was able to thank him and walk away. I have been fortunate to meet some celebs in my time, but I have never been that nervous to meet someone like i was here.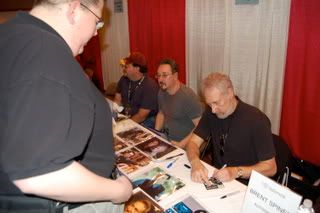 Now something Cons have been doing for the past 2-3 years is offering what they cal a Photobooth with certain guests at the con. For a price a person can have a professional quality photo taken with the guest of their choice. What is really cool about this is it gives you a brief, but memorable one-on-one interaction with that guest. So for $30, I was able to get a photo with Brent in the photo booth. I don't have the jpeg on me, but I will post it here eventually, but don't fret chatters I did embarrass myself there too. When it was my turn I walked in, saw him there, and he greeted me and asked me my name and where I was from. I somehow spit out the words and also invited him to come up to where I live and offer to take him out to dinner for some good food because he looked skinny. Yes dear chatters I inadvertently asked Brent Spiner out on a date. Whether he thought that I did or did not or just forgot about me as soon as I left is unimportant. I, a straight married man, invited another straight married man on a date. Well here's hoping he calls anyway!
So after I was able to calm down enough to get my heartbeat back down to a respectable 150 BPM. I continued on my journey through the comic con.
At most cons, if you don't know, they have a slew of guests. From actors and actresses, to comic and anime artists, most cons try to get a good cross selection of guests to appeal to everyone. This con was no different. What was different to the other cons I attended 10 years ago, was the sheer amount of people dressed up as Anime characters. The last con i went to before this was in L.A. and there was a small section in the corner of the con for Anime. At that con the majority of people were dressed as Sci-Fi or Comic-book superheroes. That has drastically changed. This con had a few comic-book themed costumes like this one in the pic below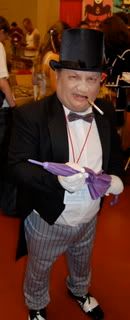 I thought he had the best costume there. So much so, that I took the picture because of it. I did not take any other "cosplay" pics. There were a couple of Star Wars costumes, a few comic-book inspired ones (mainly independent comic characters) and literally one man dressed as Deanna Troi. The rest were all anime based, and since anime is not my forte, i could not tell you who was who except to say I felt like I had Hiro-ed to Japan. Some were crap, some were good and a few were labors of love, but I could not tell you a Naruto from a Full Metal Alchemist.
Anyways back to the guests. Besides Brent Spiner both Marina Sirtis and Wil Wheaton were representing the TNG.
Marina was very disarming, nice and tiny. Very, very tiny. I so wanted to bring my Deanna Troi TNG action figure, but since I had not attended a con in awhile i did not know how the setup was going to be and I was worried I would not be able to get her to autograph it for me. Once I realized how approachable they set up the con, I really regretted it. But I picked up a classic Troi pic and she signed it for me and even added a little message to it. Very nice and classy lady.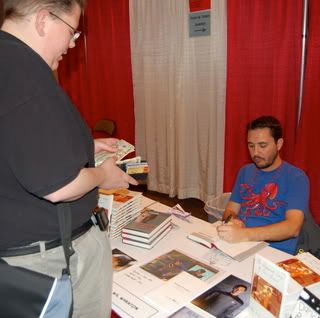 Wil Wheaton. Hmm what can one say about a guy who's career included playing one of Stephen King's best kid hero characters Gordie Lachance "Stand By Me" with River Phoenix, a supporting role in the best "Die Hard in a Prep School" movies called "Toy Soldiers", with Sean "Samwise Gangee" Astin and TV's "Wesley Crusher" in "Star Trek: The Next Generation" with Brent Spiner and Patrick Stewart. The man has acted opposite greatness on so many occasions it's not even funny! Well, i can say that he's a *****! No, Just kidding. He, IMHO, was the nicest guy signing autographs there. That's not to say everyone else was not, but he seemed to actually really enjoy the interactions with the fans the most and he spent about 2 minutes talking to me. A great guy, fantastic actor, a excellent writer (he has 3 books out that I strongly suggest anyone who is into Geekdom read) and blogger and a massive geek. He puts me to shame and i've contemplated getting a Linux penguin eating an Apple tattoo before! So I bought one of his books for him to sign and we chatted about girls asking him to sign their chests, the bait and switch drug pusher like tactics of the Public Library system and how his family was doing. Real nice guy.
The Con also had Lou Ferigno (The first Incredible Hulk) and reetz' got him to sign a cover of The Incredible Hulk.
The second original Lois Lane from the old Adventures of Superman TV show.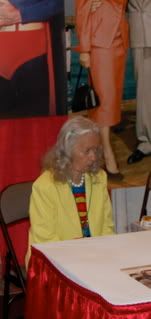 Chase Masterson, Leeta, from DS9, whom reetz worked with on a indie film shot in Phoenix a few years back. She didn't remember him, but pretended like she did so I guess she is nice, but I heard a few people at the con saying she was very put off by being there and somewhat rude so i don't know.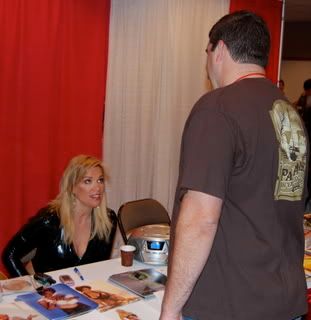 Reetz also had an old poster from the old Buck Rogers TV show which he had Gil Gerard (Buck Rogers)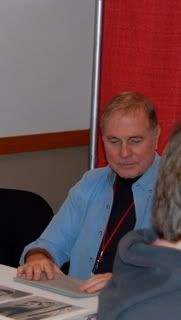 And Erin Gray sign.
I offered Reetz a free lunch if he went up to Erin Gray and started to sing the "Silver Spoons" theme song, but he didn't want to be that guy!
The Con also gave me an excuse to break out my original lobby theatre poster of "Star Wars: A New Hope" since both Richard LeParmentier (Admiral Motti, the guy Vader force chokes in the Conference room on the Death Star in Ep 4) and Peter Mayhew (Chewbacca) were at the con signing. I was not able to get a picture of Richard but here is a pic of Mayhew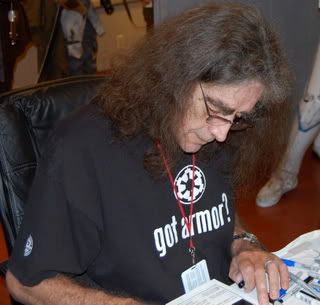 The man is BIG!!! He has huge hands and a soft voice. Both were good guys!
There is also a group of people who dress in very nice Stormtrooper outfits who come to cons to raise money for charities. They're known as the 501st and they apparently have chapters all over the country and in parts of Europe. They were very nice to allow me to take a pic and pose so here it is.
Like most cons they had panels on certain shows like B*G and Star Trek. I wanted to see the panel they were going to have on TNG but I forgot the cardinal rule of panel attending at cons. They do not clear the rooms out between panels. So those that were there for the B*G panel and any of the ones before it got to keep their seats. I can see why cons work that way, but due to that and the enormously long line for the TNG panel, they capped it at Capacity about 20 people ahead of me. It sucked, but hey what can ya do?
The actual convention area was pretty tight. Next year they are actually going to move it to the Phoenix Convention Center, which is huge, so that will give them a lot of space. They had a few nice booths there. I was able to add to my already enormous 80's toy collection with some DC Super hero action figures and some GI Joe and He-man toys. I all most ponied up a $135 for a 1984 Optimus Prime with trailer in original box, but did not want to have to explain that to the misses!
Todd McFarland was also going to be signing there, but he limited it to 150 people total and you had to go to his panel to attempt to even get a ticket, so I passed. Besides he has a store in Phoenix with all of his toys and signs there all the time.
All in all, i really enjoyed my time at the Phoenix Comi-Con and am looking forward to 2010 when they move to the Phoenix Convention Center. Maybe then i won't ask Data out on a Date!
Thanks for reading this long post!