Once again So Cal Zombie Walk is getting ready to shamble in a neighborhood near you and this time they're taking on the Fangoria Weekend of Horrors at the LA Convention Center.
This is a great opportunity for those that have always wanted to do a zombie walk, and if you haven't but want to i HIGHLY recommend it. My husband and I, along with a group of friends, got all bloodied up and did the Christmas zombie walk back in December and it was an amazing amount of fun.
So if you're interested, here's the info:
Where- Fangoria's Weekend of Horrors @ the LA convention center
When- Saturday April 18 ,2009
Time -meet time is at 9:00 am walk to start @ 9:30 am sharp!
Any questions please vist our sites or contact Antho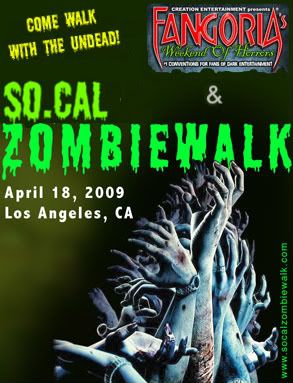 Fangoria's Weekend Of Horrors - Los Angeles, CA
www.socalzombiewalk.com